Top 3 – Must dos in Langkawi Islands in Malaysia
You have not one but over an archipelago of 100 islands to choose from when you visit Langkawi. However if you are a traveller in a hurry, then ensure that you have at least experienced these interesting experiences.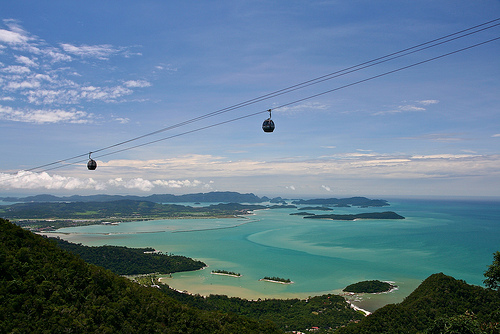 Photo Credit – Andy Lawson, Flickr .
1. The Cable Car
Take the cable car up the mountains and rainforests to get some outstanding panoramic views of the islands. As you go up the ropeway, from the foothills of Gunung Machinchang, taking in the scenery, you can see cascading waterfalls surrounded by jungles . Atop is a curved pedestrian bridge called the Skybridge, almost 125 metres long . If you are the adventurous type, you can even trek up here.
2. Pulau Payar Marine Park
Go underwater to get a glimpse of Malaysia's ancient marine life . The life under the sea will dazzle you with all the colours in this marine park. You can go snorkelling here as this is one of the best diving site. The park centre is a great way to get oriented here. There are reefs built here, some are manmade built with old boats and tyres. If you are not into diving, then there are several hiking trails around as well.
3.Crocodile Farm
Want to see a live version of Man versus the Wild, then visit the Crocodile Farm to see a confrontation of humans and crocodiles here.  All these crocodiles and of course, the men are however well trained . Walk around the farm and you can see a sea of crocodiles being fed. Besides various species, you can also see baby crocodiles in a pool of their own
What are your recommendations for Langkawi ?