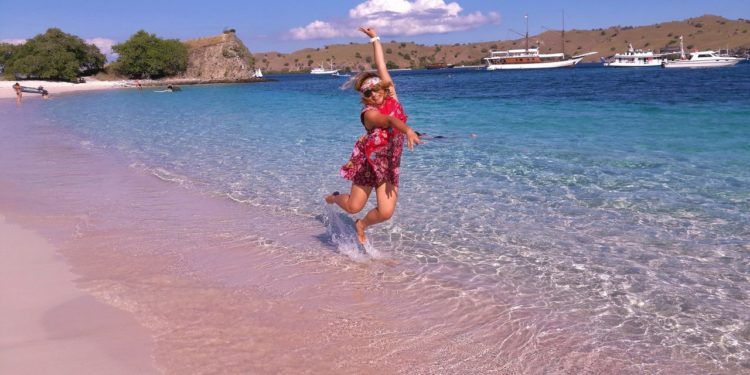 Travel photography tips with Huawei P9 review
On a recent trip to Indonesia with a group of bloggers, I was reviewing the Huawei P9 as a travel photographer. Coming up – my Indonesian travel diary and some travel photography tips.
Indonesia travel diary – a photofeature with Huawei P9 
Last month, I was travelling with a group of bloggers from seven different countries on a twelve day trip to Indonesia. Four destinations, half a dozen flights, a sailing expedition and lots of laughter. There was culture and adventure, markets and monuments, mountains and oceans, temples and spas, food and beer, dragons and turtles. Such an amazing melange of experiences in less than a fortnight. And each one was a story in itself. However as the saying goes, a picture is worth a thousand words. And so, here is my Indonesian travelogue presented to you as a photo feature with some travel photography tips. My travel companion is the Huawei P9 and here is the review .
 Mobile photography tips for Huawei P9
As a travel photographer, I am a great fan of mobile photography. It's easy to carry, can shoot on the go, quick to edit and share on social media – the smart phone has just made life so much easier when you are on the road.  So, I rarely go out now and invest on lenses, but instead, I look for new camera phones and battery packs.
Let me introduce you to my latest favourite – the sleek and stylish Huawei P9. Almost every photograph or video of Indonesia has been shot on the P9. I have over 1200 photographs shot over 12 days, but am going to share just a few of them, to show you the versatility of the P9. A disclaimer, however –  I am not a tech blogger or a technical photographer, so dont look for reviews. But I can tell you as a travel photographer why I fell in love with it and give you some mobile photography tips.
People make places
Travel for me is all about people and as a travel photographer, I love to capture the mood and expressions of people. The mobile is less intimidating than a DSLR as you do not have to thrust a lens on to their faces. People are more comfortable posing for a mobile camera, although it is fun to get some candid pictures sometimes. This is one of my favourite travel photography tips – people make places. I personally believe that people give you a perspective of a place than monuments  or landscapes and you will see a lot of faces in my albums.
The Huawei P9 has a great camera which lets you capture the portraits so well. If you look at the P9, you will see two lenses behind and yes, they are Leica lenses. Interestingly while one works on the colour, the other shoots monochrome images and the software blends the two together. So, the images are strikingly beautiful . I will come to the monochrome mode and lens a bit later.
Street photography
Every street in a city speaks to me – the colours, the flavours, the energy, the emotions, the culture . Some are old and crumbling, some are bustling with life, some are filled with markets, others with monuments. The P9 is extremely handy in shooting street photography, not only can you change modes in a moment, you can also create a bokeh effect when you want the subject to stand out and blur the background – all by just a touch of a button.  Great for night photography too as you can see. For me street photography is also about markets, food and lots of energy and this is one of my favourite travel photography tips. Find a street you like , a market you fancy and shoot.
Culture is everywhere
You do not always have to go looking elsewhere to some exotic place to capture the cultural flavour of a city. It is all around you. One of the travel photography tips that I suggest is to just look at your own backyard, in street corners, on doorways, shops, statues, parks. Temples, shrines, carvings – Indonesia has them all. I found life sized puppets walking around, ghosts haunting me, kids singing on the streets, locals cycling around monuments. I tried various modes on the P9, especially the bokeh effect to blur the backgrounds.
Capturing landscapes
There is more to a destination than just sunrises and sunsets. Green, yellow, blue, pink, brown – almost every colour of the vibgyor comes alive on the P9. You can shoot on raw and edit it , change your settings to even vivid mode when it comes to colours. Most of the landscapes that I saw in Indonesia was around water- oceans, lakes, rivers, beaches. And every one of them looked different .
I used a bit of the pro mode here, changing ISO , aperture and shutter sometimes when I had the time. It also comes with an image stabliser mode. I also played around with the beauty mode, not just to take selfies but beautiful colours of the landscape too.
There are several filters as well and I played around with quite a few of them. But the natural colours were so beautiful that it calls for little editing.
Travel is all about moments
Sometimes you just want a moment to pause for ever.  There is a haunting feel about it. I remember walking around the botanical garden in Bogor in Jakarta and we took a detour, only to find myself in an ancient cemetery. Time seemed to stand still there. And I decided to play around with the monochrome mode. It is great for experimentation and the moods vary from stark to haunting. In a mobile camera, this is so much easy – to just play around with modes other than just selfie and auto 🙂 I personally love black and white photographs. I also researched a bit later and realized that the lens that was capturing more details than the one focussing on colour.
So next time you are out travelling, leave your big bulky camera and your lenses at home and carry the sleek Huawei P9 with you. It is a great travel companion and the battery, believe me, lasts. I hope you liked my Indonesian photo feature and my travel photography tips.  Would you like to suggest any more travel photography tips ?
This post was written in partnership with Huawei P9 as I was reviewing it for travel photography. I visited Indonesia last month on invitation from Ministry of Tourism for the Trip of Wonders.
Five things to do in Indonesia – Travel With Lakshmi
If you are planning a visit then here is my video on Five things to do in Indonesia on my Youtube channel, Travel With Lakshmi. If you like my video, request you to subscribe to my channel.
More Indonesia stories
Sighting the Komodo Dragon in Komodo National Park
A road trip in Bali exploring islands
Fifteen reasons why you should visit Jogja
Six experiences in Bali that you must visit
Five cultural experiences you must visit
Why Indonesia should be on your bucket list