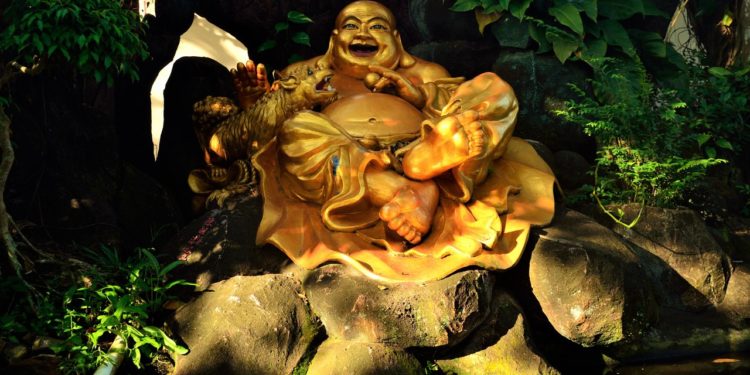 On this Trip of Wonders in Indonesia, we now visit a fishing hamlet and a Chinese village in Senggarang Bintan and understand some of the traditions of the ethnic chinese community who live here even today.
"It just takes one hour by ferry to connect Singapore and Bintan Island, " says my guide as I wait at the jetty.  Colourful graffiti depicting island life fill the walls.
The skies are blue and the oceans reflect the mood, but the boats are colourful. Bintan Island is a melting pot of different ethnic groups from the Chinese, to Malays and the early settlers, Orang Laut tribe. It eventually came under the control of the colonial powers.
However it is believed that the Chinese landed here over 1800 years ago (around 3rd century ) and the island was a prominent trading post on the India -China route.  Located in the Riau Island province, the main city is Tanjung Pinang and I have just landed here from Jakarta. The agenda however is to visit an old Chinese village, Senggarang in Bintan.
Wooden floating houses at Senggarang Bintan
My boat anchors at the small jetty where a boardwalk takes us to the quaint village filled with an old world charm. Time seems to stand still in this fishing hamlet.
Walking on a narrow lane, jostling past a few cyclists, bikers and excited kids, I see wooden houses built on stilts, while the boats, referred to as sampon  float in the breeze.
Some doors are open, giving us a voyeuristic peek into their lives, while others are closed. It is late afternoon and the village seems to be lost in a stupor.
I walk around aimlessly in Senggarang Bintan. Some children grin at me. An old lady beckons me. A lady smiles shyly as I take her photograph. Another man peers curiously from his window and gestures me to photograph him. I  pass by schools, shops and shrines.
The village takes us back in time to the era when the Chinese had moved here and even today they practise some of the age old traditions and customs.
They speak Mandarin and Hokkien and Teochew. And they pray at some of the oldest temples here, apparently over 200 years old and practise Buddhism.
Temples at Senggarang Bintan
Towering sculptures of Buddha greet me from lush gardens in Senggarang Bintan. The shrines are filled with Buddhist iconography and filled with depictions of Chinese legends .
I learn that there are seven old temples here, each one narrating a story.
I quench my thirst with some tender coconut water and head to the Senggarang Temple Complex which houses a few shrines. A couple of giant Buddha statues stand near the Sun Te Kong Temple.
I am told that this temple was established when the migrants started living here and they refer to it as the Temple of Fire and pray for happiness. The ethnic Chinese group believed in the gods of nature and worshipped the elements.
Another temple located close by is the Marco Temple dedicated to the God of sea who took care of the sea faring locals as they went out into the ocean.
The Tay Ti Kong Temple houses the God of Earth and the locals prayed to him for a good harvest and to take care of their home and hearth.
But nothing prepares me when I see the ancient Banyan Tree temple, where nature has created its own architecture. It is believed that this shrine referred to as Tian Shang Miao was the residence of the village headman.
However when he died, the locals wanted to create a place to revere him . But what really fascinated them was the age old banyan tree which curled itself around the structure of the house, almost enfolding it in an embrace. As the tree began to spread its branches around, the villages overawed by nature, decided to worship it and renamed it as the Banyan Tree temple. Standing there and seeing its branches entwined around the house, I am overwhelmed as well.
Some men are playing local games behind the temple under the shade of the tree. A small swing hangs from the branches. Apparently there is a plaque near the temple which indicates in Chinese , "Da Fu Di."  During the reign of ancient dynasties, it was believed that houses of prominent men bore this symbol. However there is not much information available on the original residents of the house.
There are two old caretakers, who seem to have a great sense of humour.One of them, called Toyyib gestures something to me and the locals burst out laughing. When I look at them puzzled, they translate saying, " He wants to know if you drink, " .Smiling, I mutter, I cannot have asked for a more interesting date ! And that ends my day and date with the locals at Senggarang Bintan
How to get to Bintan
By ferry if you are coming from Singapore and you can fly to Tanjung Pinang from Jakarta
Hotels in Bintan
There are several hotels and resorts in Bintan called Bintan Resorts. We stayed in Bintan Lagoon Resort courtesy Tourism Ministry of Indonesia
Things to do in Bintan
From sailing in a mangrove forest to chasing sunsets, from culinary classes to ATV rides, there are several things to do in Bintan based on your interests. I would just recommend doing nothing and gazing at the beach.
I was invited to Bintan along with a group of travel bloggers by the Tourism Ministry of Indonesia and we visited Jakarta, Komodo Island and Bali as well.
Five things to do in Indonesia – Travel With Lakshmi
If you are planning a visit then here is my video on Five things to do in Indonesia on my Youtube channel, Travel With Lakshmi. If you like my video, request you to subscribe to my channel.
More posts on Indonesia 
Sighting Komodo dragons in Komodo Island
Six Experiences in Bali that you must not forget
Why Indonesia should be on your bucketlist
A photo feature of Mount Bromo
Fifteen must do experiences in Jogja
Five cultural performances in Indonesia that you must not miss