I am on a nostalgic journey these days , visiting and revisiting countries that I had been to in the distant past, like Malaysia for instance. My memories are however rather fresh . I visited Penang, the island state that takes its name from " the island of areca nut palm " , also referred to as the Pearl of the Orient.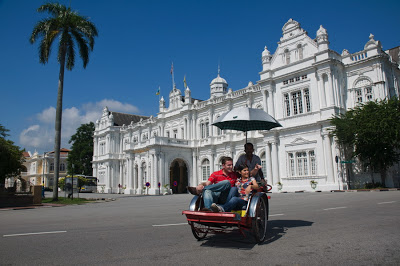 It was the first time that I saw a colourful trishaw, in bright yellow, decked with colourful flowers . Born and bred in Chennai , rickshaws are not really new to me as we have used it as kids to go to schools and near by places. But what really fascinated me about these "beca" as they are called locally here is the way they are spruced up and decorated. And unlike the Indian counterparts , these are pedal powered and not pushed by people, who drag your weight along the roads. The trishaws form almost a part of the tourist attractions here and it is highly recommended to take a ride along George Town in one of these vibrant vehicles.
George Town, the capital is a World UNESCO site , named after the British King George 111. A fort was built by the British here in the 18th century when they set it up as a trading post for the British India Company, George Town is very much reminiscent of the colonial era. Another similarity that brought me back from Malaysia to my hometown is the very own Fort St George here, built by the British in Chennai when they found the settlement, Madras almost 400 years ago.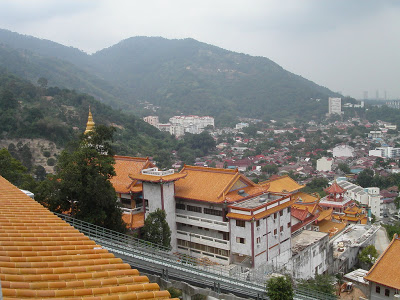 As you go for a ride around the old commercial centre in Malaysia, you can see warehouses and godowns that stretch to the sea. Take a walk by the ocean side or shop for curios in the many shops that line this area or just go for a ride in the trishaw listening to your rider narrate stories.