Most of travelling is not just about sightseeing. I usually enjoy absorbing the sights and sounds of a city by hanging out in the main square or walking around the streets. One of my favourite streets in Malaysia is located in Malacca, the World Heritage Site. Jonker Street is a cultural melange , a fusion of art and architecture , of local crafts and curios and I could lose myself for hours here. One of the best ways to experience the cultural heritage is to take a journey down the ages in a trishaw or a beca and listen to the stories narrated by the locals as they drive you down these streets.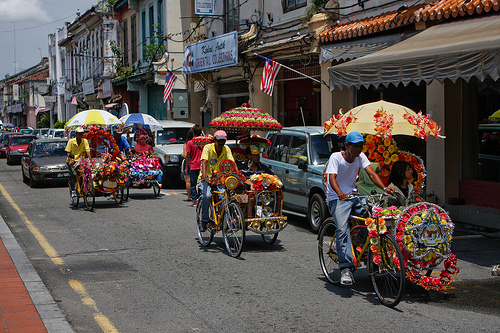 Pic Courtesy : Brian Jeffery Beggerly, Flickr.com
Some of the ancient buildings here , which have been restored , date back to the 17th century and they lend a distinct European flavour to the architecture styles. East meets West in these quaint streets, now thronged by tourists. Visit Jonker Walk on the main street where you are greeted by art galleries, antique furniture and curio shops that  beckon you but be prepared for some hectic bargaining. And while you are here, do not miss Heeran Street or the Millionaire's Row and the beautiful Peranakan Museum, which showcases the unique culture . Sample the local food here or sit in a cafe and watch life pass you by in this vibrant street.