Welcome to Pallava cave hunting
A small rusty board brings our car to a sudden halt. Surrounding us are lush paddy fields set against massive boulders . A lone woman is working on her crop, as we cut through the thorny bushes and walk across the fields. Following the path, we meet a huge hill loaded with boulders , standing precariously, one on top of each other. The hill seems to open out to us, as we walk through the narrow opening to reach our destination- the cave temple at Mandagapattu carved out of a 100 feet hillock.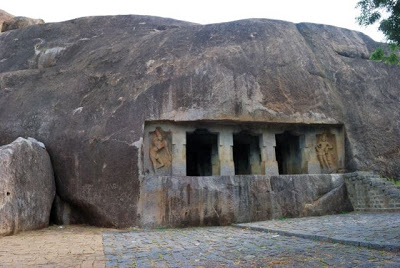 "Welcome to Pallava cave hunting. You will probably find it addictive , " says Vijay Kumar, who had initiated me earlier into the world of  Pallava and Chola temples through his website poetryinstone .  At Mandagapattu, I realize that I am already lost in the world of stone. A flight of steps leads us to the cave temple, carved  for the trinity, flanked by the door guardians or the dwarapalakas. The shrines are empty . "This is the first prototype of the Pallava rock cut cave temple, built by Mahendravarman 1 in the 7th century, " says Vijay .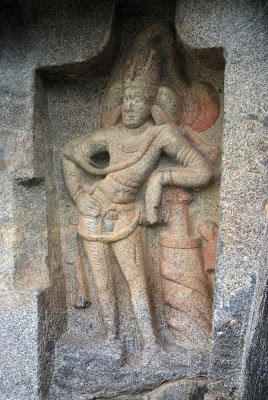 To me , Pallava architecture has always been synonymous with Mahabalipuram or Mamallapuram or Kadal Mallai , as it was originally called . Built by Narasimha varman or Mamalla, the rock cut cave temples here , I am told ,owe their inspiration to the early Mahendravarman  caves shrines ,which are  strewn around Ginjee, Tindivanam, Kanchipuram, Arakonam , Chengelpet among other districts . " The early pallava style has bulky pillars, not too many embellishments either in the form of relief sculptures, even the door guardians are not too bold in their depiction, but later on you will find the architecture being more evolved as they move towards building structural temples, " explains Vijay.
Our companion Arvind shows us the Sanskrit inscription. Here , Mahendraman declares that he is not building the temple from any perishable material – brick, wood, metal  and limestone or stucco.  " That is why he is titled as
Vichitrachitha
, an innovator in many ways," he explains. The temple in the inscription is referred to as
Lakshita Yathaanam .
"Mahendravarman showed leanings towards Jainism initially and then he moved towards Hinduism- which is probably why one would find jain settlements near his cave temples" adds Vijay. We are at Thalavanur, closer to Mandagapattu where the temple, Shatrumalleswaram is carved at the edge of another hillock, overlooking boulders.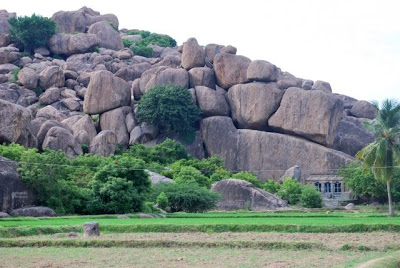 The temple houses door guardians flanking a linga.  "Note the advancement in art here, " mentions Vijay ," as we take in the makartoranas in the front façade ." A small flight of rock cut steps carved on the hill takes us to the shelters of Jain monks who probably meditated here and used this as their beds.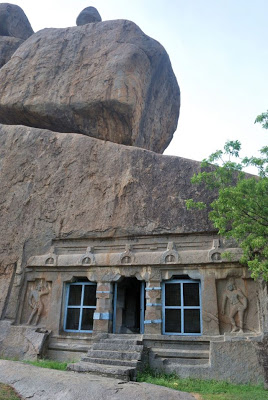 An old man walks up to us from across the fields and proclaims he is the caretaker.  A stray dog follows him, his howls echoing through the hills, as we retrace our steps .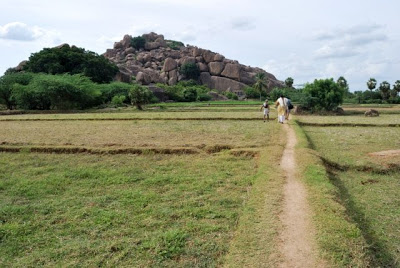 The story was published in Inside Story, my column in the Metro Plus, The Hindu. A detailed travelogue will soon be published in Windows and Aisles, the inflight magazine of Paramount Airlines