The Wild Goa – Goa beyond the beaches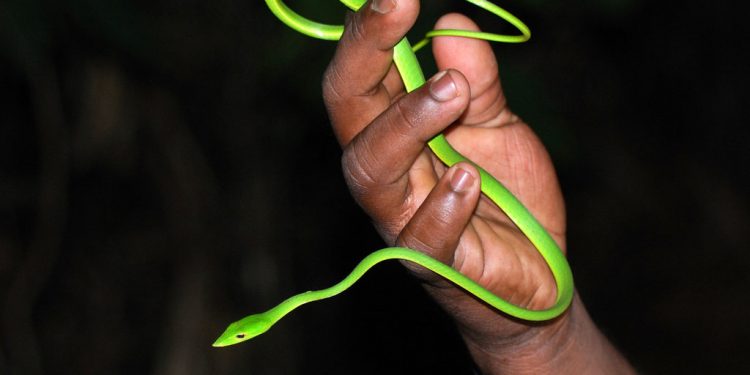 Look a snake" yells my travel companion as I see a checkered keelback slithering away into a small stream right beside me. I am in the heart of the forests, experiencing a facet of wild Goa . But this is not the Goa that I know. To begin with the closest beach is an hour away and I am surrounded by creepers in a dense forest. Cutting through the wilderness in South Goa, I am in a Goa beyond the beaches. "The stream is called Rabada" says Ramesh my guide, adding that it eventually joins the Mandovi river somewhere in its course.
It is almost twilight and darkness surrounds us. Pulling thorns from my clothes, I walk down the narrow path listening to the crickets. The silence echoes through the forests. Suddenly I hear a rustle but it is followed by a loud thud. I stop dead in my tracks looking at the shadows surrounding me. I can hear hoofs splashing in the waters but there is nothing to be seen than the curtain of darkness. Ramesh switches on his flashlight and we follow suit. And all we can see is a herd of gaurs rushing away in the opposite direction towards the trees. Another glimpse of the wild Goa.
I am in the thick of Bhagavan Mahaveer Wildlife Sanctuary in wild Goa, on a night trail looking for snakes and nocturnal birds like frogmouth and nightjar. Ramesh is an expert in handling snakes and he points to a slender creeper hanging right in front of me. I am almost about to touch it when he silently points to the tip which showcases a small eye. I realize I am gazing into the eyes of a green vine snake that is obstructing my path. "It is non -poisonous," reassures Ramesh but adds very quickly that it can bite people especially as it sometimes falls on people from branches overhead. I shiver a bit as Ramesh deftly clears the path for me and we move on to see another curled beauty, a Malabar pit viper pretending to be asleep. This is of course overflowing with venom.
We continue looking for owls and we spot the Jerdon's nightjar, a nocturnal bird that flies into the darkness. There is a pair of Srilankan frogmouth hiding in the bush and we decide not to disturb them. The night sky is out in all its glory as the stars look down upon us. We slowly walk back to our serene abode in the woods only to spot a pair of red whiskered bulbuls cuddled together in deep sleep. It was one of the prettiest sightings of the night. But we have to wait till morning to do some birding in Goa.
As morning dawns, the entire forest looks decked up in shades of emerald. Ramesh and his friend Pankaj take us to a little village called Tambdi Surla, where an old Shiva temple built in the 12th century greets us. The only difference is that this shrine built by the Kadambas over thousand years ago was not inside the village but in the dense forest. Lost amidst the jungles, there is hardly anyone around but for a few birds. According to the legend, the temple was built by the Pandavas during their exile but they did not have time to complete it. The Kadambas however took over from where they left. The Western Ghats surround us as this ancient Shiva temple is a haunt of several birds, notably a pair of hornbills.
The village itself is a little further away but you can hardly find any shops or eateries around.  I am lost in a world without newspapers, television, internet and mobile network. The village apparently got its name from the Tambdi Surla Mahadeva temple built right in the heart of the forests.
The birds follow us everywhere as we start birding in Goa. Pankaj shows us the state bird of Goa, a bright yellow bulbul with a red throat that gives its name ruby throated bulbul. I see the scarlet minivet in shades of red and yellow. The most beautiful is the Asian fairy blue bird while the loudest are the plum headed parakeets. I take a break and sip some kokum sharbat as I walk around the trees. There is the tiny crimson backed sunbird flitting around the branches. A black hooded oriole flies away like a bandit with a black hood over its eyes. I also spot my favourite Malabar pied and grey hornbills. Almost every tree and every branch is filled with winged creatures singing an ode to the morning sun. Pankaj hands me a pair of binoculars as I get excited focusing on the birds. The entire forest comes alive and the colours blind me. I am lost in a whirl of wings. Standing there I realize that this is the wild Goa , a Goa beyond the beaches and parties that needs to be explored more. However if you are looking for an expert's tips on Goa, then check out Hippe in Heels'  Guide to Goa. Rachel has stayed here for over four years and her ebook is very comprehensive.
Planning your adventure to Goa?  Check out the exciting flight and hotel offers on MakeMyTrip with Citi Cards to avail on your next trip. Click here  to know more.
This post is written in collaboration with Citibank.