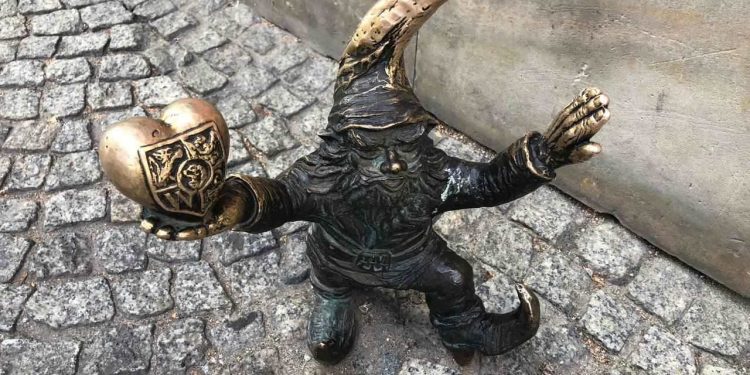 They look straight out of a fairy tale, with their impish grins and cheekiness and are the very symbols of Wroclaw, the fourth largest city in Poland "Lets go dwarf hunting,"says my guide Berta as we walk around the Old Town Square . You see them everywhere – hanging from a lamppost or sleeping on the pavement. Berta says that there are over 350 dwarfs all over Wroclaw and the Old Town alone has over 50 of them. And tourists have maps and apps to assist them in their search for these little fellas with stories and backstories. Wroclaw Dwarfs or Wroclaw gnomes as they are called are now the biggest and most popular attraction of Wroclaw.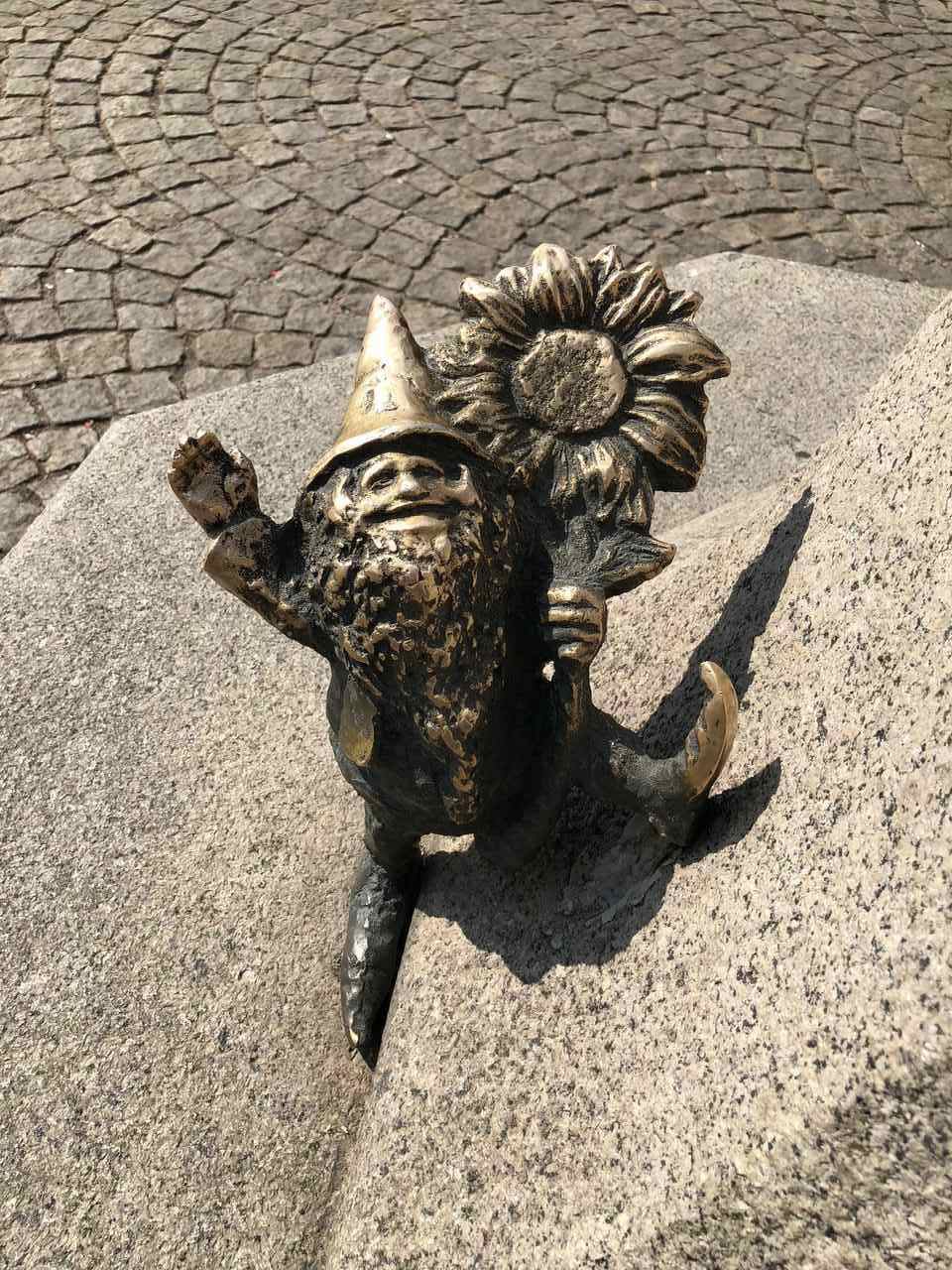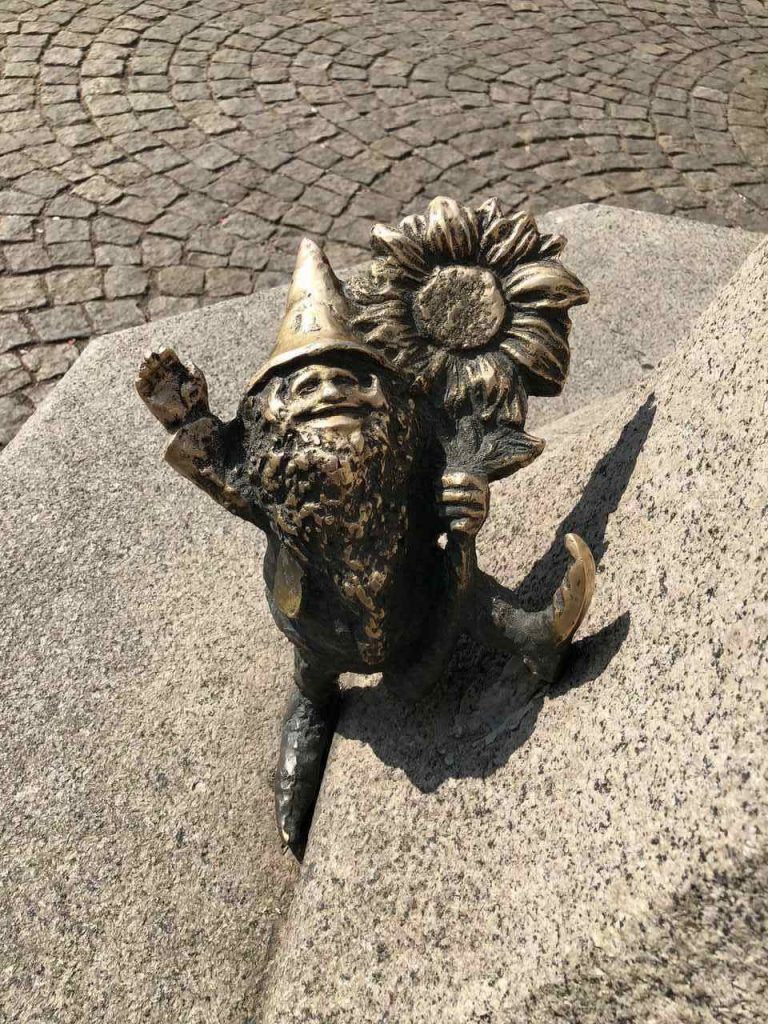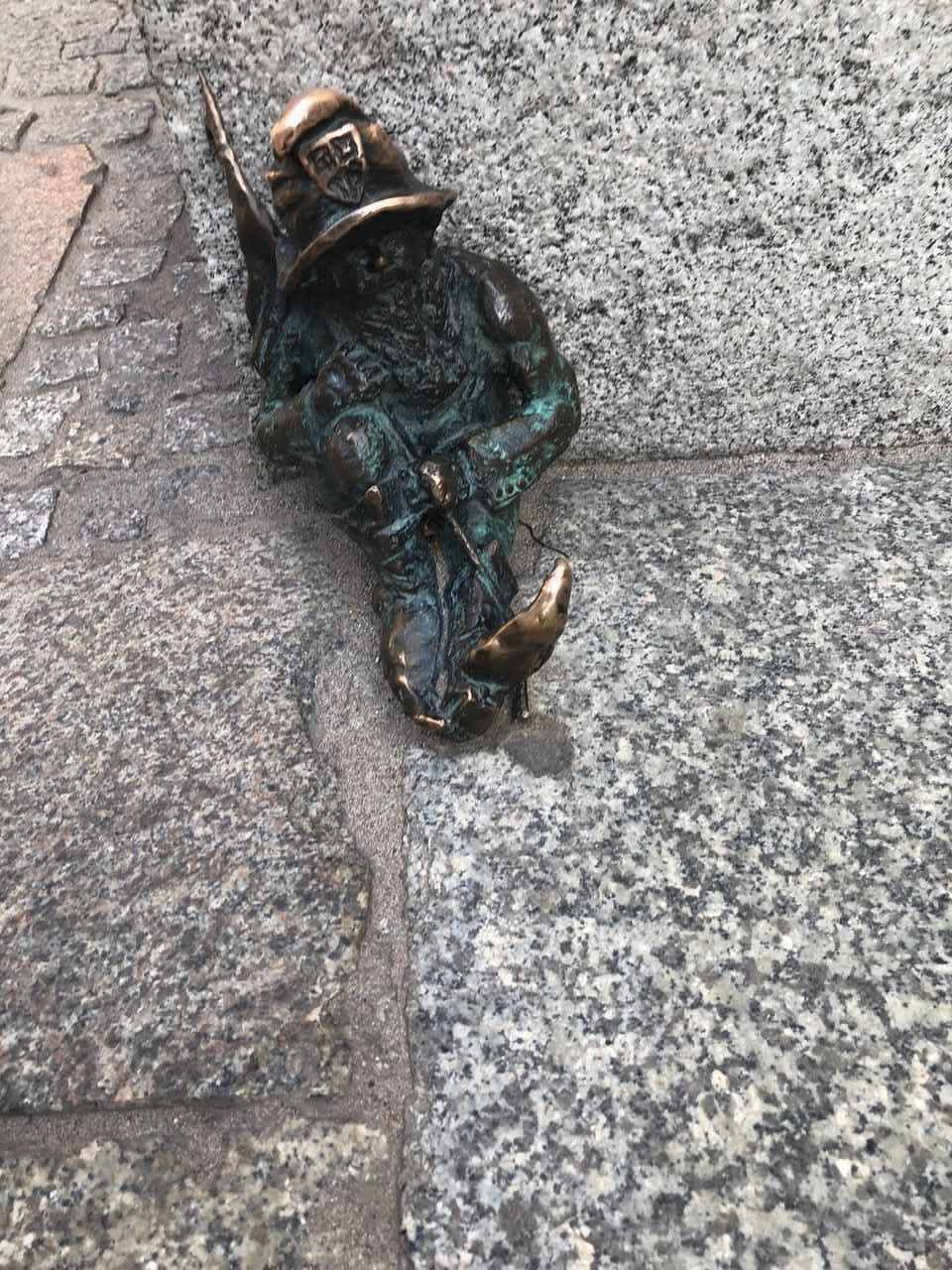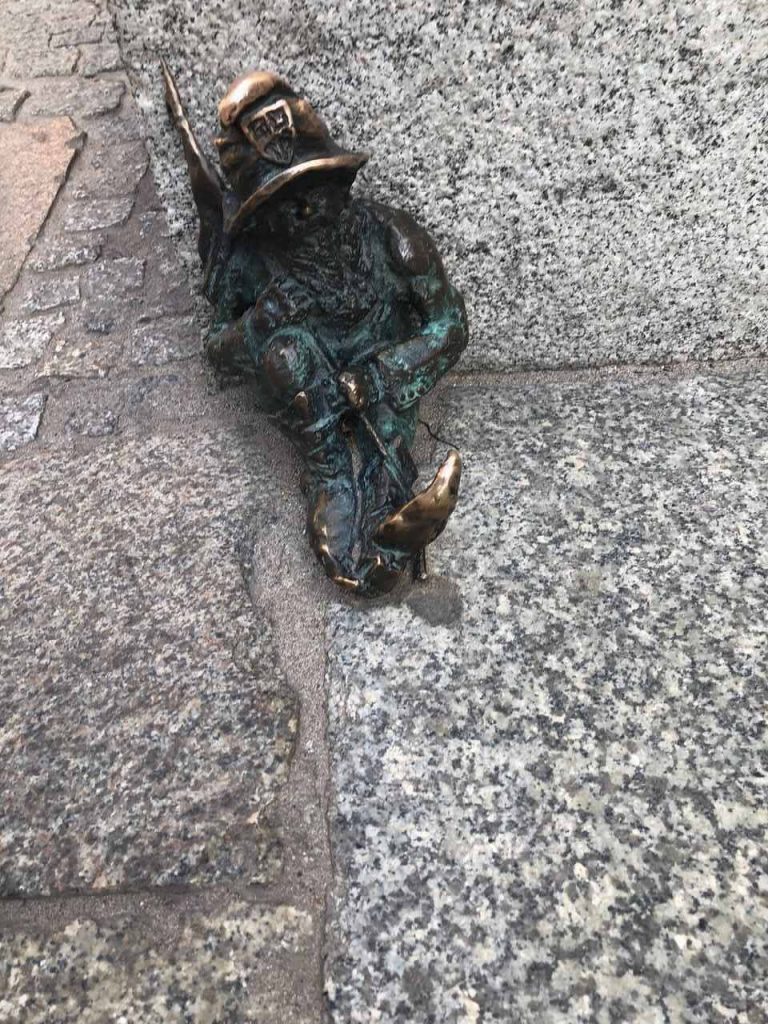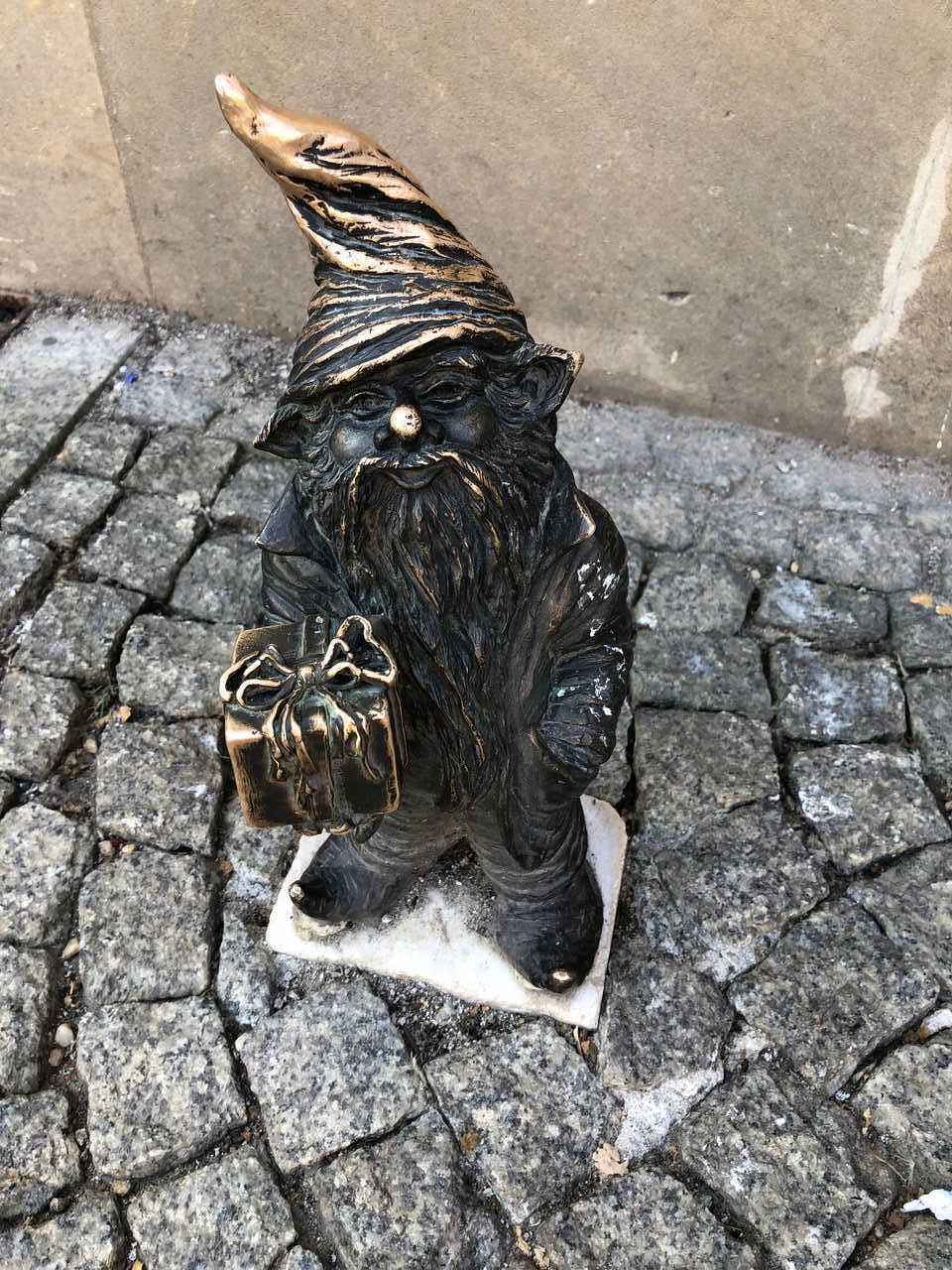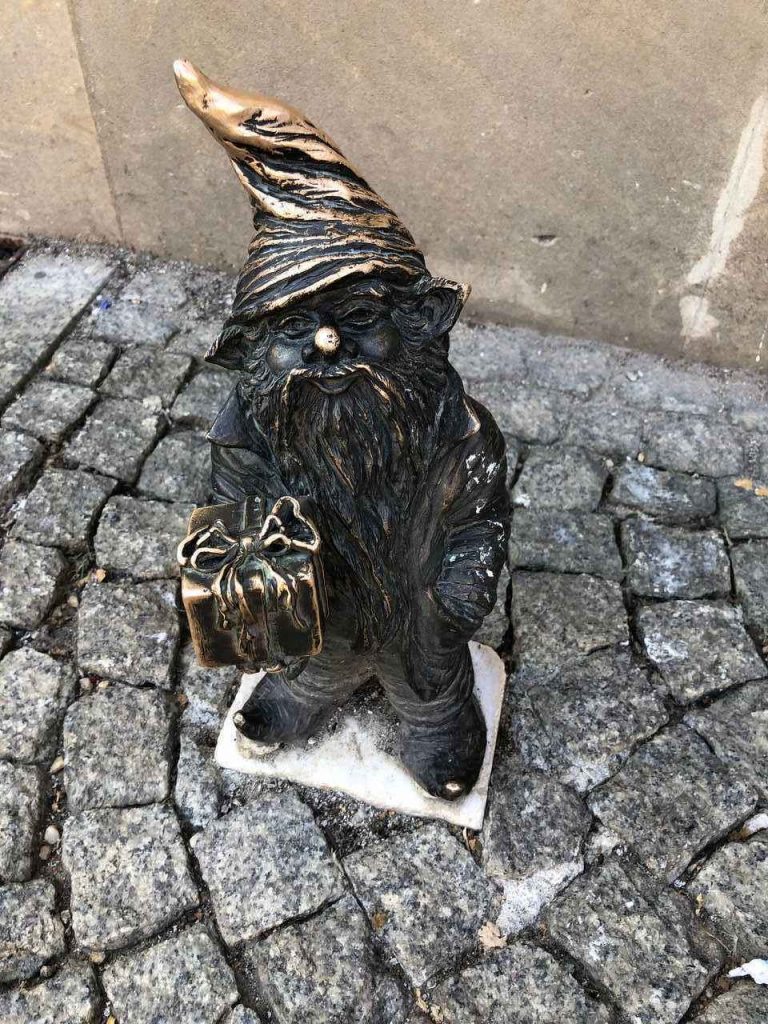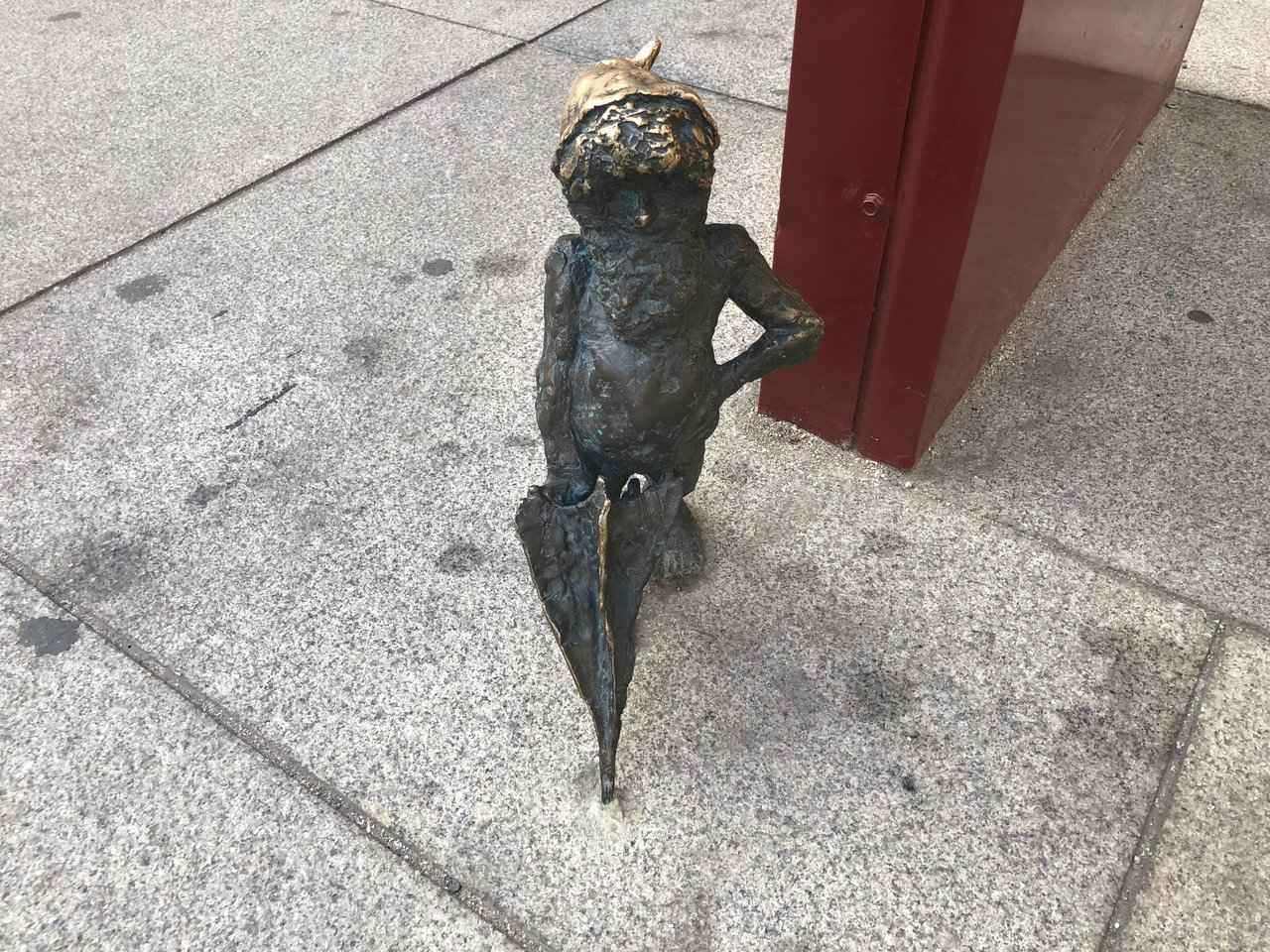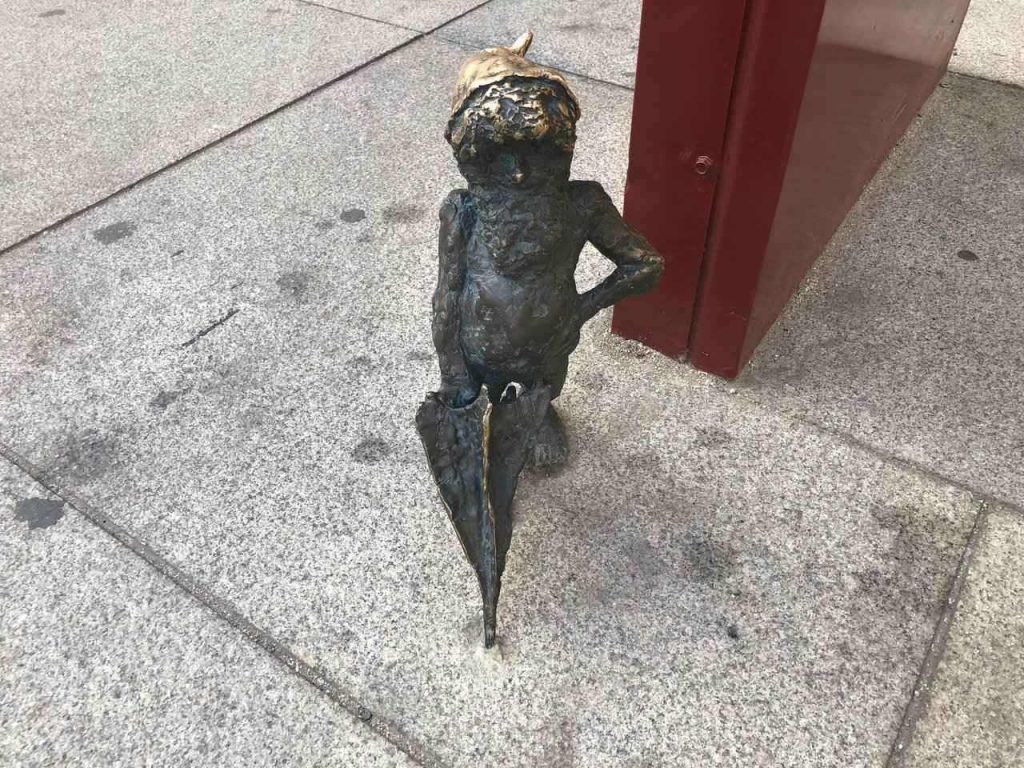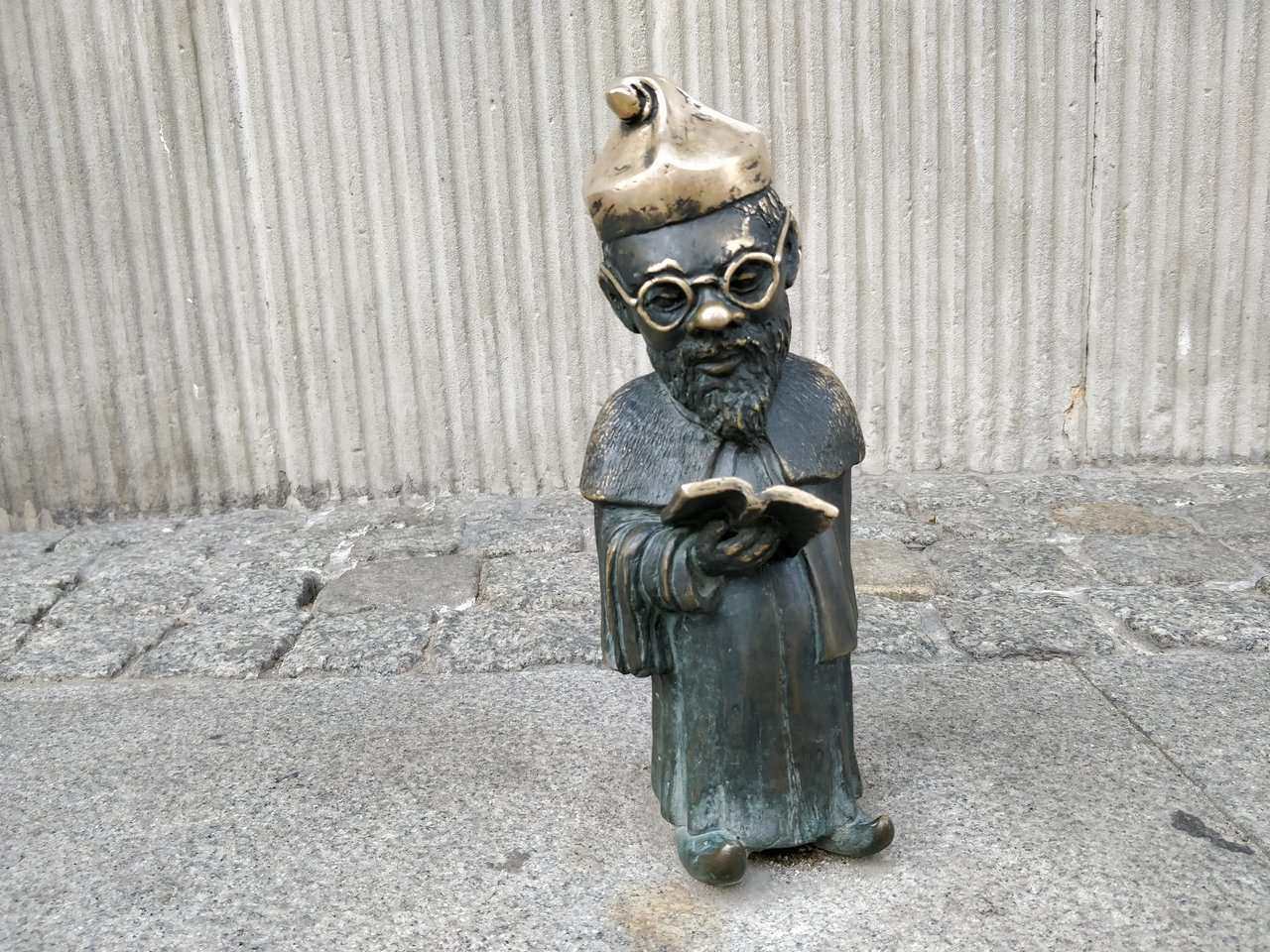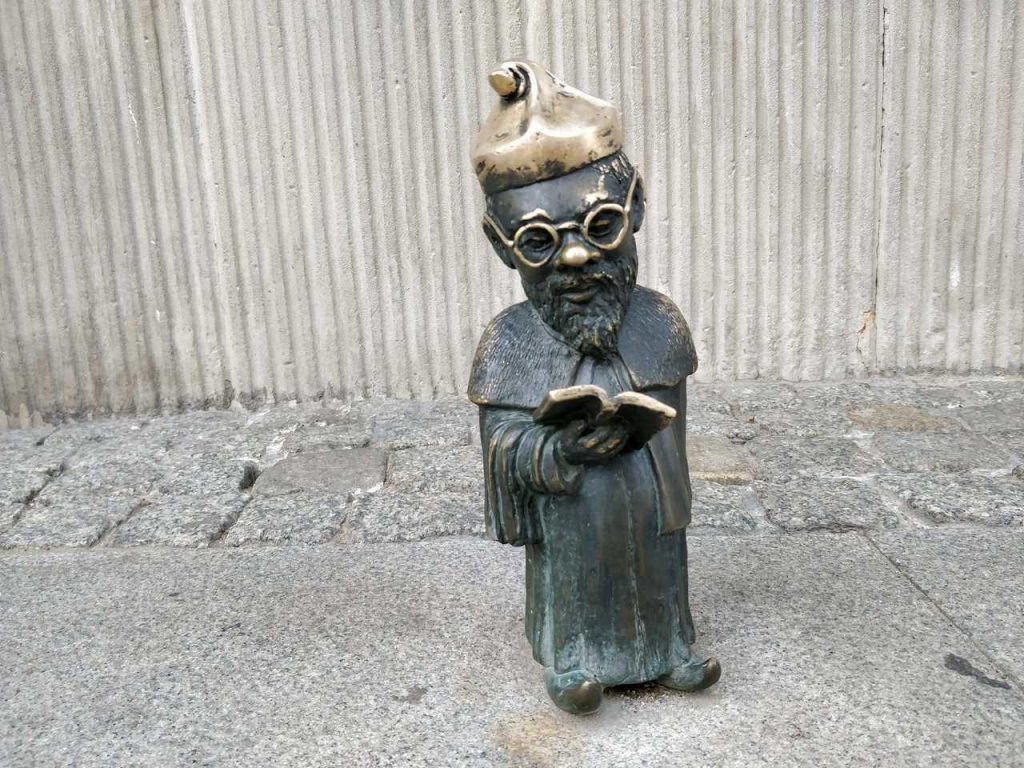 I am intrigued as I forget about the places to see in Wroclaw as I start looking for them. The Wroclaw Dwarfs are virtually everywhere. You find them posing as bankers, butchers, merchants, doctors, dentists, gardeners, professsors, chimney sweepers, musicians, buskers .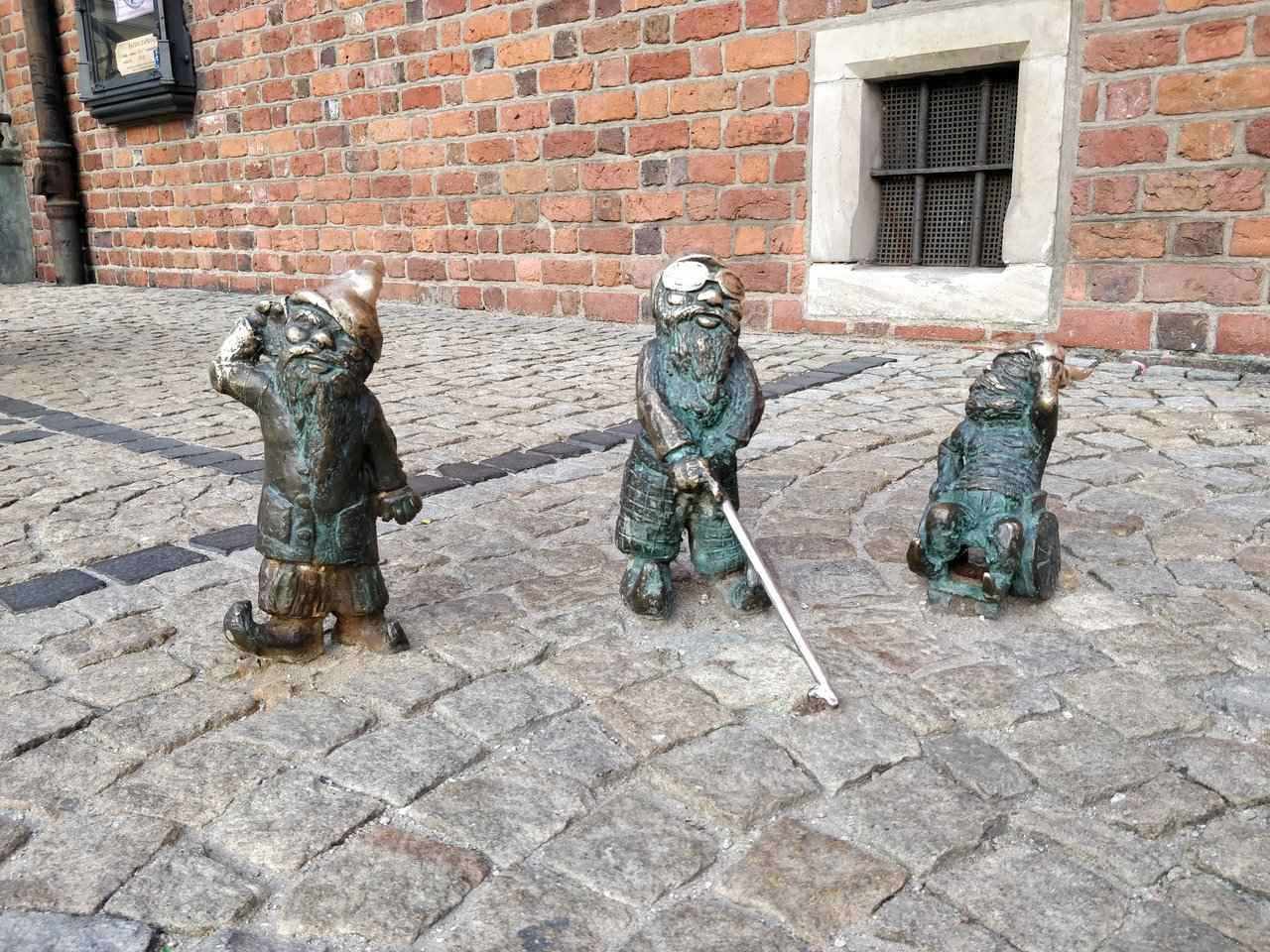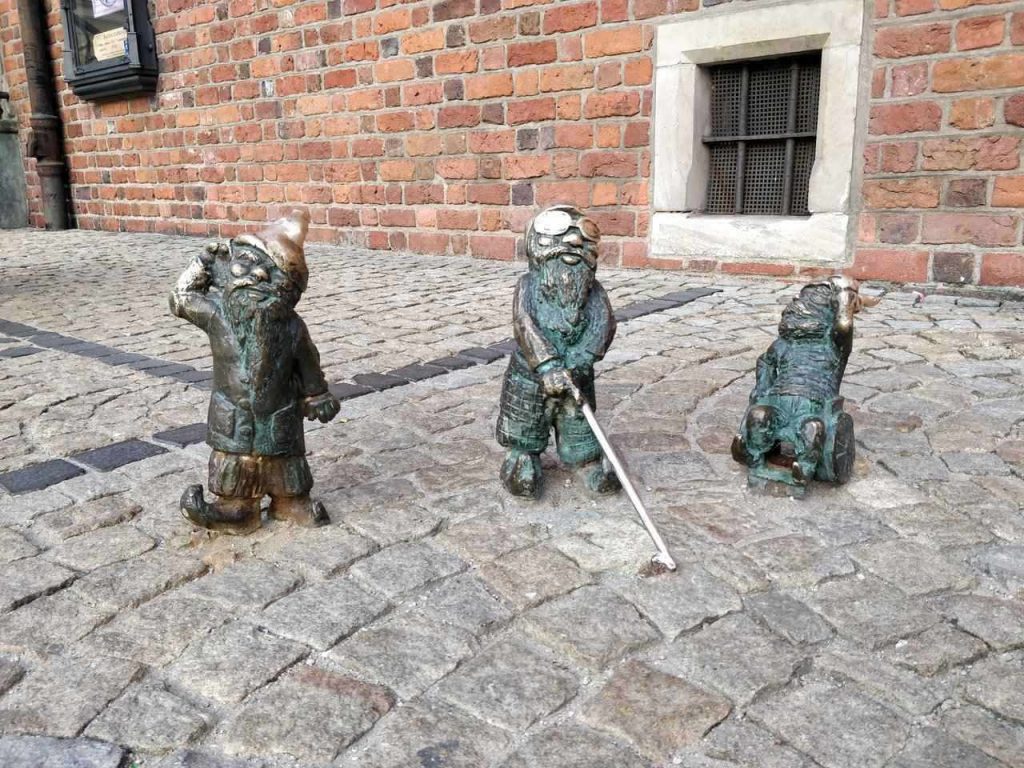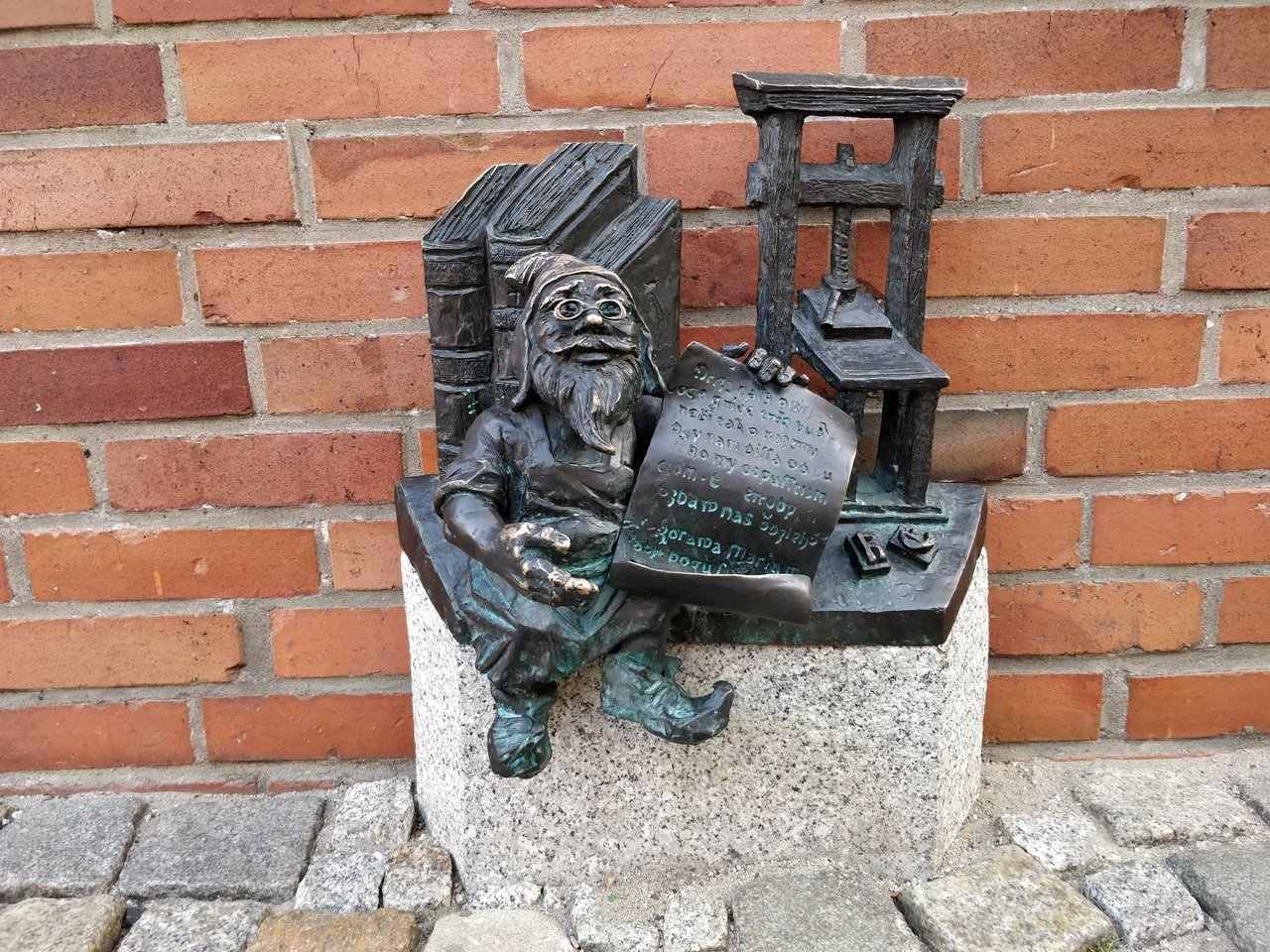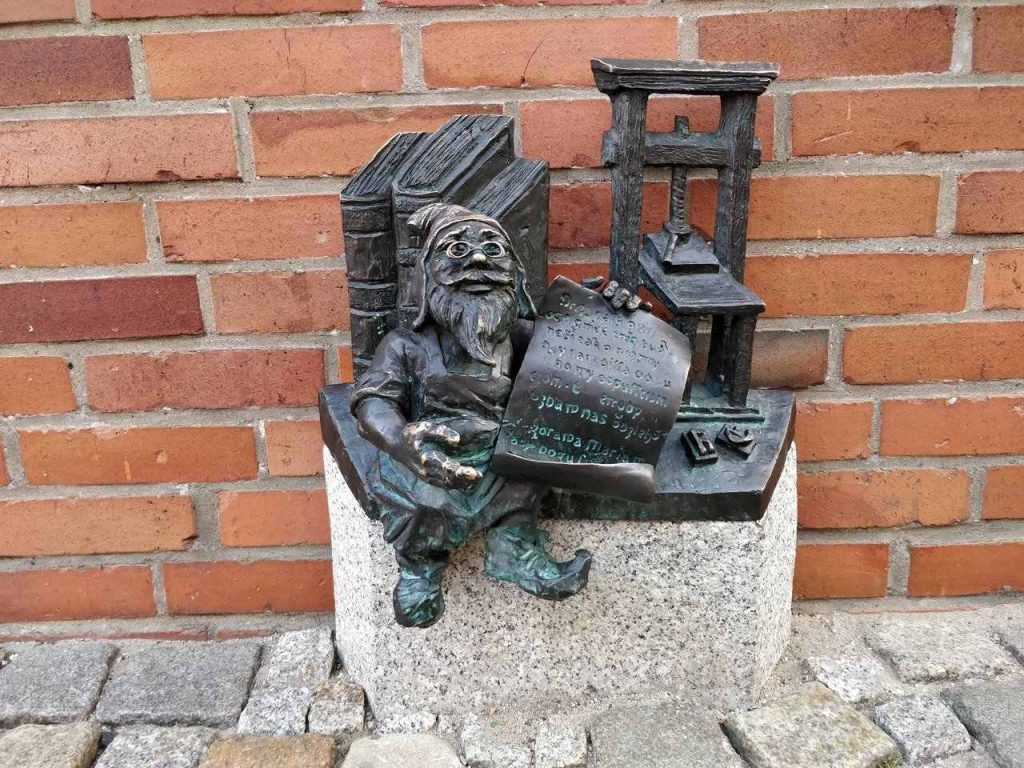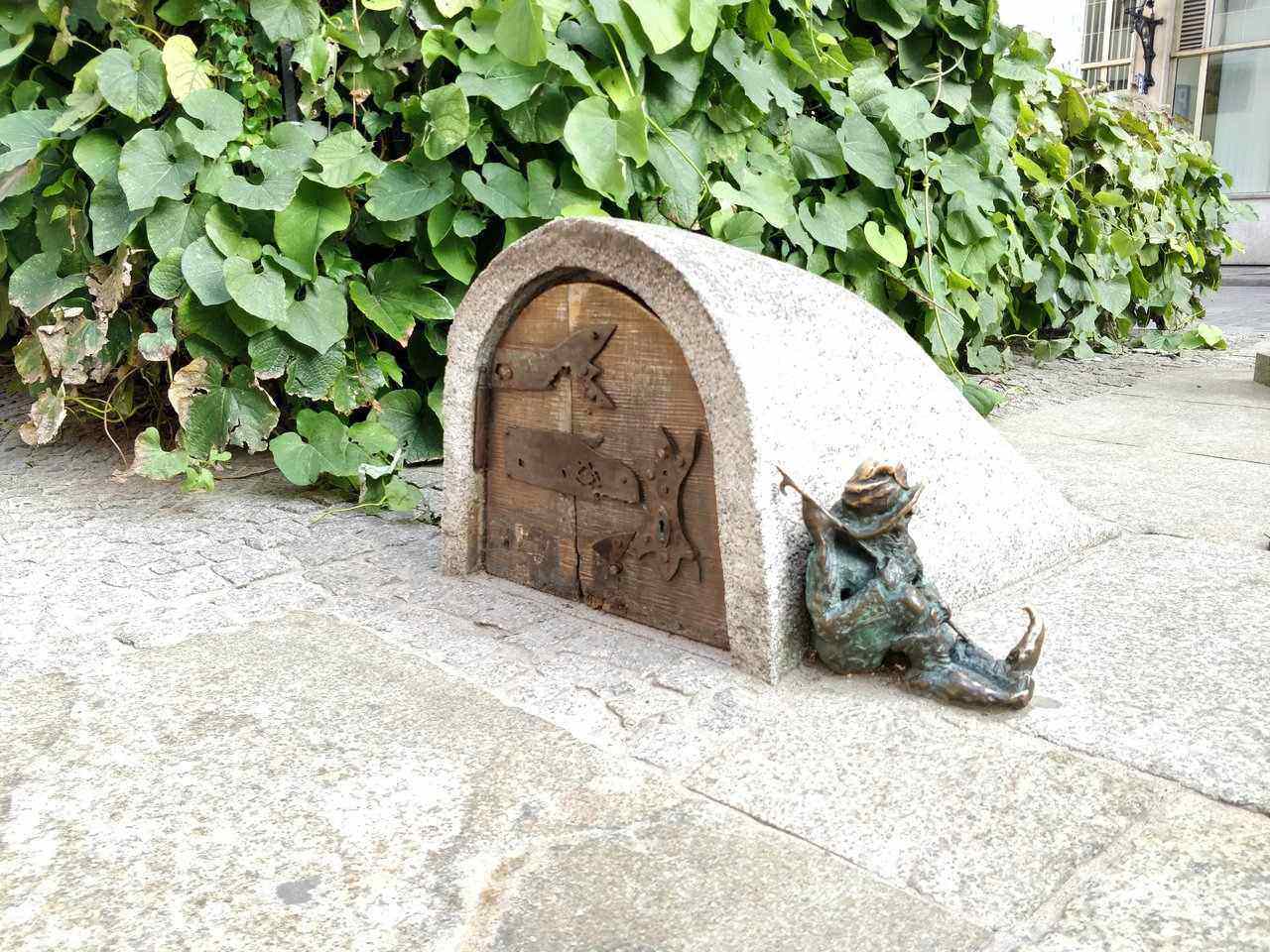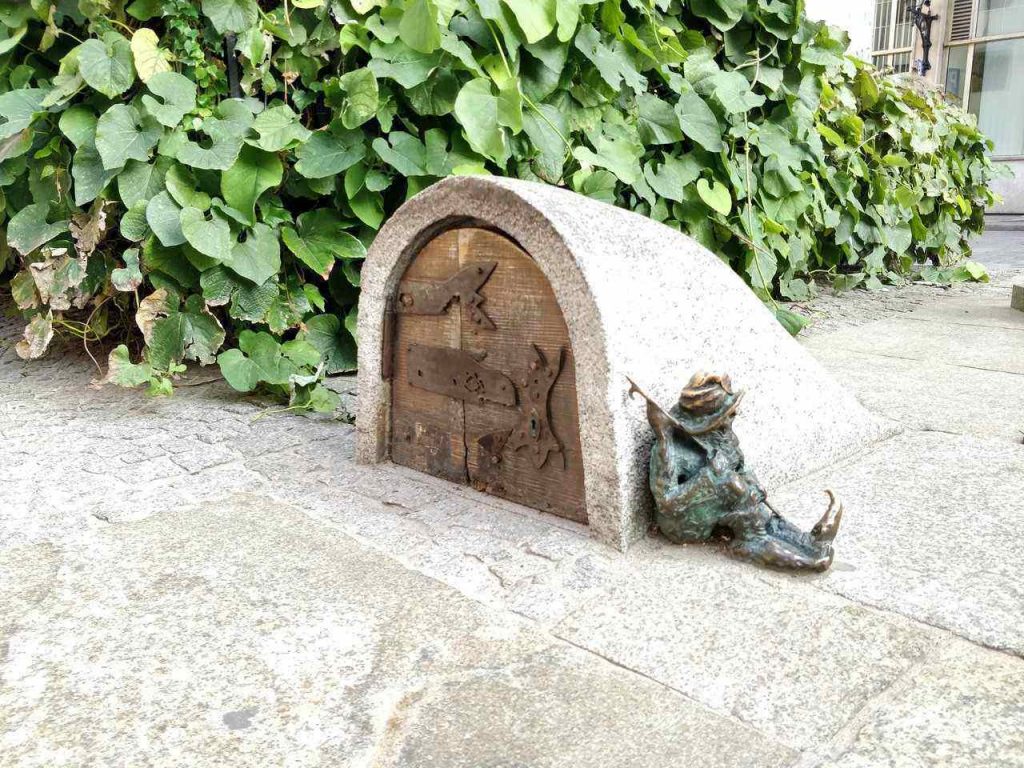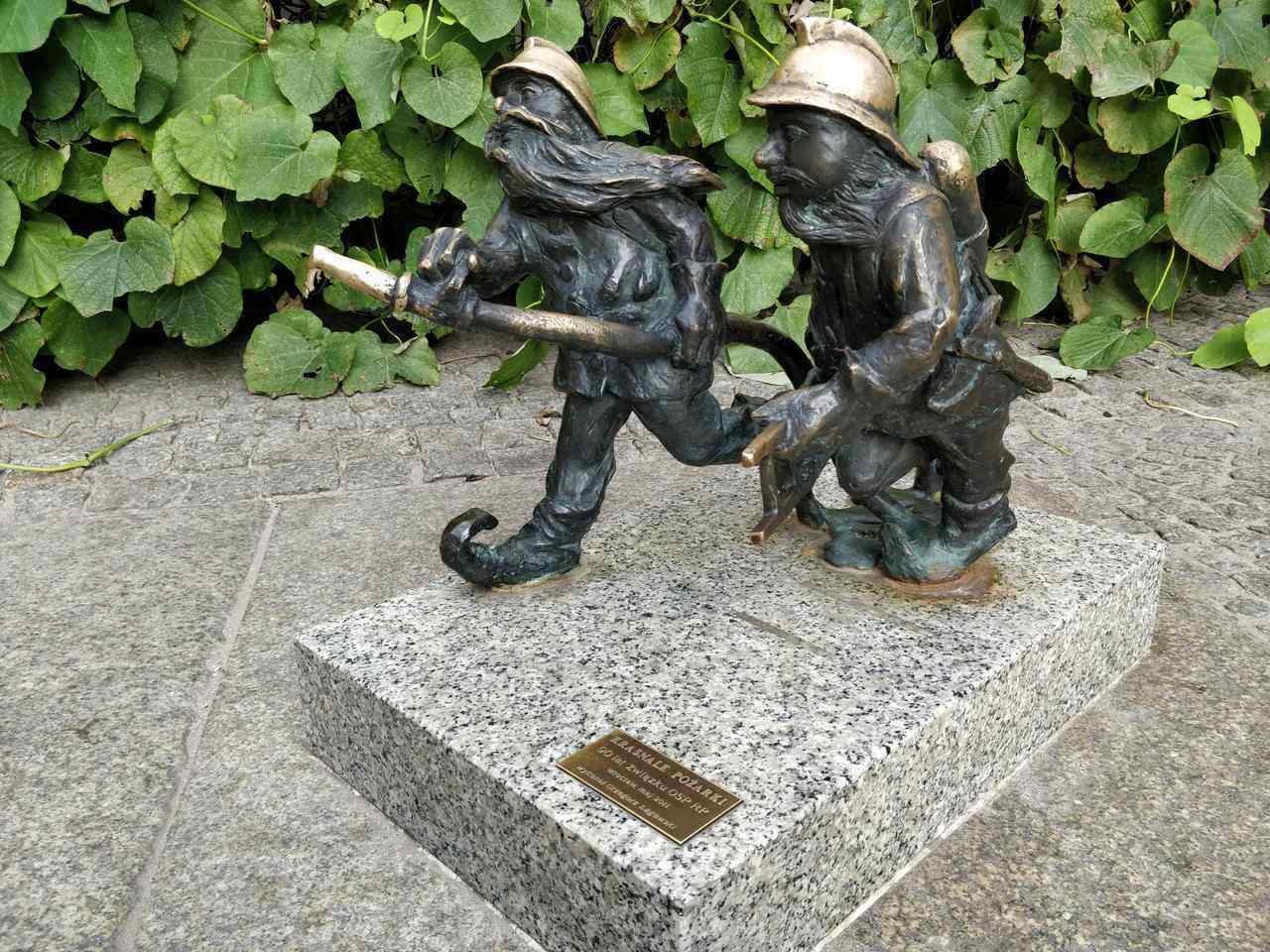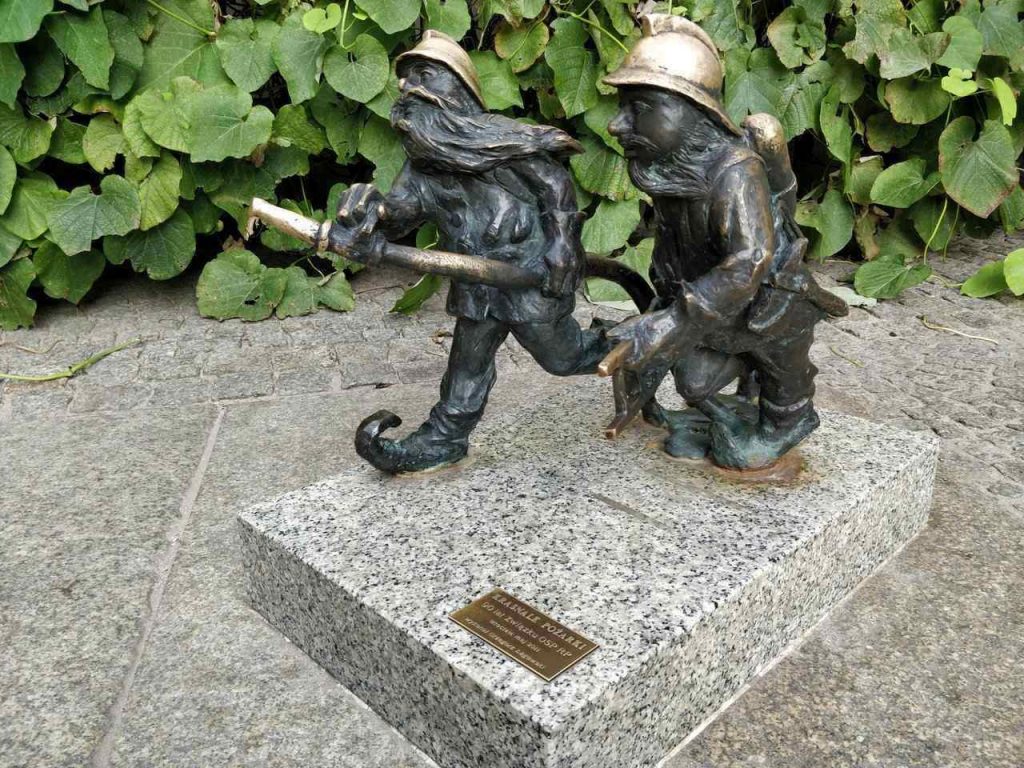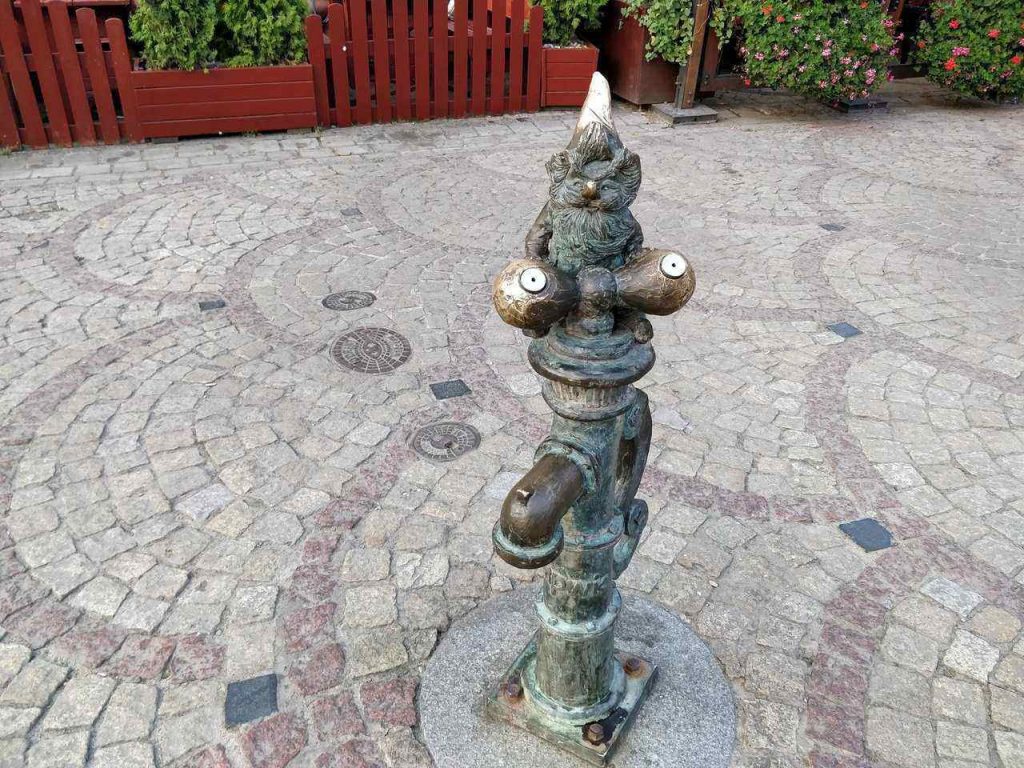 They are in front of these restaurants, banks, candy stores and you see them around the Wroclaw attractions – be it a church, a university or even on the banks of the river. There is even an entire orchestra playing for you at the concert hall and a museum of dwarfs, with of course a dwarf guarding it.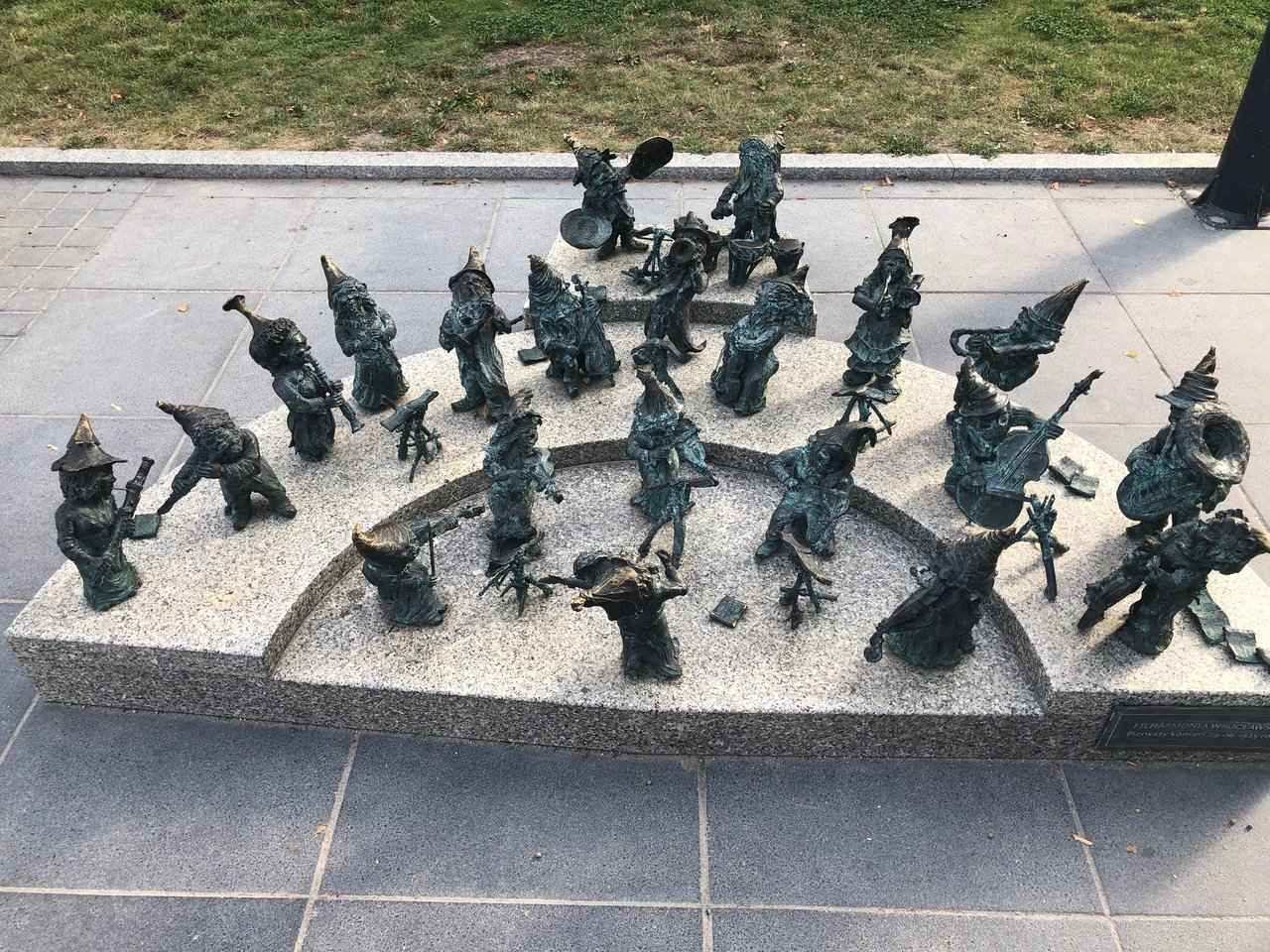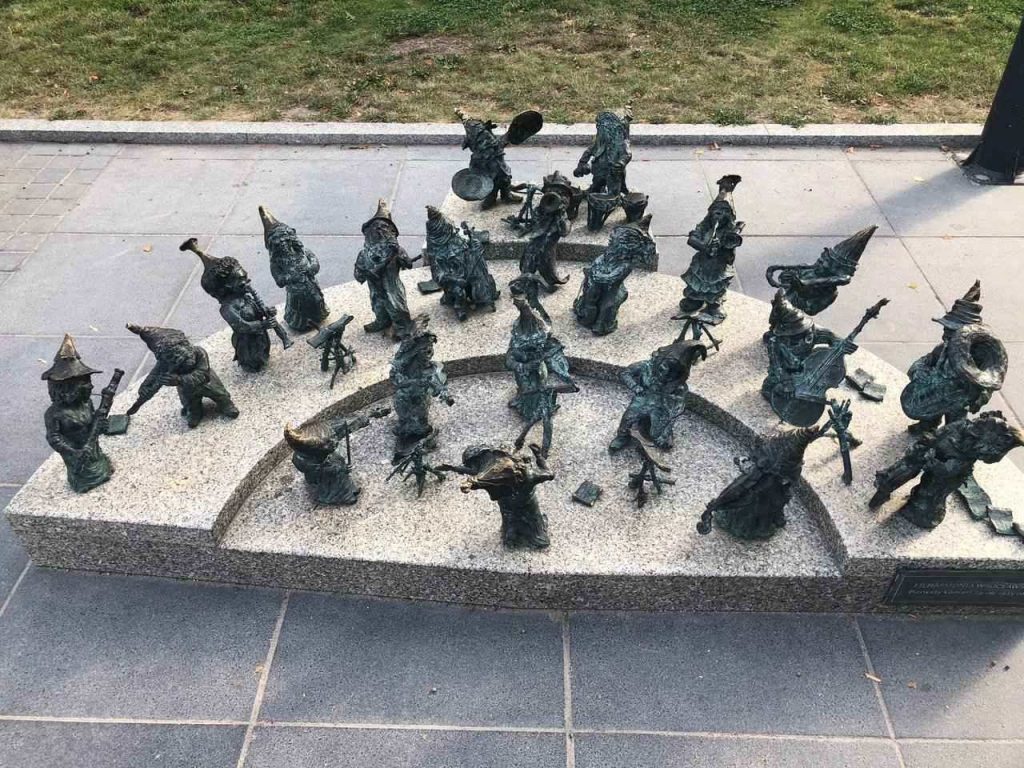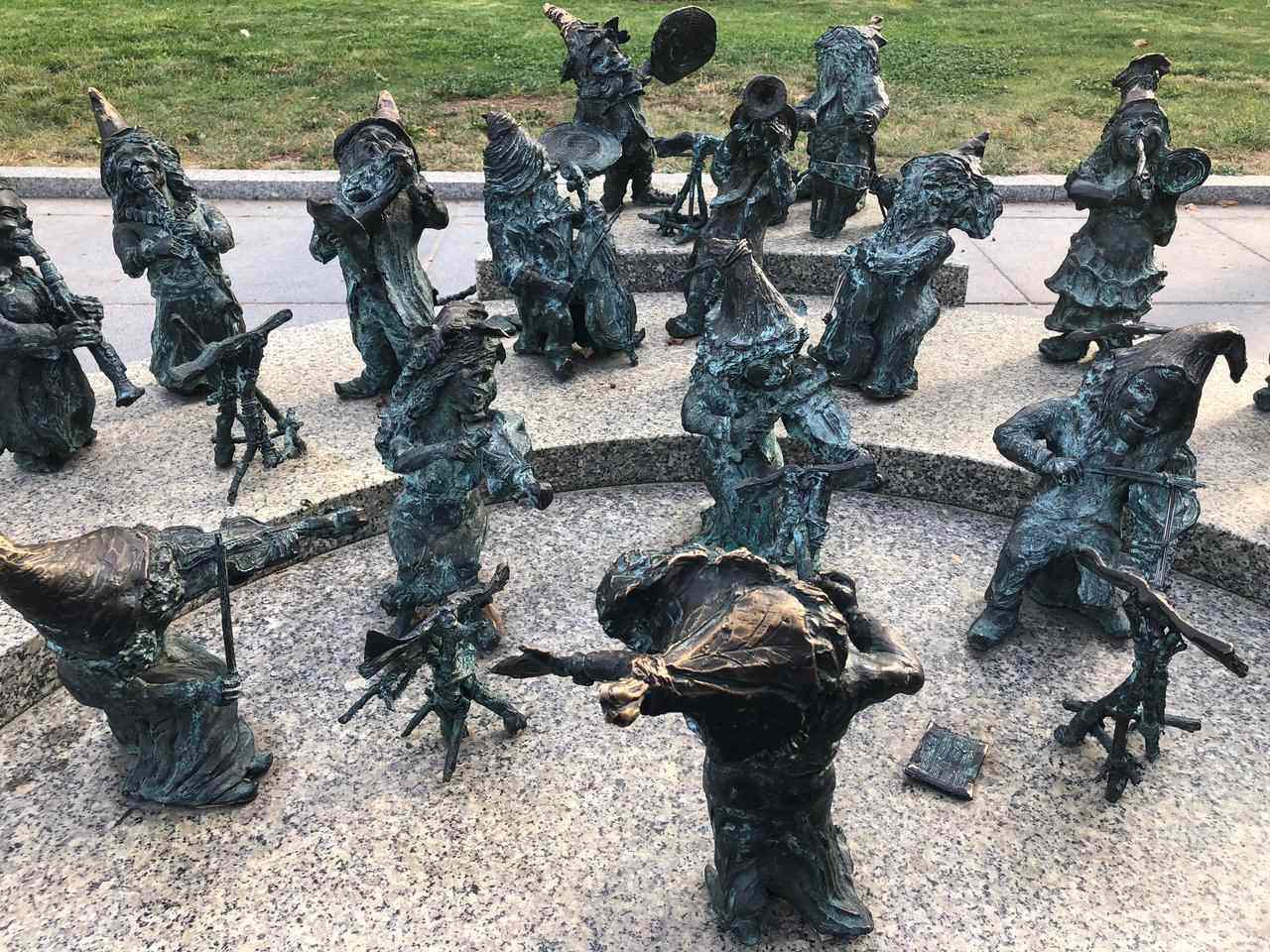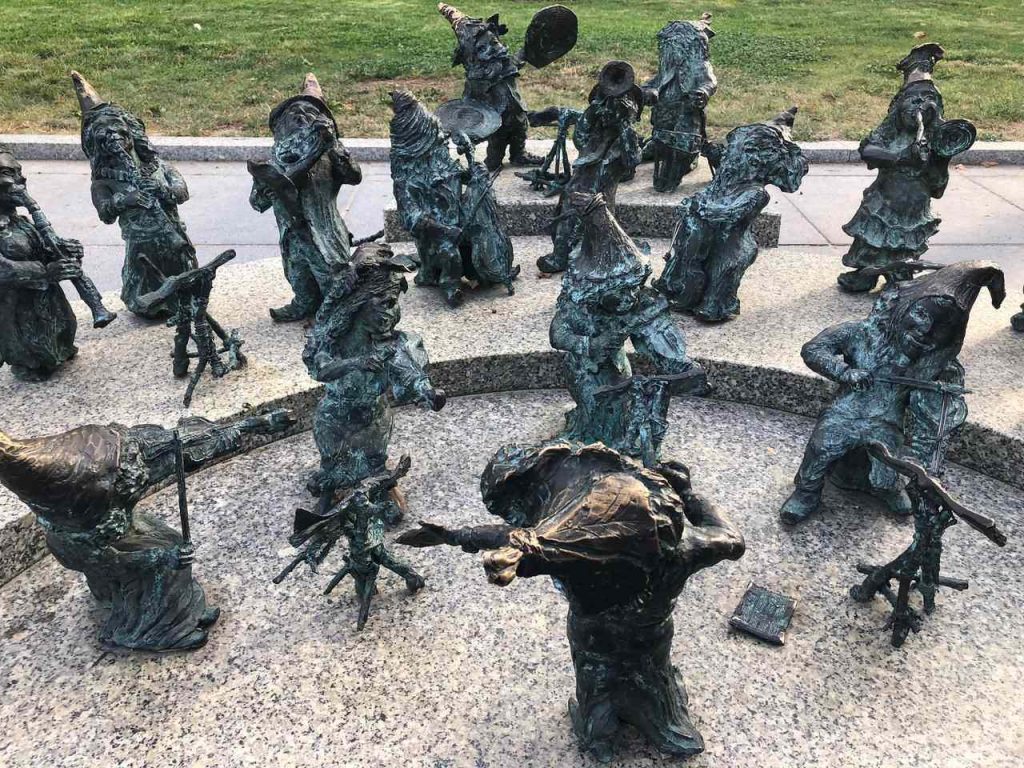 These Wroclaw dwarfs or Wroclaw gnomes are attractions by themselves as they represent a slice of Polish life, the history and culture.  Wroclaw celebrates an annual Dwarf Festival in September. And in winter, the local residents dress up these Wroclaw dwarves with shawls and mittens to even keep them warm.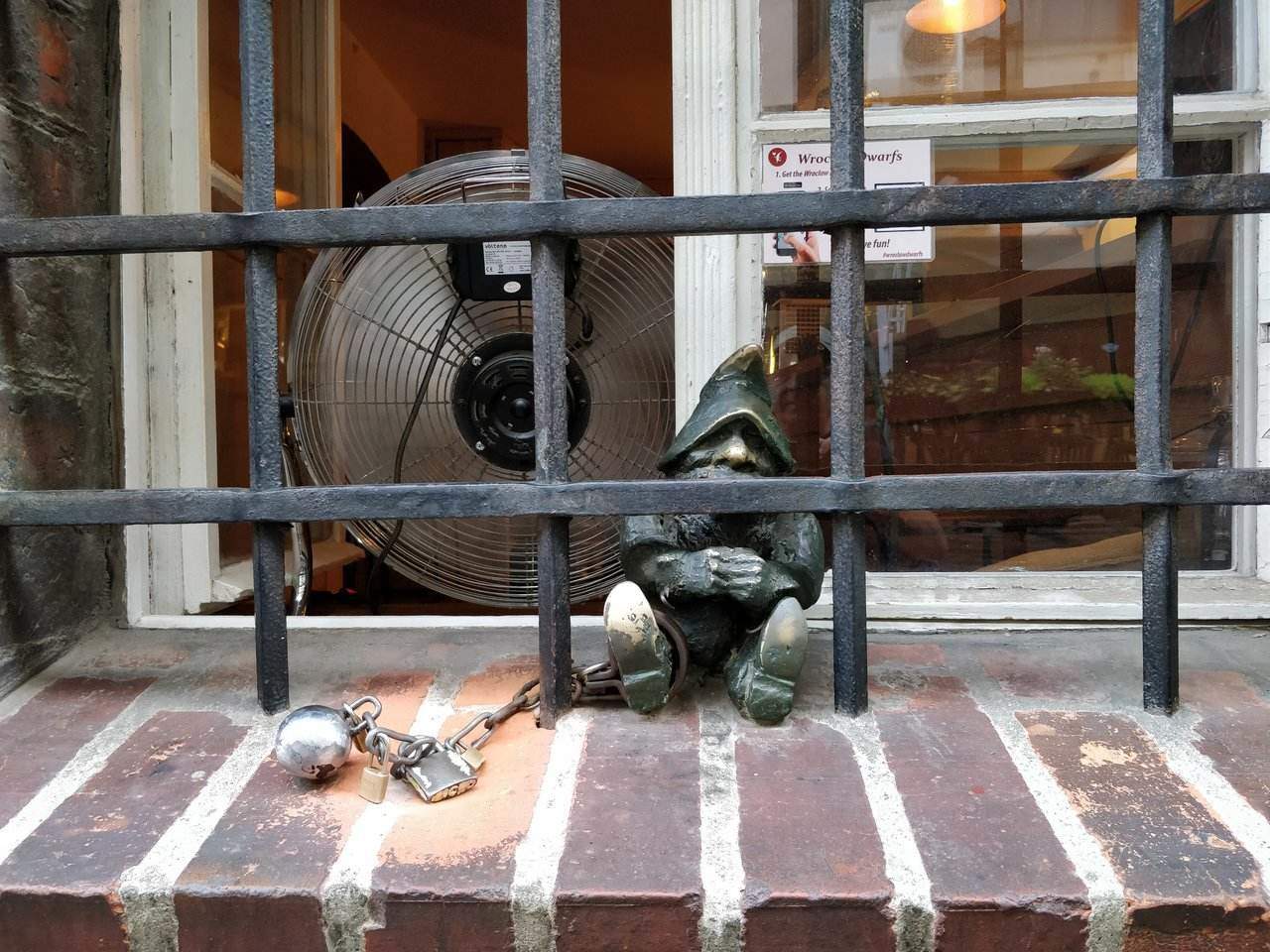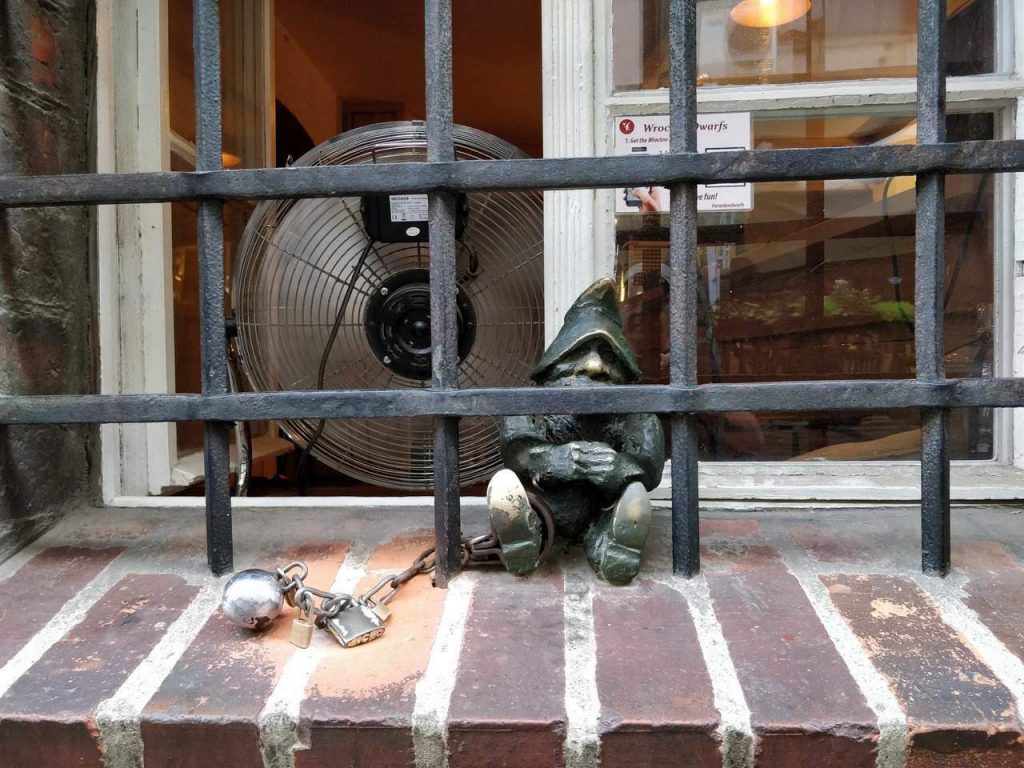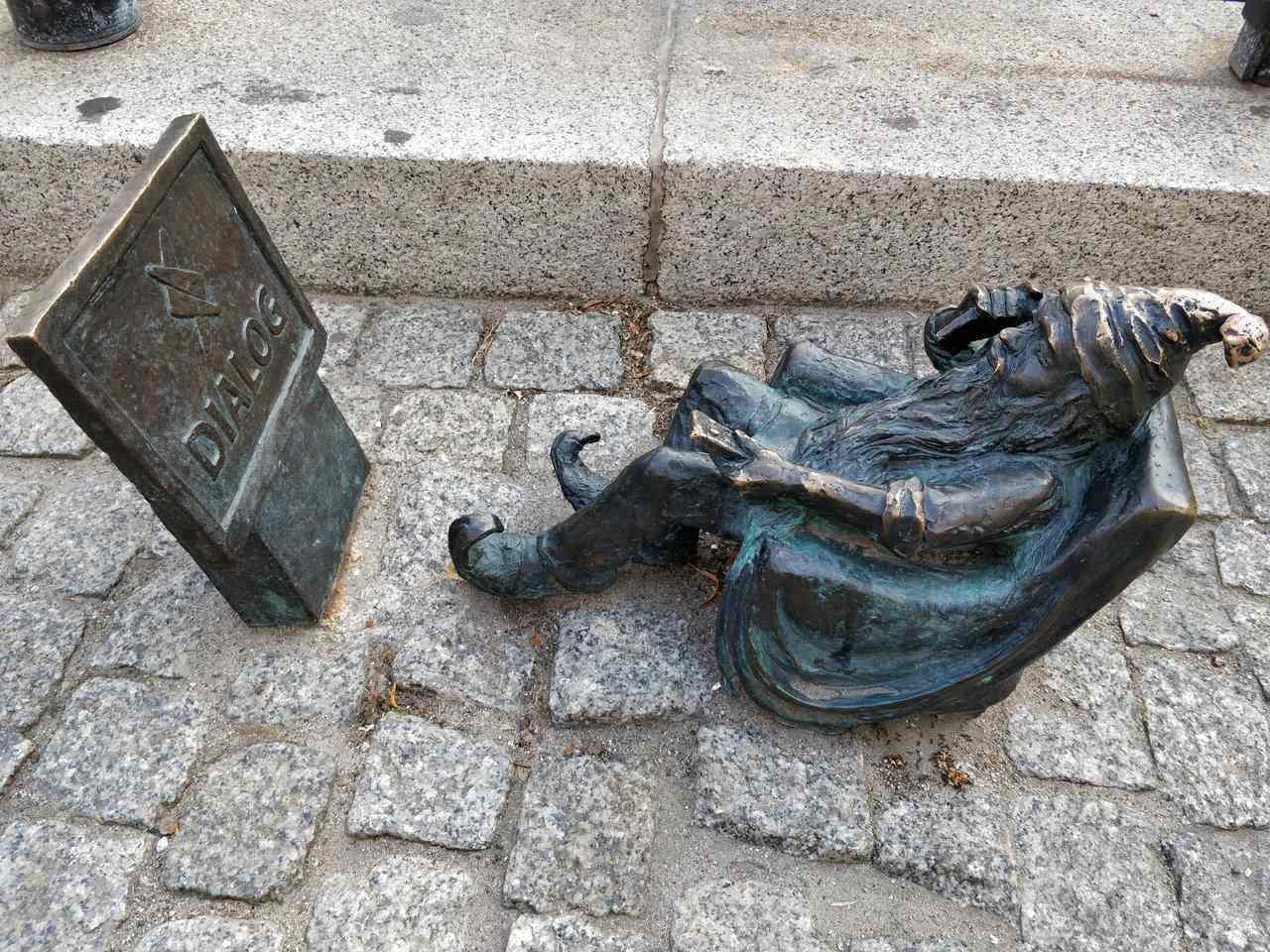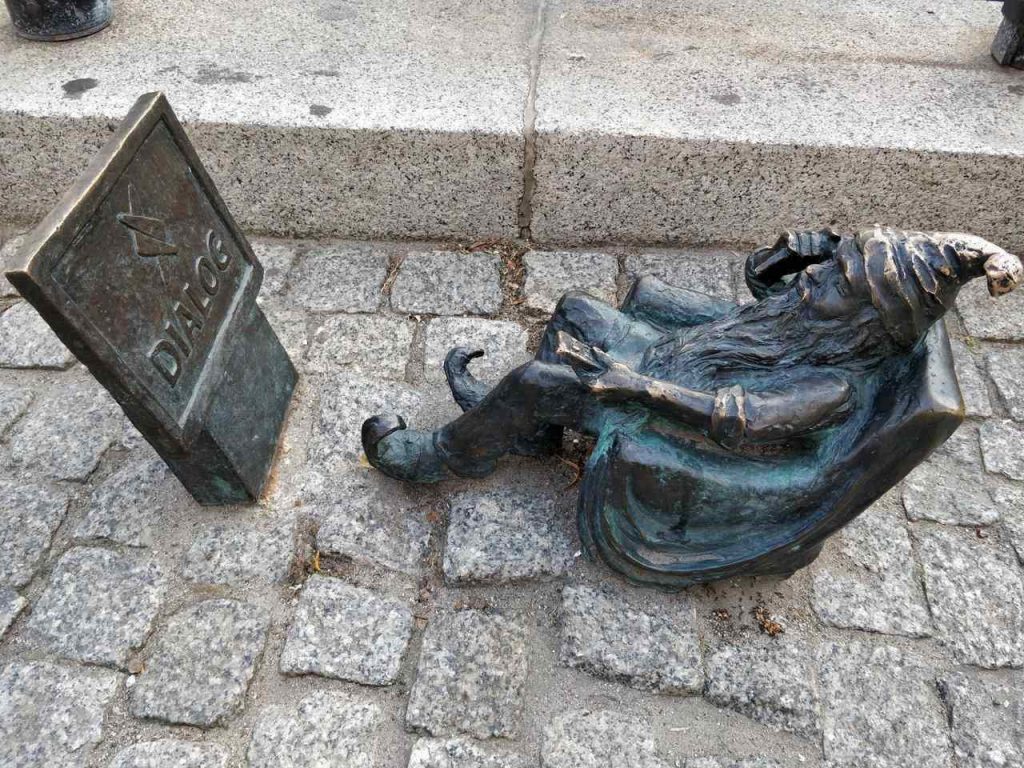 Berta narrates the story behind the dwarfs. In early 2001, the City Council of Wroclaw decided to commemorate an anti Communist Movement referred to as The Orange Alternative by carving a dwarf, that is fondly referred to as Papa.Papa stands tall on the streets reminding people of the Orange Movement.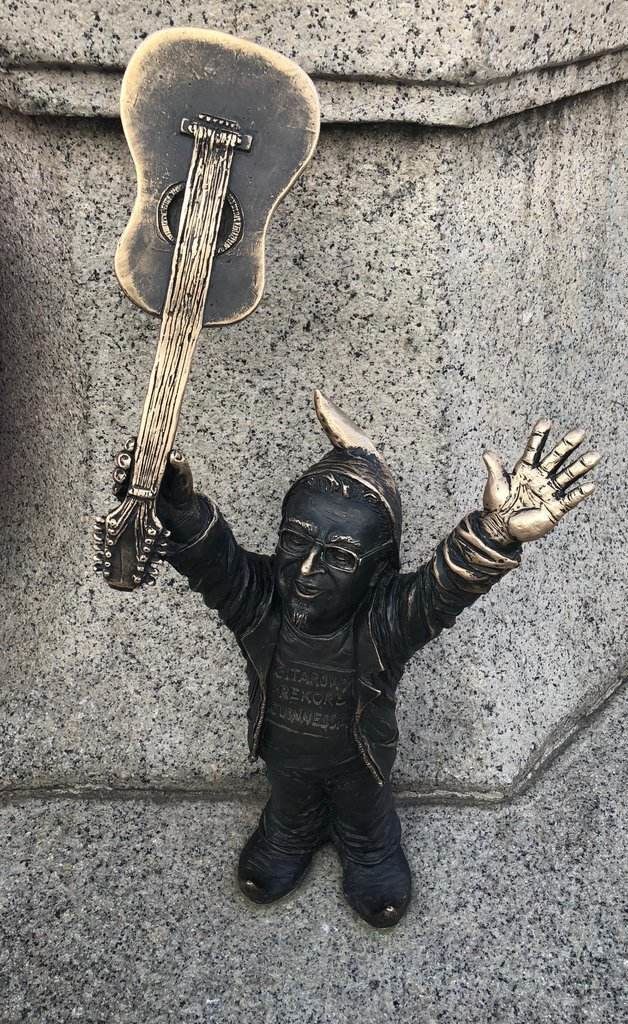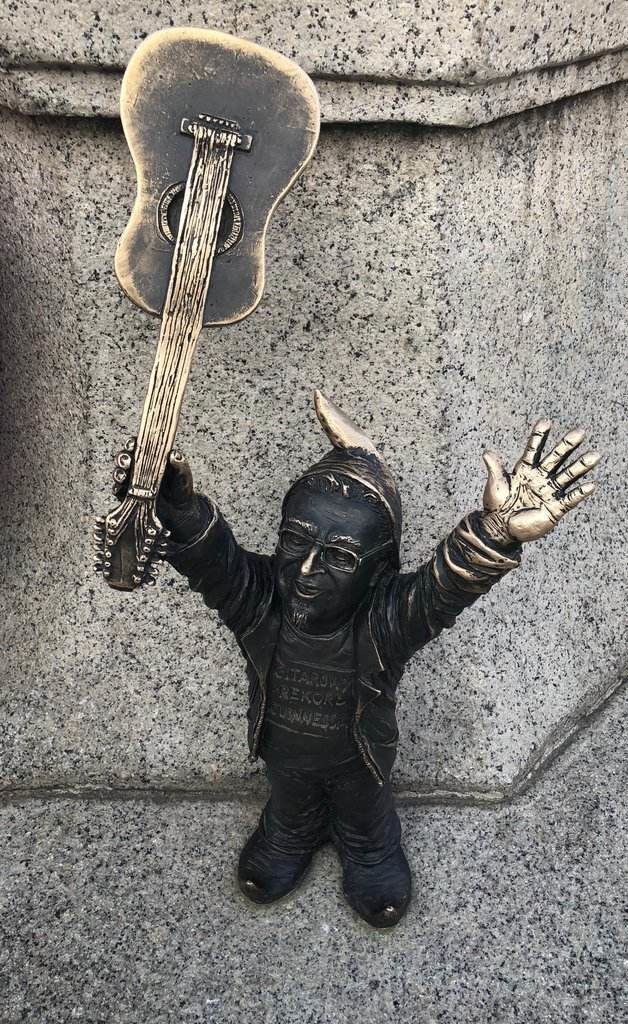 It  was a non violent underground movement that defied the Communist powers that ruled Poland and the members used to meet on the streets and protest silently.  They used graffiti of dwarfs as these pint sized men eventually evolved as the symbols of the movement.  The members of the movement used to fight for the "Rights of Dwarves."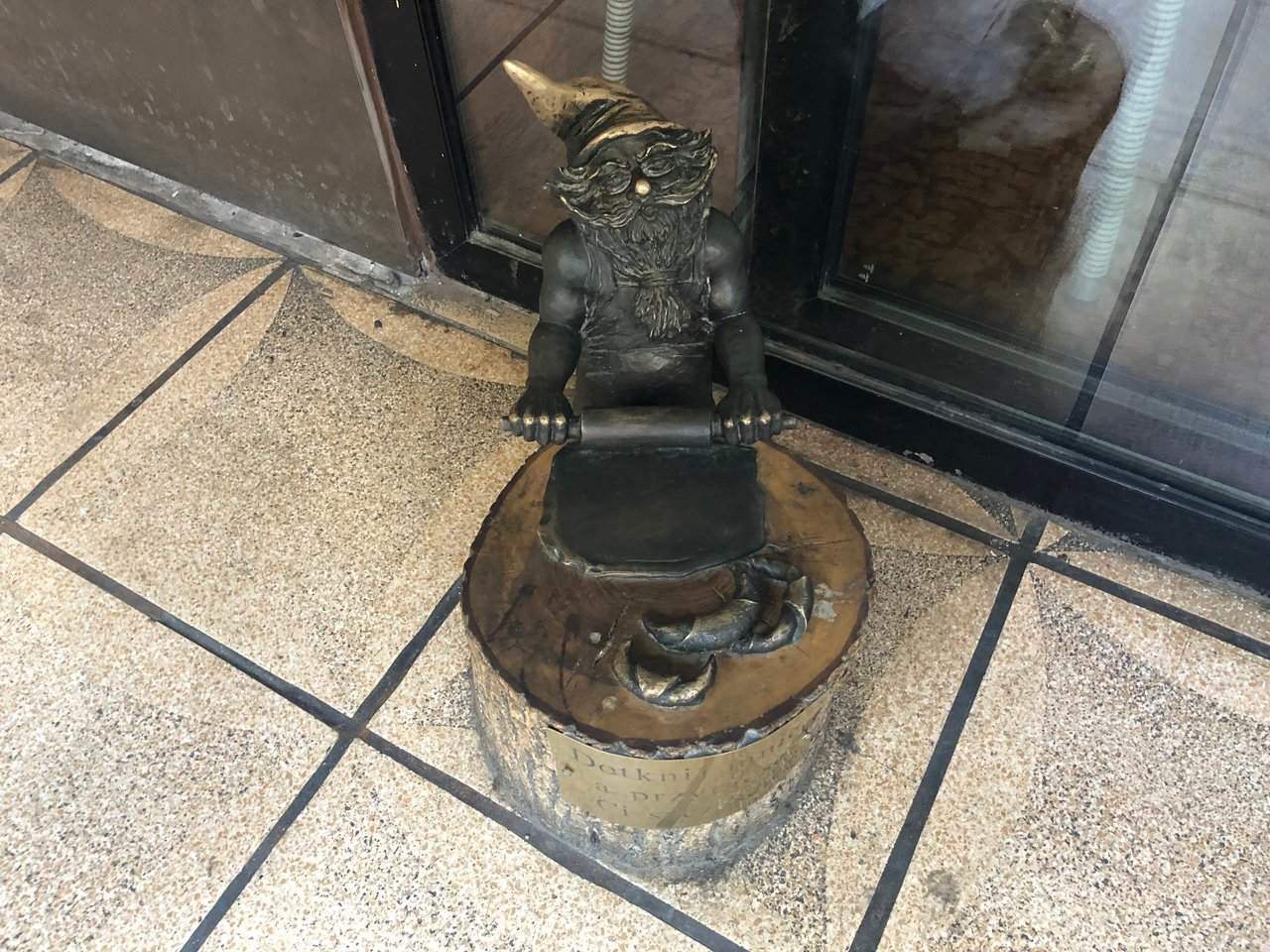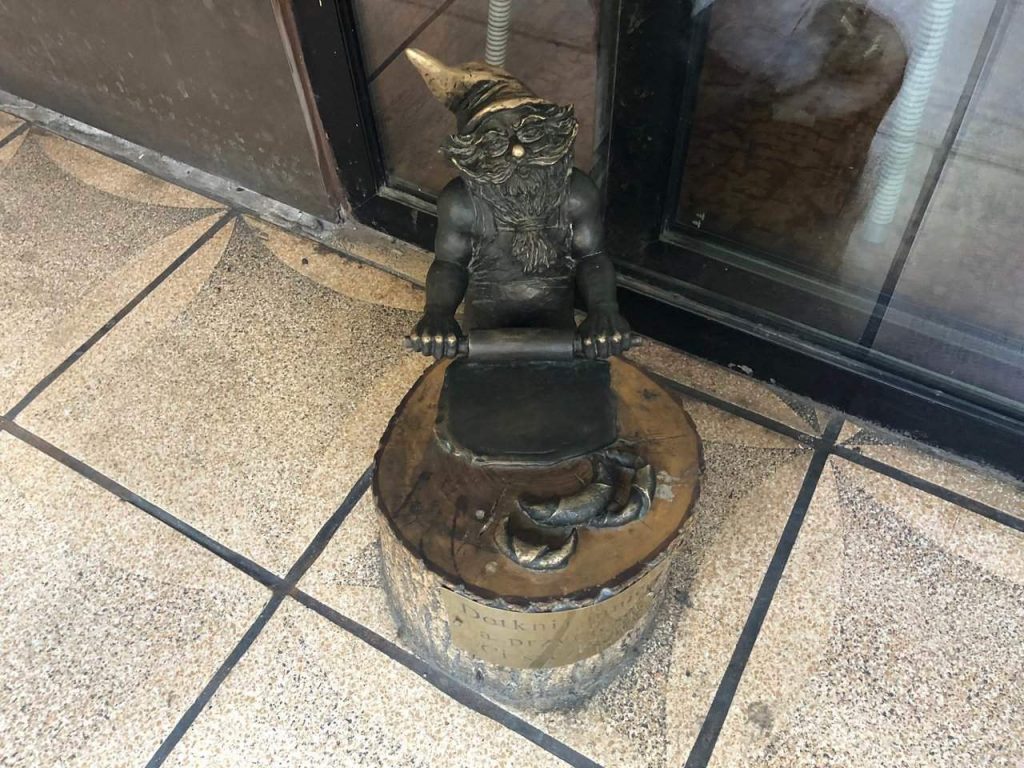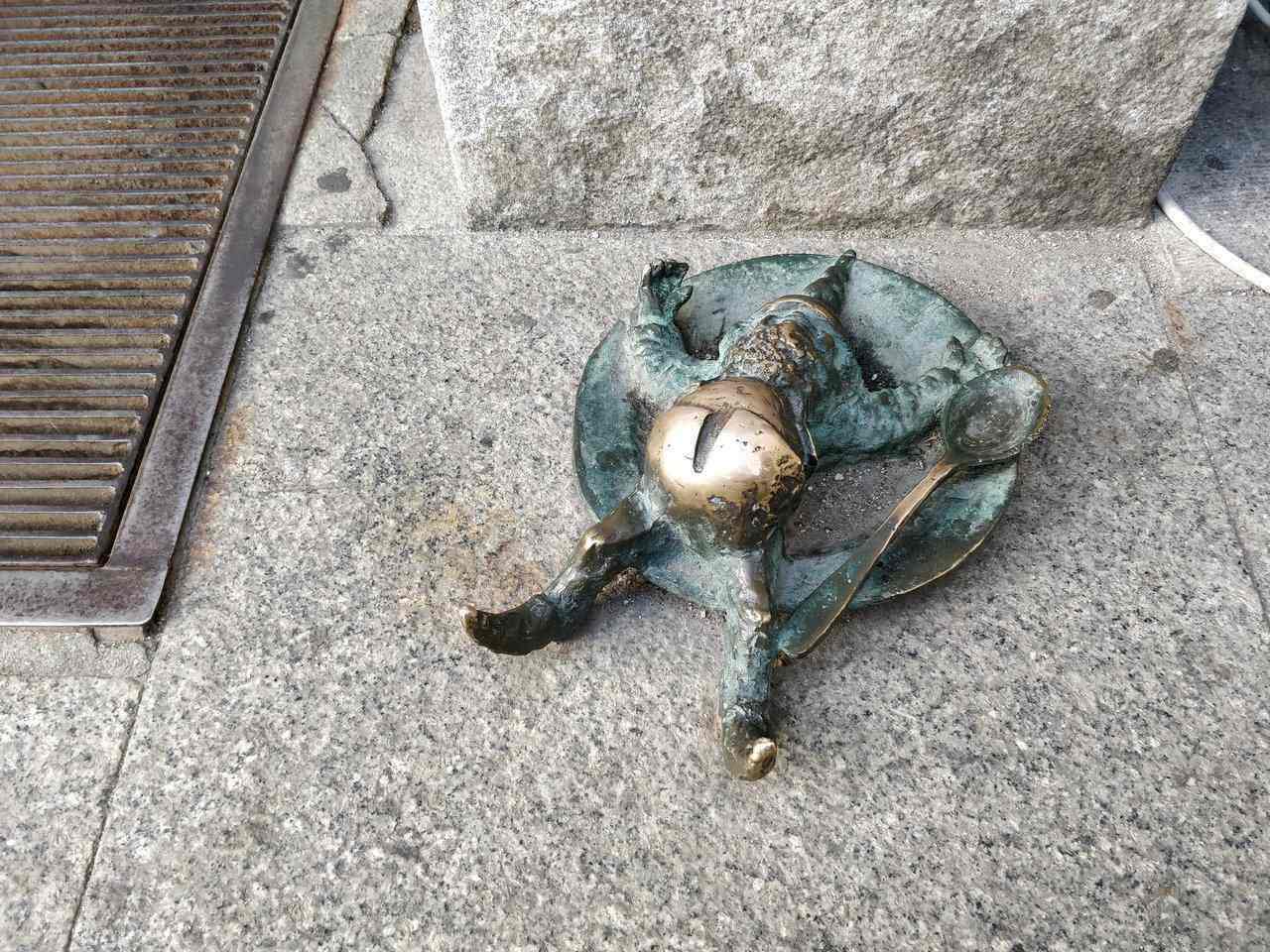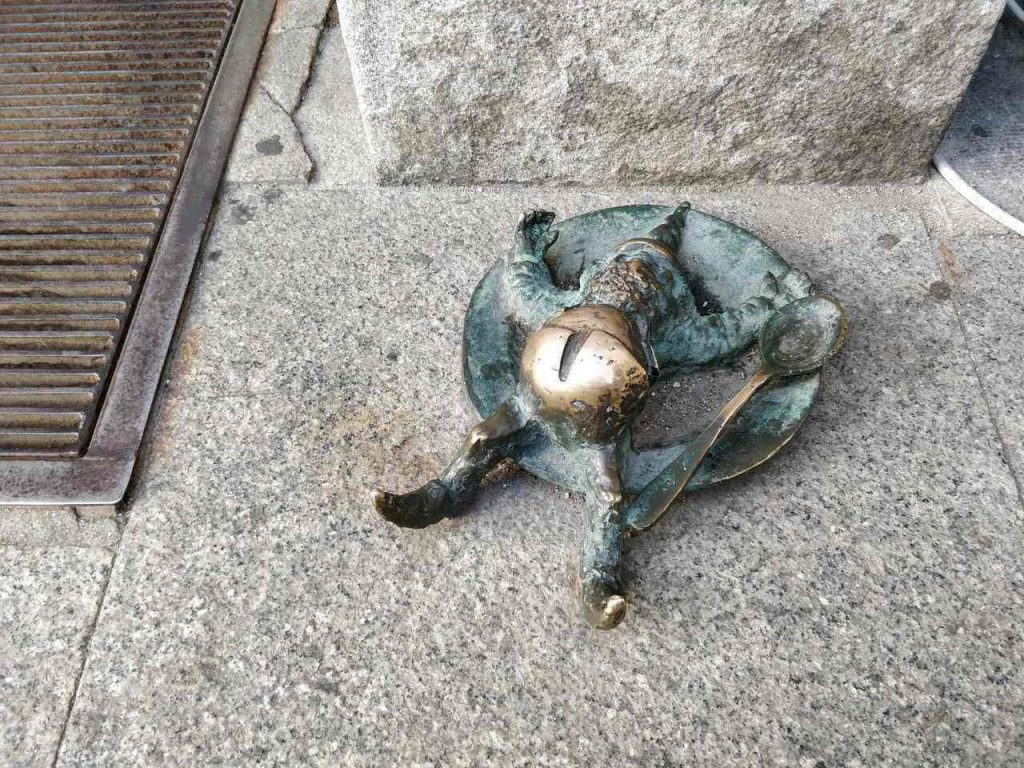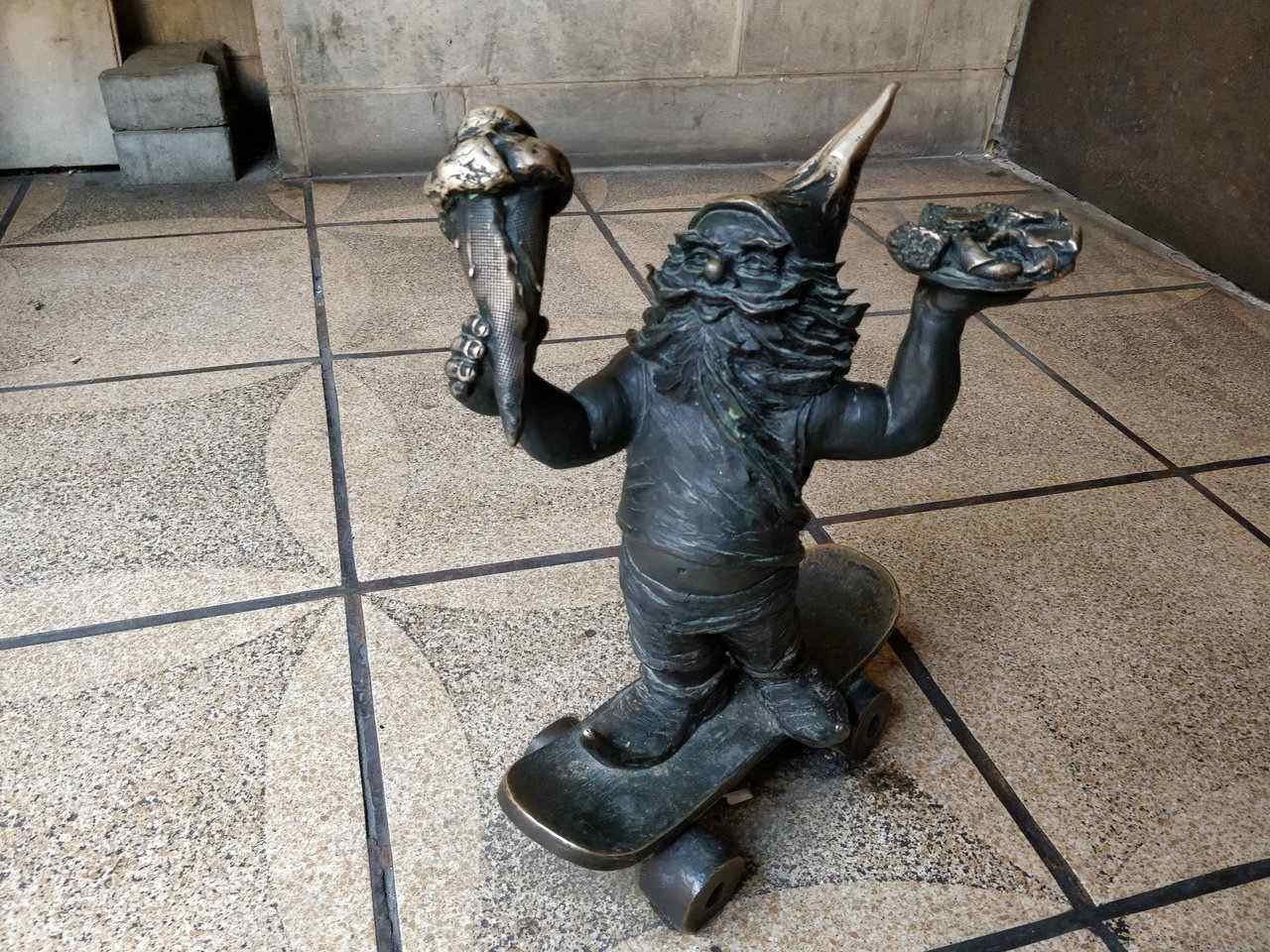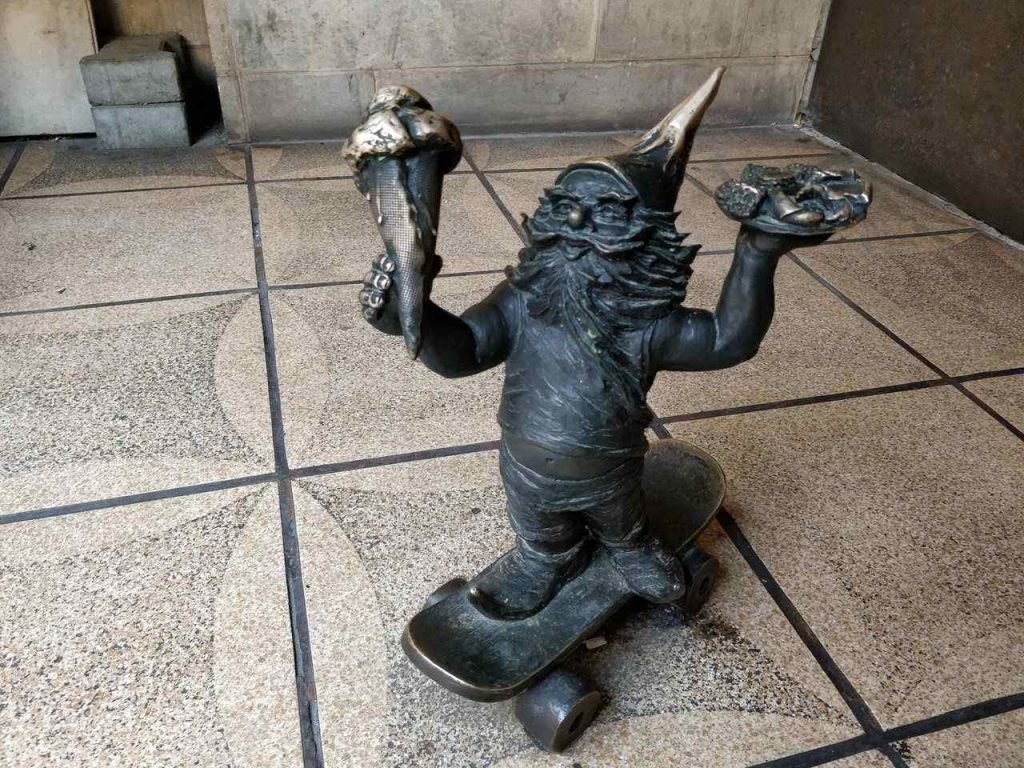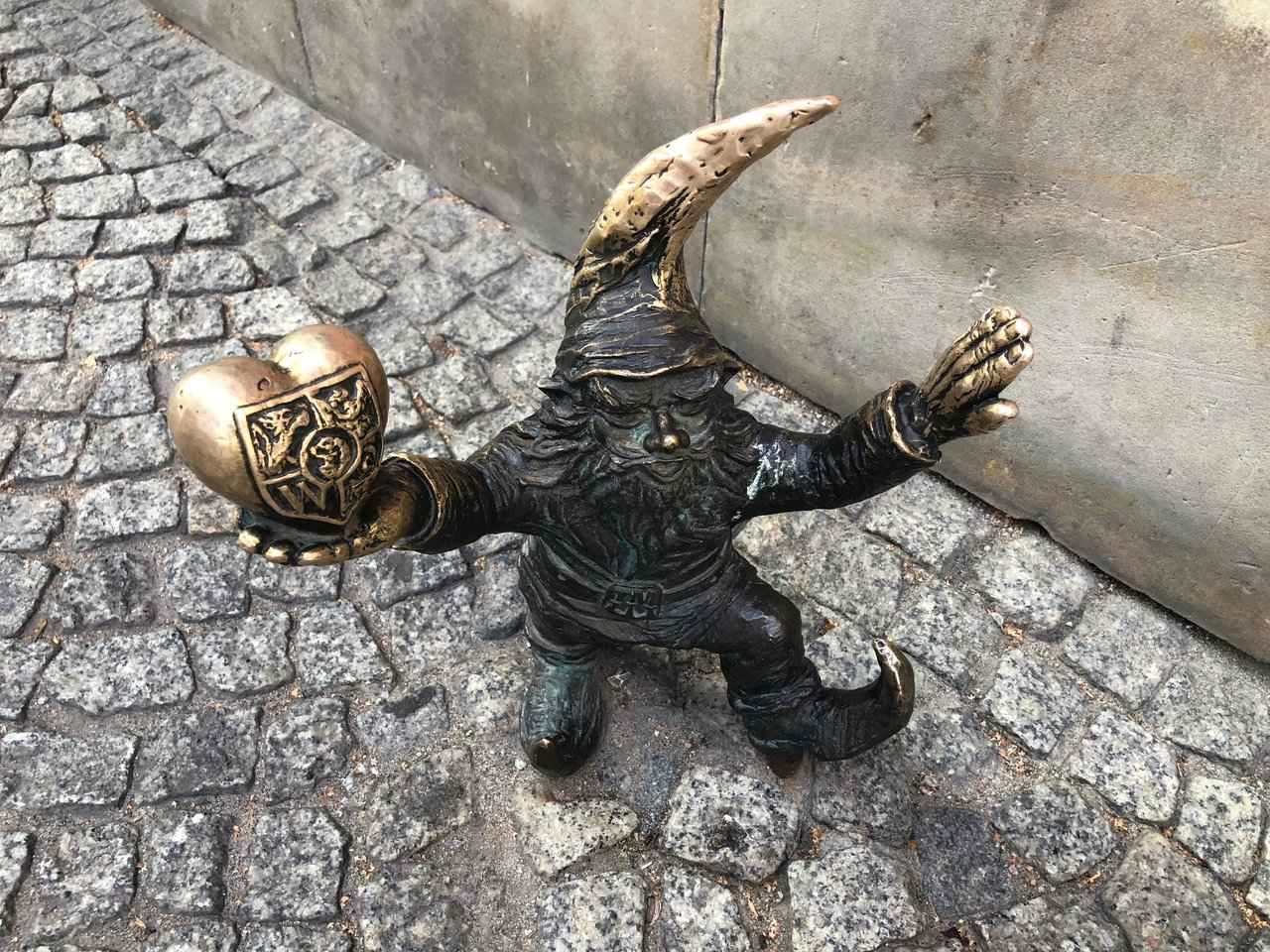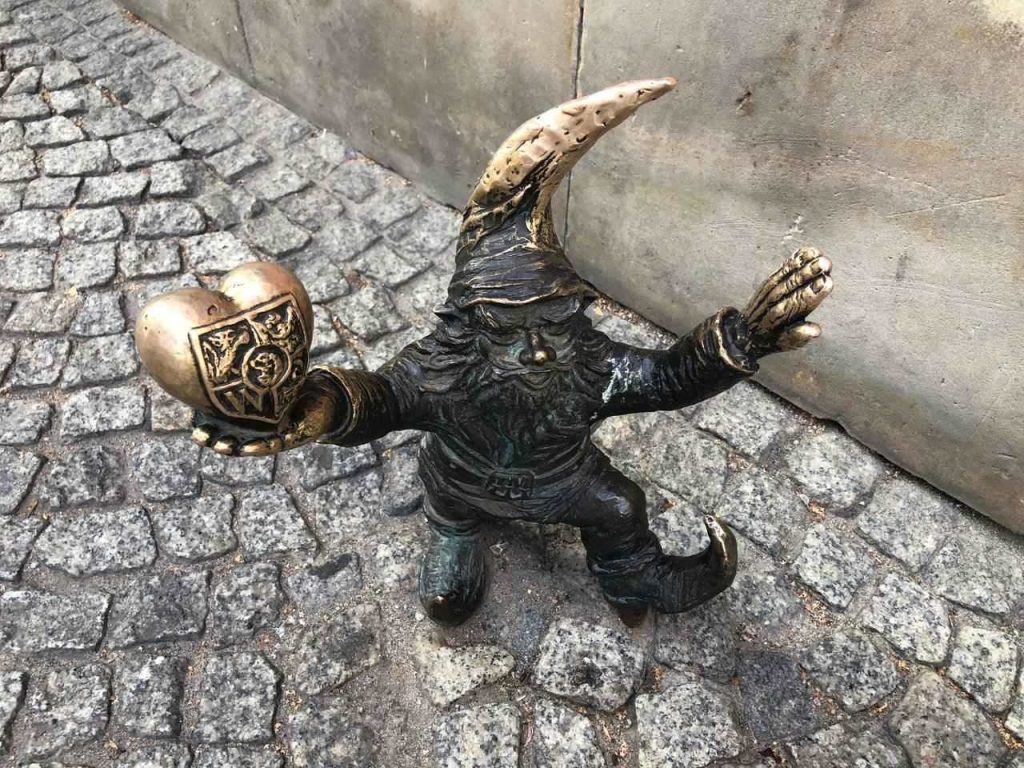 After the Papa  Dwarf , the city was completely taken in by these charming men, oozing with personality that the Mayor decided to commission a local artist ,Tomasz Moczek to carve five of them in bronze. The first of them, is a couple called Sisyphus, who push against each other and they stand in the Old Town Square today.They were joined by the fencer and the butcher among others and slowly there were dwarfs which were both men and women that started mushrooming around the city.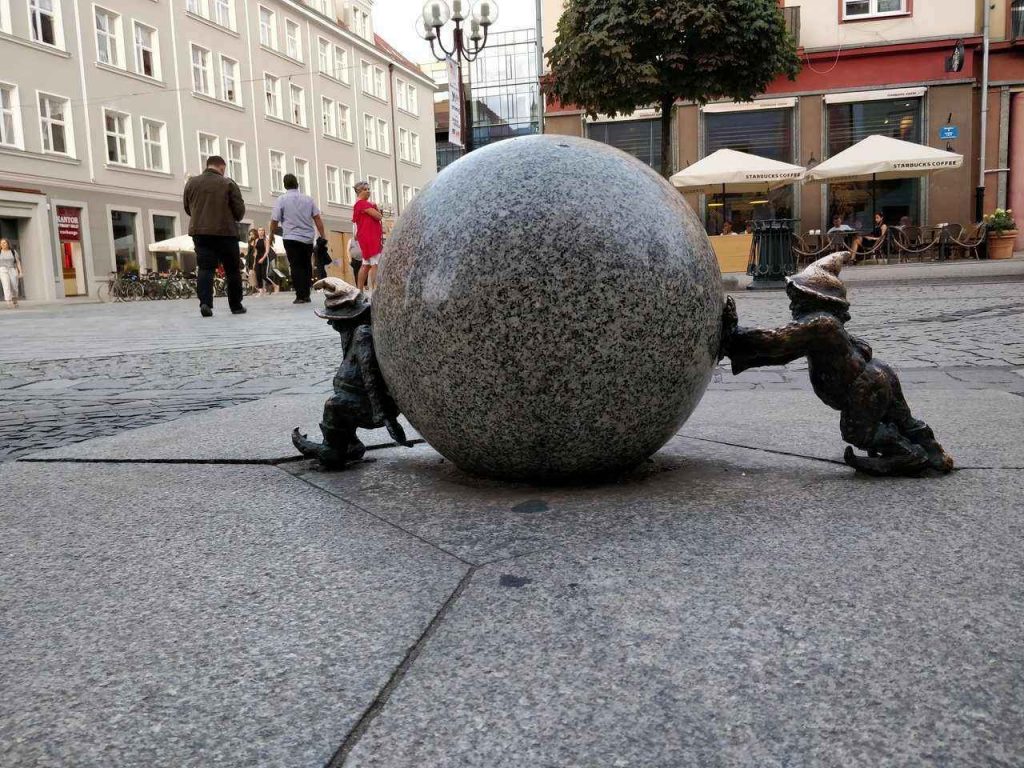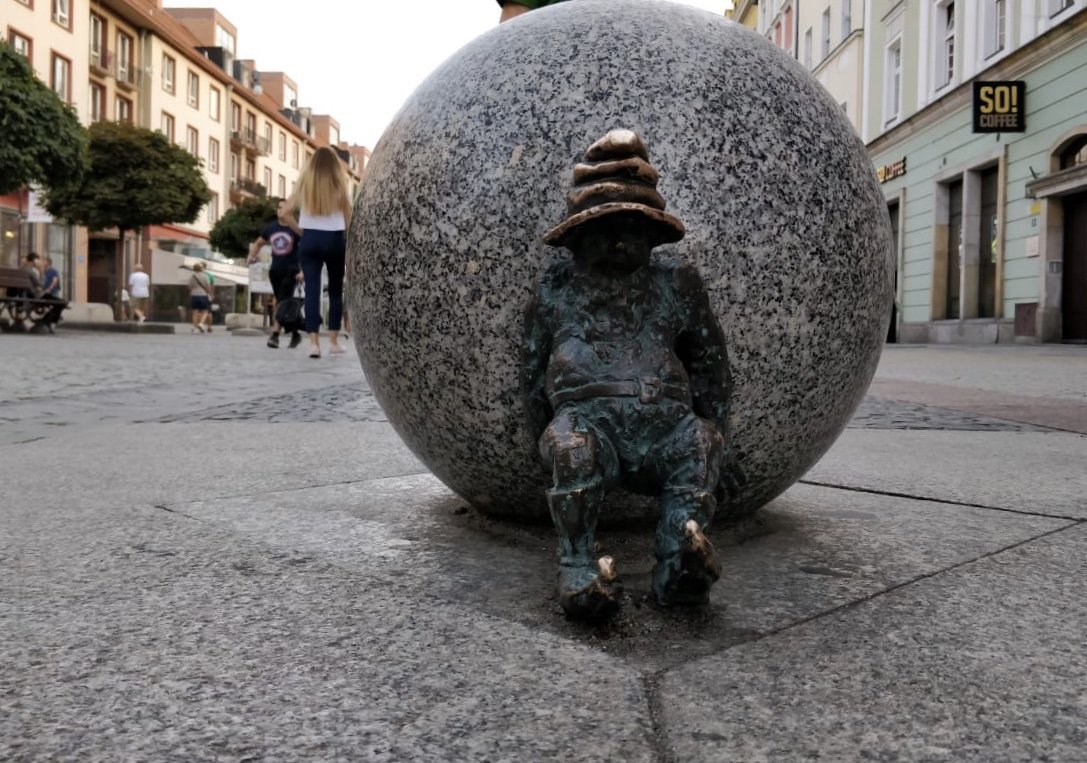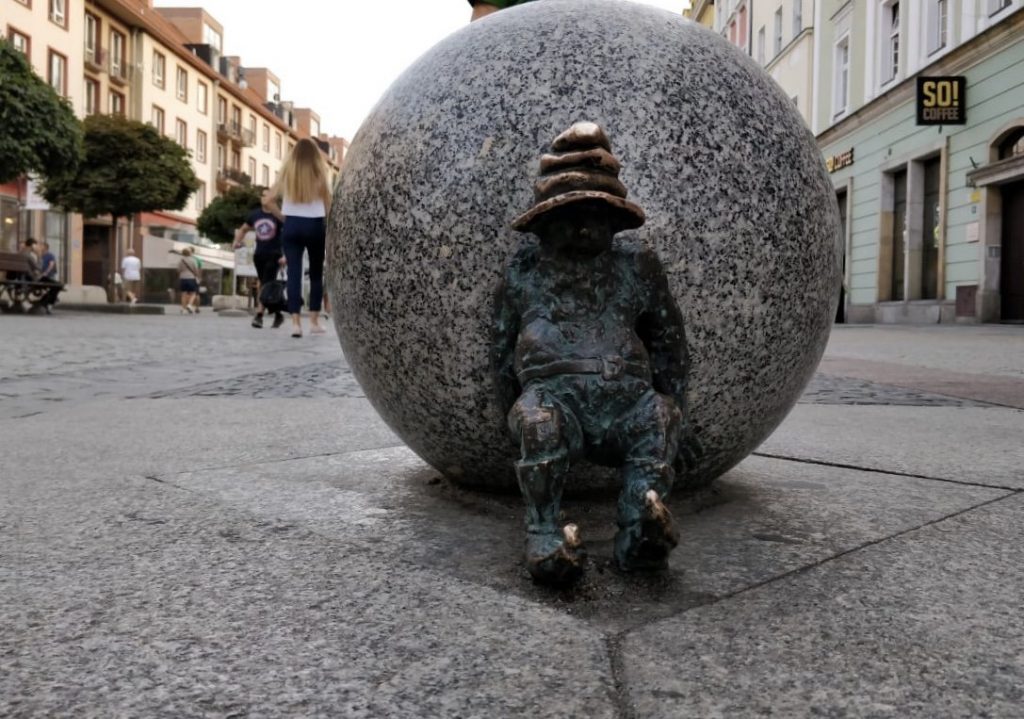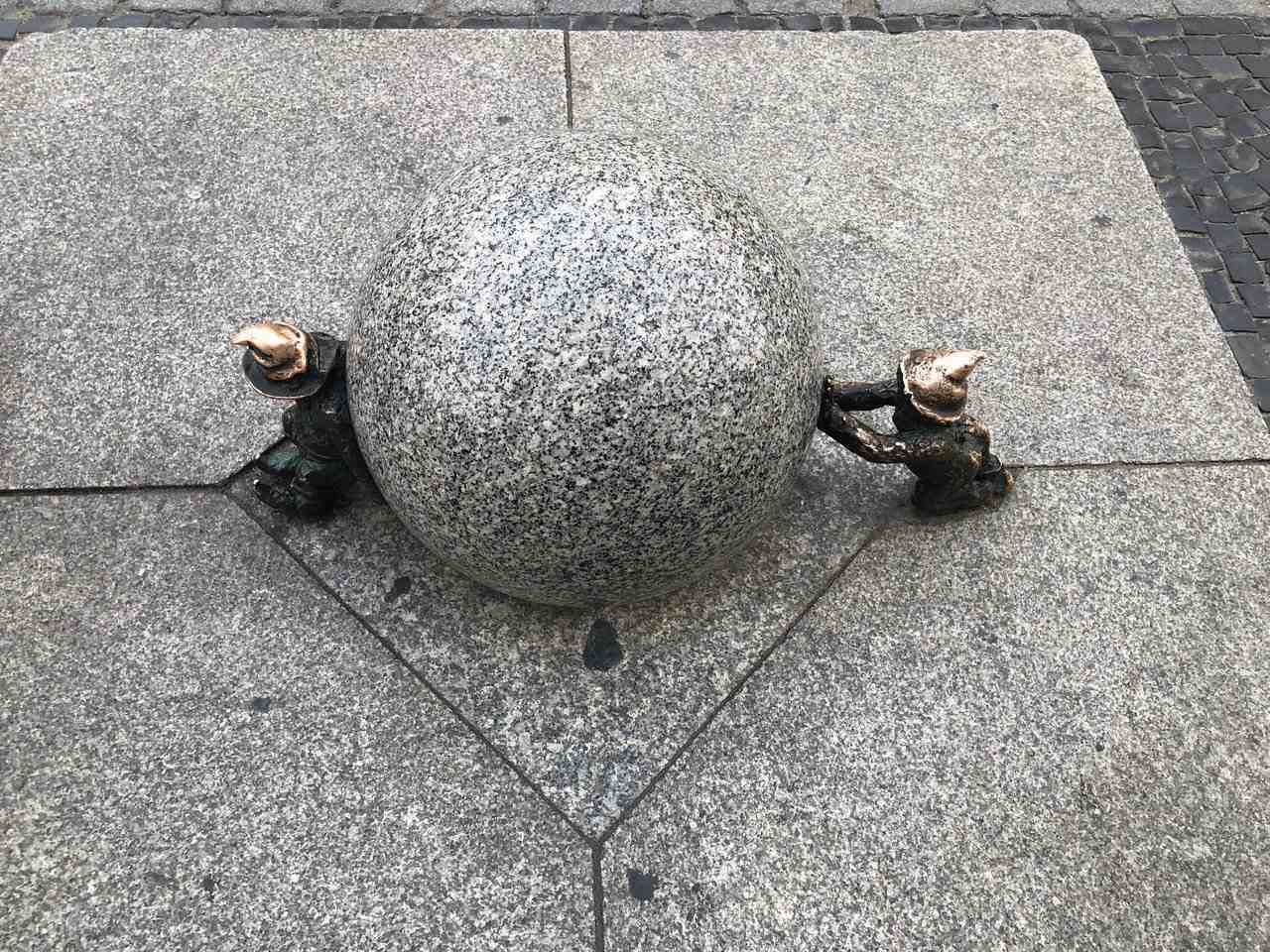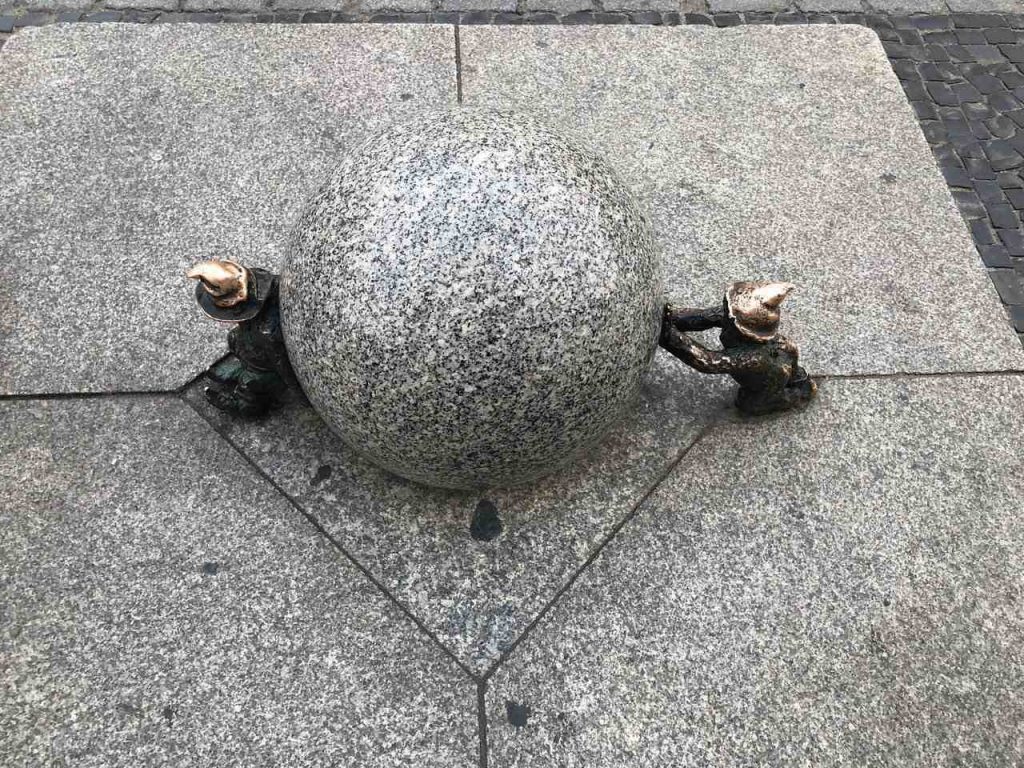 It almost feels like a treasure hunt as you go looking for the Wroclaw dwarfs.. Sometimes these endearing dwarfs greet you in your path while many times they are hidden out of view. We feel like kids every time we stumble upon one of them. I was so fascinated to see how they are carved and hence visited the factory with my guide .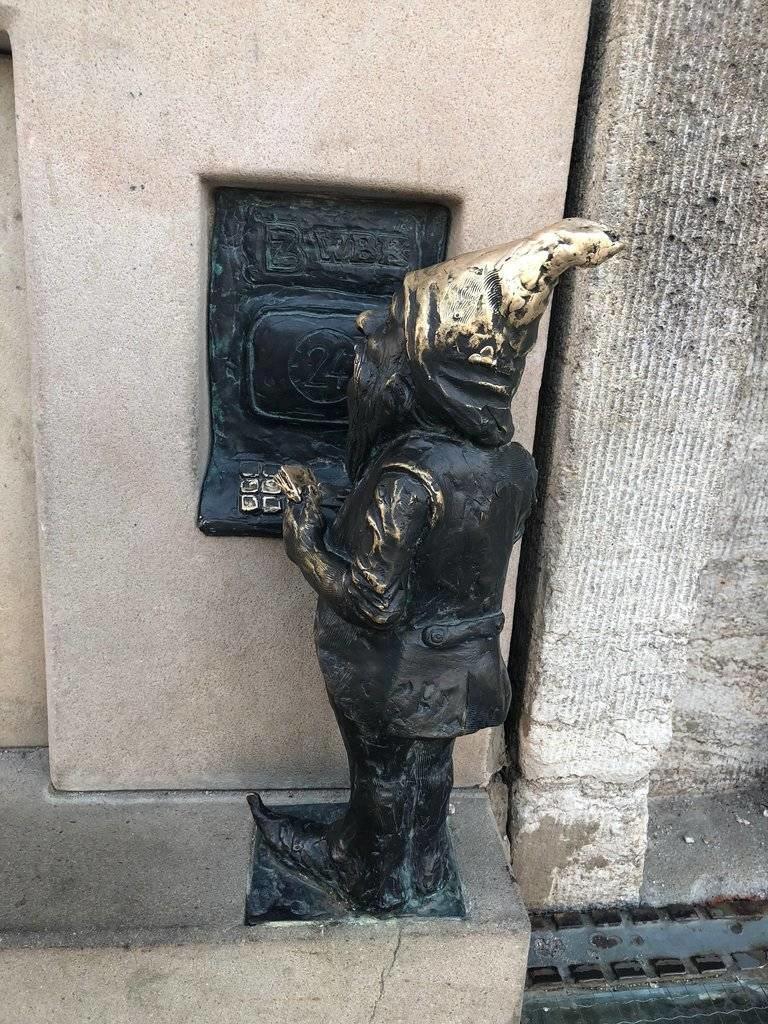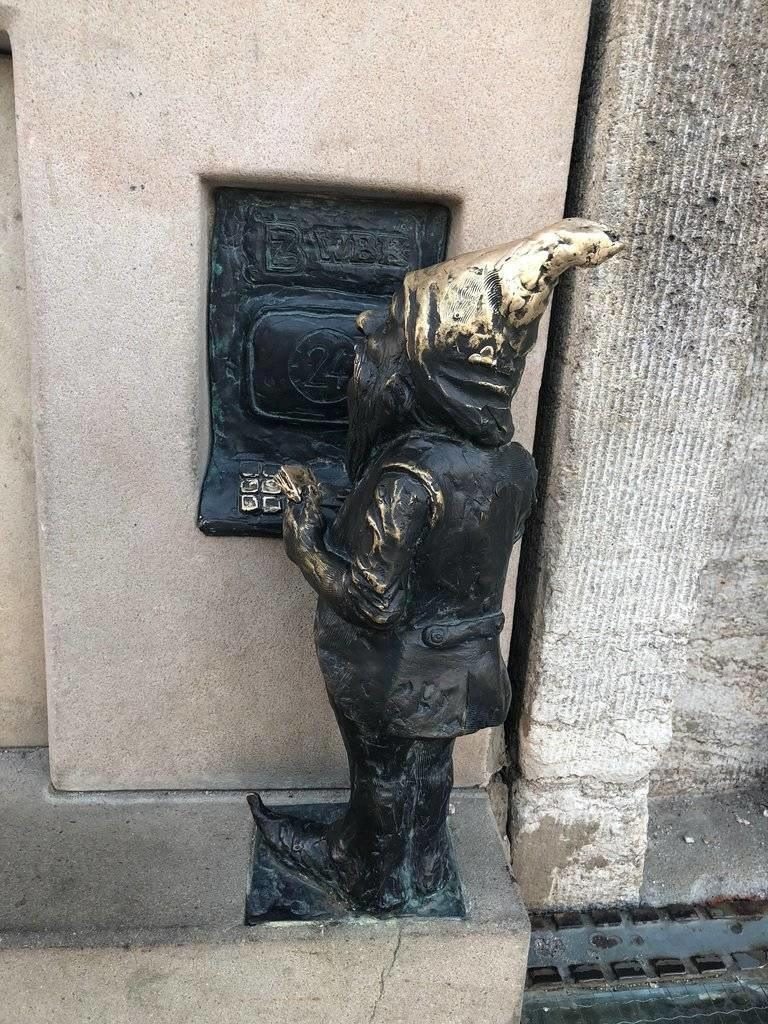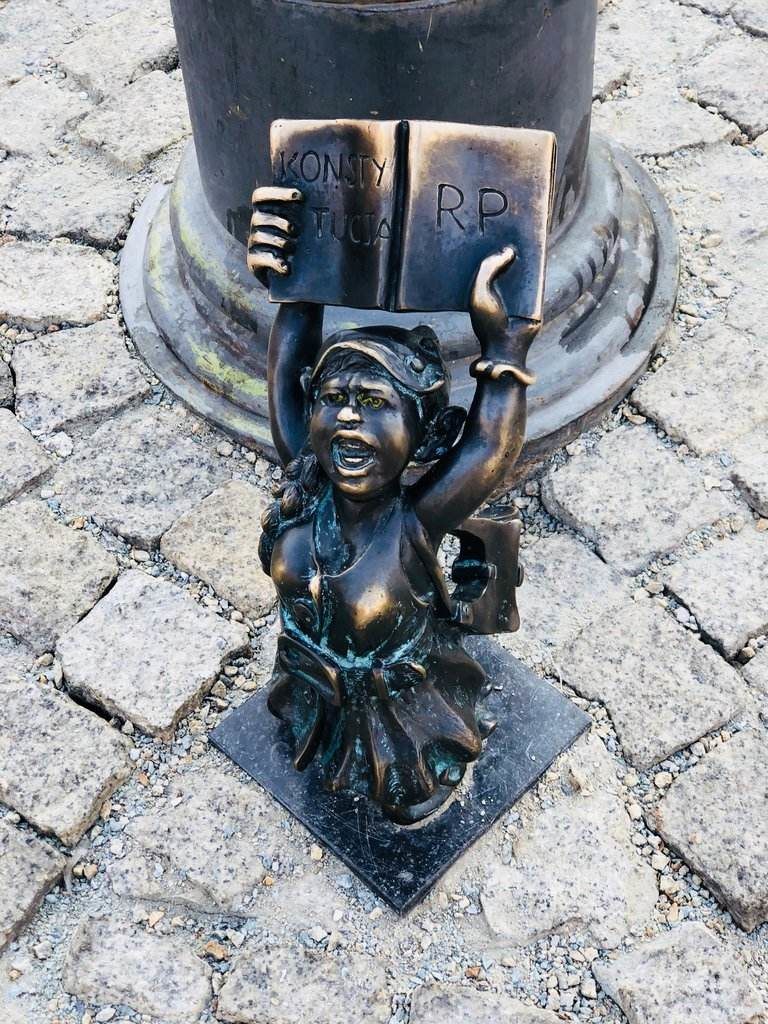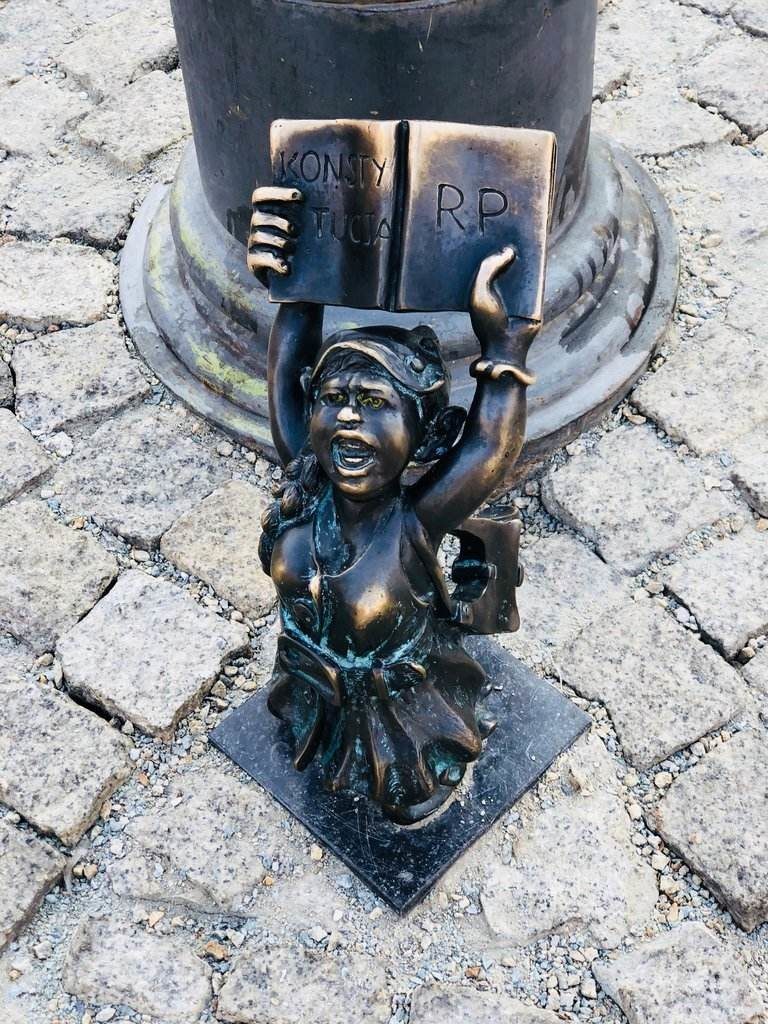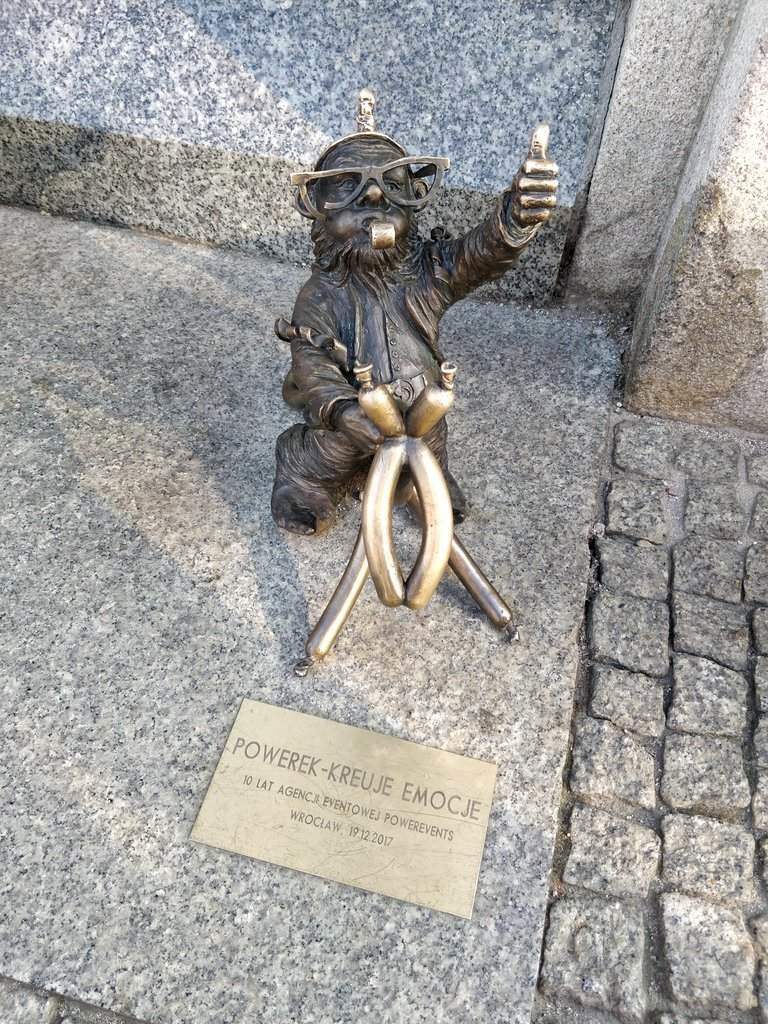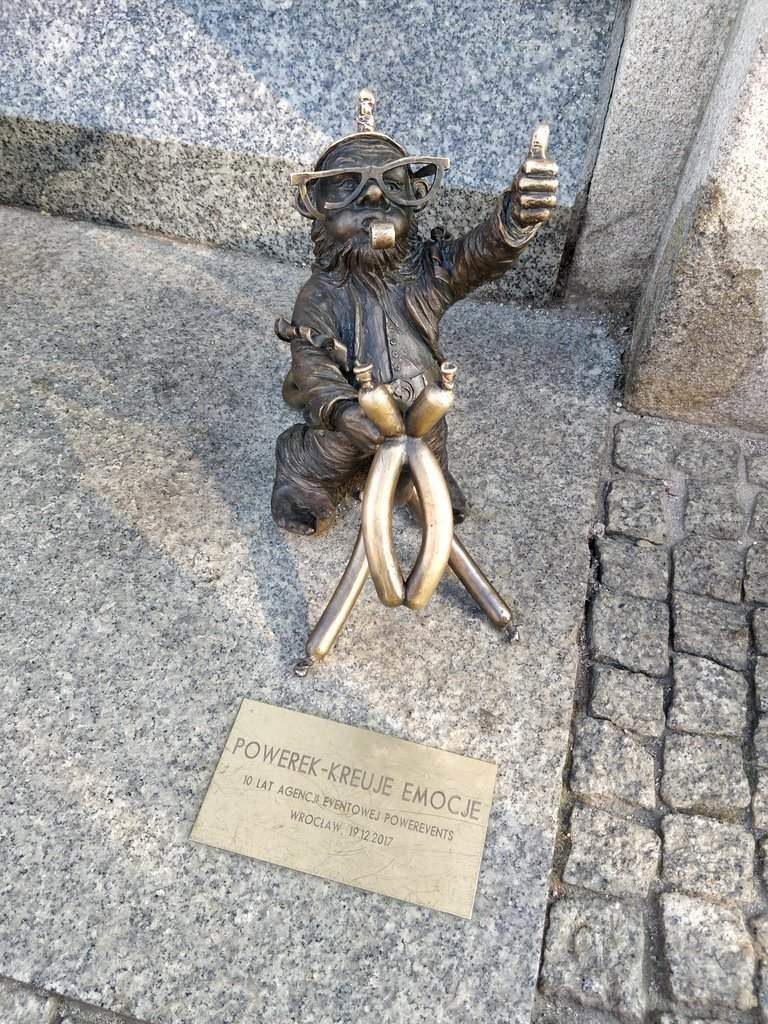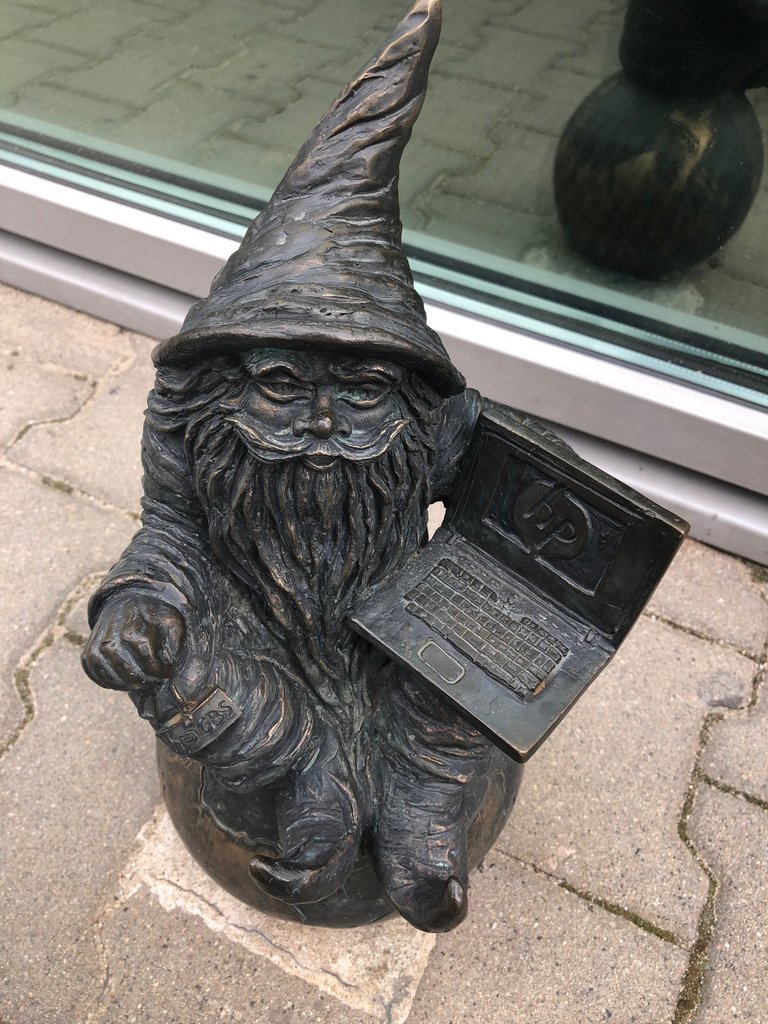 It was a warehouse made of bricks, on the outskirts of the city centre and it seemed like a world by itself . I met an artist who could not speak English but my guide helped me with a translation as I learnt that she has carved over 100 dwarfs herself .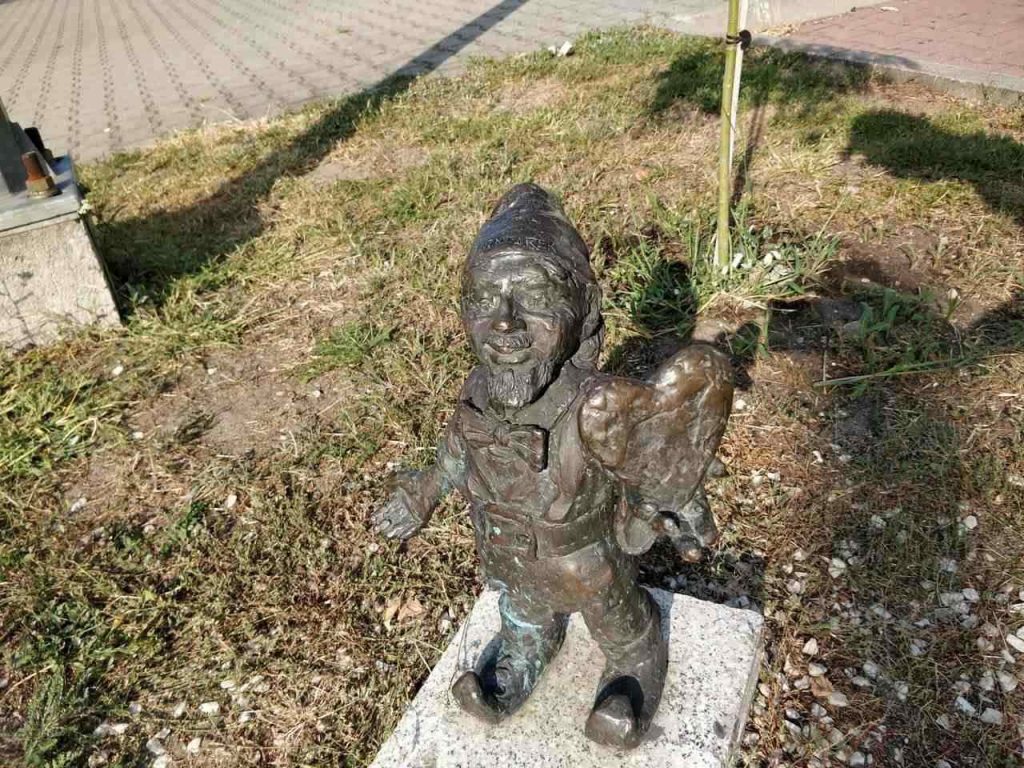 As she showed me around, I was told that the dwarfs are in demand overseas as well. A pair , carved in the likeness of erstwhile German royalty were flying to Germany. I was told that the team was working on a dwarf for the Indian consulate as well.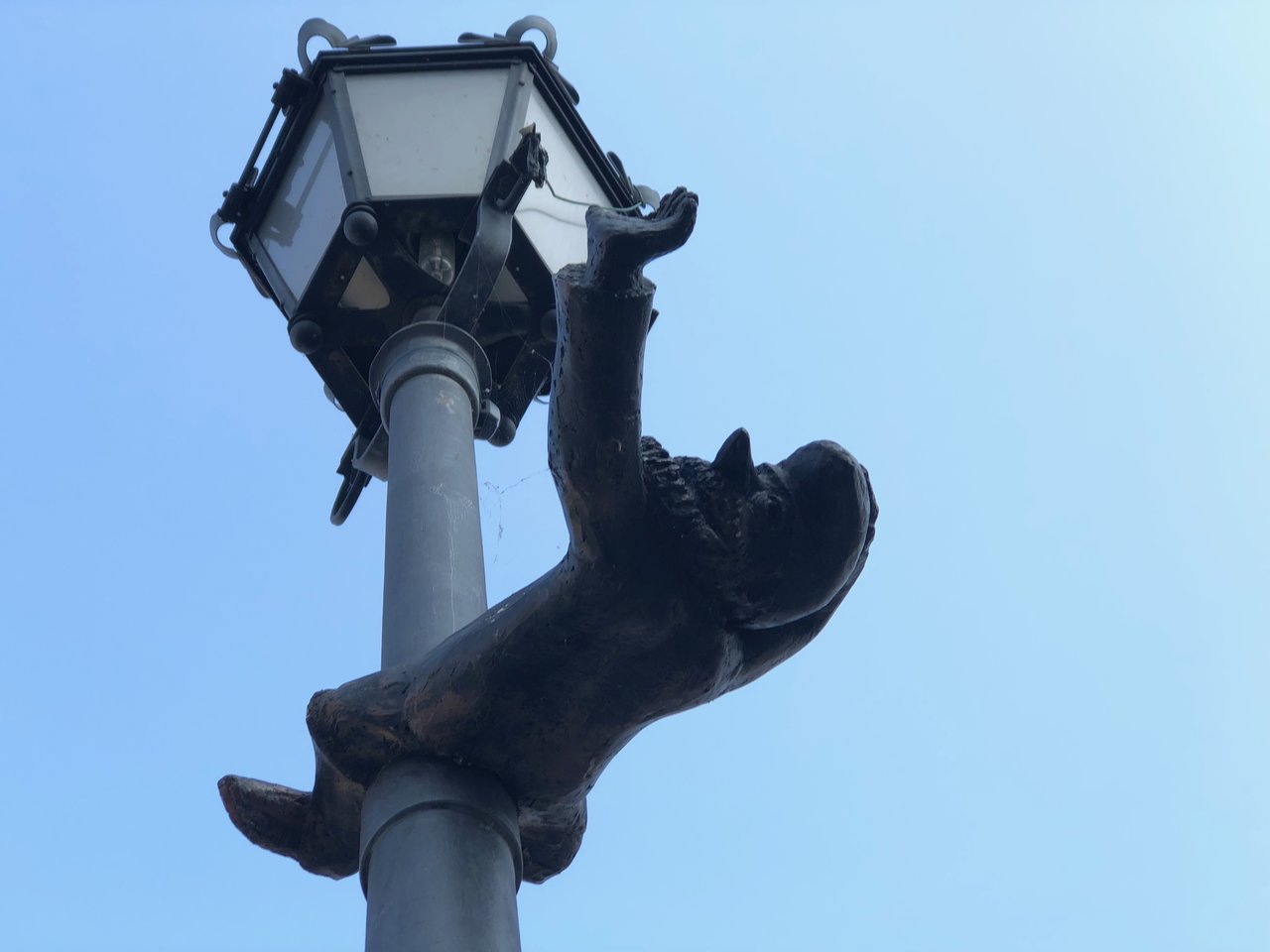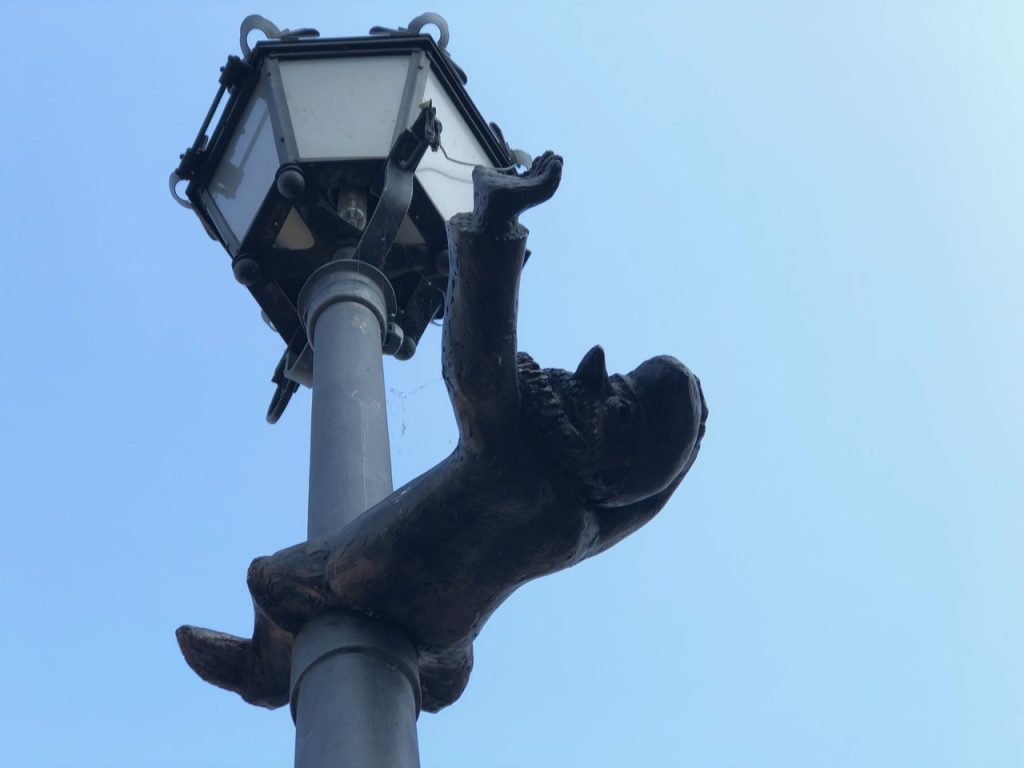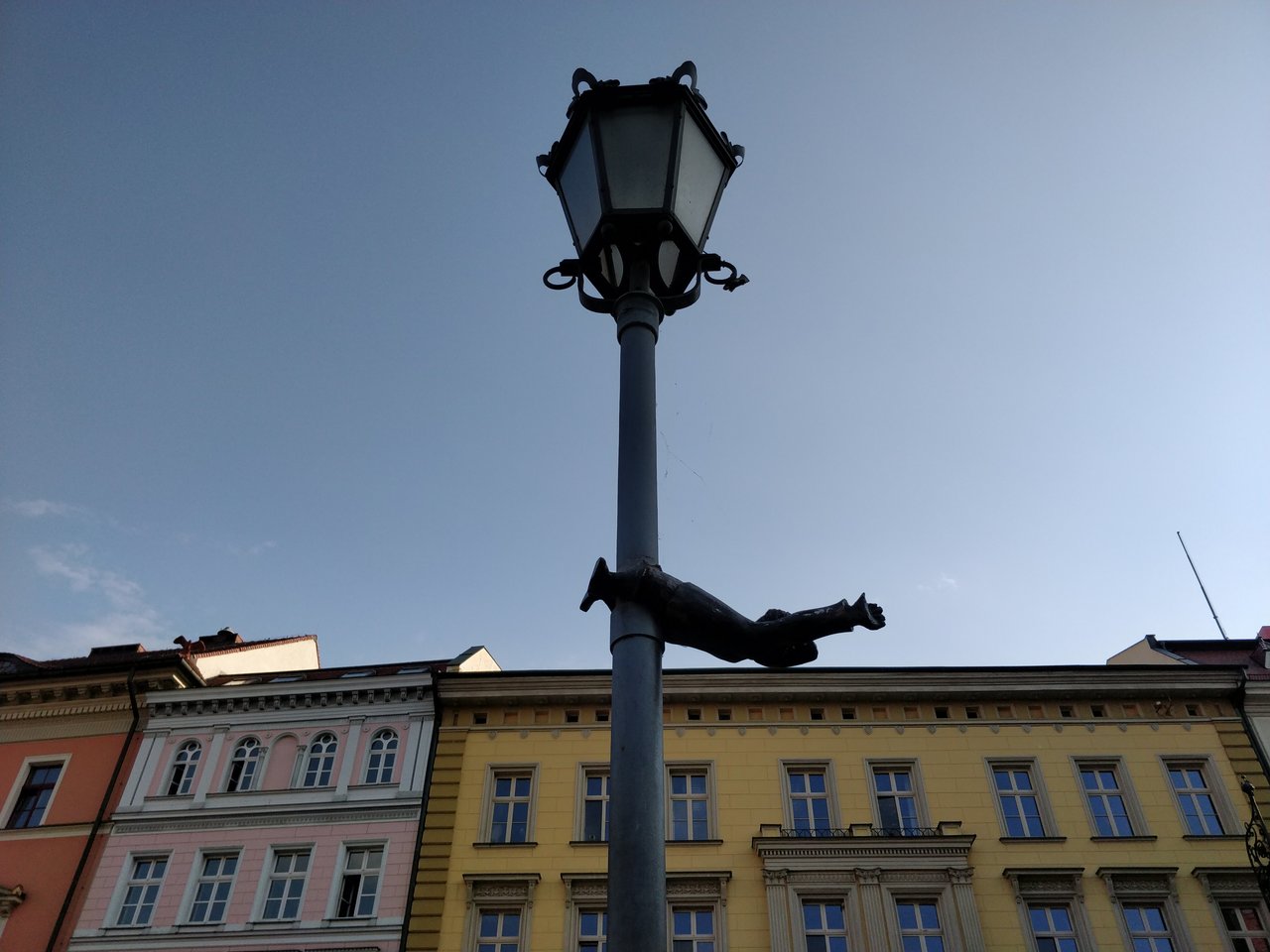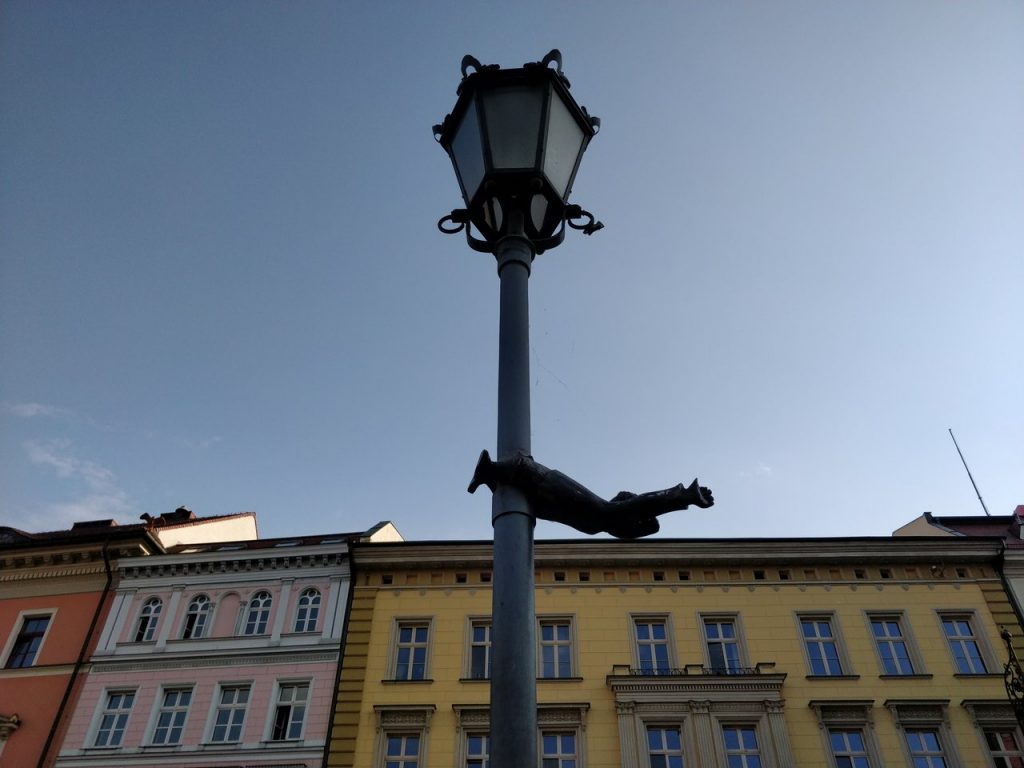 Wroclaw has always been described as the Polish Venice as the River Odra creates 12 islands with 30 bridges. Yet in this charming landscape filled with vibrant squares and palaces with old world charm , the most fascinating sights are these little legion of men who are there to greet you at every nook and corner.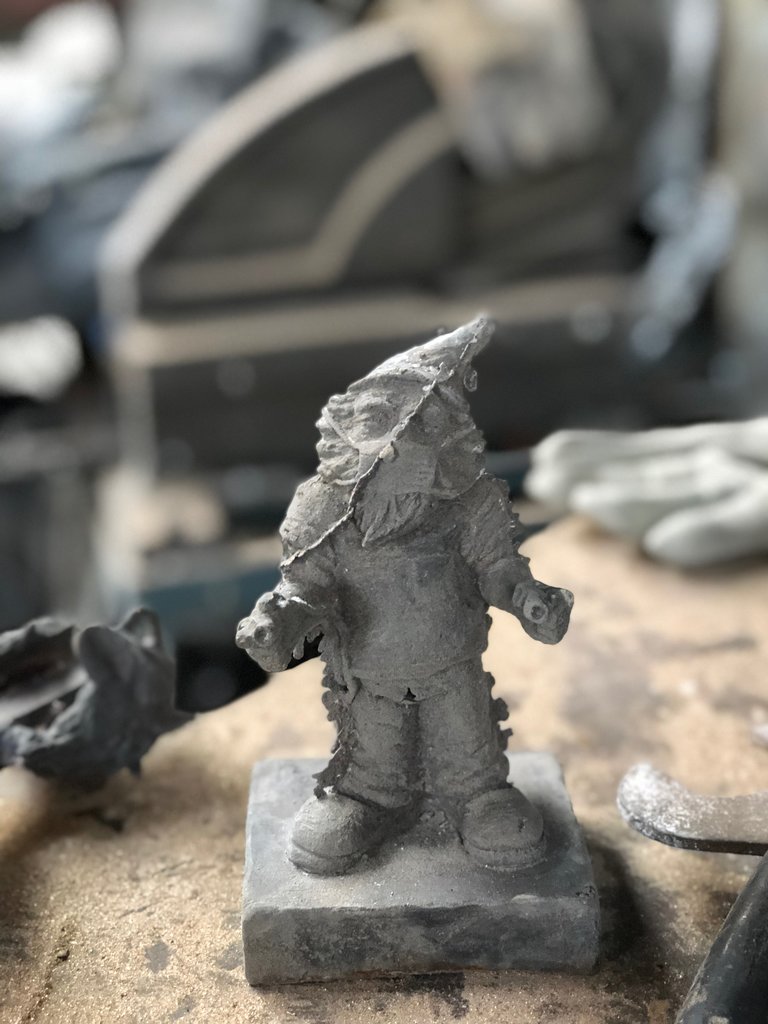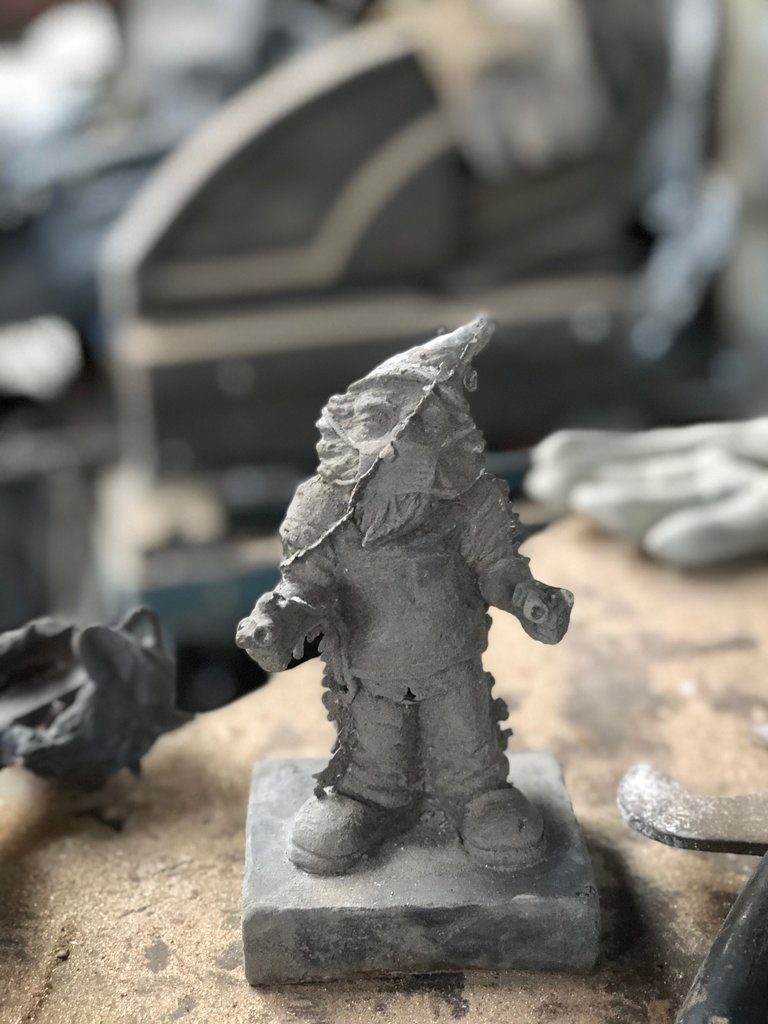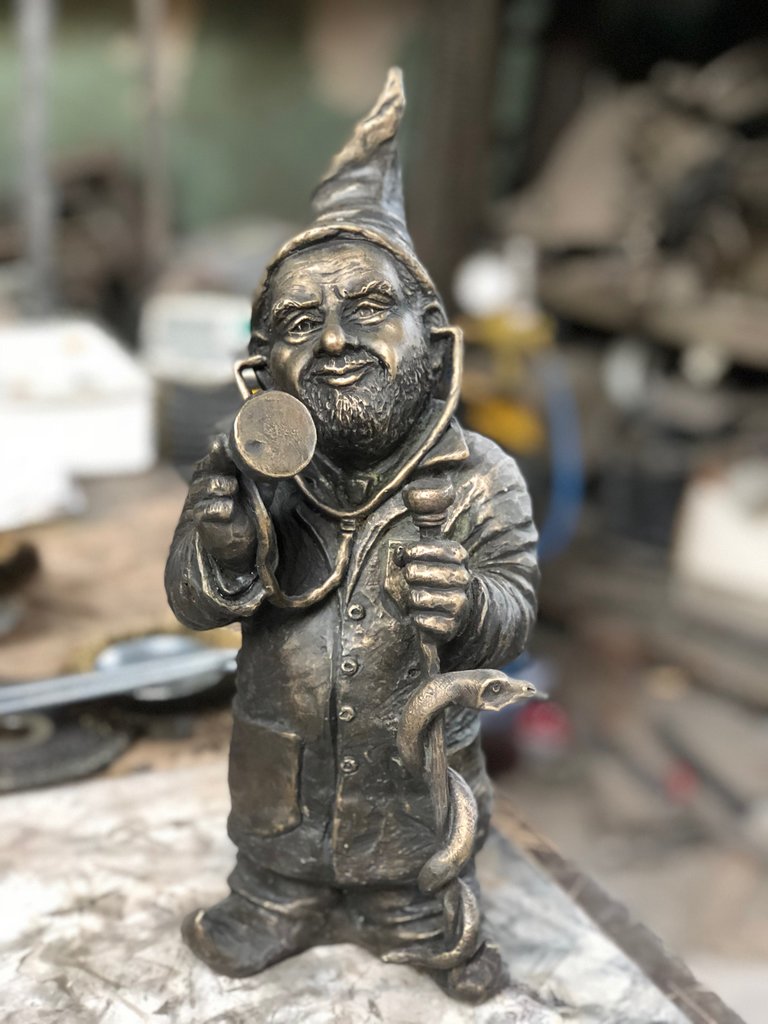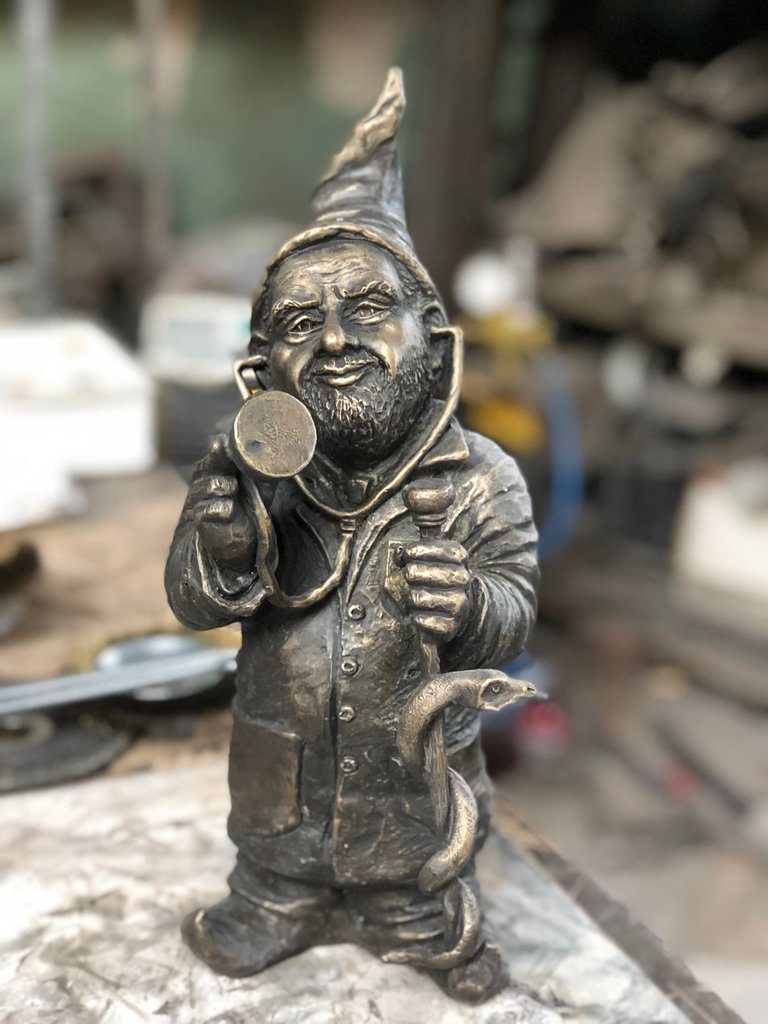 In this photo essay, we have tried to take a snapshot of the different Wroclaw gnomes that we have seen in the city and in the factory. The photos were taken by my husband Sharath Krishnamurthy.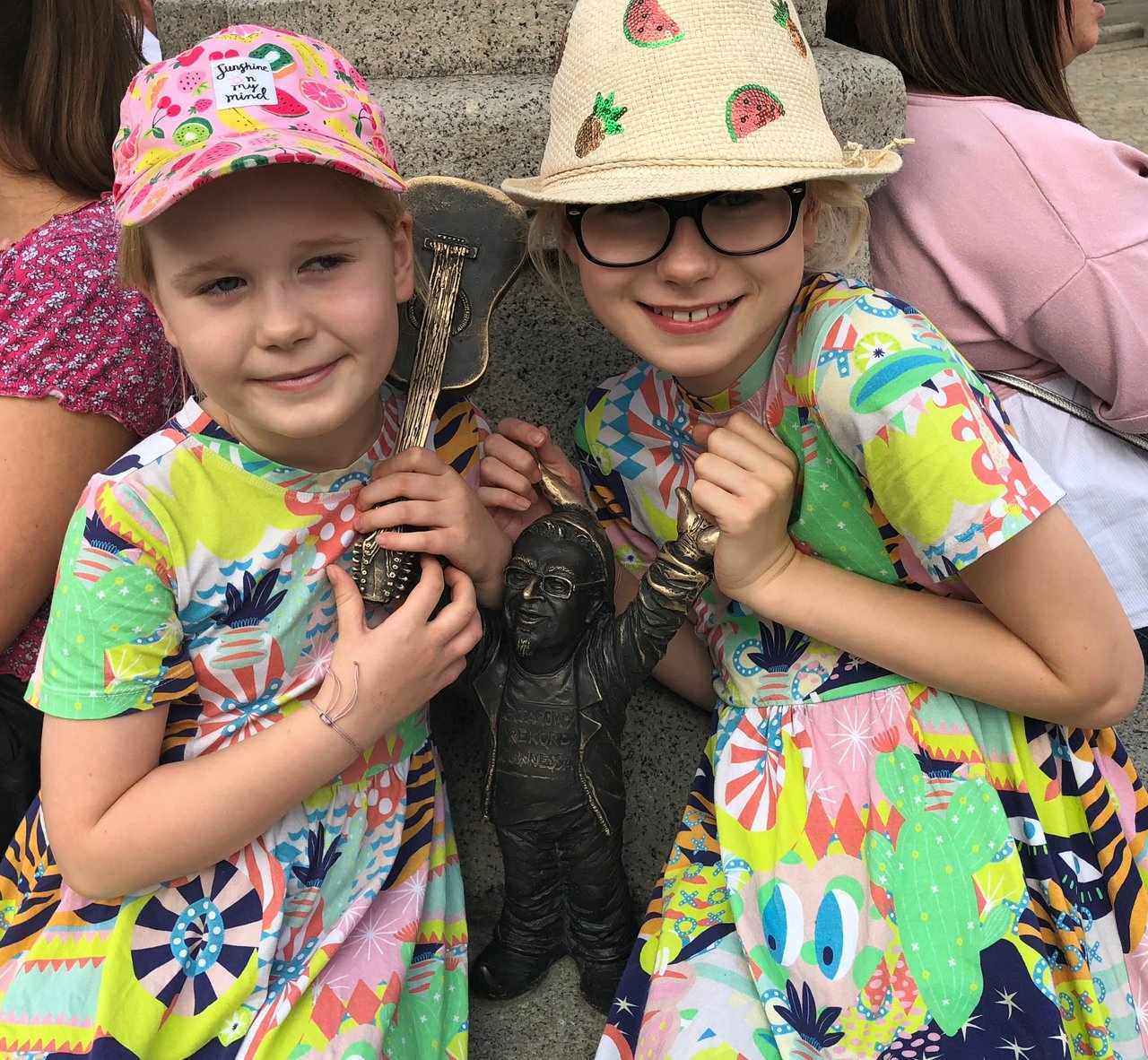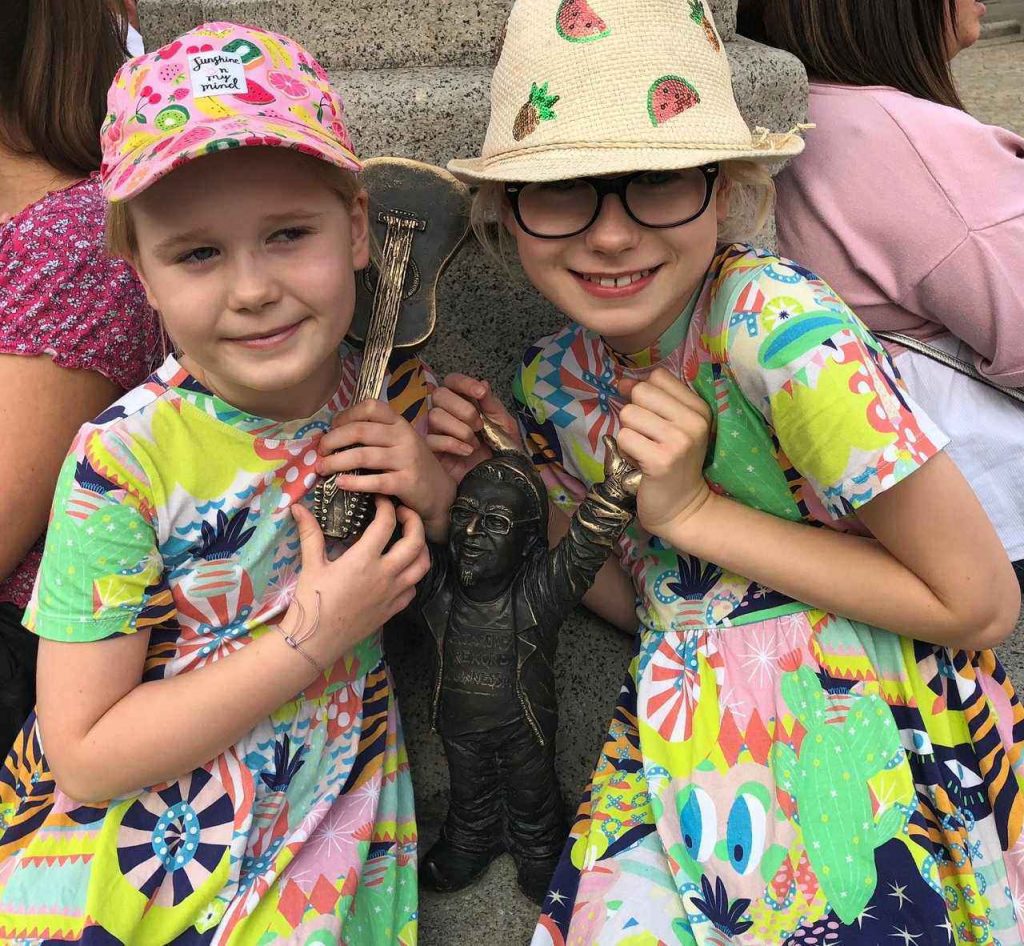 We were both invited by Polish tourism board and we visited the cities of Warsaw, Wroclaw and Krakow. Have you been to Wroclaw ? What are your favourite Wroclaw dwarfs ?