I have always said that Goa is not a destination , but an experience . It is a state of mind . I almost make an annual pilgrimage to Goa and I have had my share of "alive is awesome " experiences, which have been both touristy and offbeat.
1. Going bananas in Goa
Water scooter, para sailing, banana boats – Goa has been THE destination for water sports in India. It is not just the adventure activities, but there is something about the skies and the seas on this coast. I remember my first para sailing experience . I felt a strange sensation in the stomach as I was lifted above the shores and I took in the aerial view of the sea.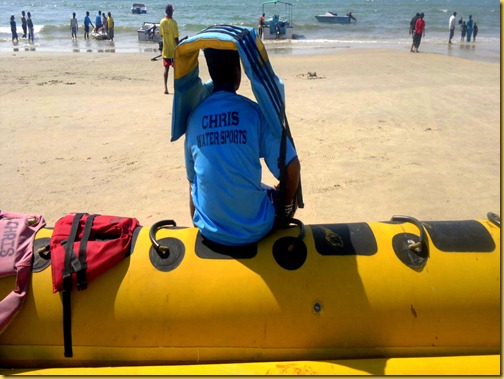 The ships looked dwarfed, the people seemed like Lilliputans. There was a sense of freedom as the winds would hit my face and blow me away. I held on to the ropes rather tightly and within seconds it seemed to be all over.  The water scooter has always been a perennial favourite, but trying the banana boat was rather an exhilarating experince . We would be thrown into the water several times and each time, I would come bobbing up to the shore grinning ear to ear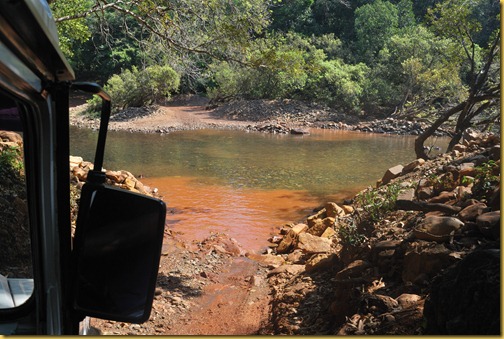 2. Crossing rivers and forests
They say the best views of the Dudhsagar Falls can be seen from the train which slows down as the milky white cascade deafens your ears and fills your vision . However, I believe that the journey is the destination. Driving to the falls was in itself an adventure . The jeep took us through the dense jungles of the Mollem National Park , where we crossed two full bodied rivers with no bridges or roads built on them. And while we drove on the bumpy almost non existent mud roads ,the jeep suddenly veered into a detour as we saw a board, that said " Devil's Canyon. " We encountered a turbulent river flowing in a deep gorge with various rock faces staring right at us . The silence was eerie . There was not even a monkey around .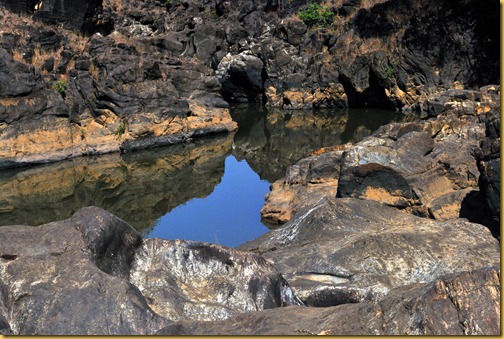 We continued our journey until we reached the waterfalls. And the setting looked out of the world though. A dense forest hemmed in with rocks while little streams and rivulets flowed around them . Tiny wooden bridges sprouted in the middle of nowhere . The trails led me towards one of the most spectacular water falls that I had ever seen in India. A railway line cut in the middle of the cascading waters as the roar of the falls silenced that of the moving train. This is where the Mandovi plunges to the depths , from a height of 600 metres, forming a milky cascade on the Karnataka –Goa border. The entire scene was a dramatic riot of colours. Bare bodied men and women were swimming around in a massive pool of blue green waters formed by the creamy white foam. We jumped in, letting the waters soothe us after our rather adventurous journey.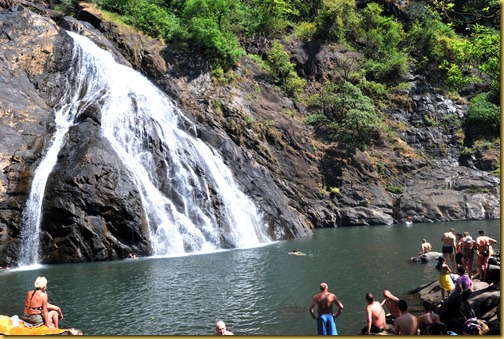 3.Birding in Zuari
There is nothing more mystical and beautiful than watching dawn break on a river bed. We drove through the dense forests at 4 am and watched the silhouettes of mountains give us company on our journey. As the winds gently caressed the waters, forming ripples, the river came alive and so did we. It was the wee hours of the morning, but I had never felt so awake before in my life. The birds perched on the nets left behind by the fishermen, as the boatman took us on a cruise on the river . The golden light of the sun stroked the river and we basked in the morning glow. As we sighted rare species of birds , I realized that you do not always have to experience high energy activities to get a sense of adventure. In that beautiful morning,watching a vibrant black capped kingfisher, showing off its shiny purple coat, I experienced one of those rare "alive is awesome" experiences