Andaman Diaries – A holiday at Havelock Island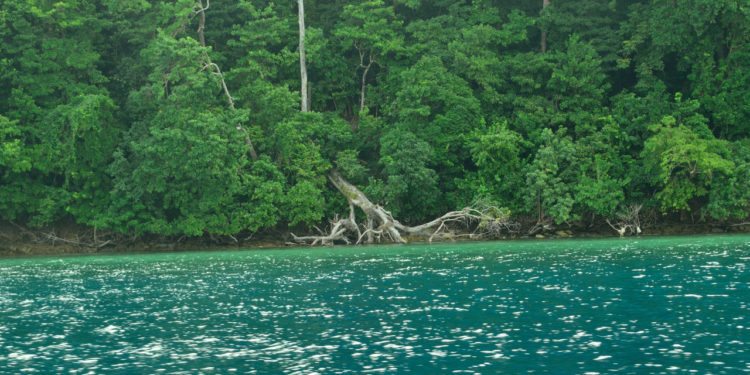 If you are travelling to Andaman Islands you always have a choice. You can go either go island hopping or just stay put in one island and let life pass you by. You can either jump from ferry to ferry, explore new and unexplored beaches or just laze in one and watch nature spread her moody canvas on the sky and the sea. The husband wanted a holiday and water is his turf. And so I let him plan the trip, which means it was unplanned, impulsive, last minute, filled with fun and relaxation. When we both holiday, we dont just travel. We chill.
The Andaman and Nicobar archipelago may have over 500 islands but barely a handful is open to tourists and that too, only in Andamans. And the most tourist friendly is Havelock. The largest in the Ritchie Archipelago in Greater Andamans,  Havelock with its picture perfect beaches and mangrove forests is one of the most spectacular islands in the Bay of Bengal. Adjectives do no justice to it.
We were as usual last minute. We ran to the Makruzz booking office and managed to get the last two tickets on the ferry to Havelock from Port Blair. Ideally it is better to book it online.
Also read – Ten places to see in Port Blair
We were tempted to stop at Neil Island, one of the islands of the Ritchie Archipelago which has recently been opened to tourists. But we decided against it. We had just four days and we wanted to take it easy. And so it was Havelock all the way.
The first thing that I learnt when I reached Havelock was that all beaches had a number and the popular number was 7. Some of them had names too. When you are making a booking online for accommodation, ensure you know your beaches.
There is Beach No 1 where you land, adjacent to the jetty. This is your first introduction to Havelock and it is probably one of the most crowded where you will see a lot of people. And then you realize that as you move on towards the other beaches, you hardly see anyone. There is a small cluttered market along Beach No 1 and adjacent to it are ferries that will take you to Elephant Beach.
Beach No 2 is not open for tourists but is largely used by the diving schools to give beginners an experience of scuba diving. It is accessible  through a small lane cluttered with homes and it feels like you are almost entering the backyard of this village
Beach No 3 and Beach No 5 are where the tourist resorts are spread out in a line. They are named after the villages , Govindnagar and Vijaynagar. Govindnagar has a small market with shops, restaurants and ATM outlets. Several diving schools have opened their centres here.  There was a time when it was just 4 and now there are more than 15, says an auto driver as I ask him to take me to my abode for the next few days, Beach No 7 rated as one of the world's best beach called Radhanagar.
The journey is the destination. Just the drive to this village, from the main jetty is an experience. Forests, fields, hillocks greet you. The entire scenery changes. There is a trekking route from here to Elephant Beach as well. Although we took an auto on the first day, we hired a bike for the next few days, just to roam around and explore the villages and the beaches.
It is not just the scenic landscape or the rustic world that beckons you. Look around and you will not a soul sometimes around you. The birds and the flowers are all that surround you in this little idyllic paradise.
If Radhanagar is the destination, then Barefoot at Havelock is an experience. If you visit Havelock and you do not stay at Barefoot, then believe me , you have not visited Havelock at all. It is not the luxury tents or the private beach or the great food that makes me say this – its an overall feeling. Barefoot in many ways combines the very essence of Havelock.
Sample this. You are not staying in a beach resort but you are in a dense forest. Take a small detour and a narrow path lined with thick bushes and dark mysterious shadows of trees lead you to a pristine private beach. Birds land right at your doorstep.
The trees form such a dense canopy and when it rains, you can feel your entire being soaking in the rain. A little rustle in the bushes and you could see a monitor lizard darting into the wilderness. It is wild and silence. Besides the birds, you can hear the waves calling out to you all the time. And that is where I stayed – right on the beach, walking, lazing, meditating, lost in the silence of my own thoughts.
It is an understatement to say that Radhanagar is one of the most beautiful beaches. I havent seen anything so pristine – the spotless white sands look like they have been purged of every speck of dirt. The clouds float past and the sea keeps changing colours.
Time stands still here and  the only way I can even keep track of it is by watching the tides. I try to keep up with the moods of the oceans – restless, calm, angry, excited. Sometimes the waves are full of passion, sometimes they are just a tease. No wonder beaches are the most romantic spots in the world.
There are no water sports in Radhanagar beach and snorkeling is not allowed here either, although you can swim. Locals told me about crocodiles lurking here and it is advisable not to venture too far into the wild, near the mangroves or the bushes.
Although you cannot snorkel or dive here, Barefoot has its own diving school and they take you out on excursions to South Batton Island or Tamarind Camp or Turtle Bay or just to Beach No 2 for a dive. They even had an elephant which was brought here from the mainland with whom you could dive.
However if I were you, I would keep my options open with other diving schools as well, who are equally very good as the demand here is very high. We almost lost a couple of days waiting for Barefoot to confirm our bookings and we finally decided to go with Dive India, in Havelock and with Doongy Dive for our excursions. Needless to say, they were both fantastic.
I tried my hand at scuba but I could barely go a few metres below the ocean. And so I decided that I would rather snorkel. But the husband, a water baby plunged to the depths of the oceans and had a tryst with the marine world and the exotic colours.
But my experience at Turtle Bay was no less spectacular. Snorkeling over the coral reef, I saw octopus and several schools of reef fish besides the dazzling corals that blinded me with their hues. These excursions are pristine and priceless as there is hardly anyone around. We just another boatload of people for company and for miles and miles around it was just the oceans, the forests and the sky.
The cruise take you along some of the smaller islands in the Ritchie Archipelago. Besides North, South and Middle Button, we saw Lawrence Island where I heard an elephant roams around in the wild. None of these islands are inhabited nor can you just land on any shore without permission. Tourism is regulated very strictly here, including the number of boats on sea on any particular day and the number of passengers they can carry.
Havelock is an island that does not let you go. We just biked up and down to all the beaches, to the markets and on one evening, we went to the Kala pathar beach and found ourselves alone on the shores. The sea was wild and untamed.  The shore was strewn with trees that were uprooted. Mangled branches lay intertwined. It seemed like an unruly child who had just woken up with disheveled hair and crumpled clothes.
The silence echoed through the waves. It was eerie and I started shivering a bit. Standing there you realize that nature is not always picture perfect. It is dramatic, savage daunting, stark and even cold.  We stood there for a while letting the wild oceans bathe our restless minds before heading back to a pretty, colourful and secure world.
The last night at Havelock, I decided to move away from Beach no 7 to Beach no 5 to get an experience of what it would be like to stay in a beach resort. At the far end of  beach near Kala pathar Beach is Silver Sands where I had a tryst with silver sands and turquoise blue waters. It is almost the last resort at the end of the road and we probably had the beach to ourselves. Kingfishers called upon us as we lazed upon the hammock and watched the twilight engulf the skies.
This post is written in partnership with Spice Jet, Barefoot at Havelock and Silver Sands Resort who hosted me on the trip to Andamans.