The Ramayana trail – A day in Ayodhya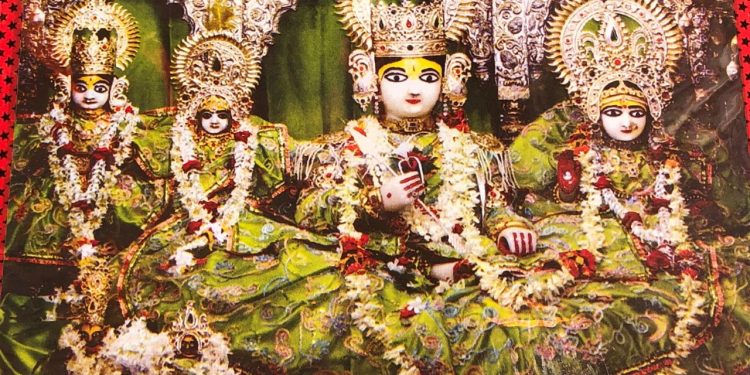 You almost feel like you are walking into a chapter of the Ramayana when you enter Ayodhya . To be honest, you feel like you are actually a part of it, as the Ramayana begins and ends here. To the secular world,  it might be just an epic, but for those who live and breathe the word of the sacred, Rama and Seetha still live here while Hanuman guards the city , as every temple and palace here is an ode to the legendary Ayodhya. While the city has been  in the news for the dispute regarding the Ram Janmabhoomi temple, there are several temples in Ayodhya  that gives it the spiritual fervour. It is not just the pilgrims, but several tourists head here for Ayodhya sightseeing.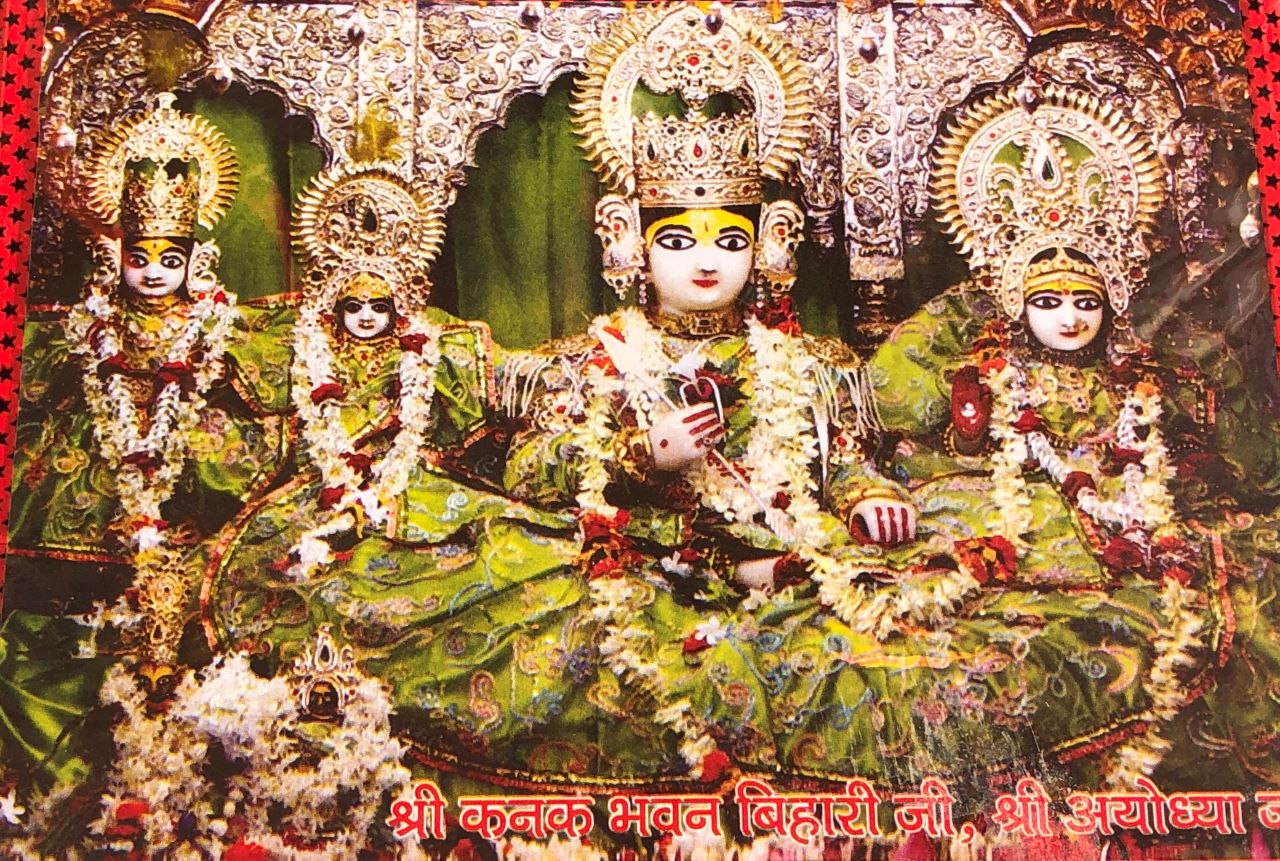 Ayodhya is indeed one of the seven pilgrimage towns for the Hindus called Sapta-puris. No wonder every pilgrim who visits the Kumbh Mela ends their  journey at Ayodhya after their spiritual dip in the Ganga. I visited Ayodhya too after my visit to the Ardh Kumbh Mela in  Prayagraj and I realized that it was actually a mini Kumbh our here as it was flooded with people and overflowing with devotion.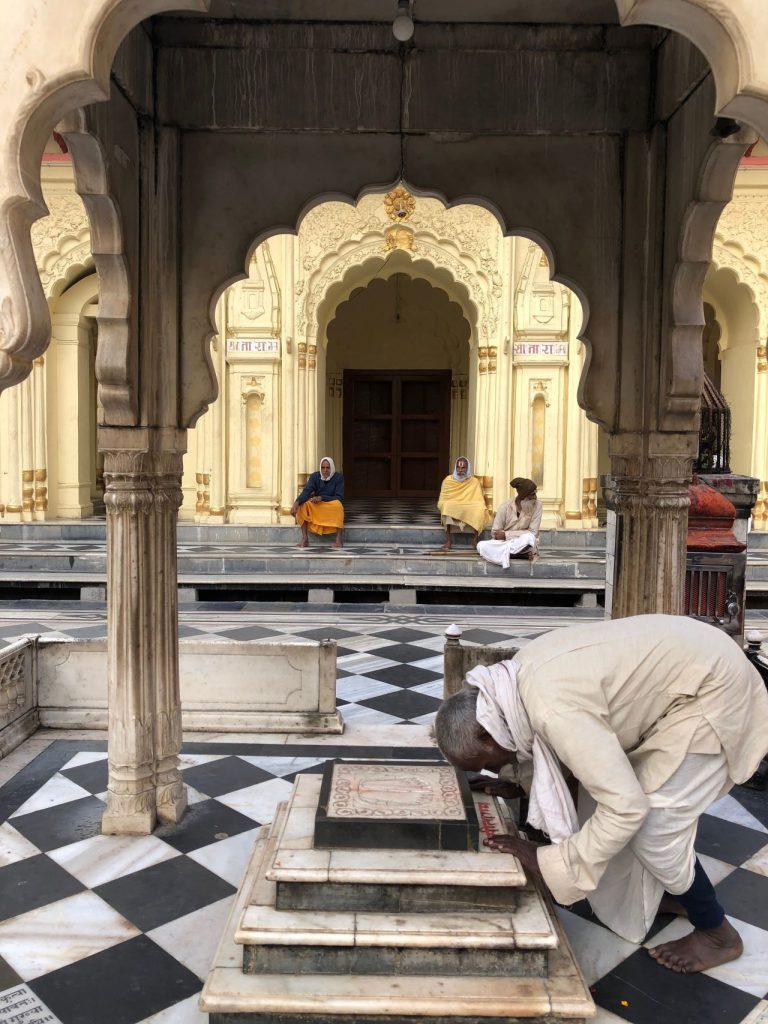 There are many places to visit in Ayodhya but we were here only for a few hours. Although it was not enough to explore the mythical city, it was enough to imbibe the mystical essence of it.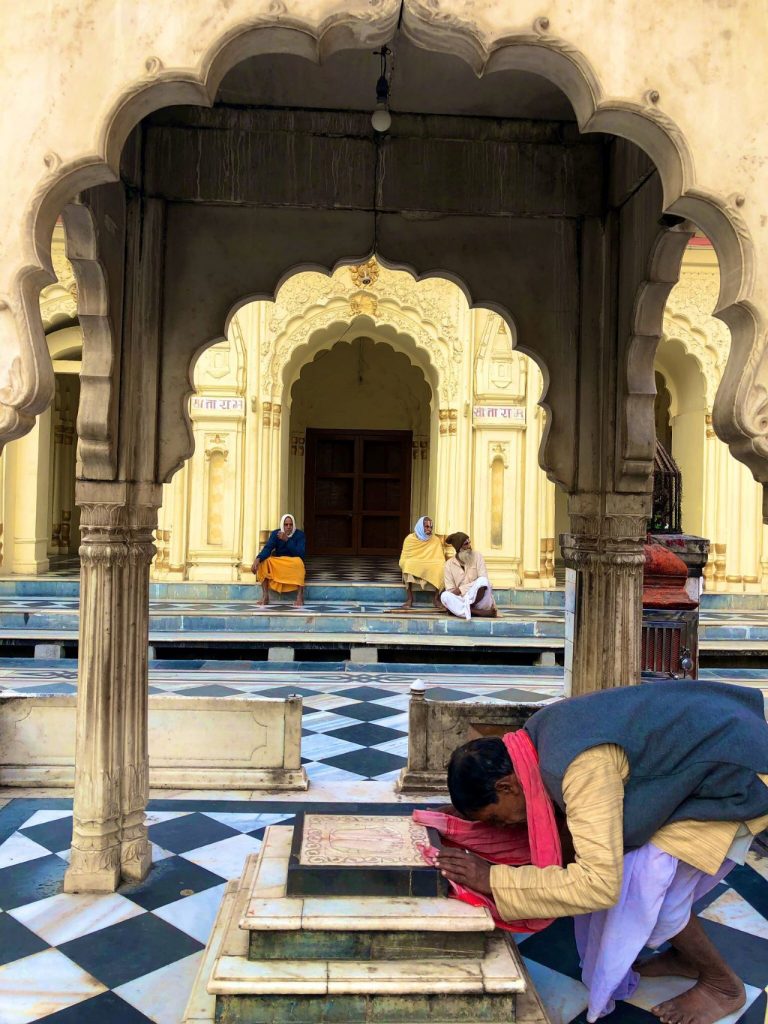 We could not go to the Ayodhya Ram Janmabhoomi temple and the crowds did not allow us to visit many of the religious sites as well. However we walked around endlessly, just gazing at palaces like the colourful Dashrath Mahal and Janaki Mahal, while listening to chants of Jai Shri Ram.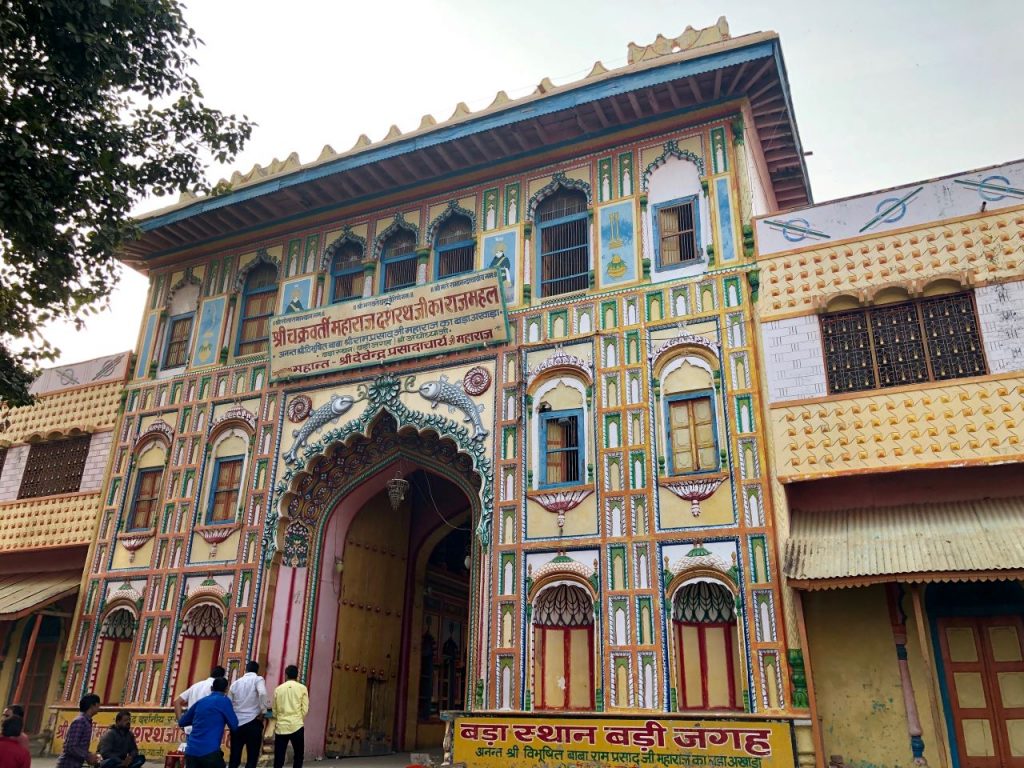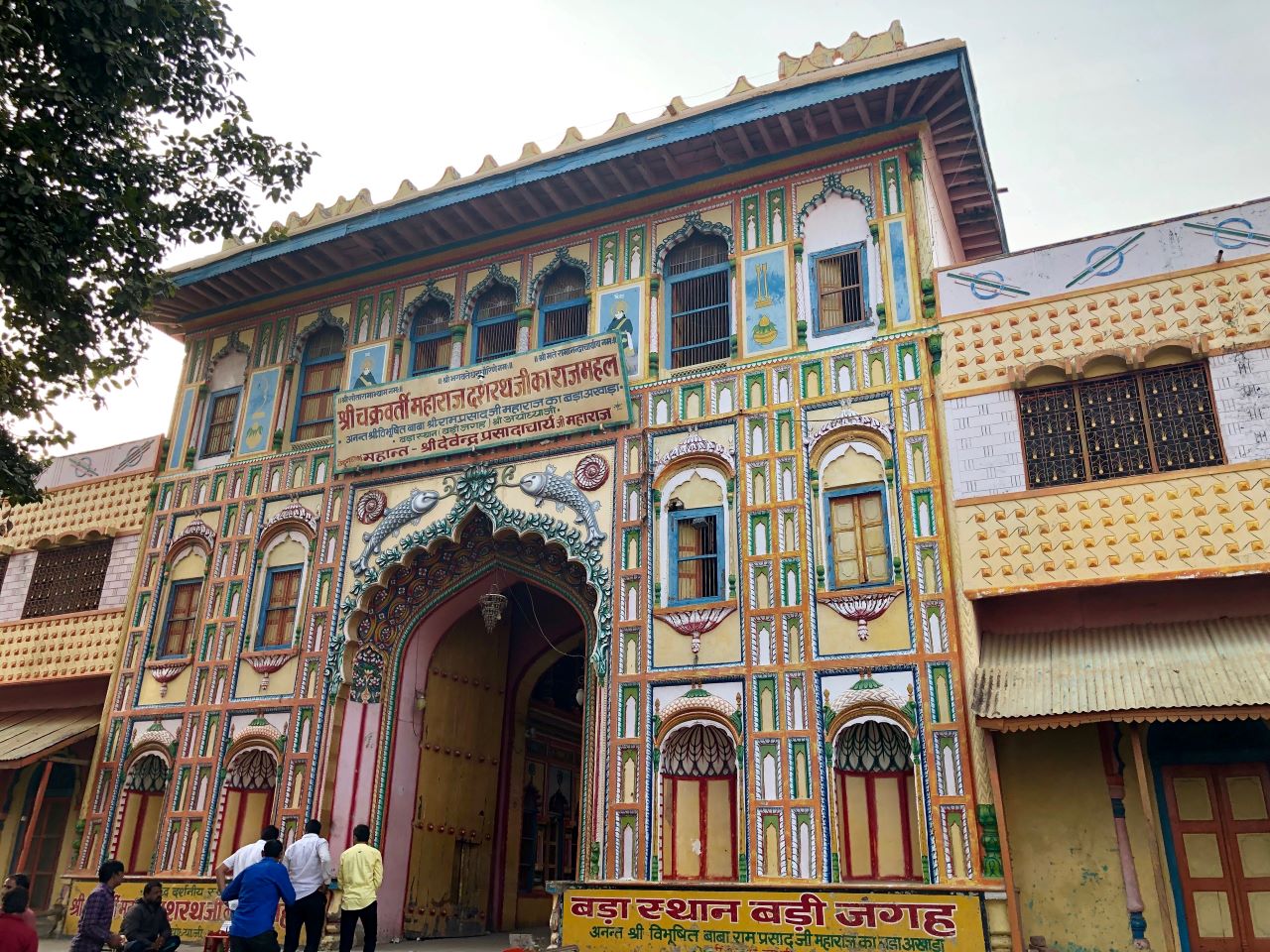 Every monument here is a leaf out of the lives of Rama and Sita and there are several places to see in Ayodhya that form the backdrop of the Ramayana. One of the places to see in Ayodhya is Treta Ke Thakur , where a temple stands and  it is believed that Rama along with his brothers performed the Ashwamedha Yagna.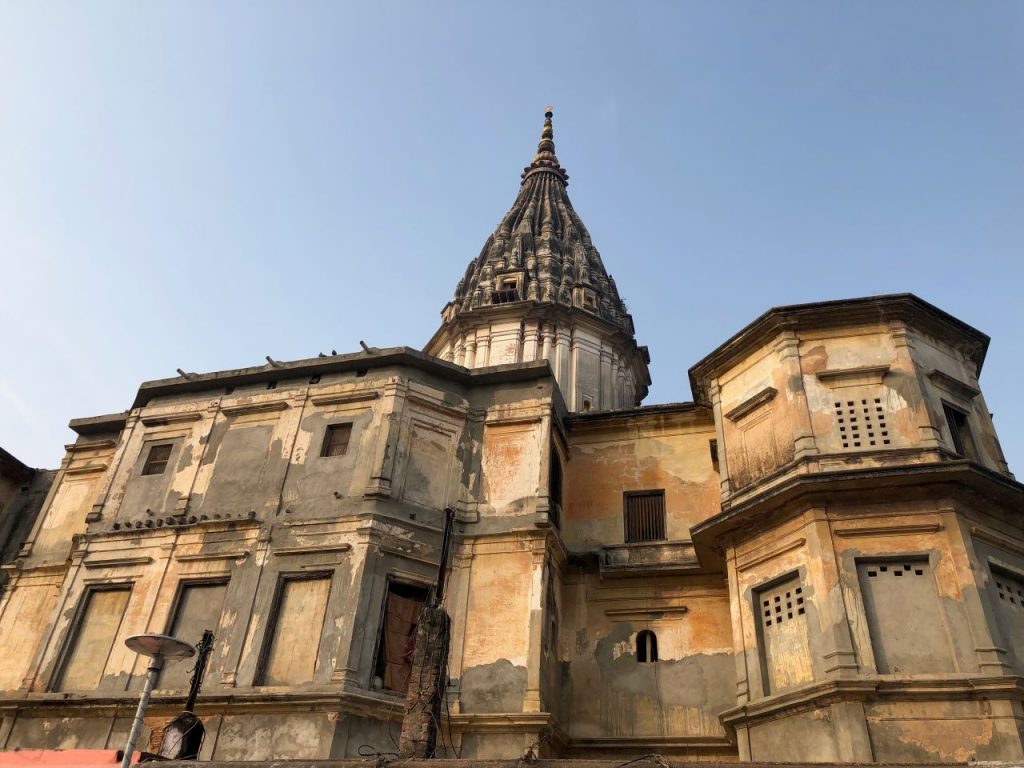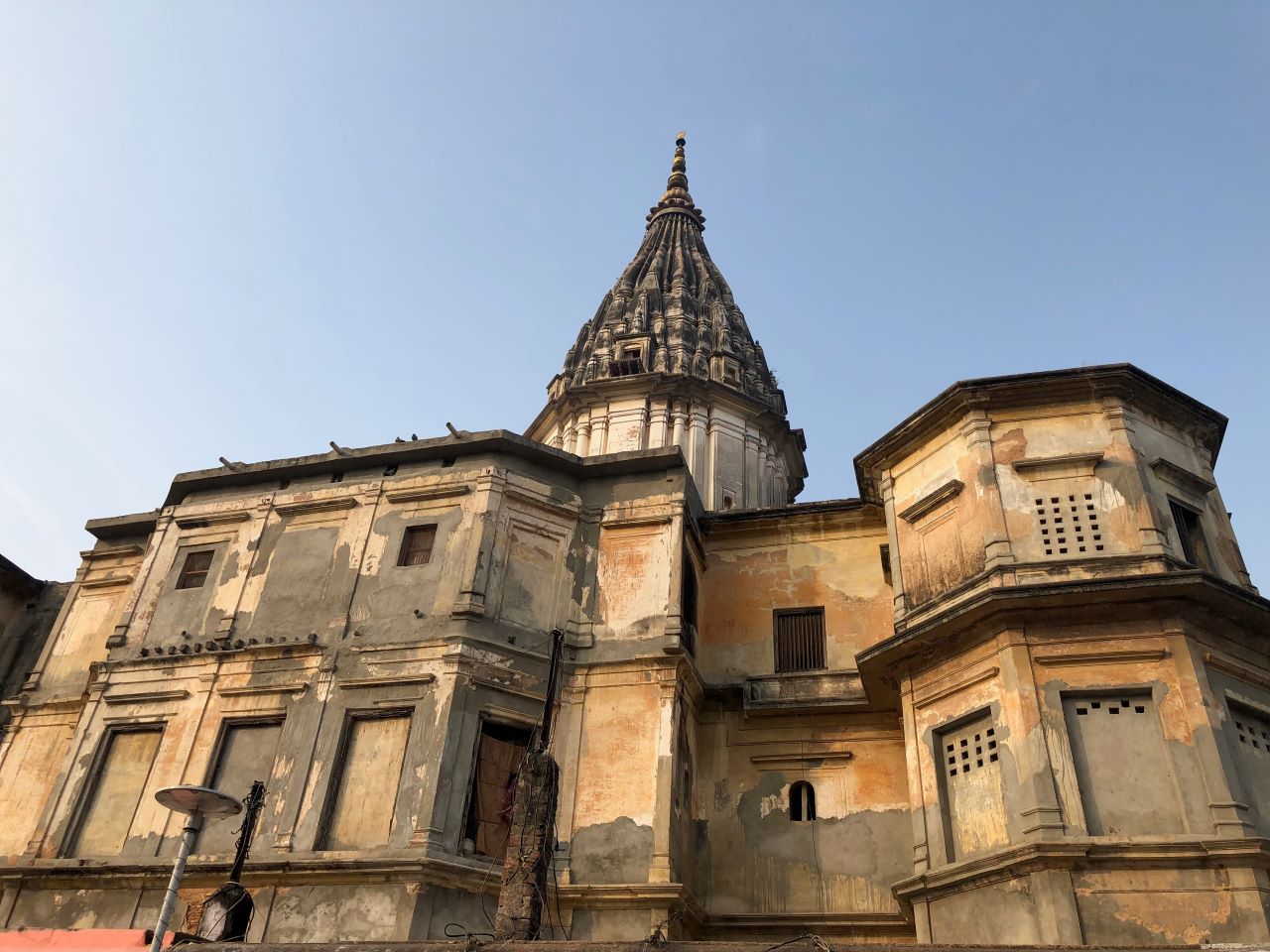 My guide Kunal told us about Sita Ki Rasoi, a shrine which is also a traditional humble kitchen dedicated to Sita. We walked past Valmiki Bhavan and Tulsi Smarak Bhavan, some of the places to see in Ayodhya built in the memory of the  saints and poets who have immortalised Ramayana.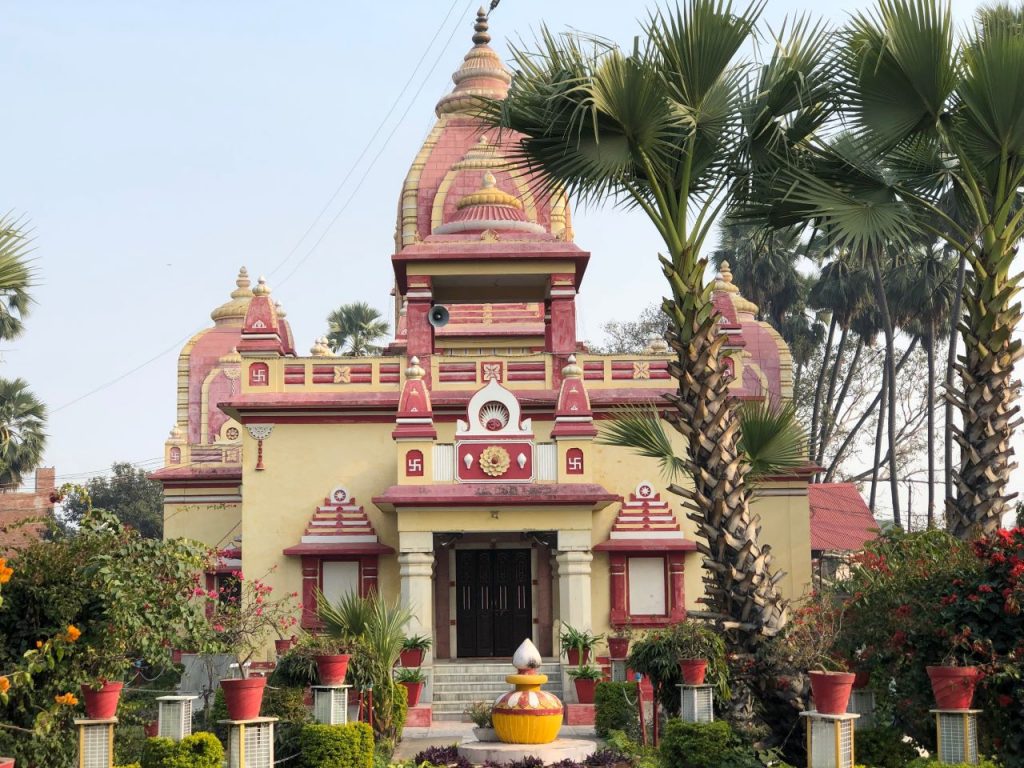 And Ramayana lives here even longer than Rama, as a temple built by his son Kush stands here called Nageshwarnath Temple, dedicated to Shiva and the Nagas or serpent deities. There are several temples that are included in a Ayodhya sightseeing itinerary but we have time for just a few of them.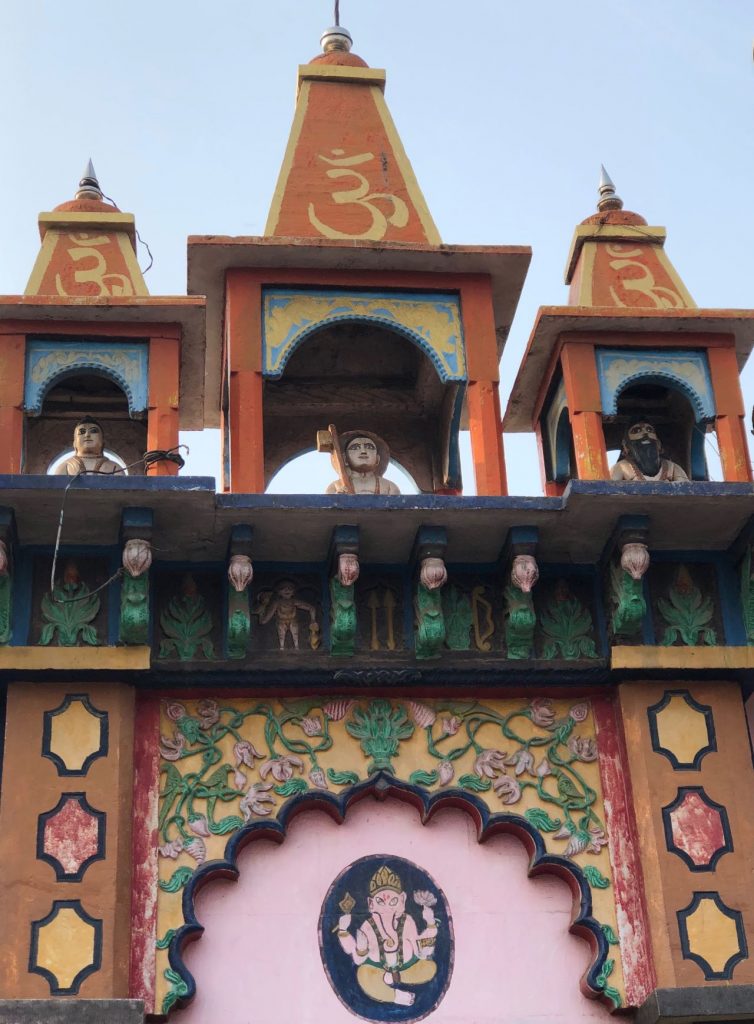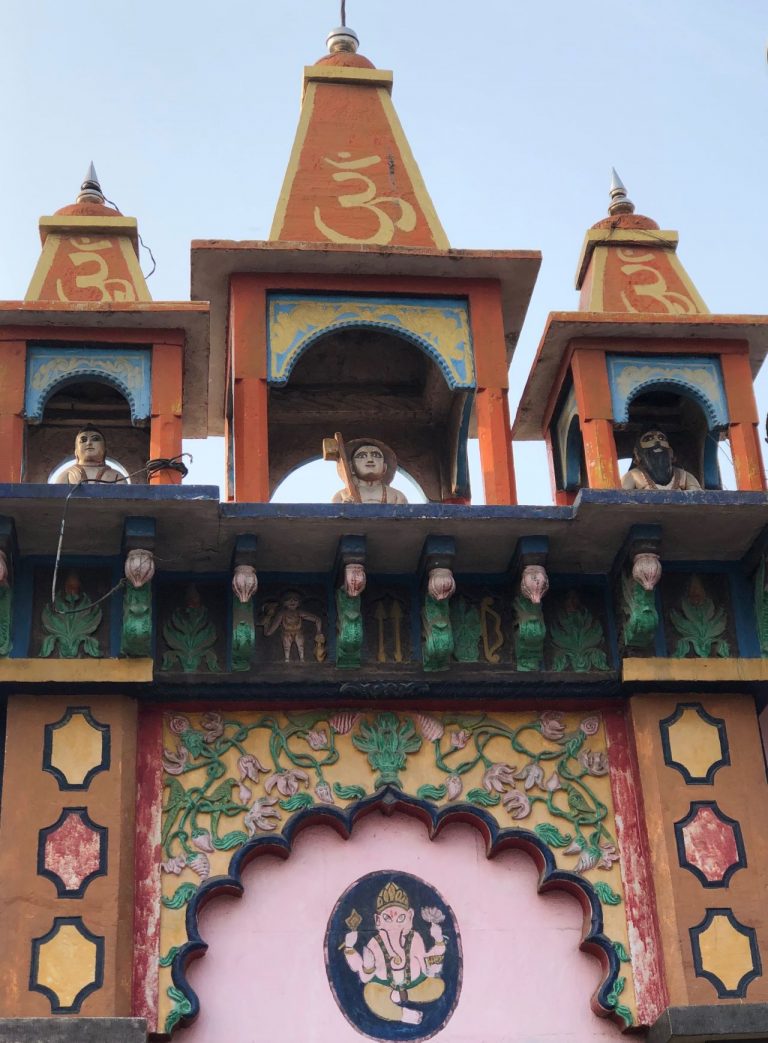 Ayodhya is one of those cities where I would like to walk endlessly and lose myself in its nooks and corners. Faith and devotion oozed out of every lane. Old monuments beckoned me.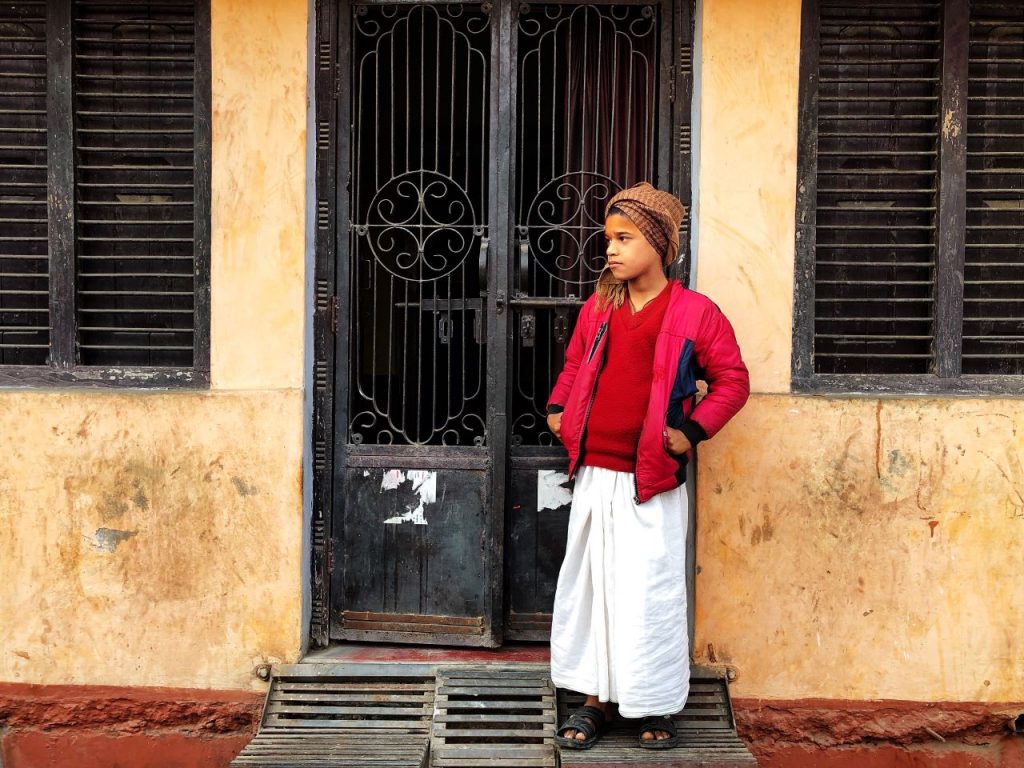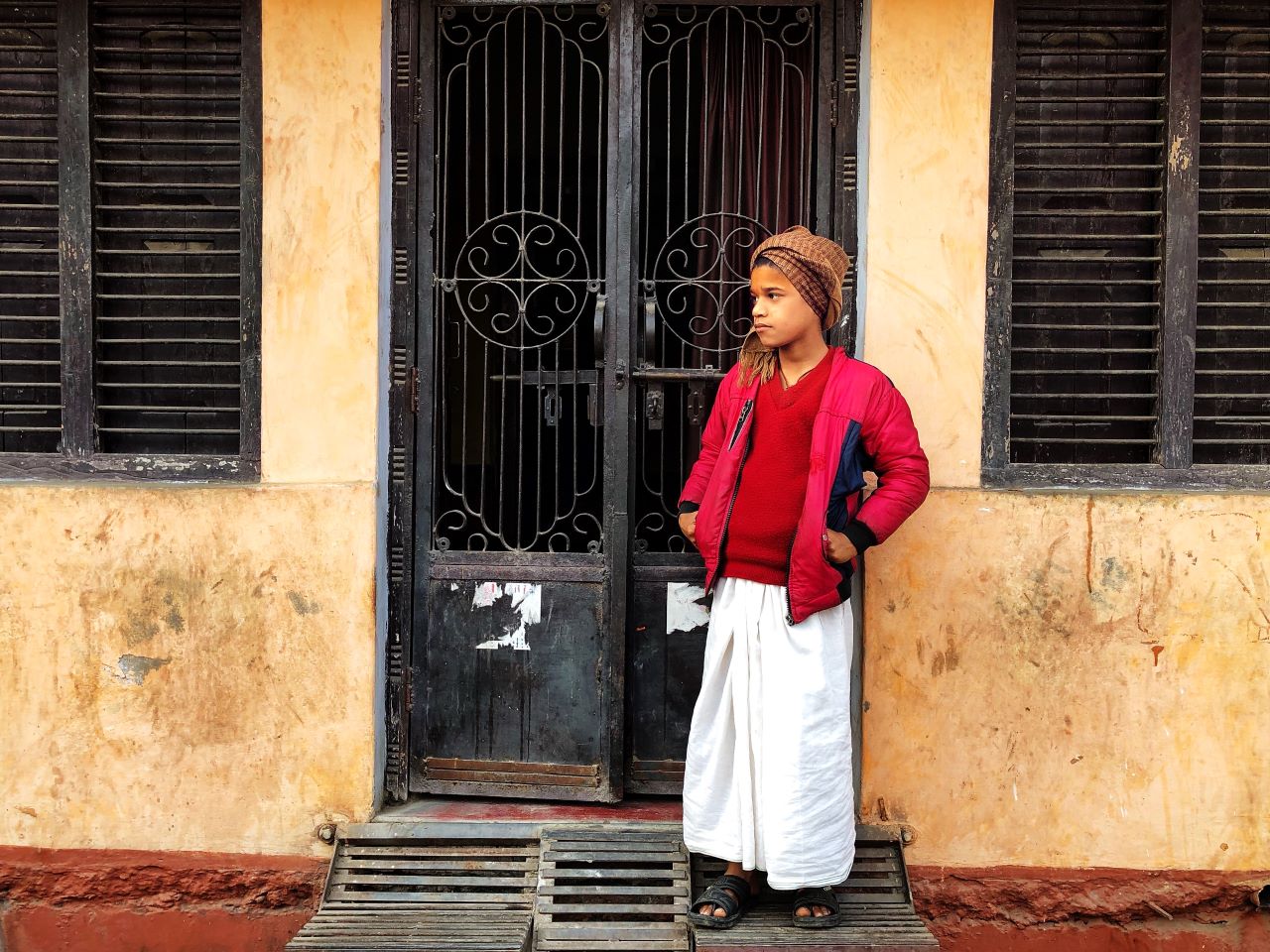 Even the ruins had a charm. There were several temples thronged by pilgrims but the small shrines in a lost lane had a divine aura around them.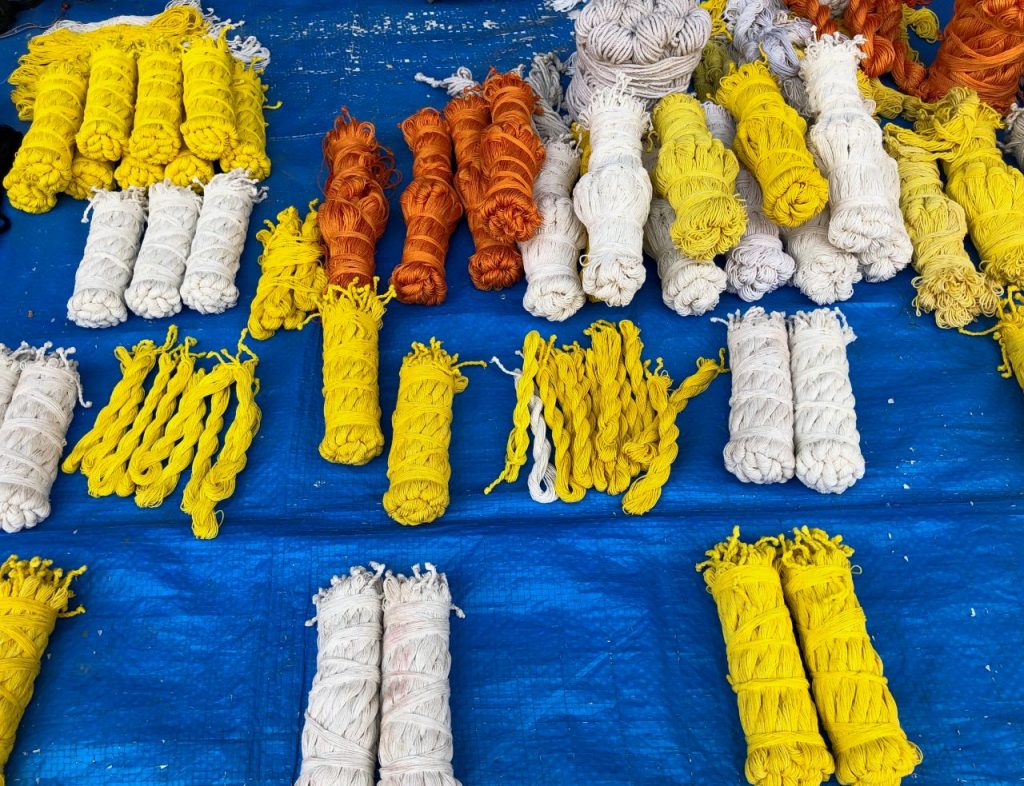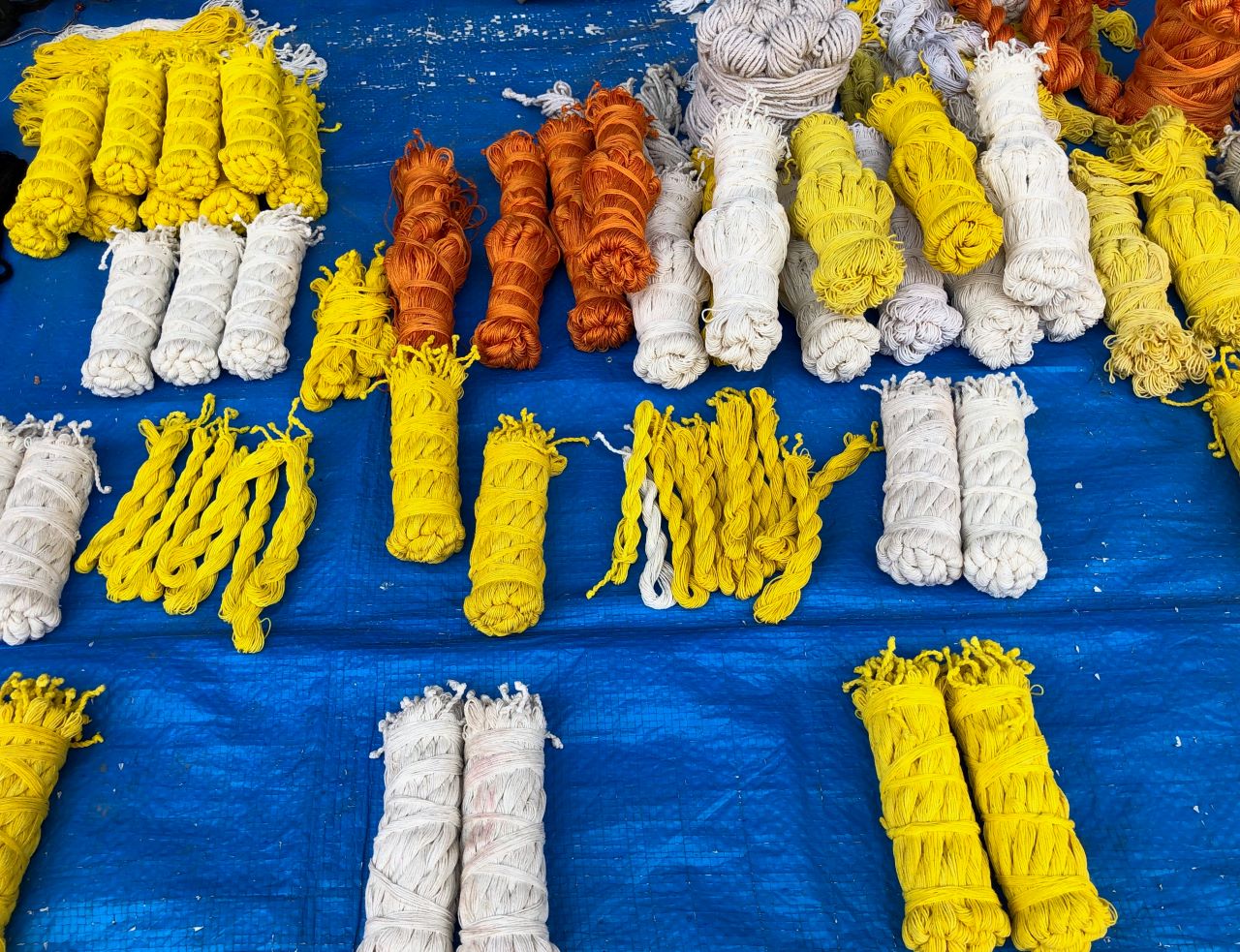 We had time to visit just three temples but I lost myself in the colours and flavours of the streets that lured me.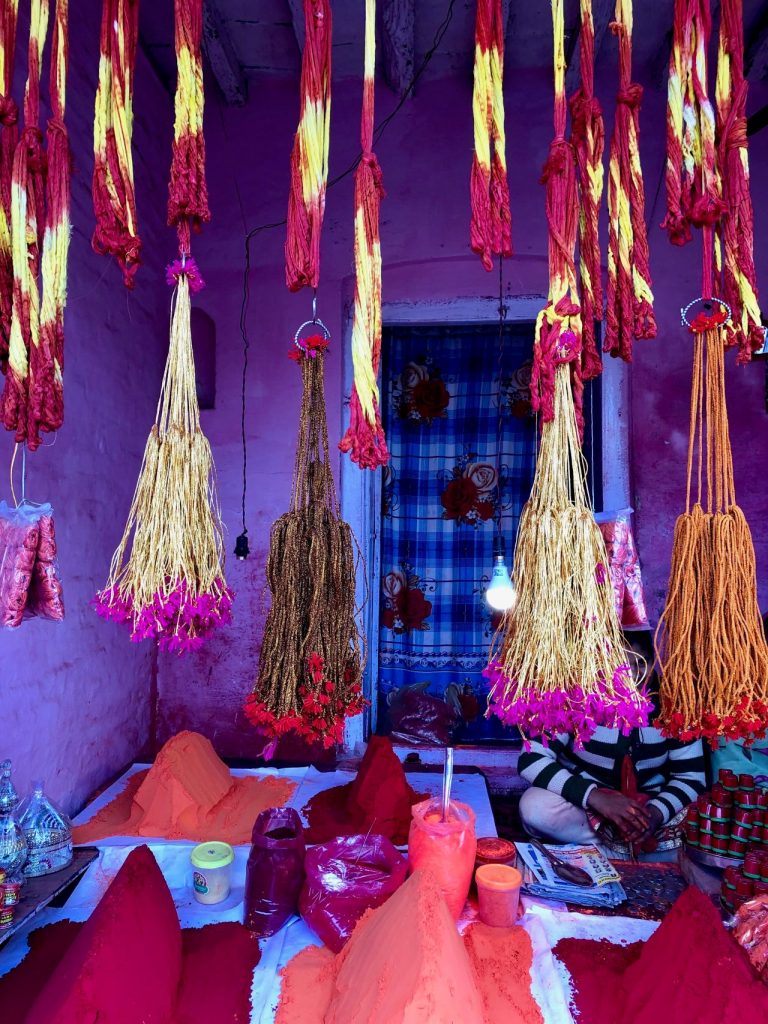 The Hanuman Garhi Mandir , one of the places to visit in Ayodhya was the first shrine but it was the crowds that overwhelmed us. It is believed that Hanuman sits here and guards the city as Rama had told him to do so when he decided to leave the world.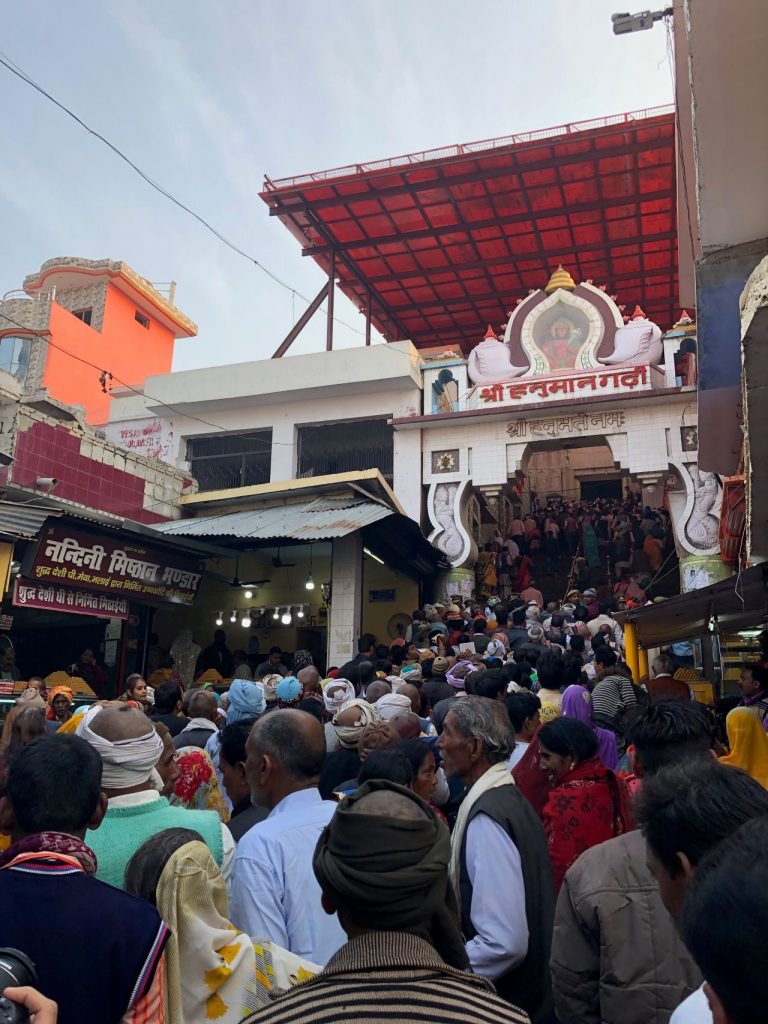 The entire steps were so crowded with the pilgrims that we wondered if we would ever be able to climb atop the shrine. Colourful and filled with lore, the temple is the most popular in Ayodhya and is one of the places to visit in Ayodhya.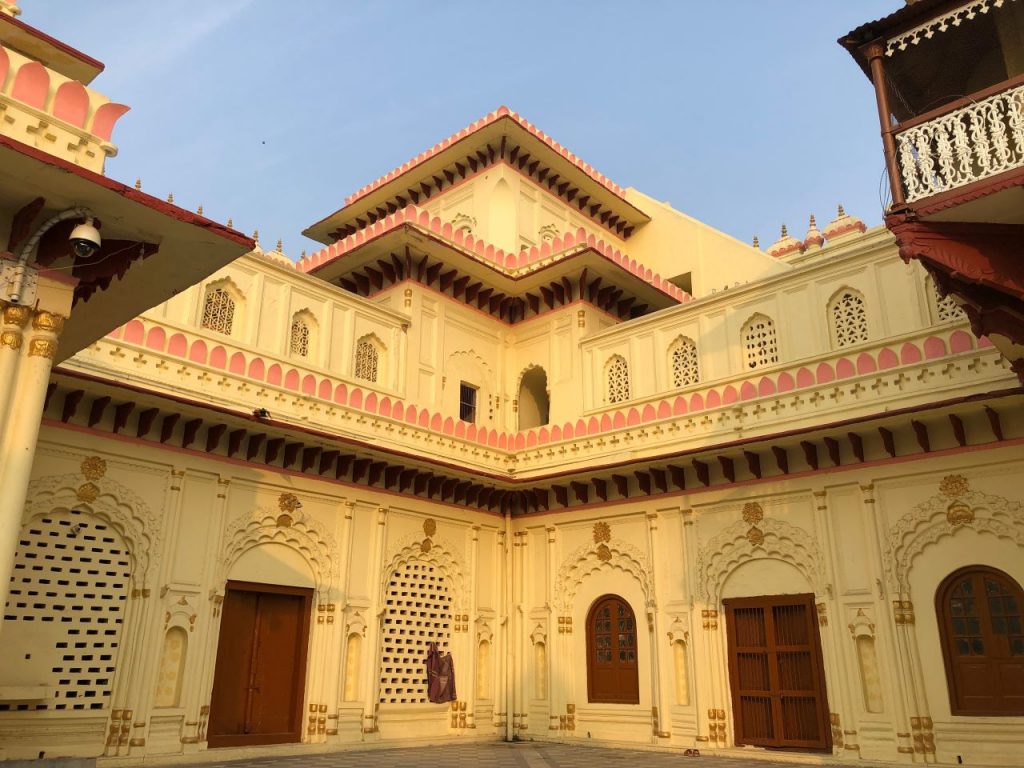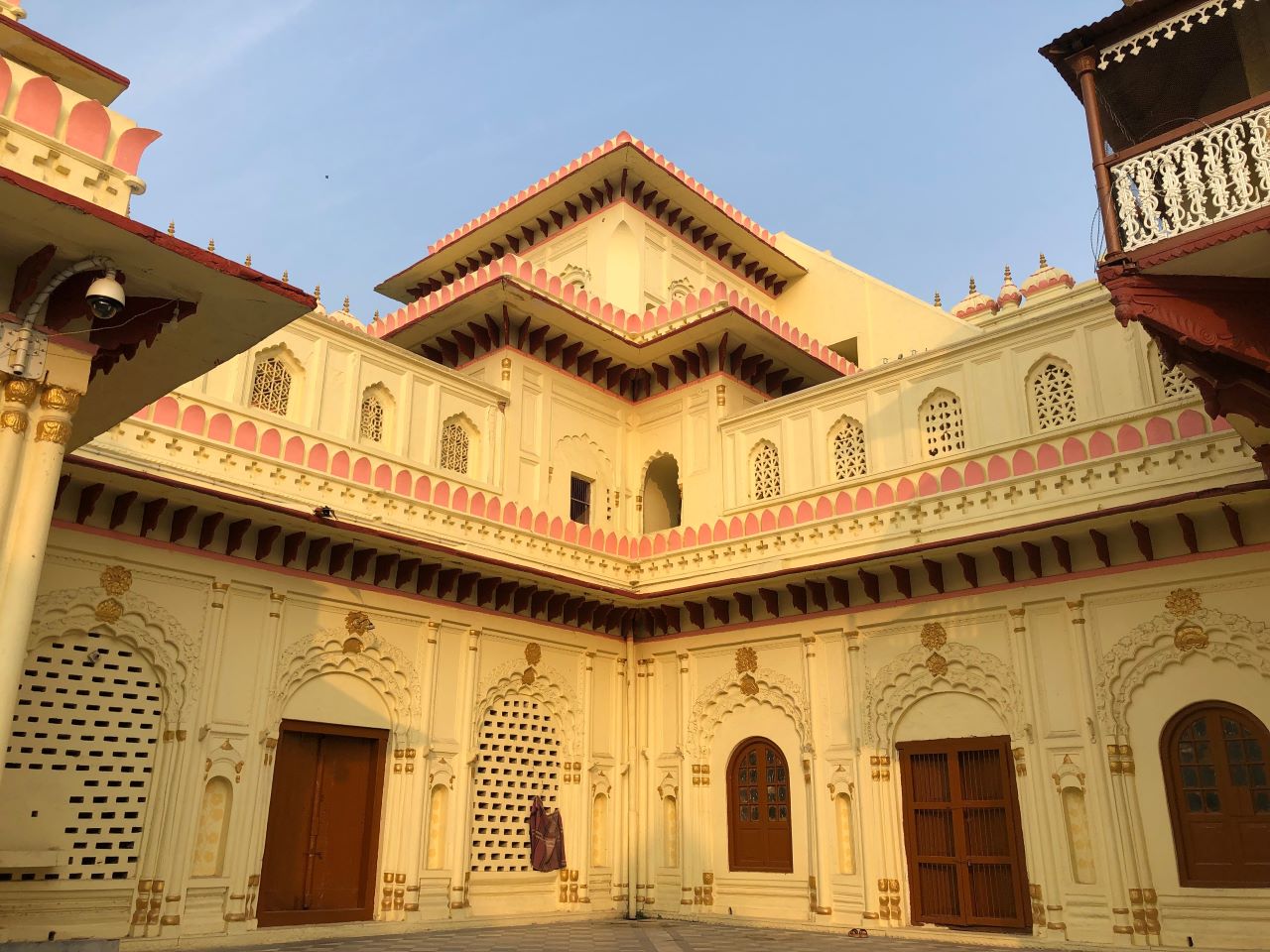 Our next stop was at Kanak Bhavan. A surreal silence overwhelmed us as we walked into the palace which according to the lore was gifted by queen Kaikayee to Sita when she came to Ayodhya after her marriage.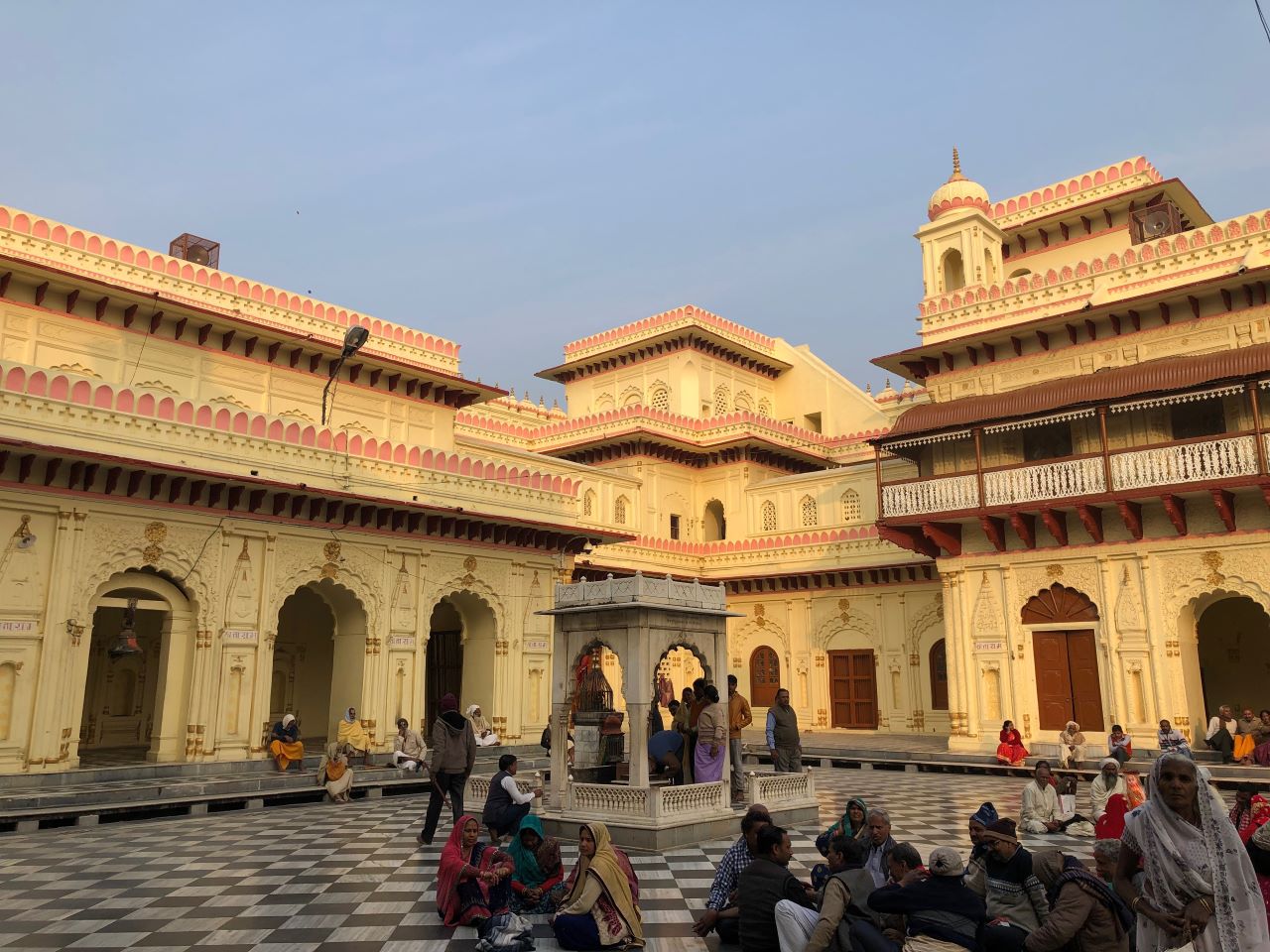 The charming facade painted in  pastel shades fascinated me as I walked around in silence. Bhavan refers to a home or a dwelling place and although this was a palace, it is now a temple dedicated to Rama and Seetha. It is highly recommended as one of the places to see in Ayodhya.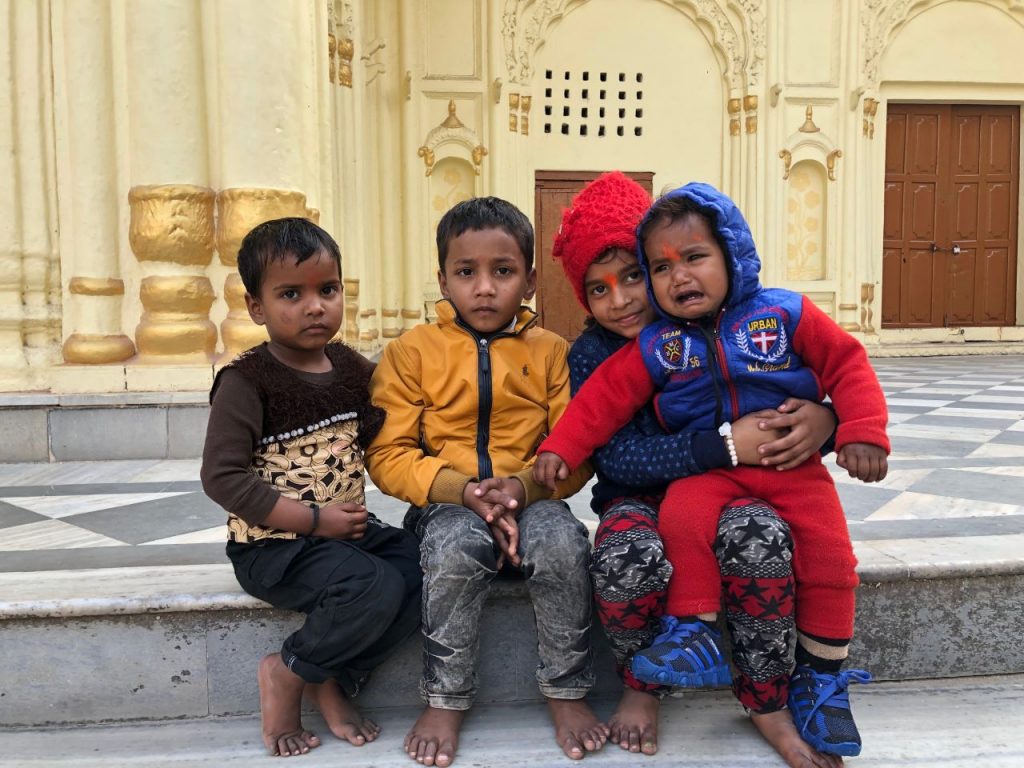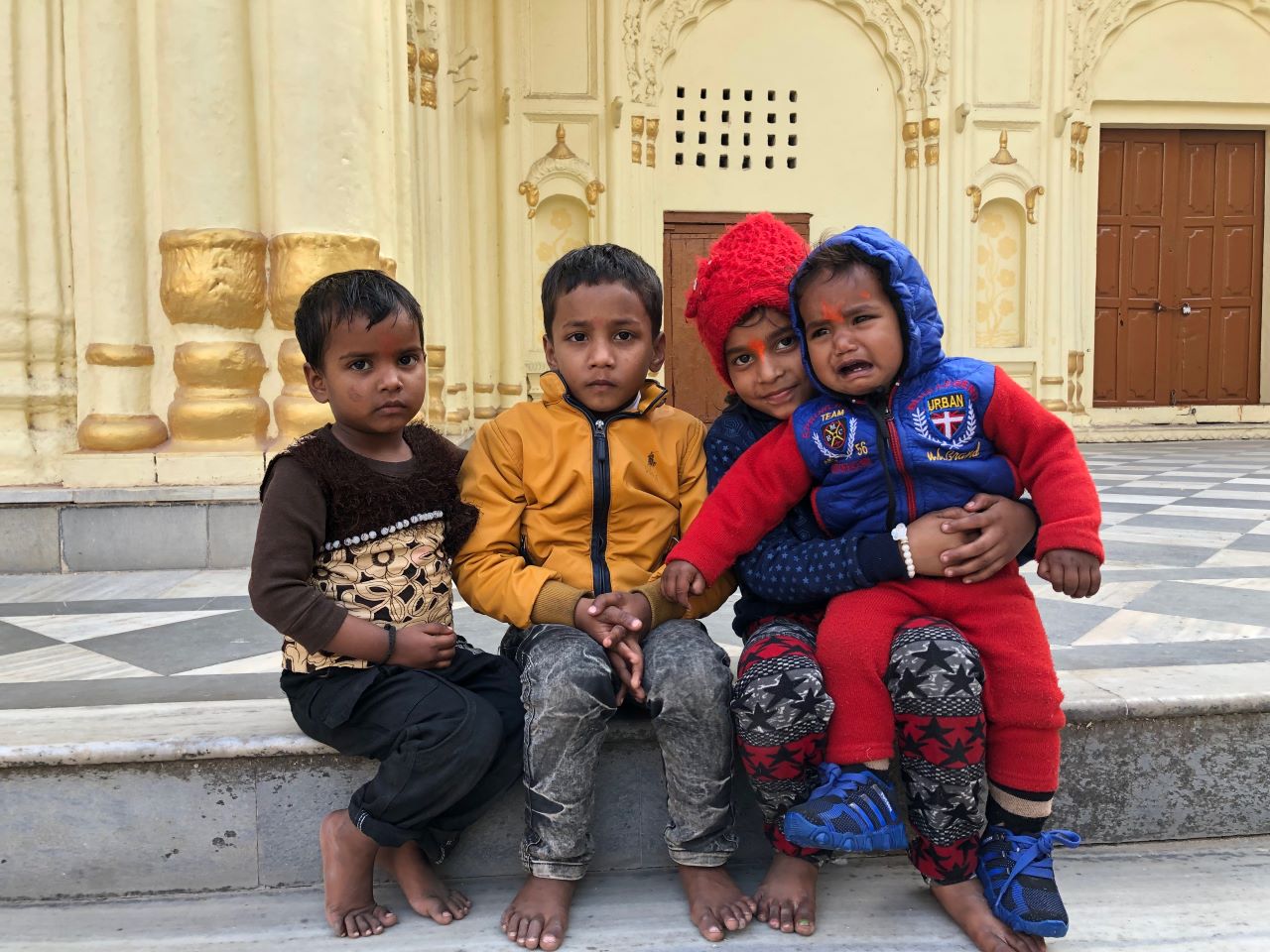 This is where I met a few pilgrims who had just returned from the Kumbh at Prayagraj as well and an entire family had gathered here to bond and rest before continuing their journey. Chatting with them I realized that temples are not just religious abodes filled with rituals. It is where you renew your spiritual connection with the higher powers and energies that we call deities. Personally for me too, Ayodhya was all about forging my spiritual tryst with the Almighty.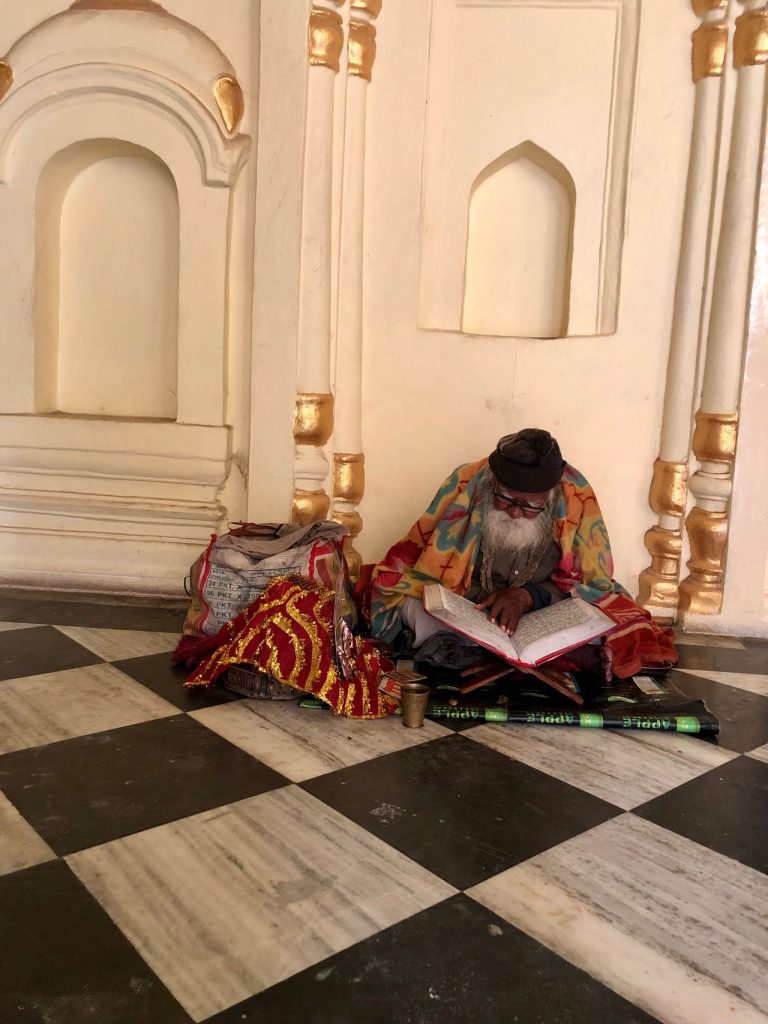 The sun had set and the Sarayu Arati had begun as we watched from the other banks of the river which is literally a part of the Ramayana. One of the poignant moments from the Ramayana is the story of Guhan, the boatman who ferries Rama and Seetha along with Lakshmana to the forest after Kaikayee demands that they be banished for fourteen years. It is the same Sarayu that finally takes Rama with it to his heavenly abode as he entered Jal Samadhi. It is believed that this happened at the Guptaar Ghat.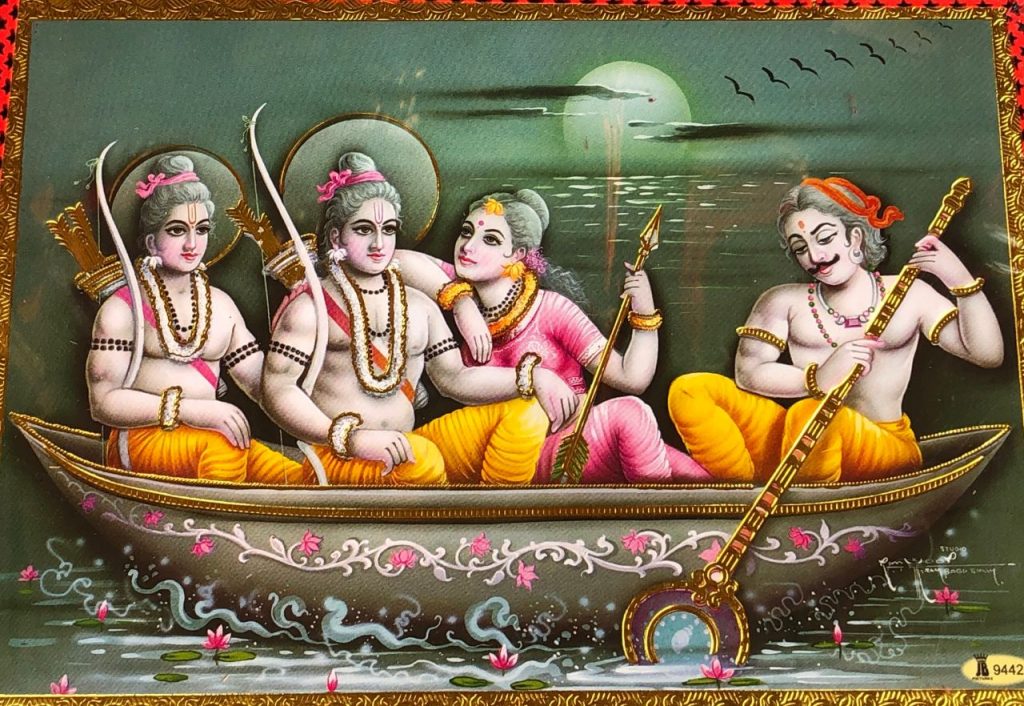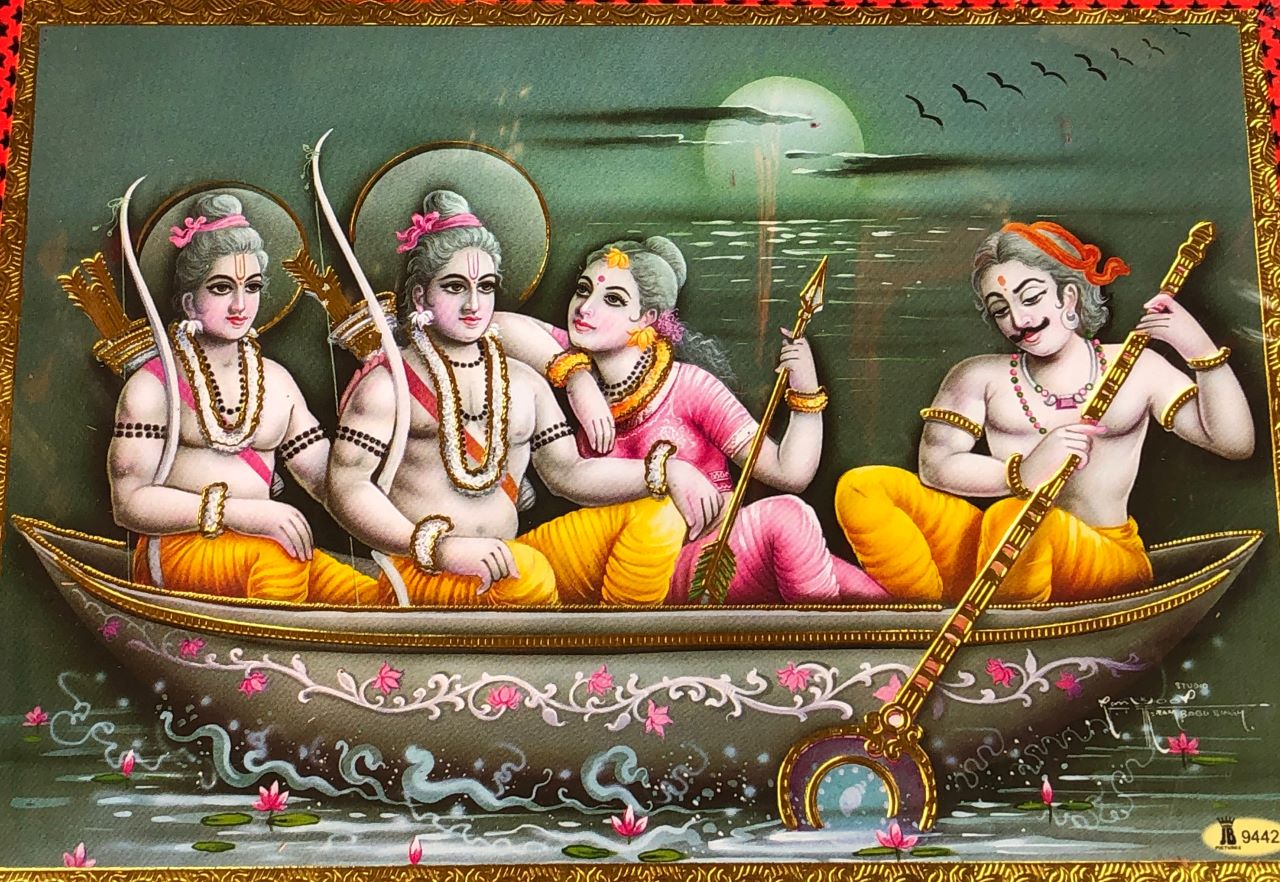 There are several ghats around the Sarayu and each one tells a story. Ram Ki Paidi is near the Naya Ghats which was built recently and it gave an entire perspective of the river and the ghats . It is one of the places that is always included in an Ayodhya sightseeing tour.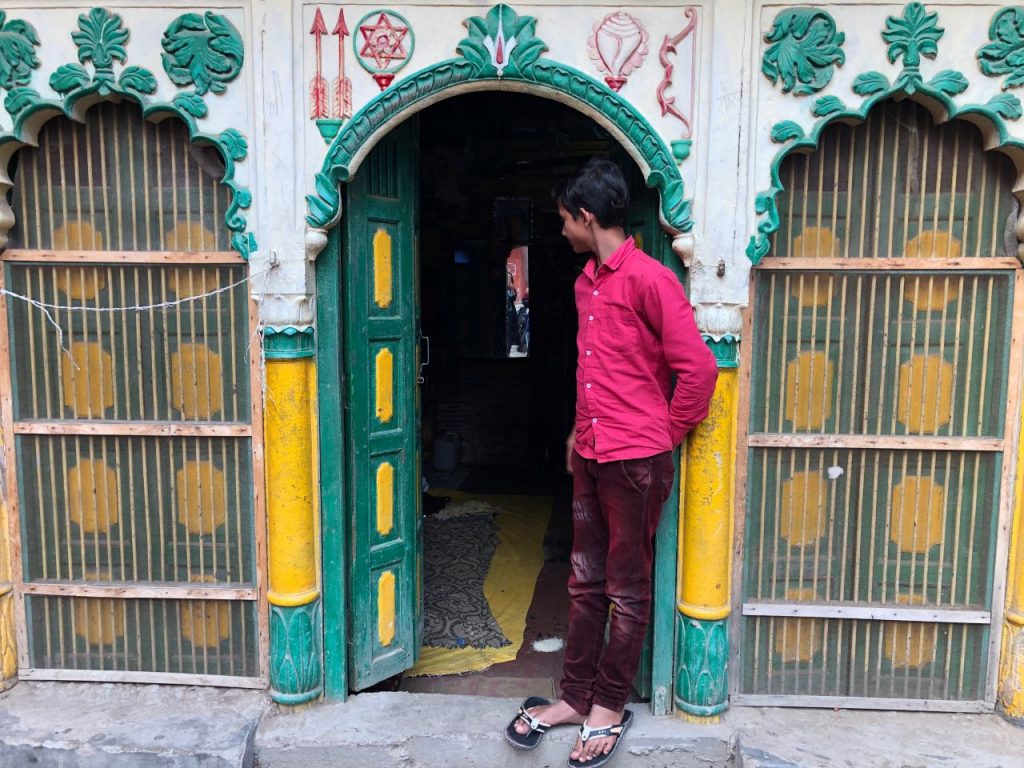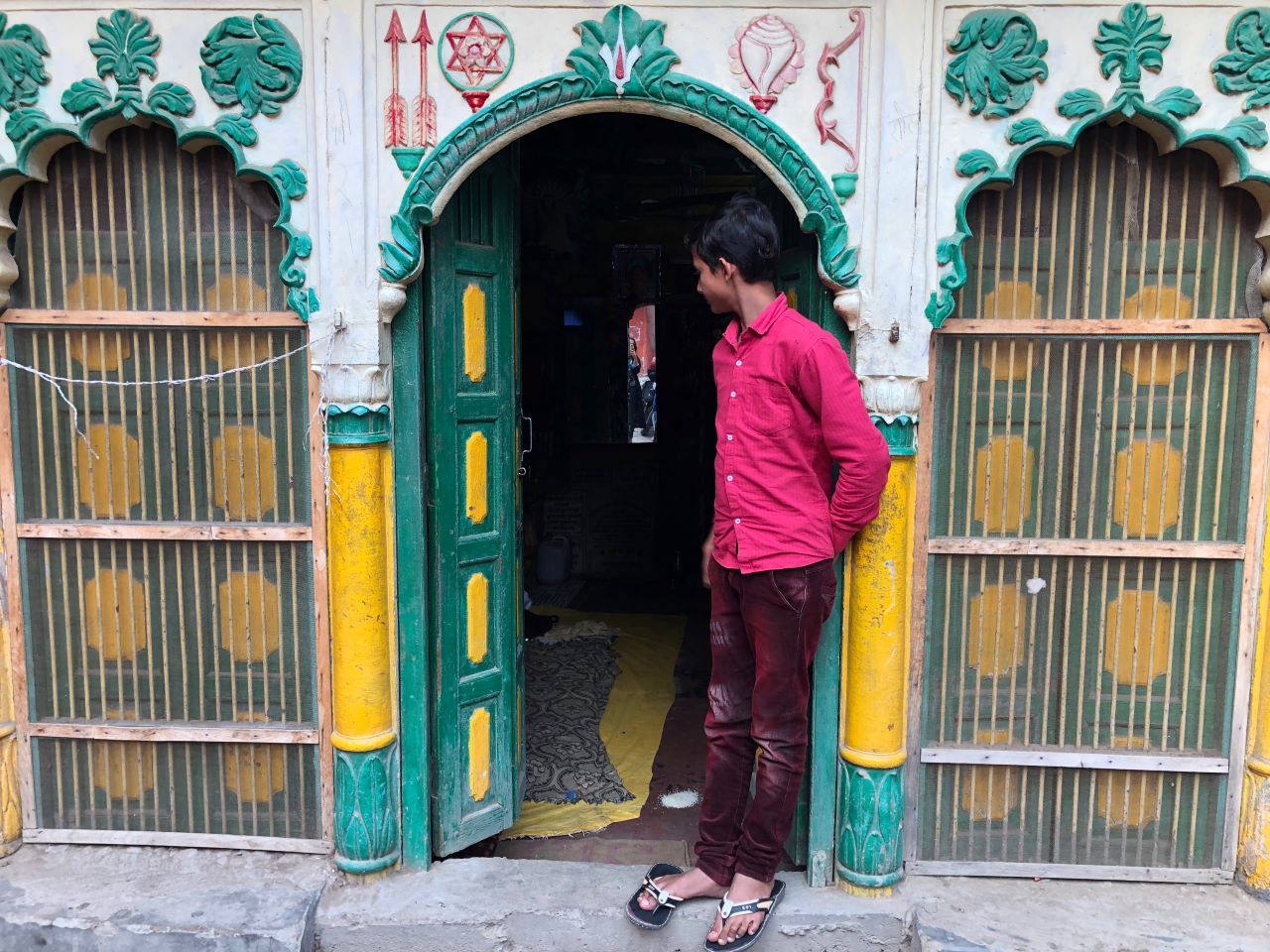 While we were able to see just a handful of monuments, temples and palaces, it was the atmosphere that overwhelmed. Vibrant and colourful, we walked around markets. Every lane bursts into rich hues. I was lost in the old world charm but it was the devotion and faith that overwhelmed me. I would definitely come back to Ayodhya on a less crowded day for a more private and silent tryst with Rama and Seetha, Lakshmana and Hanuman.