The Ramayana trail in Srilanka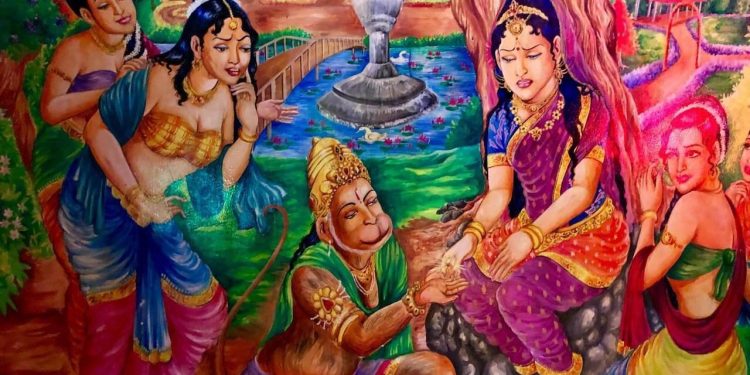 I landed in the wee hours of the morning at the Colombo airport, wishing that my comfortable Srilankan Airlines flight where I was pampered in the business class had lasted a little longer than 90 minutes.  But it was such a pity that the Bangalore-Colombo flight was so short that I barely got time to experience the luxury. But I am not complaining as the few minutes was a sheer indulgence. I was in Srilanka with a group of travel bloggers, on invitation from Srilankan Airlines. It was my first day in the island country and we were on the Ramayana trail in Srilanka walking in the steps of Rama and Ravana. Ramayana in Srilanka is based largely on Valmiki's Ramayana and they are divided into several " kandams" or books. There are seven kandams like Bala Kandam, Ayodhya Kandam, Aranya Kandam, Kishkinta Kandam, Sundara Kandam, Yuddha Kandam and Uttara Kandam. And the two books of Sundara Kandam and Yuddha Kandam are set in Srilanka. The Srilanka Ramayana tour takes you through some of the sites of the Ramayana sites in Srilanka which are also Srilanka top attractions today. And although I was pretty groggy, I was looking forward to this epic tour. My guide Darshan from Aitken Spence Travels met us on arrival and we were whisked away to the comfortable luxury property – Goldi Sands Resort in Negombo, located barely 10 kms from the airport. While we waited for our travel buddies to arrive, I decided to catch up on my sleep.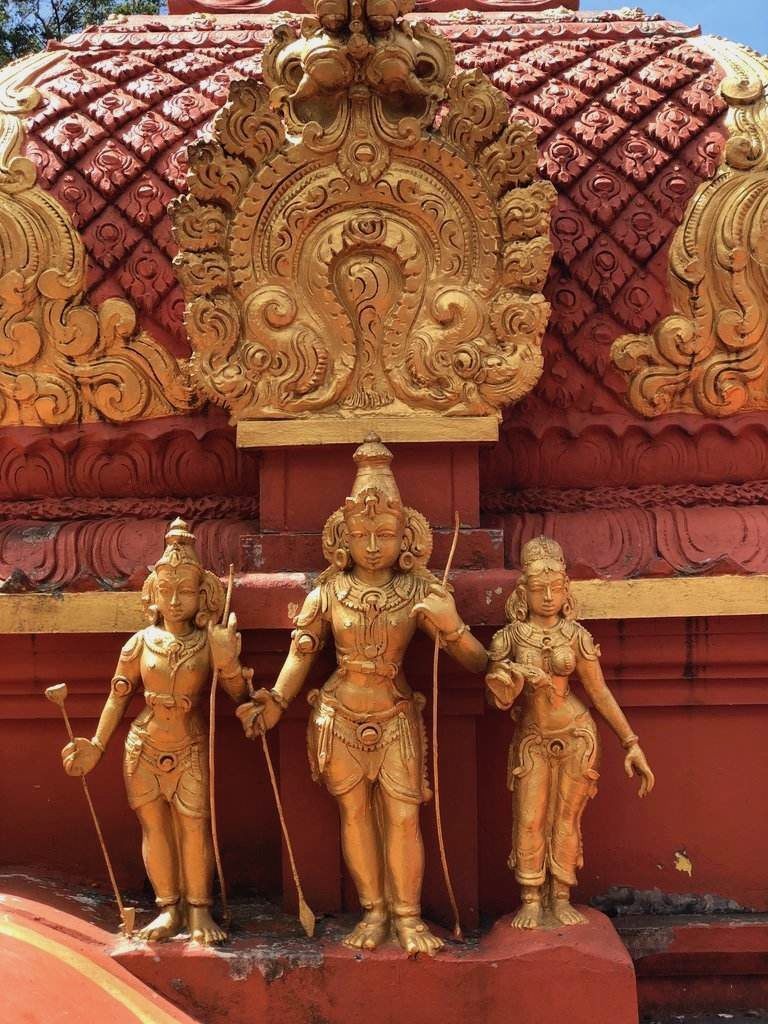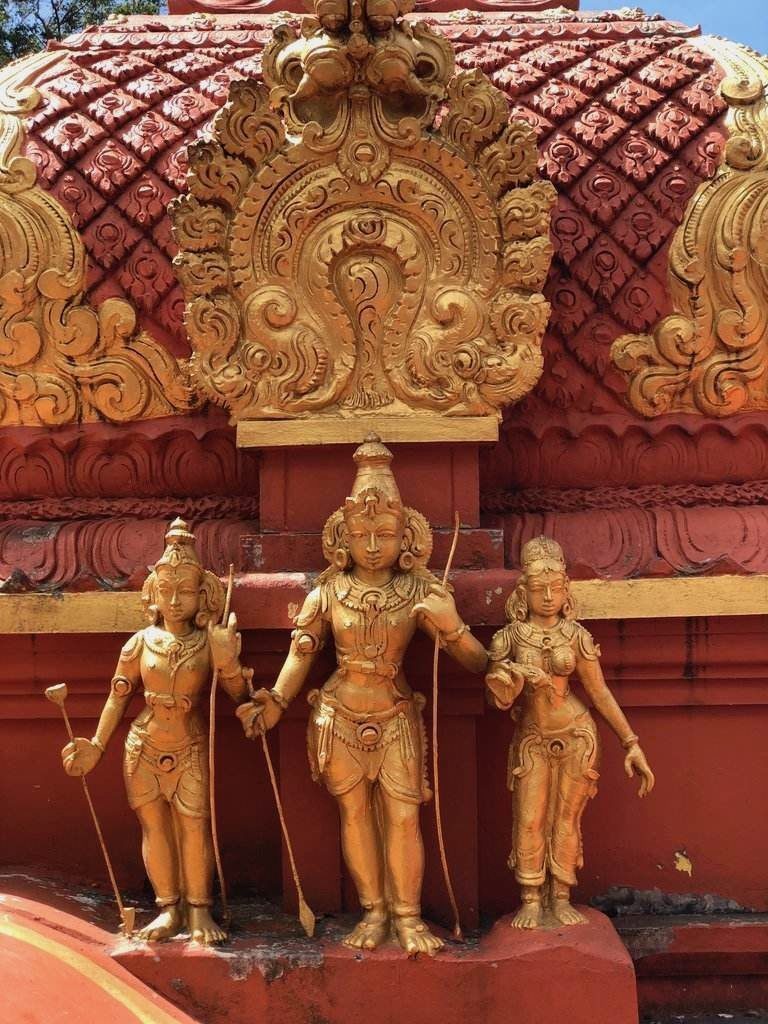 I woke up to a riot of colours in  Negombo. The azure waters of the Indian Ocean were a stark contrast to the grey skies and the palm-fringed beach dotting the Goldi Sands resort,  but it was the red string hoppers on my plate that added the extra dash of colour. I binged on the local Srilankan breakfast, which was similar to the "idiyappam" served in South India, except that they were made with red rice. Soaking it in coconut milk and adding a dash of pol sambol, a spicy coconut relish, I lost myself in the delicious flavours. The Goldi Sands resort was more like a transit hotel for us and I would have loved to linger longer, but we had to get on to our Ramayana trail in Srilanka.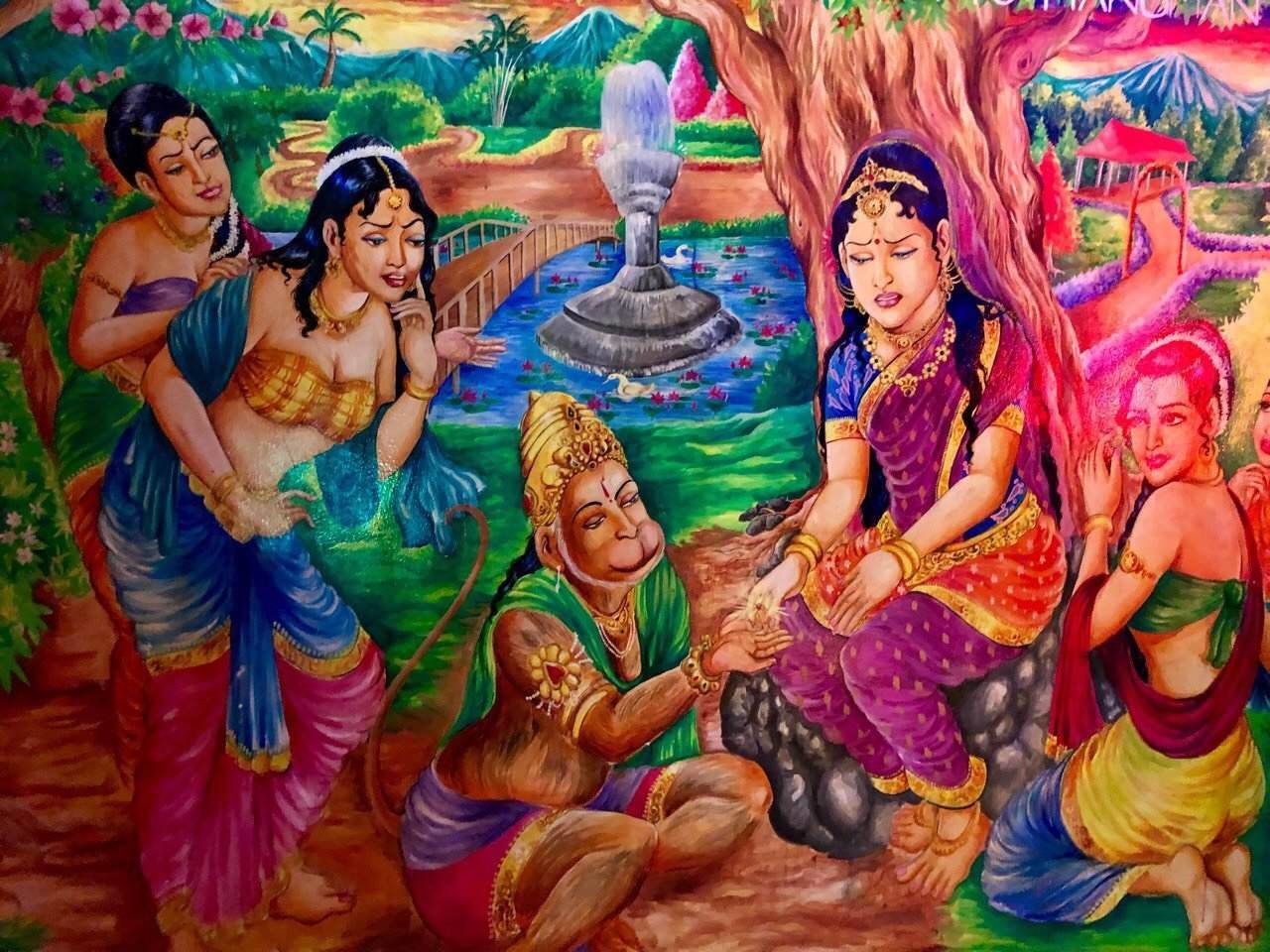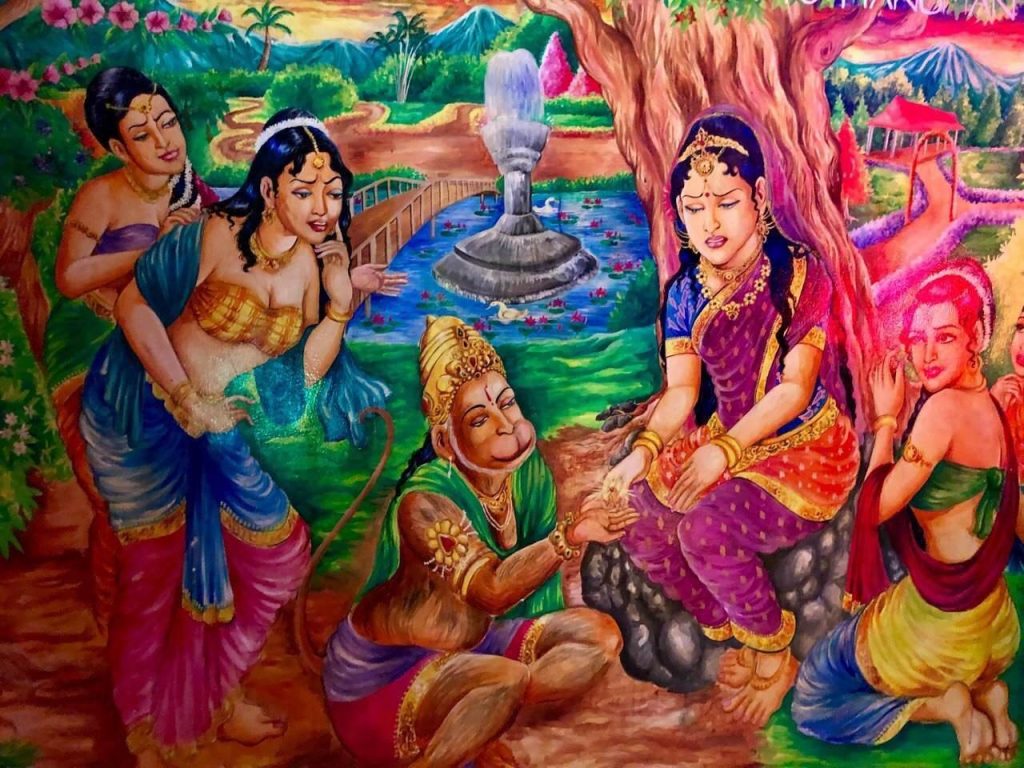 The Ramayana trail in Srilanka actually includes over 20 sites spread across the island and it could take over two weeks to cover all of them. However, our week-long Srilanka Ramayana tour took us across the island on a road trip as we covered over 1600  kms five provinces and over ten Ramayana sites in Srilanka. Temples, caves, forests, mountains, and lakes were all immersed in legends and myths as every monument was associated with the epic. If you are planning to explore Ramayana in Srilanka, then here are some of the places that you must visit which are Srilanka top attractions.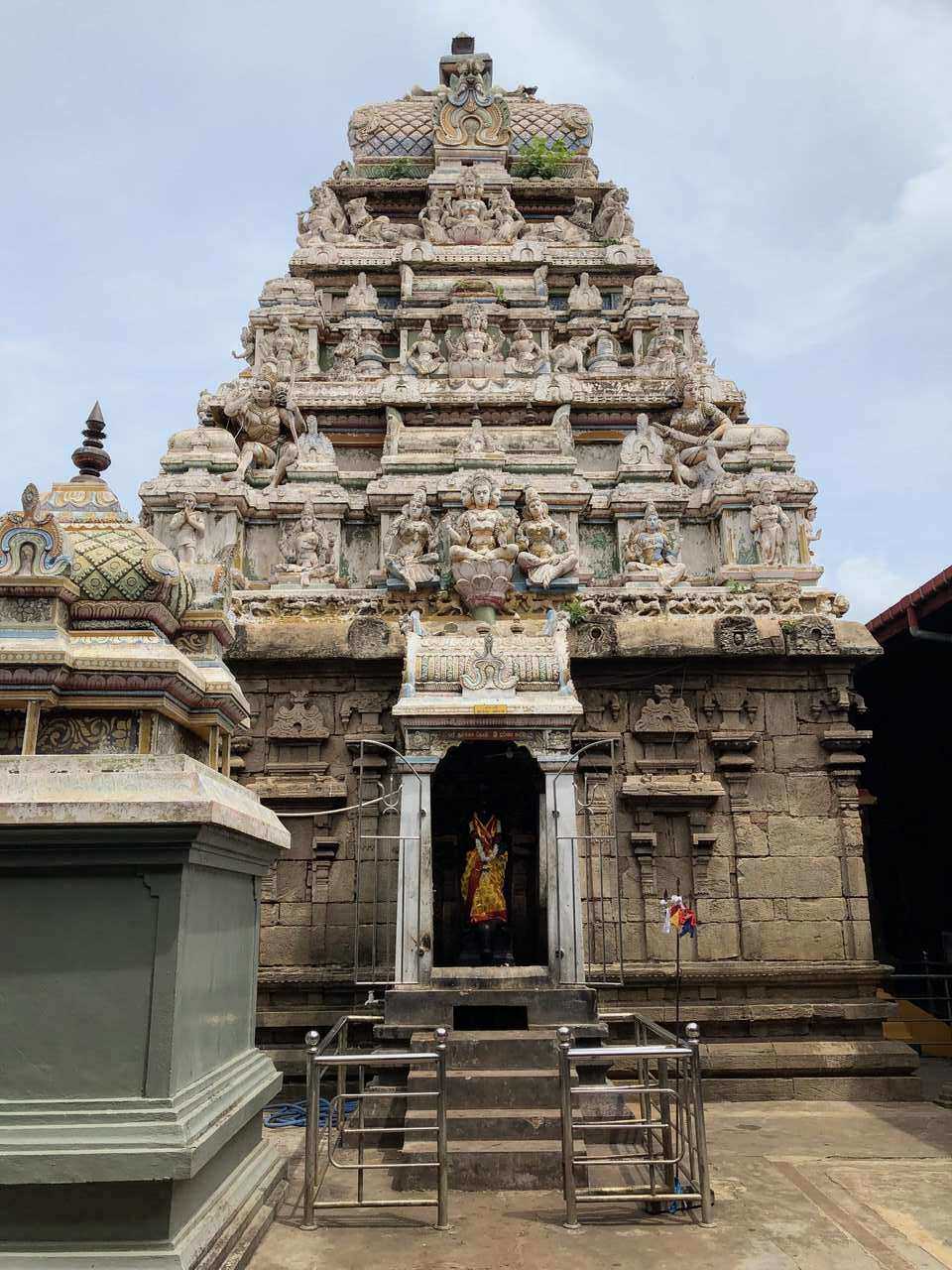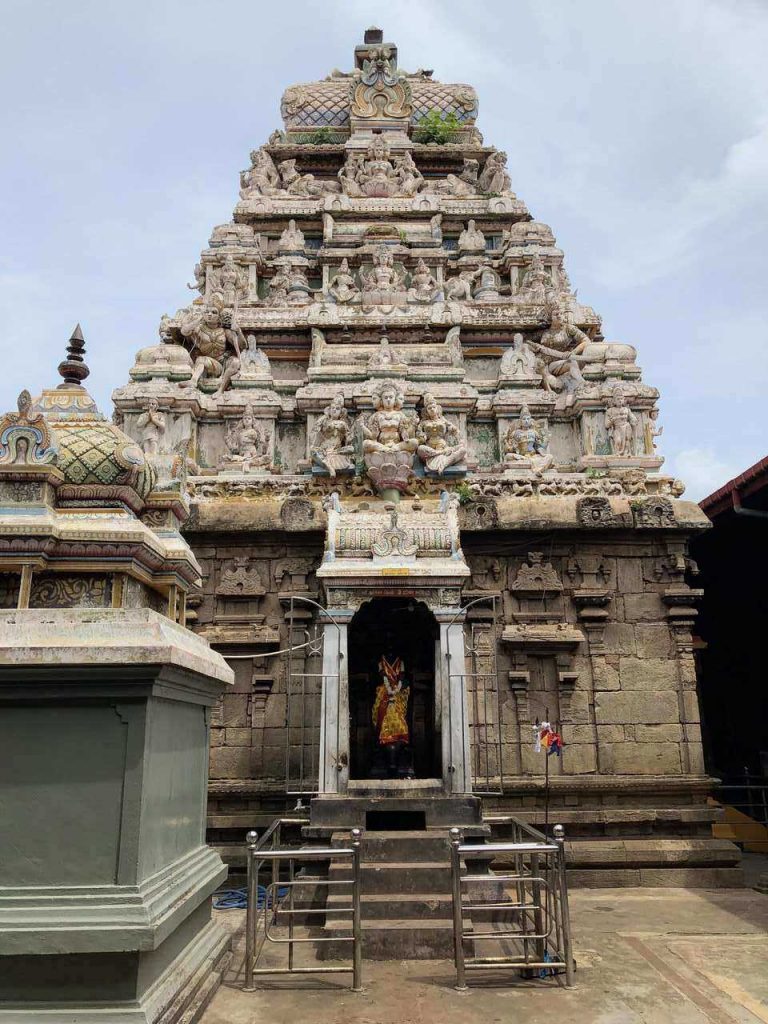 1. Day One – Negombo to Dambulla
Destination – Chilaw
Places to visit – Muneeshwaram temple and Manavari Temple.
Accomodation – Heritance Kandalama
We drove from Negombo to Dambulla, located in the Central Province but our first halt was in a small town called Chilaw, which was essentially a derivation of the name, Chillappam , meaning pearl fishery. However we headed to Tamil quarter called Demala Pattuva where a towering Shiva temple stood called Muneeshwaram temple. We started our Srilanka Ramayana tour on a spiritual high. One of the oldest temples in Srilanka, our guide Darshan gave us a bit of colonial history. When the Portuguese tried to destroy the temple, they apparently found a linga that seemed to be bleeding. They immediately stopped the destruction and reinstalled the idol.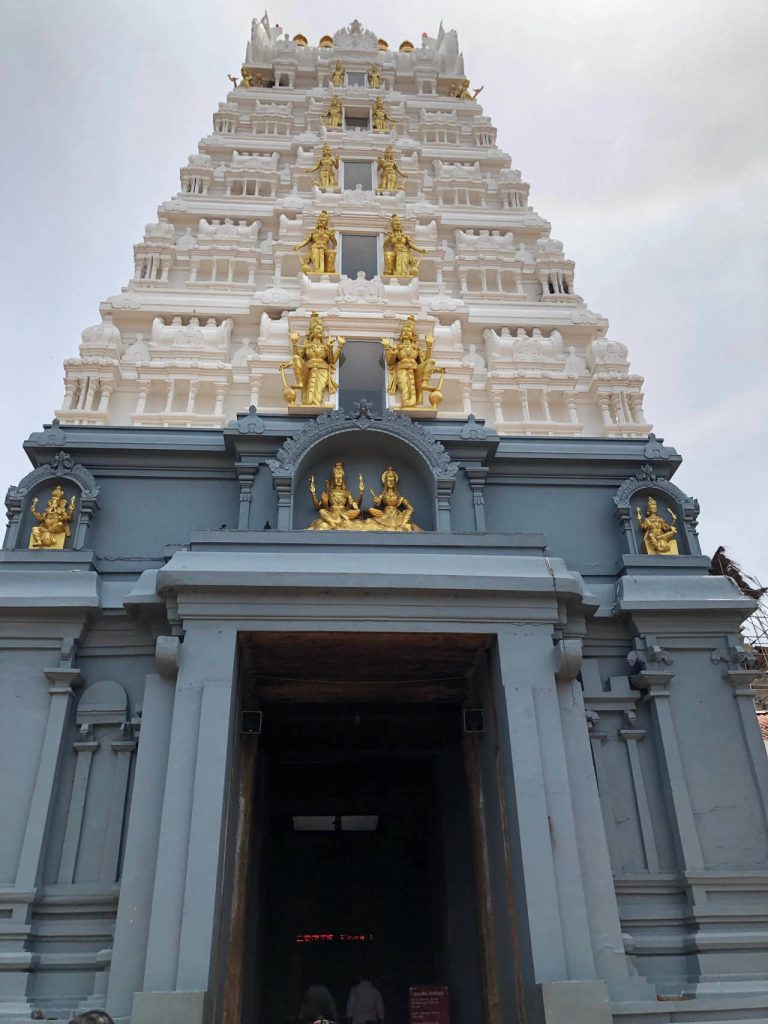 As we walked towards the shrine, I saw a lot of devotees carrying small saplings of the coconut tree and dedicating it to the deity.  Darshan explained that this was given as an offering to help devotees ail from illness. It was believed that Rama had also come here to ward off an ailment as well. After killing Ravana, Rama had been dogged by the Brahma Hatya Dosha and he had apparently come here to pray. As directed by Shiva, Rama carved a linga out of the sands with his bare hands. The linga stands today in the neighboring Manavari Temple.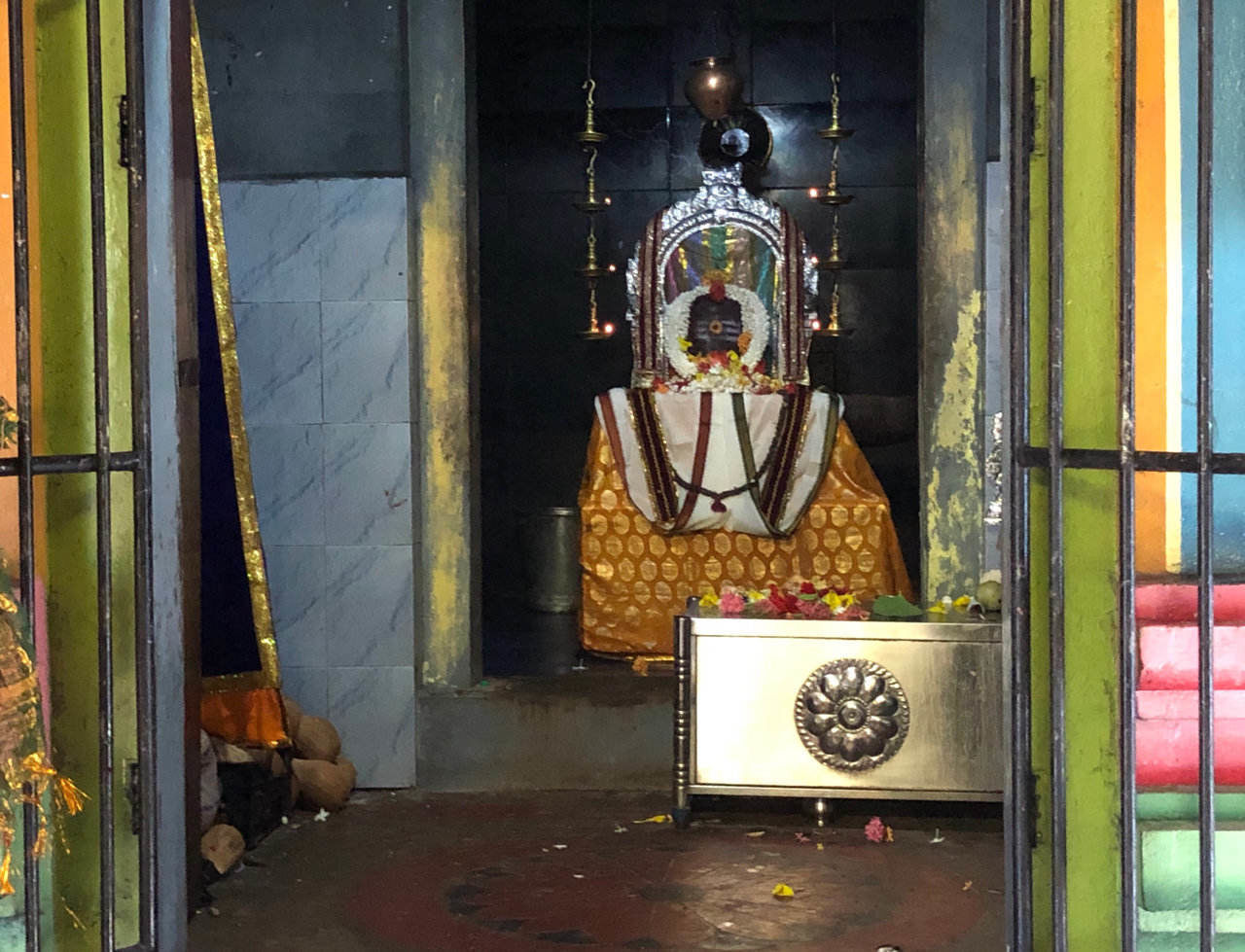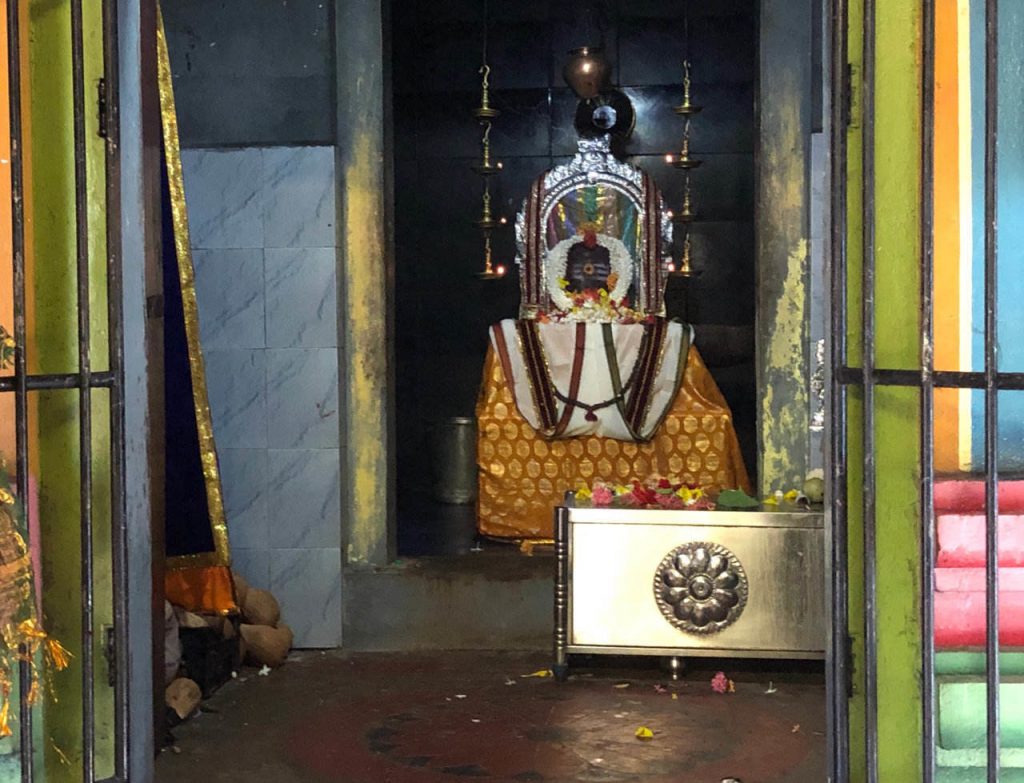 We interrupted a local temple festival as the priest Kathirasen told me in chaste Srilankan Tamil that Rama had actually created the linga from the sands and hence in Tamil, it is referred to as "Manalvari".  The linga is called Ramalinga as its the first linga carved by Rama before he apparently went to Rameshwaram. Shiva had also advised him to carve lingas at Koneshwaram and Ketheshwaram temples as well.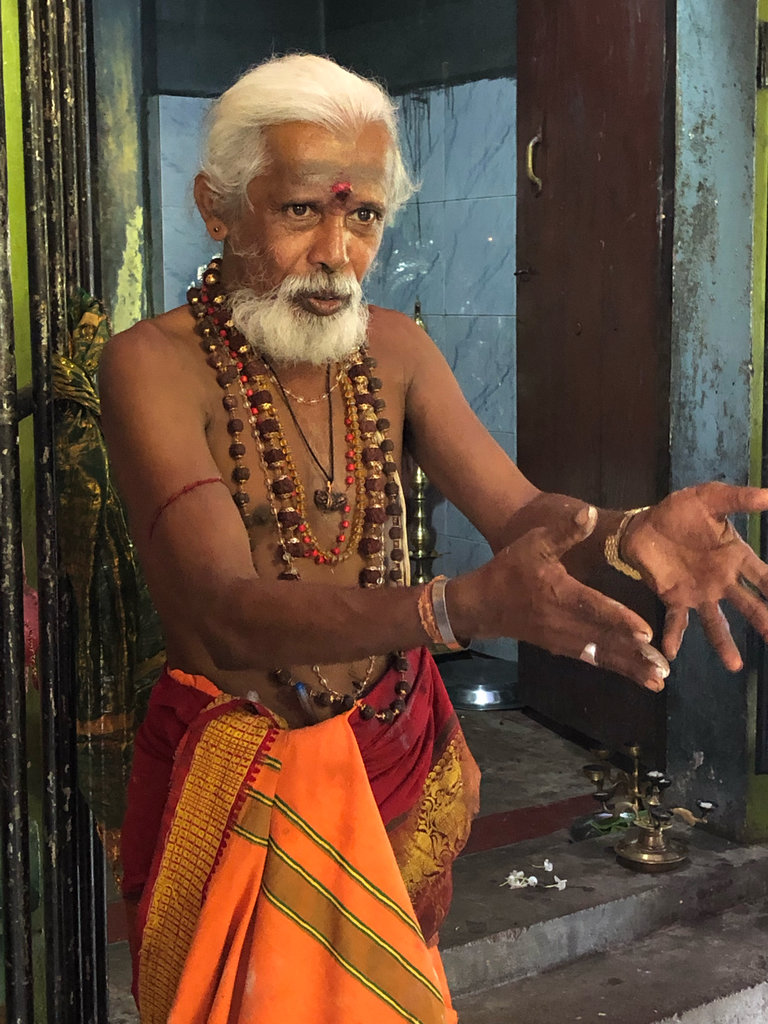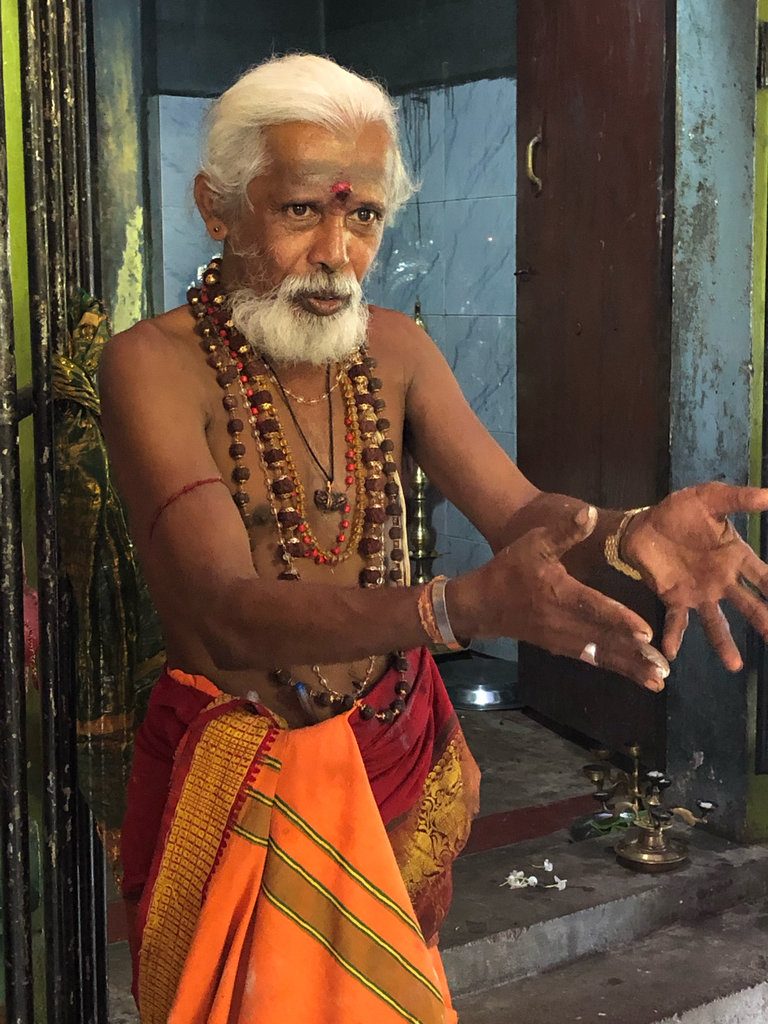 After a sumptuous lunch at Paradise Hotel and Resort, we checked in to Heritance Kandalama, a stunning property at Dambulla, overlooking the Kandalama lake. Surrounded by forests, lakes, and mountains, the hotel is exquisitely designed and you almost blend magically with the landscape.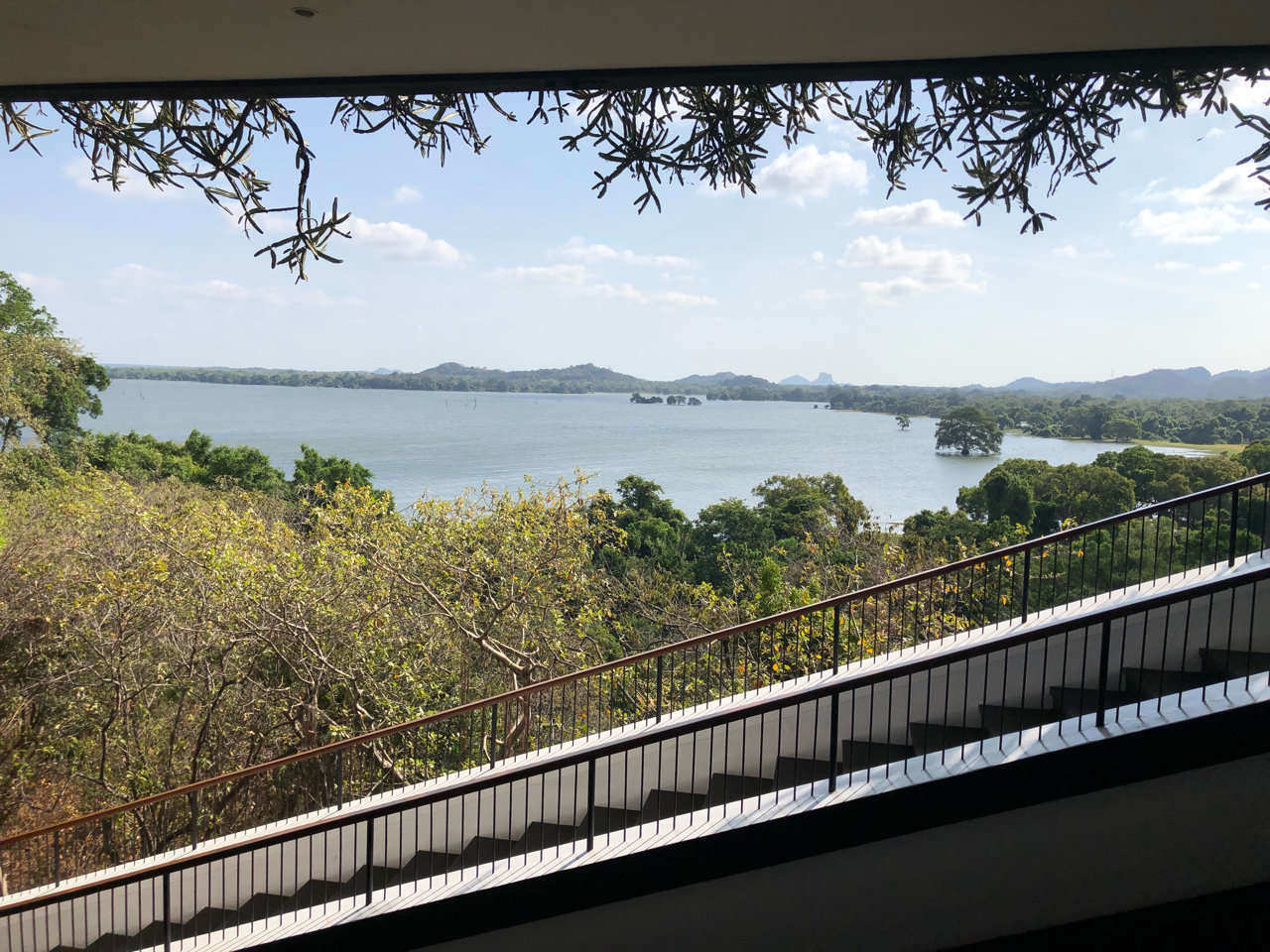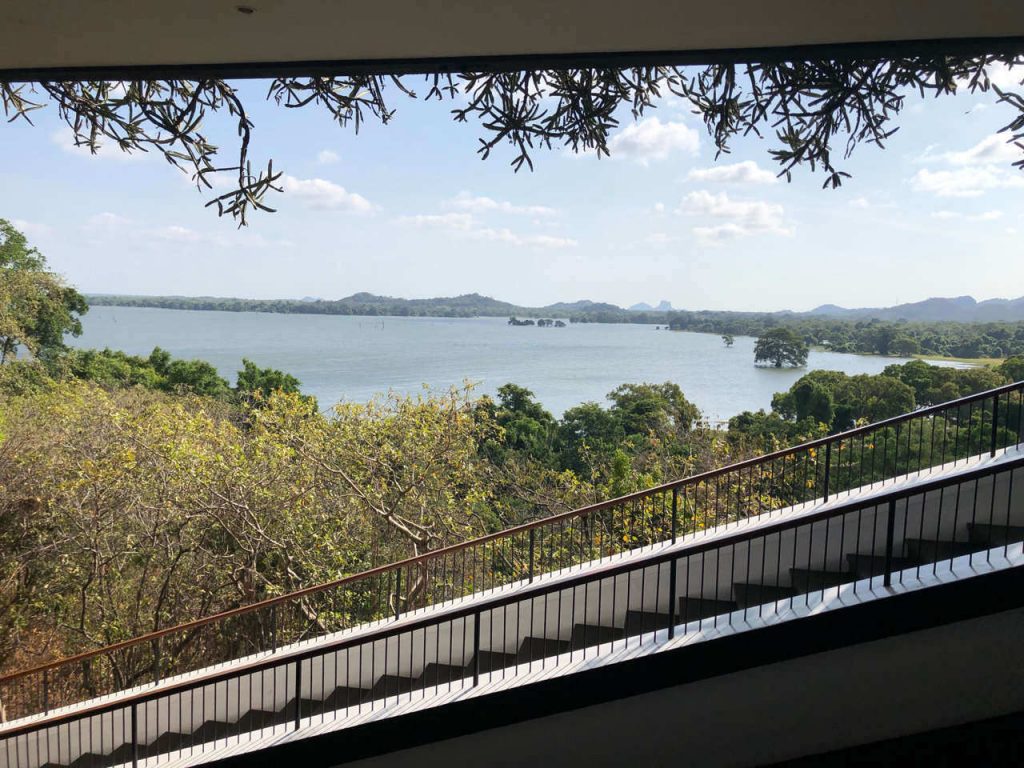 Day 2 – Dambulla to Trincomalee
Destinations. – Sigiriya, Trincomalee
Places to visit – Dambulla Cave Temple, Sigiriya Lion Rock, Koneshwaram temple – Trincomalee,
Accommodation – Trinco Blu, Cinnamon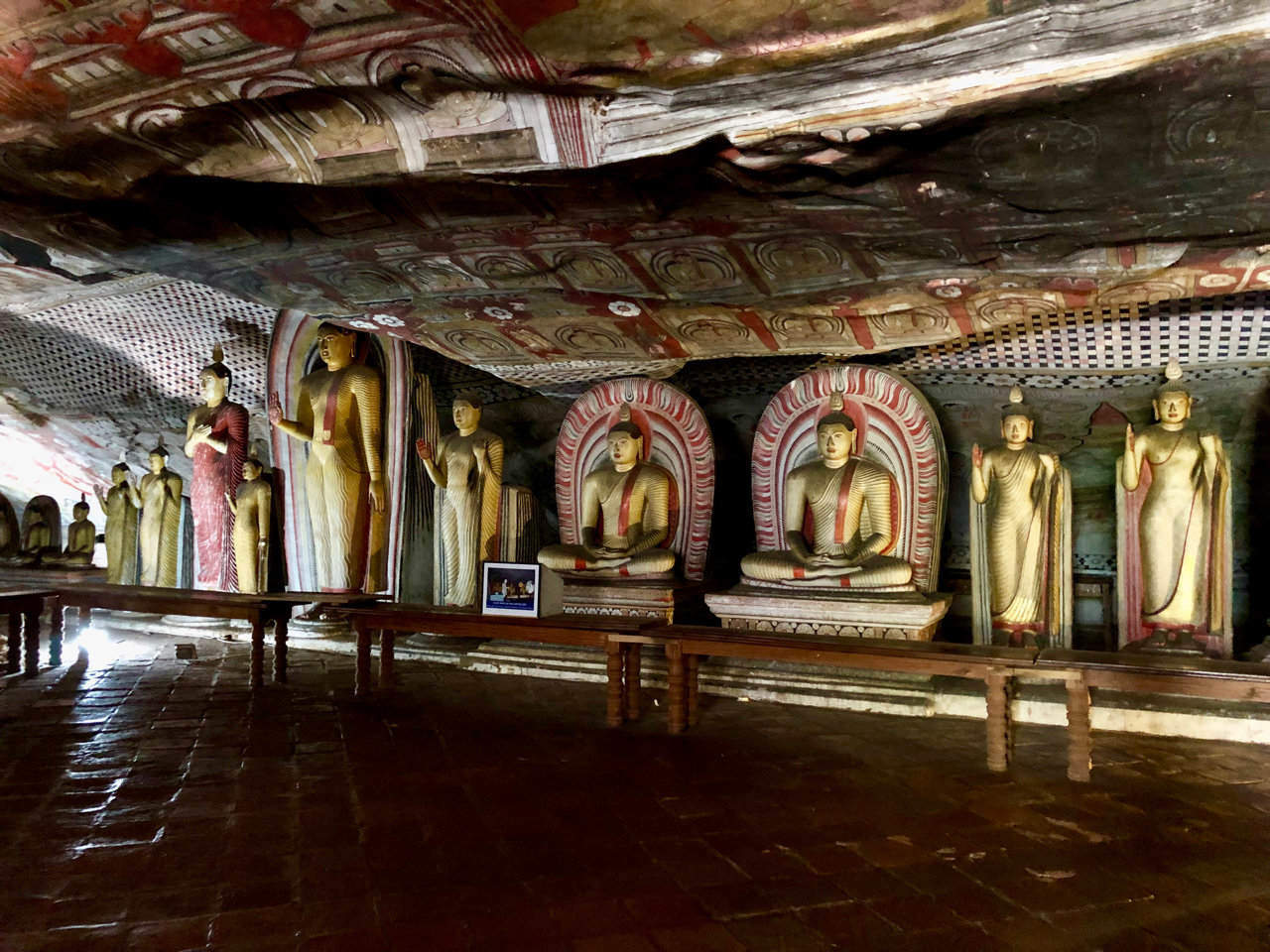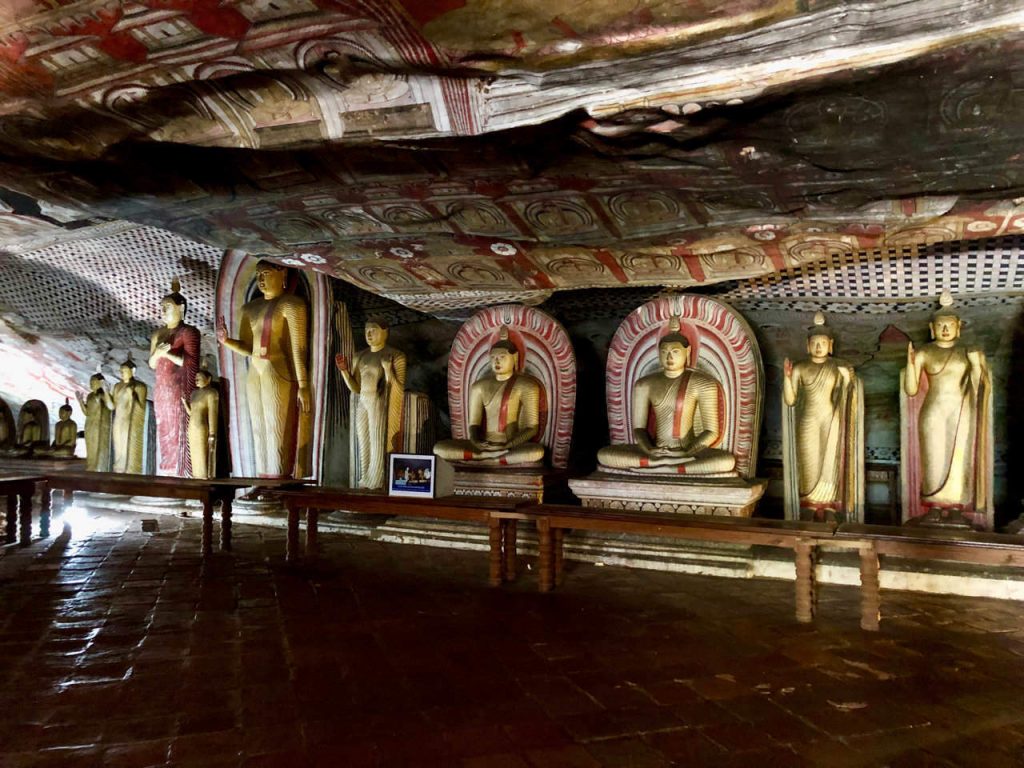 Day two of our Srilanka Ramayana tour began in Dambulla, which is known for the ancient Buddhist caves , one of the UNESCO World Heritage Sites of Srilanka. The five cave temples are known for the breathtaking murals and towering statues and have been a sacred Buddhist site for over 22 centuries. The caves are one of the best-maintained sites of Srilanka and even our luxury hotel, Heritance Kandalama, overlooking the expansive lake and the hills of Dambulla was designed like a cave.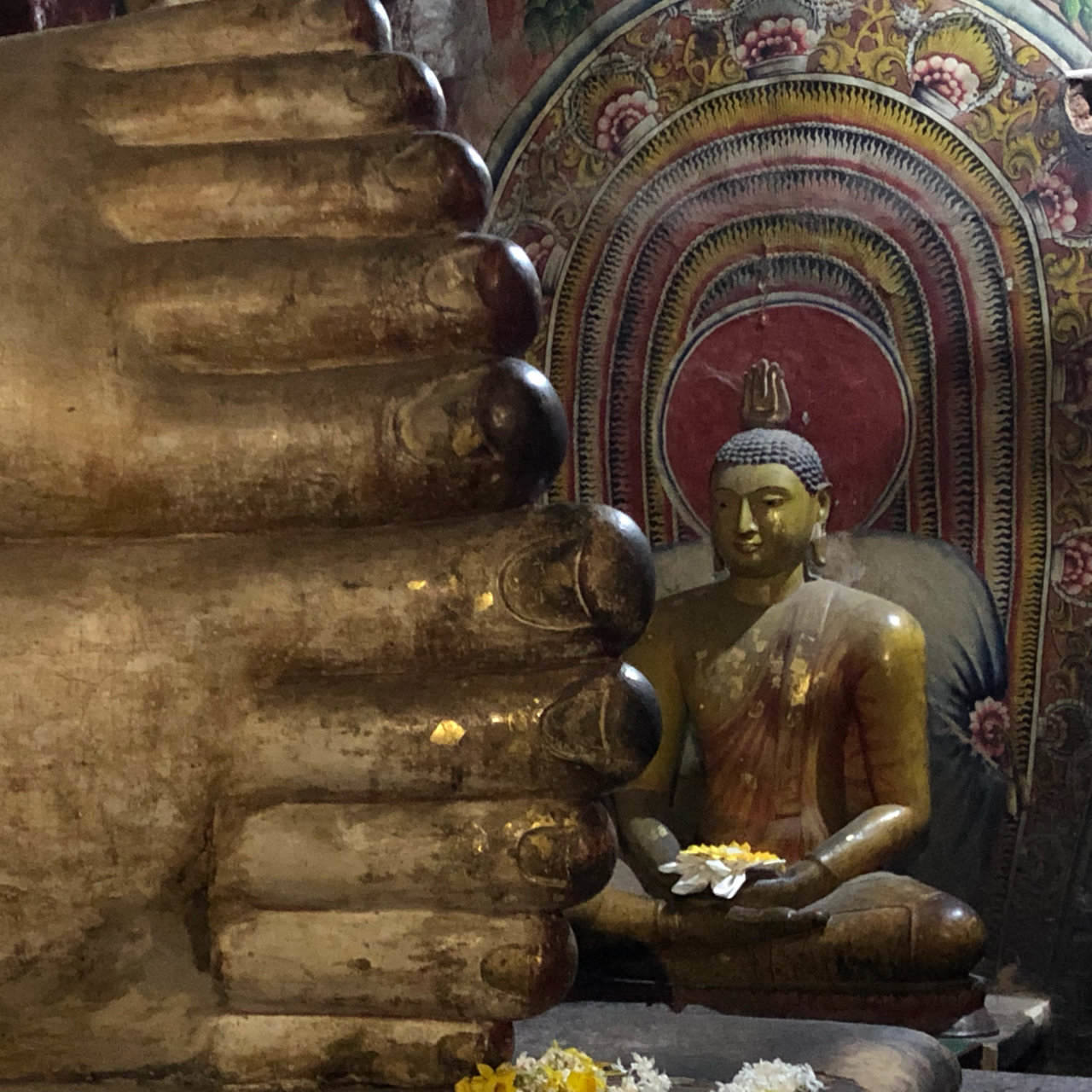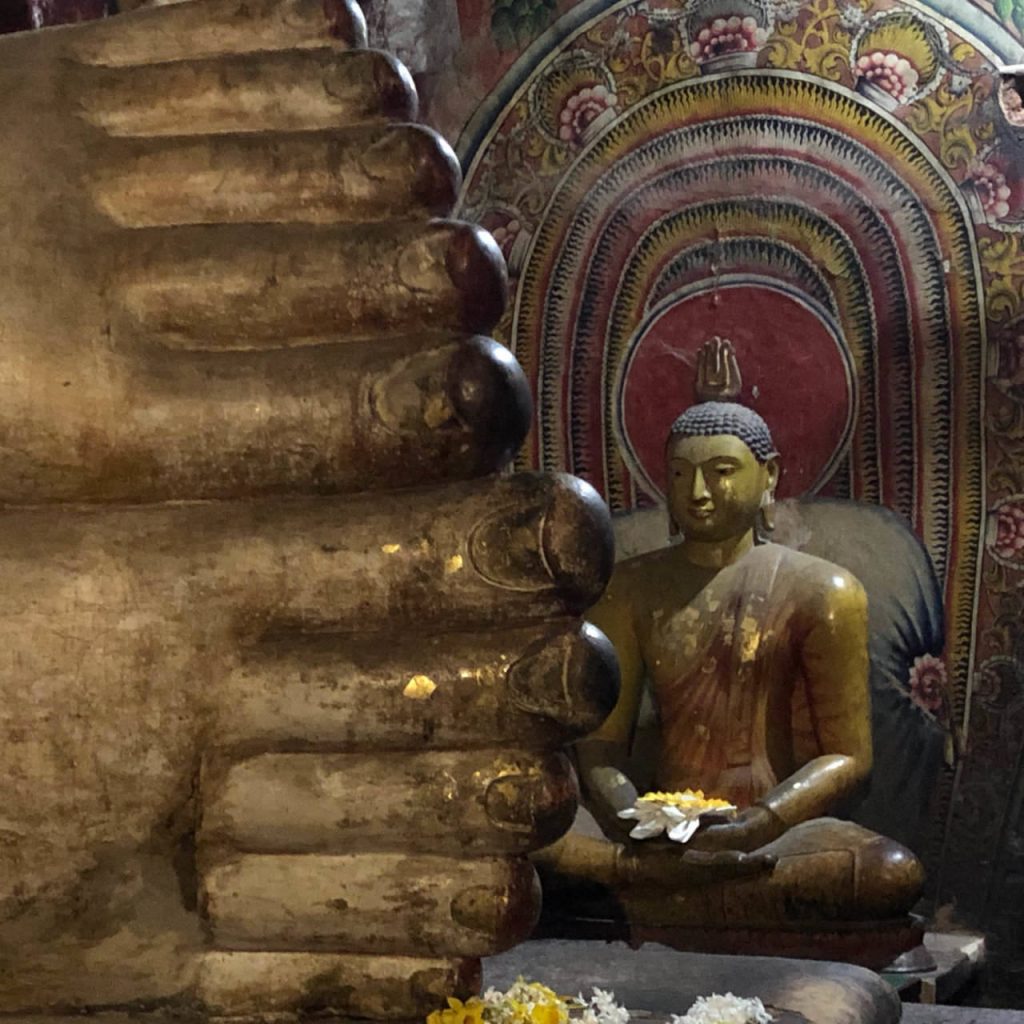 However Dambulla Caves are not one of the Ramayana sites in Srilanka but it nevertheless houses one of the most stunning cave temples in the world which is one of Srilanka top attractions. However, a rock held my gaze as I looked out of my hotel room in Heritance Kandalama while sipping Srilankan tea and that has an important significance to Ramayana in Srilanka.
 The ancient 5th-century rock fortress of Sigiriya called the Lion Rock stands tall here at 200 metres. According to the historical evidence, the UNESCO World Heritage Site is believed to be the site where King Kashyap built one of his earliest capitals and built a palace and a gate shaped like a mammoth lion. However, legends say that this was one of the earliest palaces of Ravana and Sita was held her in captivity before being shifted to Ashoka Vatika.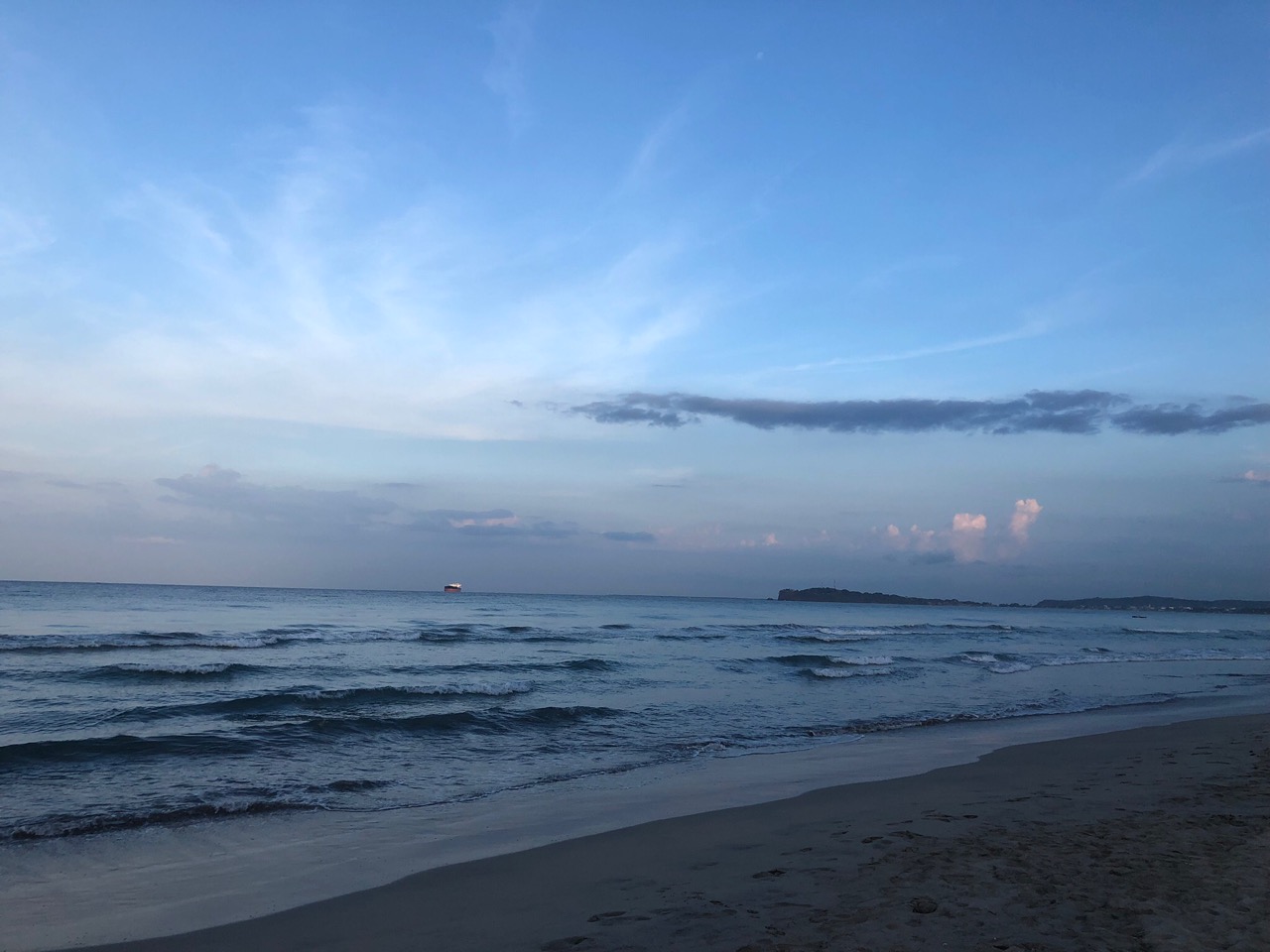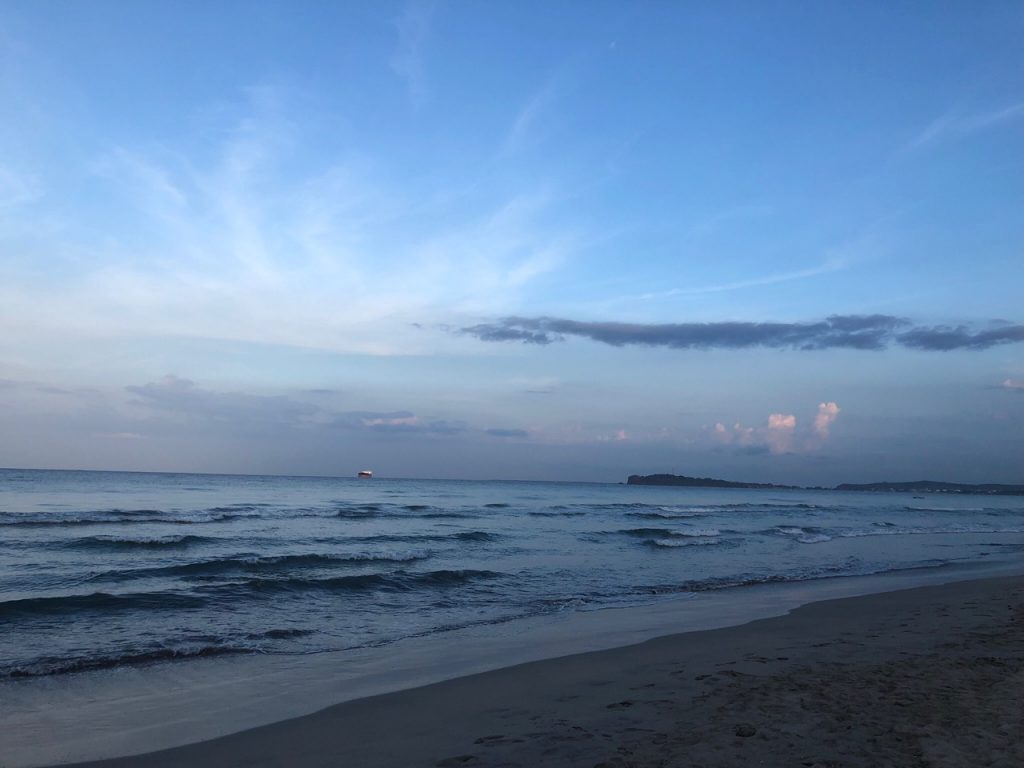 The landscape changed from rocks and mountains, caves and cave temples to beaches as we drove along the coast. We were headed to the historic port of Srilanka – Trincomallee also called Tirukonamalai in Tamil, one of the important destinations in the Ramayana trail in Srilanka. It is a peninsula is surrounded by mountains on three sides. There are temples everywhere. Our journey took us inside beaches and mountains, caves and forests, lakes and waterfalls.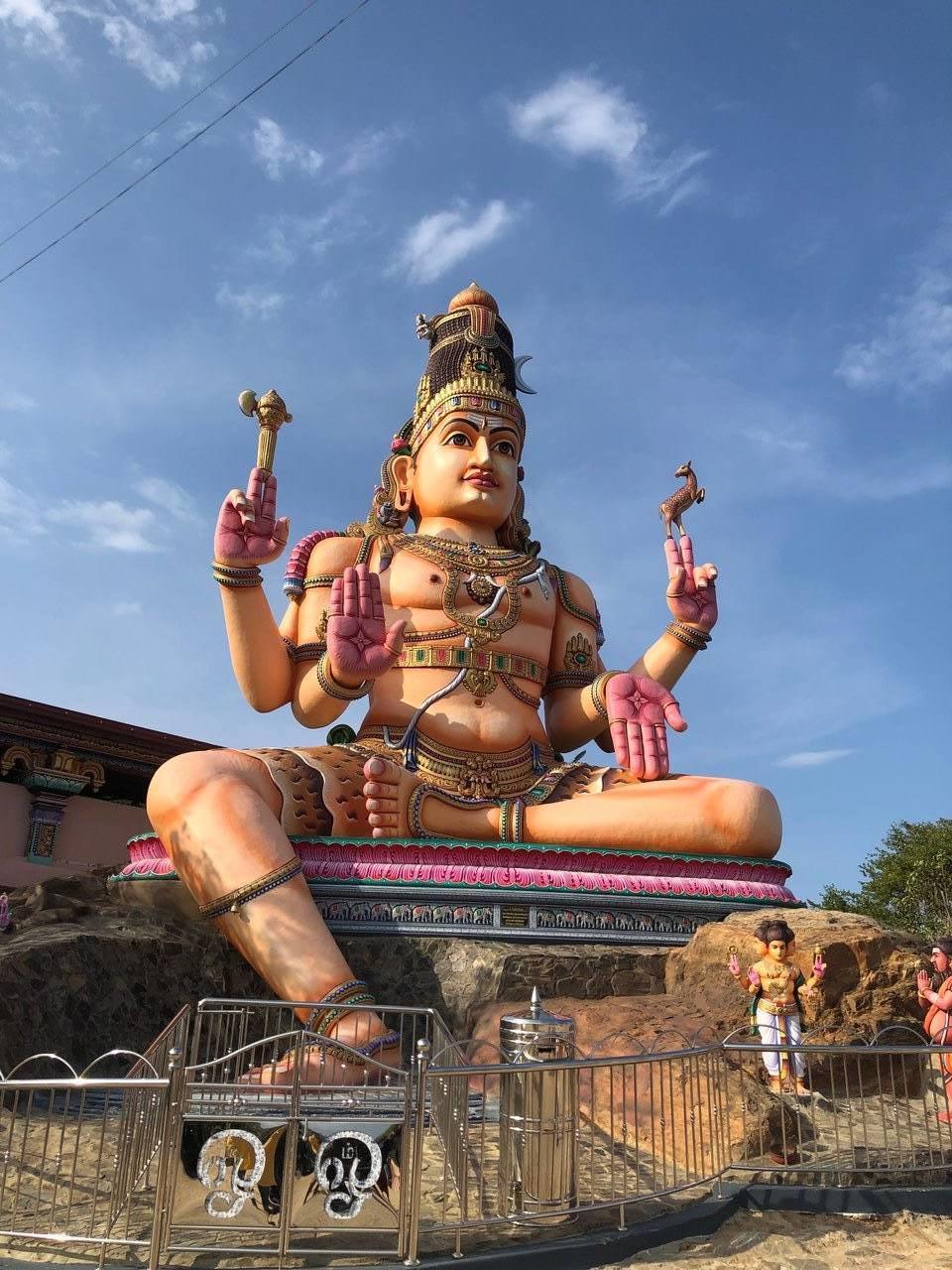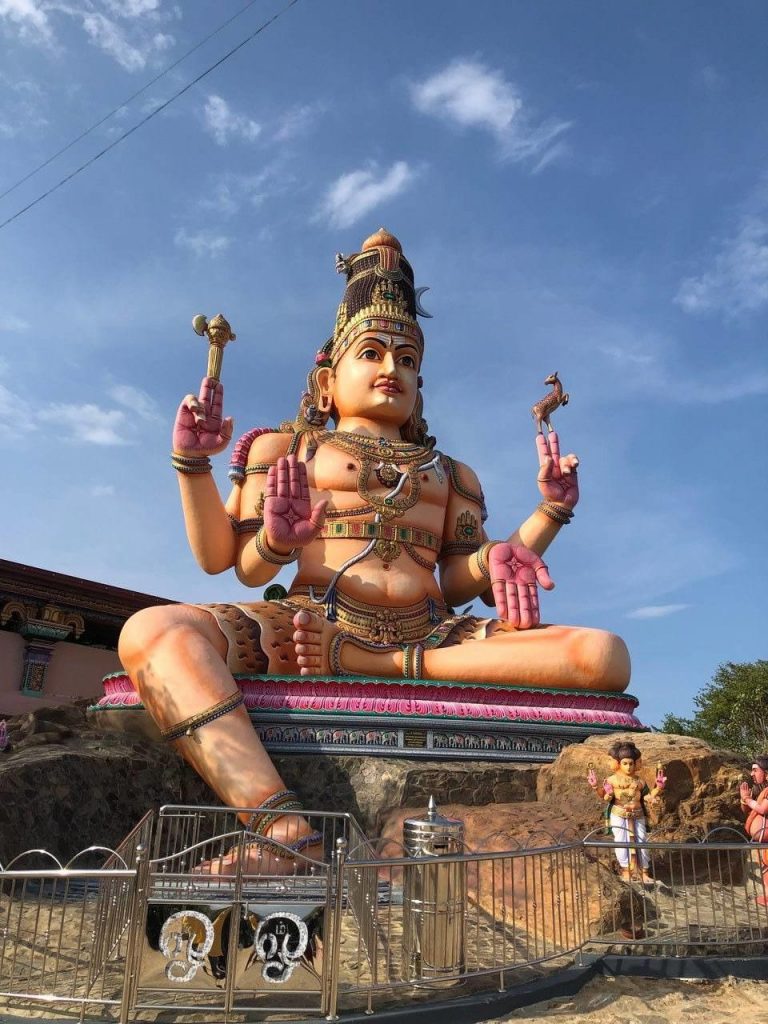 Remnants of Ravana's Lanka can be seen here, starting with the historic  3rd century Koneshwaram temple, which was believed to be built originally by Ravana, a devotee of Shiva. Trincomalee also has a fort built by the Portuguese and Dutch and it was the main naval headquarters of the British. But the port in Trincomalee has an ancient maritime history and it is one of the oldest cities in Asia and the main cultural centre for the Tamil community in this part of the world.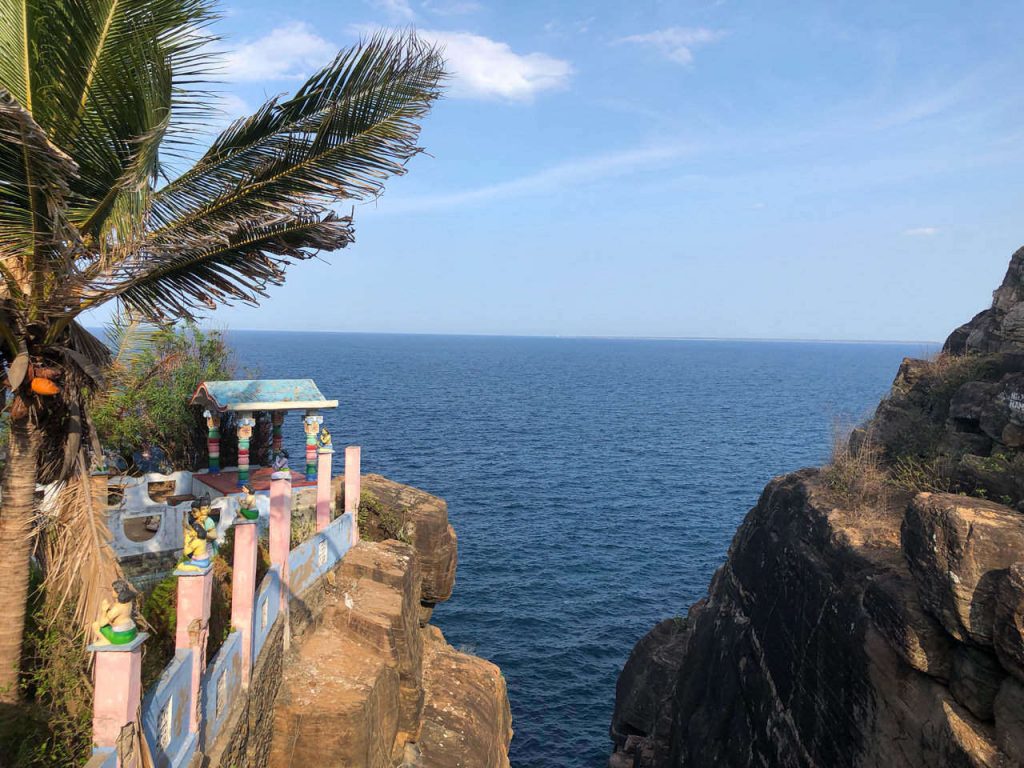 The beaches, especially Nilaveli Beach and Pigeon Island around Trincomalee are sought after by scuba divers but we had no time even for a boat ride. We had lunch at Anilana Nilaveli Hotel and it was almost sunset as we checked in to our beach resort at Trinco Blu.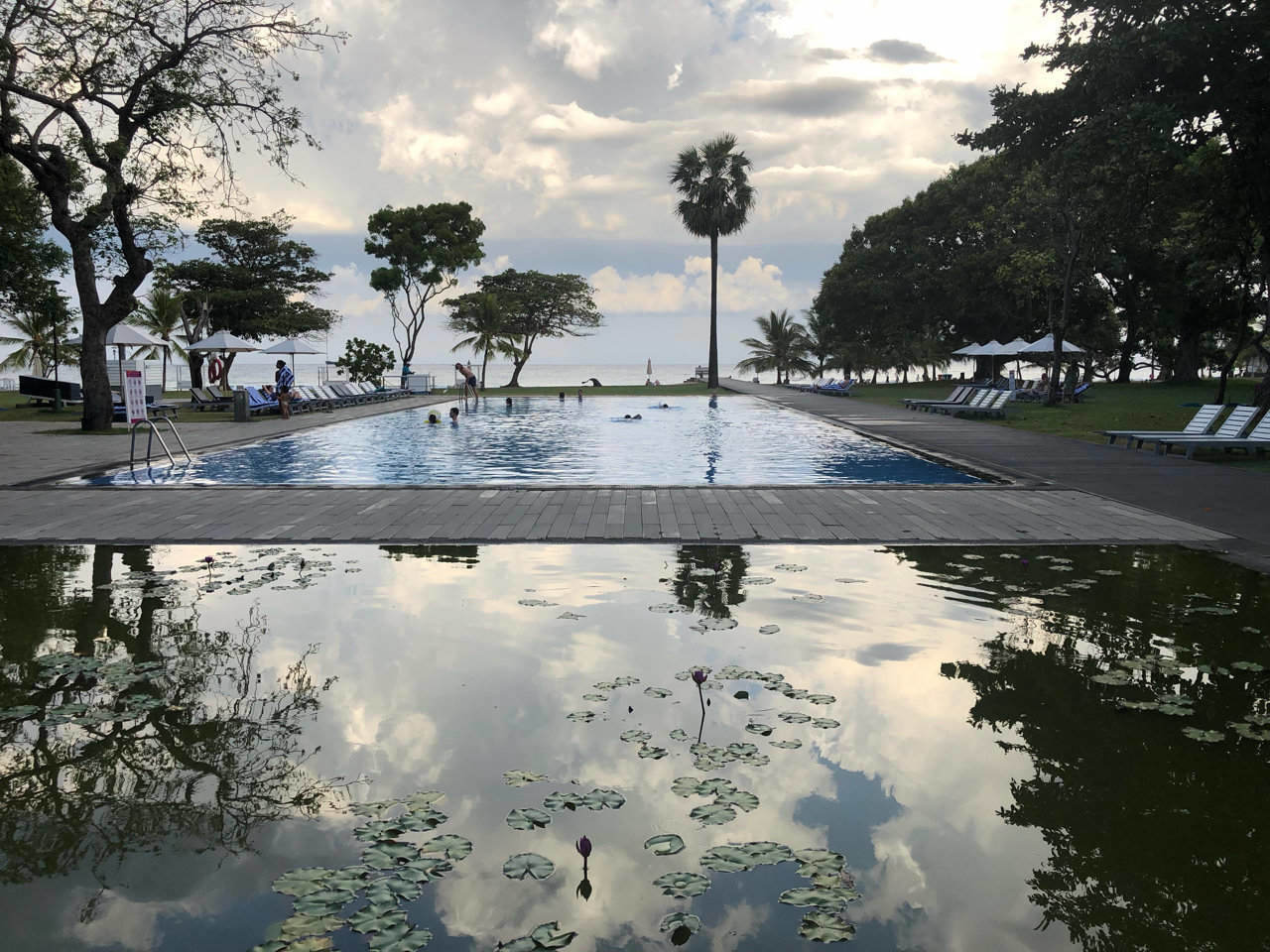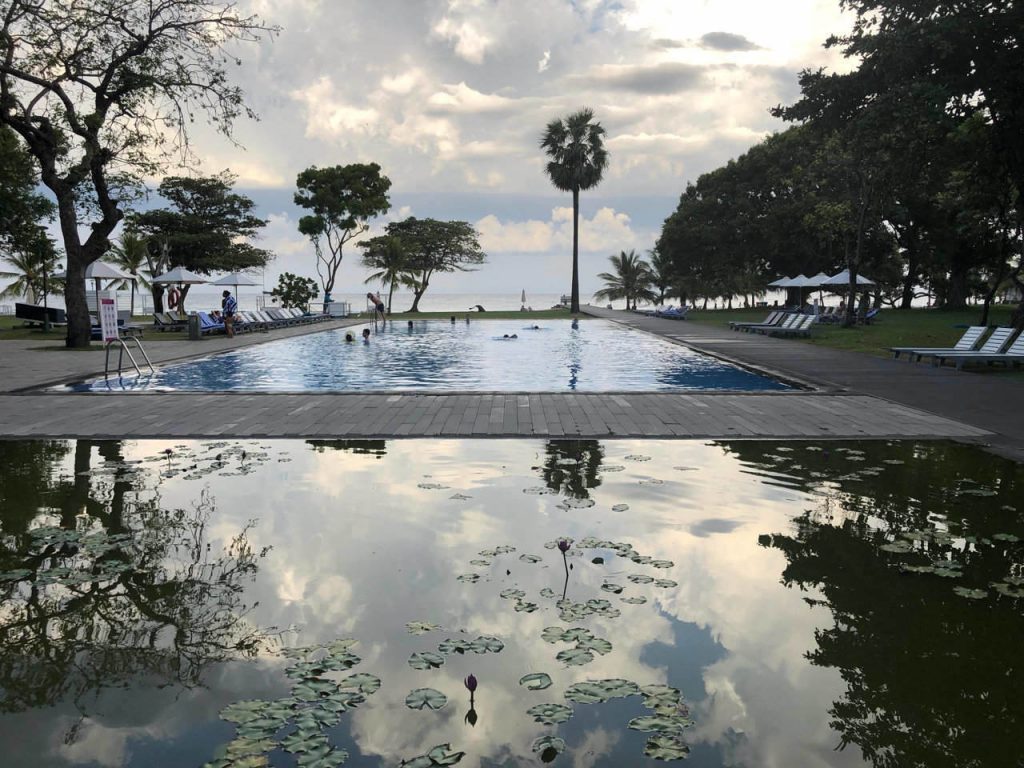 Day 3 – Trincomalee to Nuwara Eliya
Destinations – Nuwara Eliya, Seetha Eliya. Ella
Places to see – Bhakta Hanuman Temple, Gayatri Peetham, Seetha Amman Temple in Seetha Eliya, Ashoka Vatika or Hakgala, Divurampola, Ravana Falls.
Accommodation – Heritance Tea Factory, Nuwara Eliya, The Grand Hotel – Nuwara Eliya.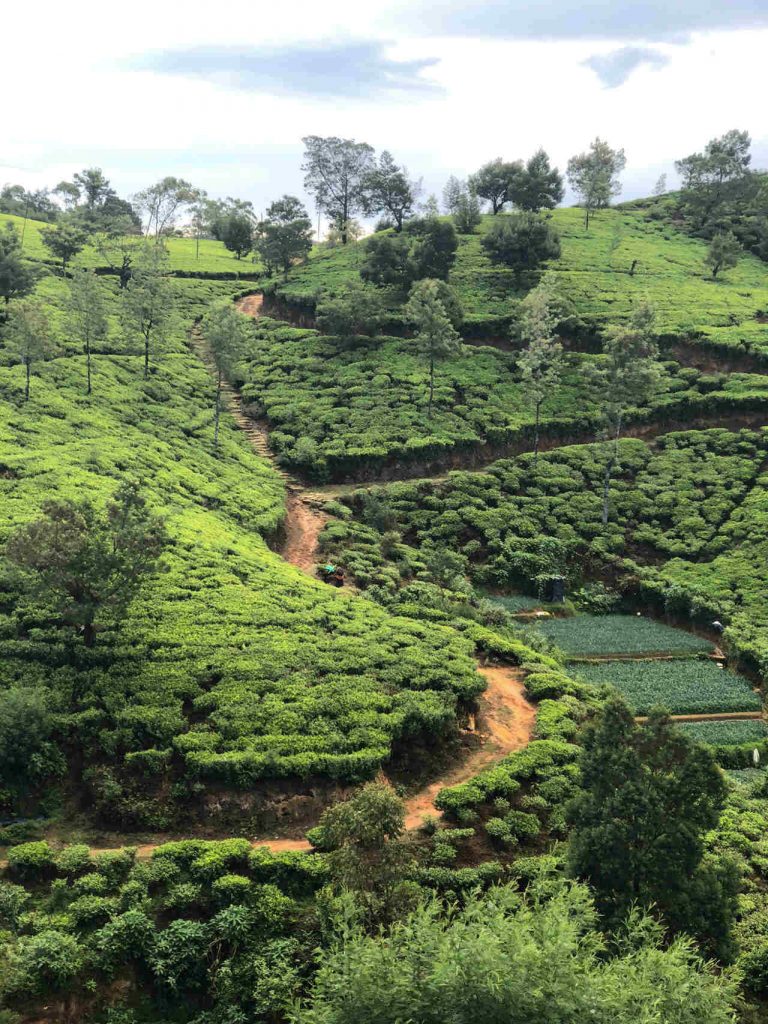 We literally crisscrossed the country as we drove Trincomallee to Nuwara Eliya, leaving the legendary coastal town with its historic harbour and entered the verdant greenery of the tea plantation town, often dubbed Little England. It seemed almost magical as the landscapes changed.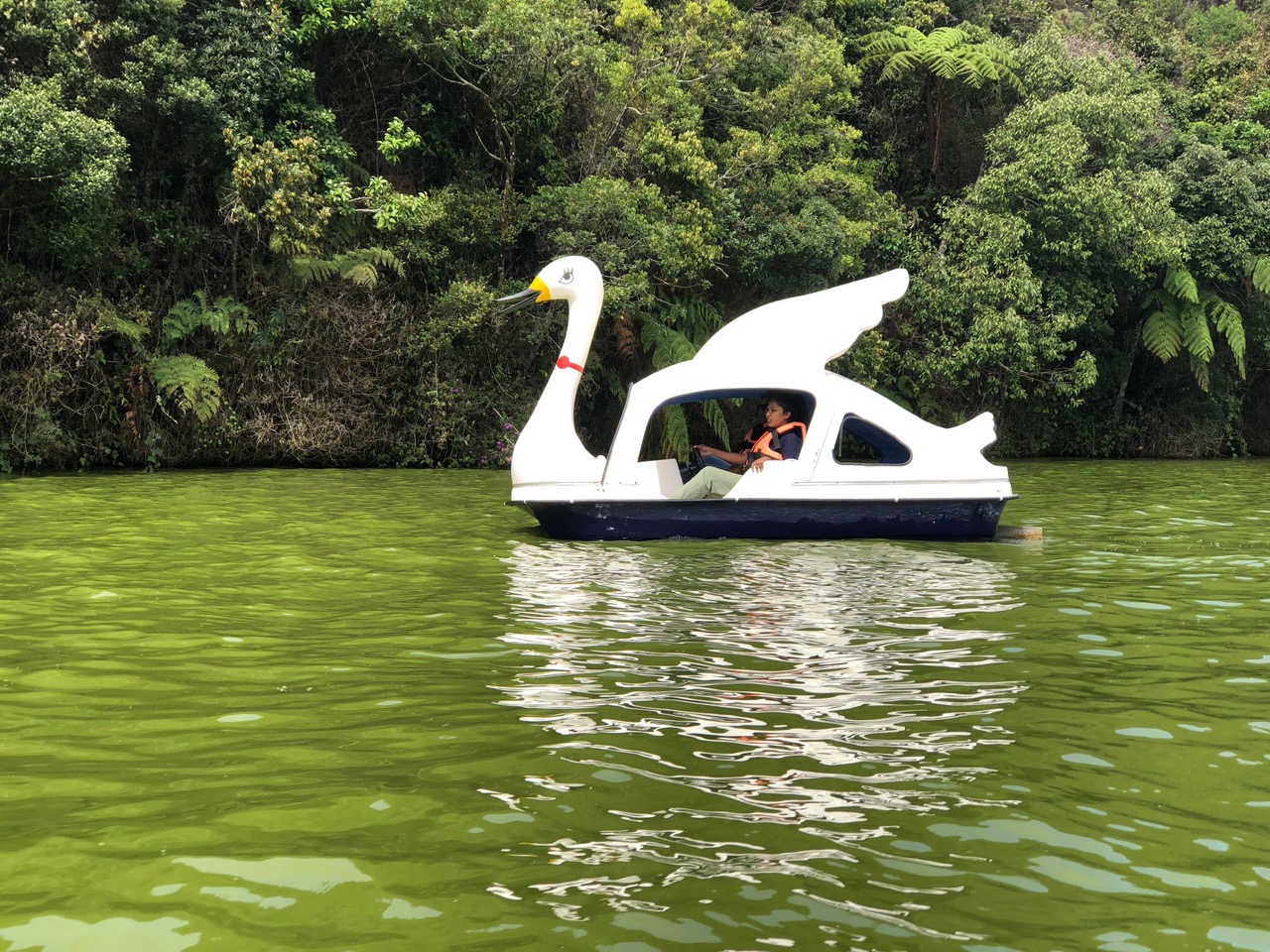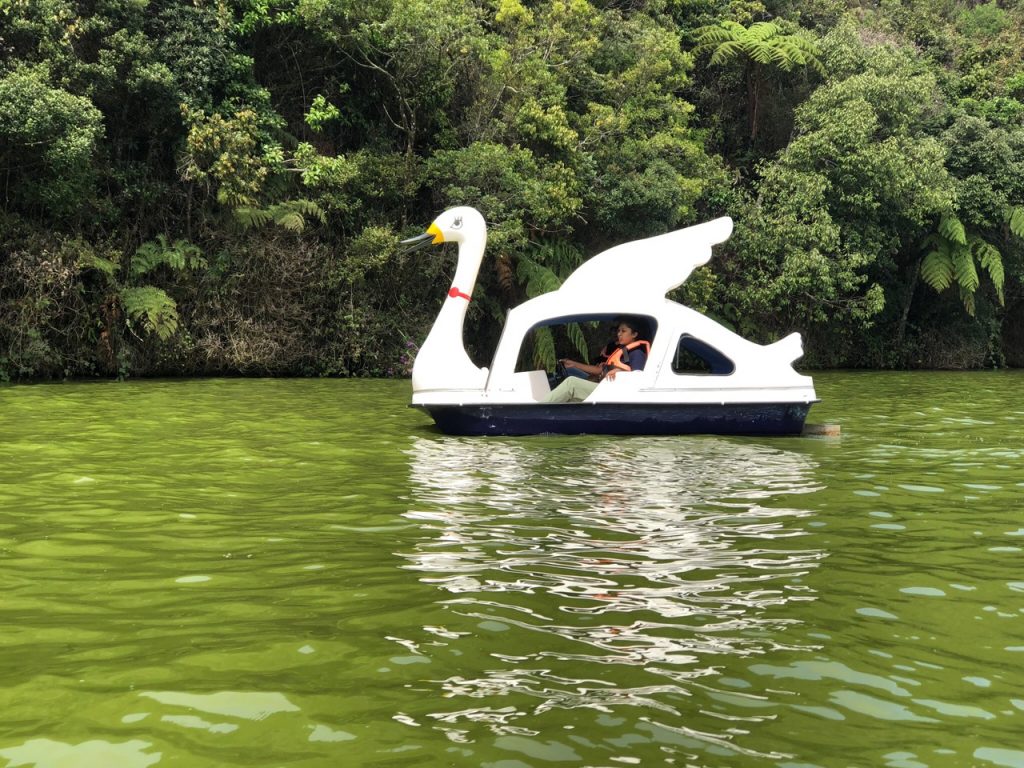 The truant sun was banished forever as rains descended upon us. The mist was a constant companion veiling and unveiling the tea plantations that had carpeted the slopes of the mountains. We stopped for lunch at an erstwhile tea factory, now a hotel called the Heritance Tea Factory and stayed at the colonial residence of the former Governor called The Grand Hotel. But it was not the colonial hangover that mesmerised me.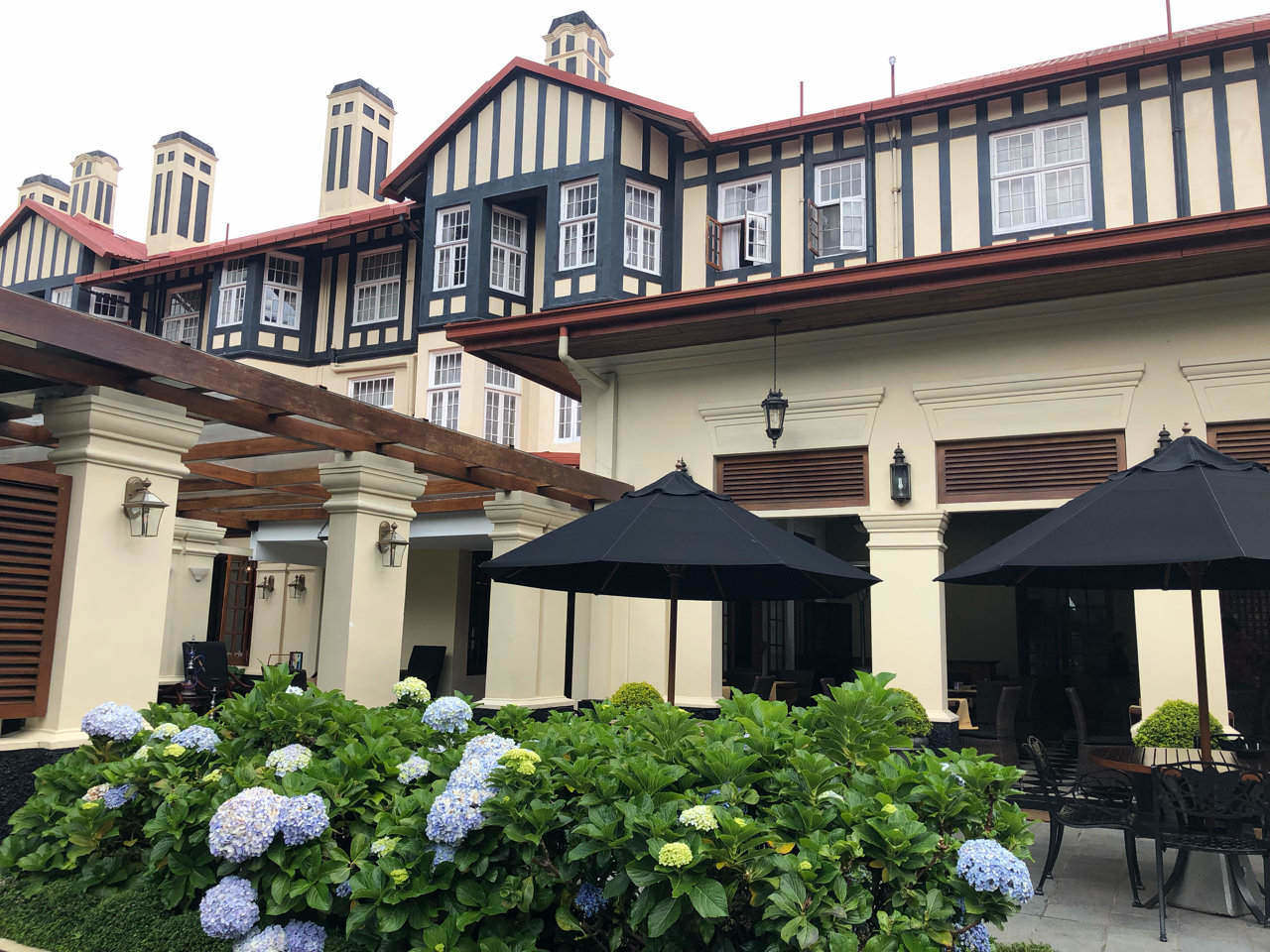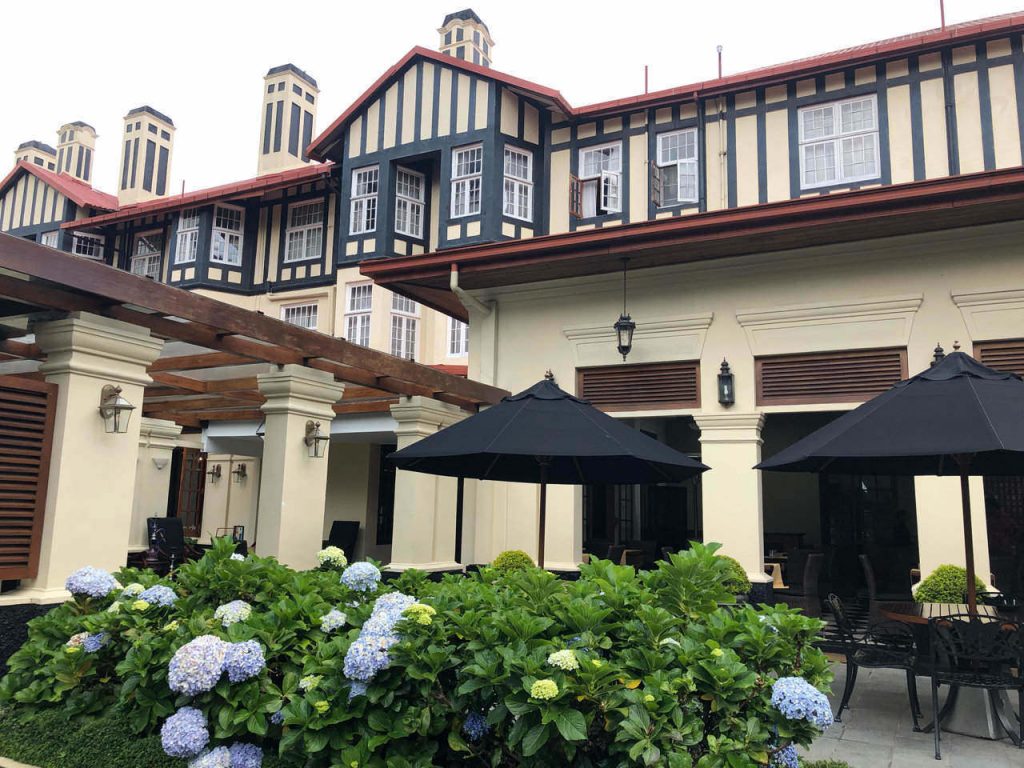 There was an air of mysticism in Nuwara Eliya, surrounded by pristine beauty. As we drove around we stumbled upon a temple inside a dense forest. We saw a towering sculpture of Hanuman, housed in a temple built by the Chinmaya mission. It was believed that this is where Hanuman first landed when he came to Lanka. Standing there at the Bhakt Hanuman Temple, we were surrounded by the wilderness as the mist came calling. I wondered if this was the view that Hanuman saw as well when we landed.  We stopped at the Gayatri Temple or Gayatro Peetam where Indrajit, son of Ravana had apparently meditated during the war. We finally made our way to the lush environs of Ashoka Vatika in Seetha Eliya.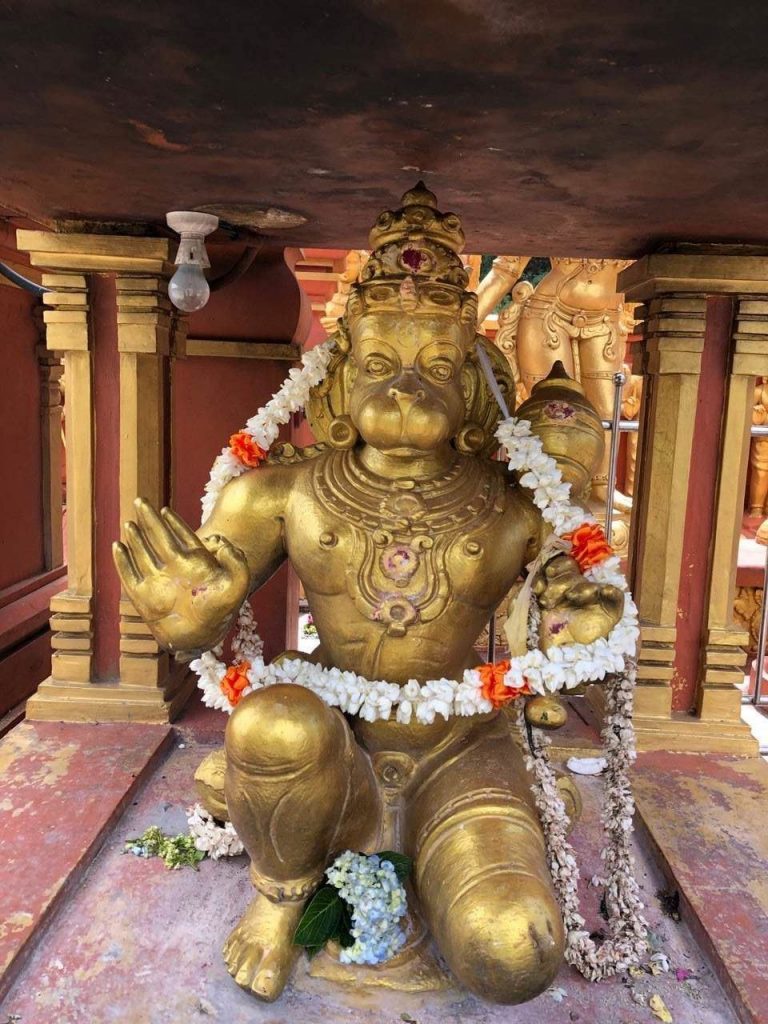 A small spring sprouted and meandered into a forest stream as a statue of Seetha and Hanuman stood there. Adjacent to it was a small Seetha temple. It was believed that Hanuman saw Seetha here for the first time here. Darshan added that there was a botanical garden close by which was believed to be an extension of the famous Ashoka Vatika.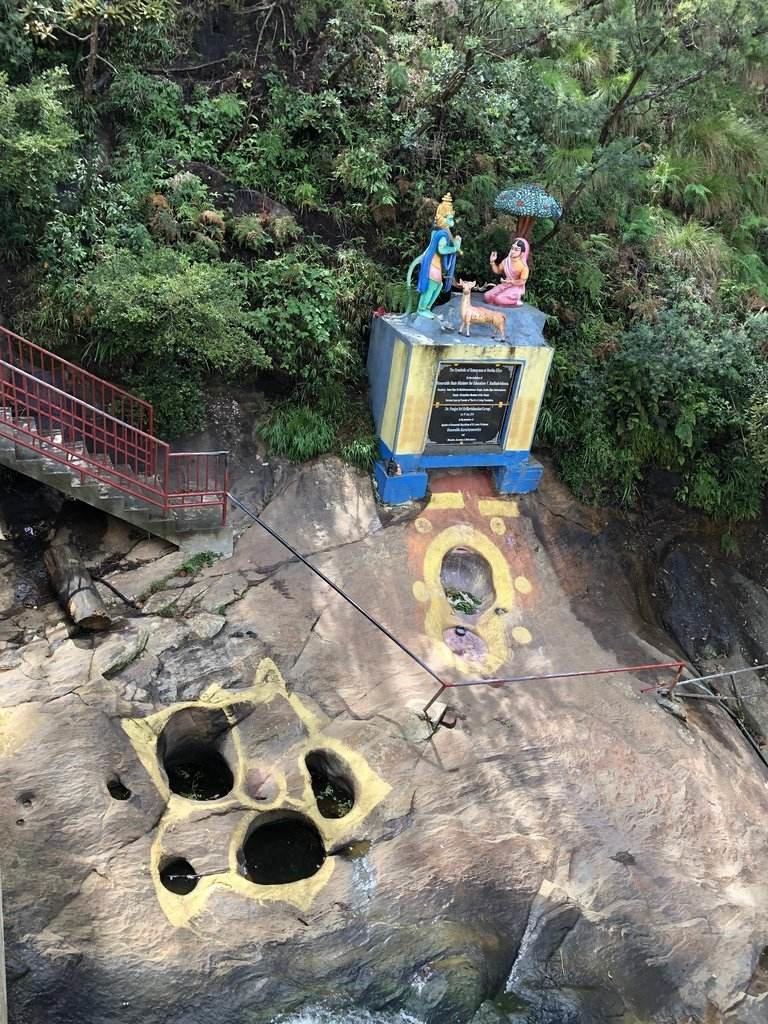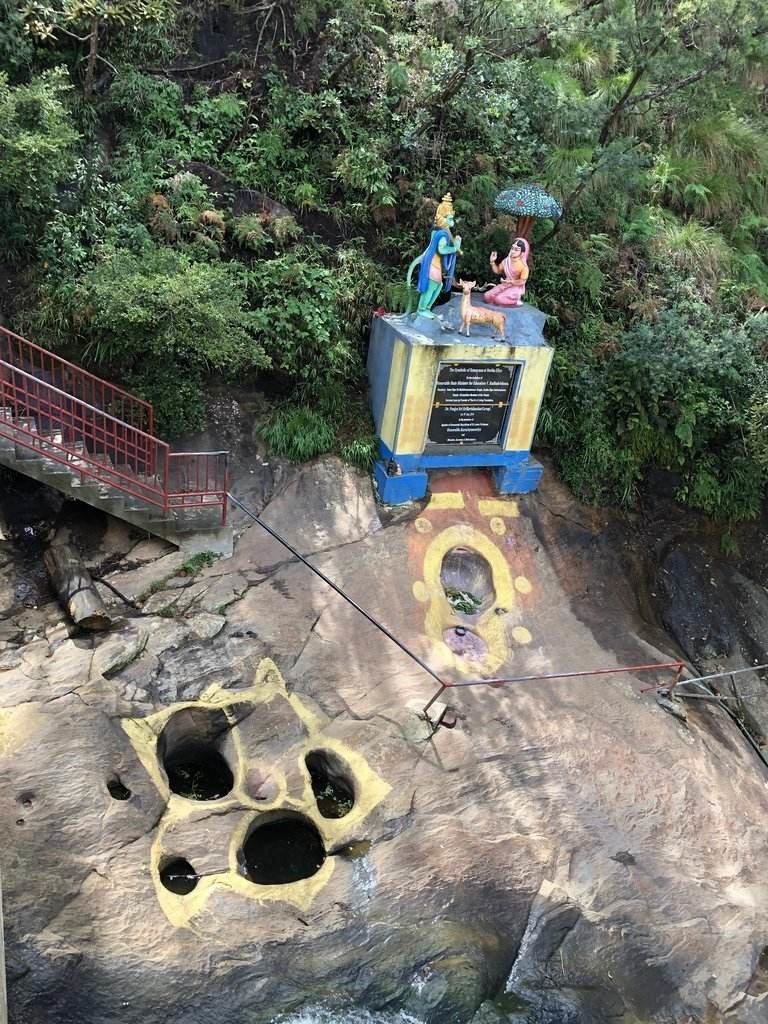 As we listened to the chants of the priest, the rain came calling. We meditated for a while and realized that even the rock face of a mountain resembled that of Hanuman. We stopped to appreciate the beauty of nature and lost ourselves in the lush landscape. We went on a gentle cruise on the idyllic lake as the rain slowly abated. I wished I could linger a while in Nuwara Eliya, where a visit is not complete if you don't visit a tea factory and bring home some tea.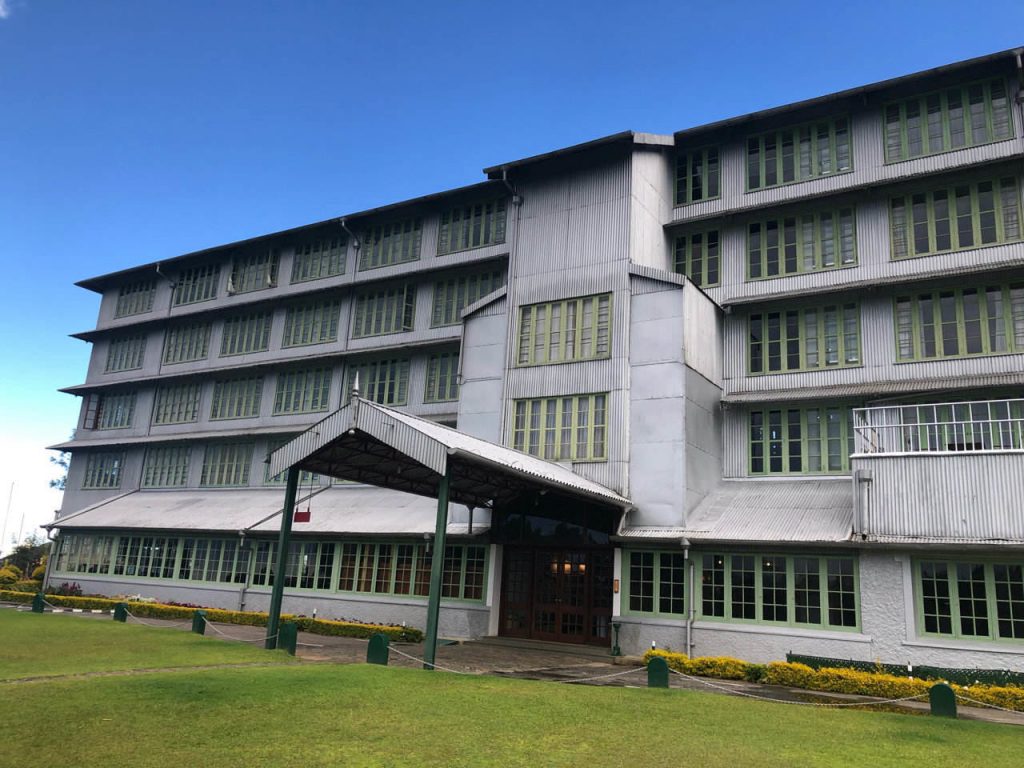 Finally, we headed to another nondescript site called Devarampola barely 15 km from Seetha Eliya. The Ramayana trail in Srilanka is not complete without a visit to this little town.  A small Buddhist temple along with a stupa stood silently surrounded by trees. A group of girls had just taken a break from their outdoor classroom sessions.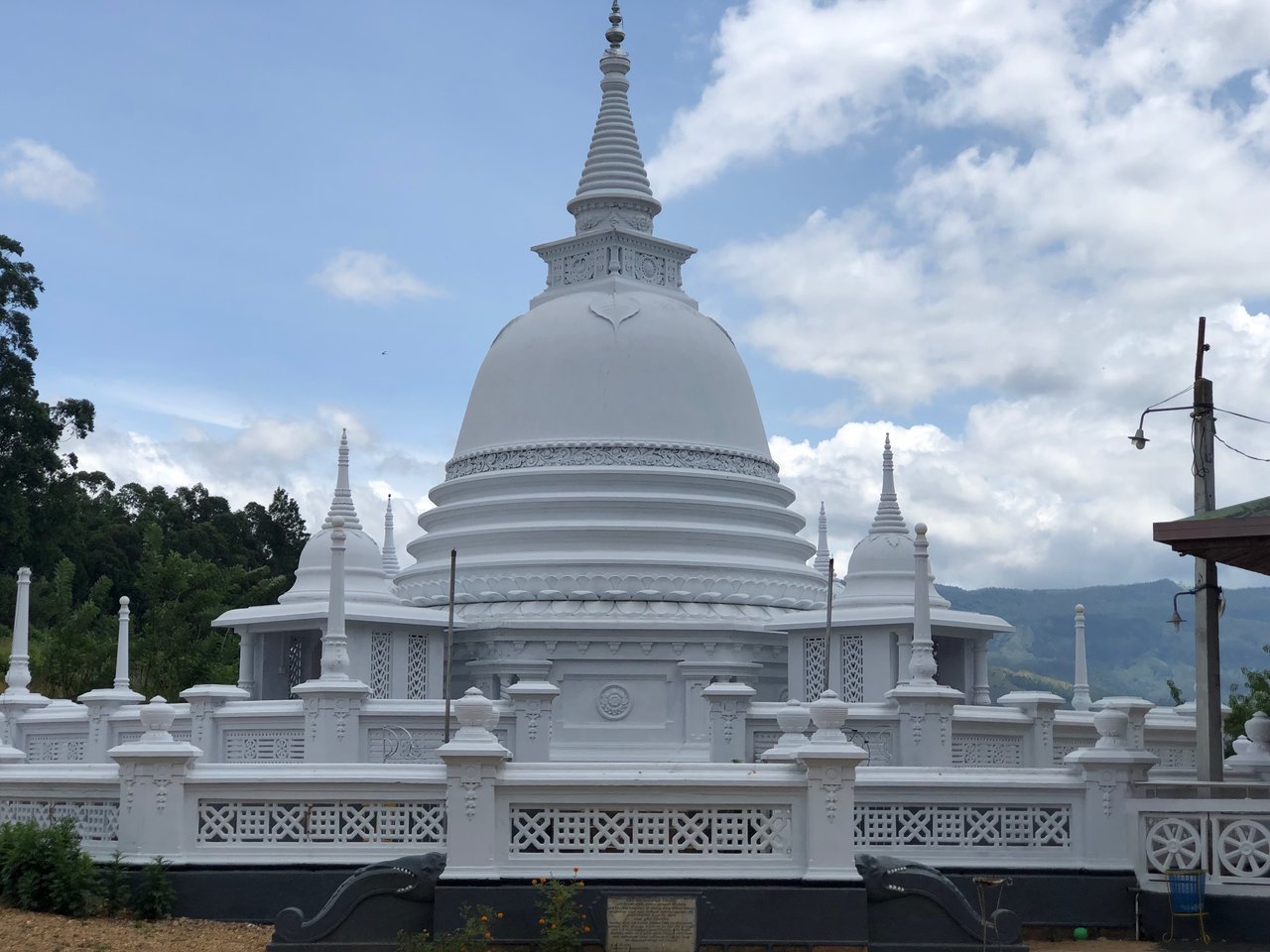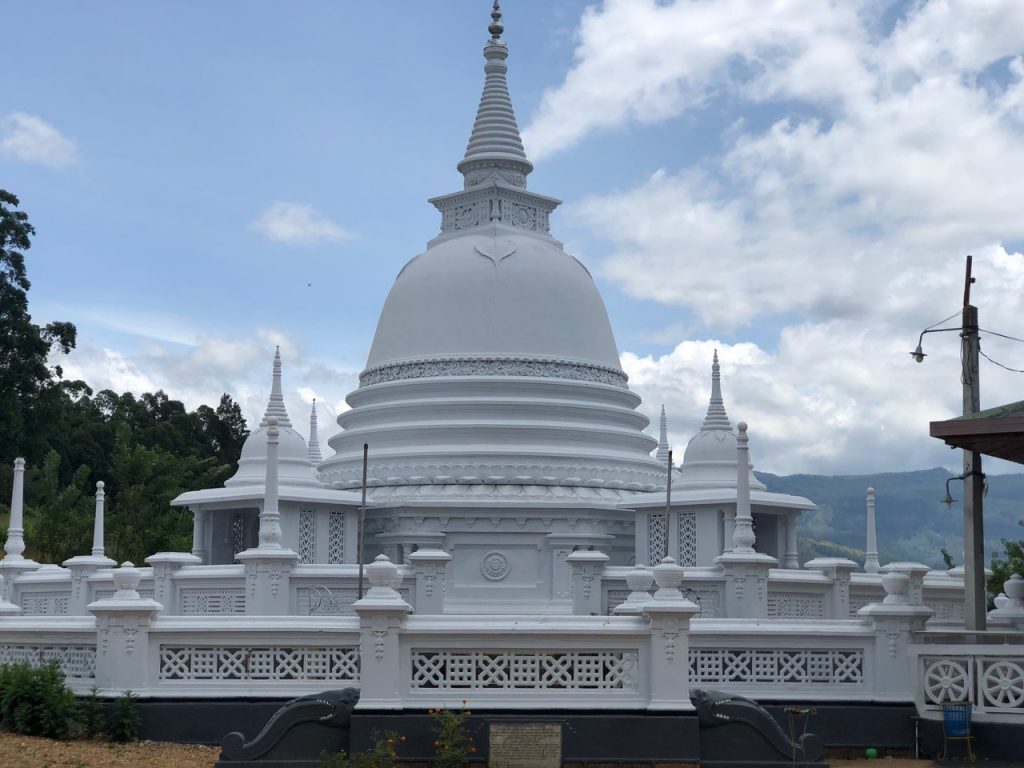 The Buddhist temple was filled with statues of Buddha and the walls were adorned with paintings.  However, we walked inside another room that seemed straight out of a gallery, except that these paintings depicted stories from Ramayana.  An ancient peepal tree stood close by and a statue of Hanuman was adjacent to it.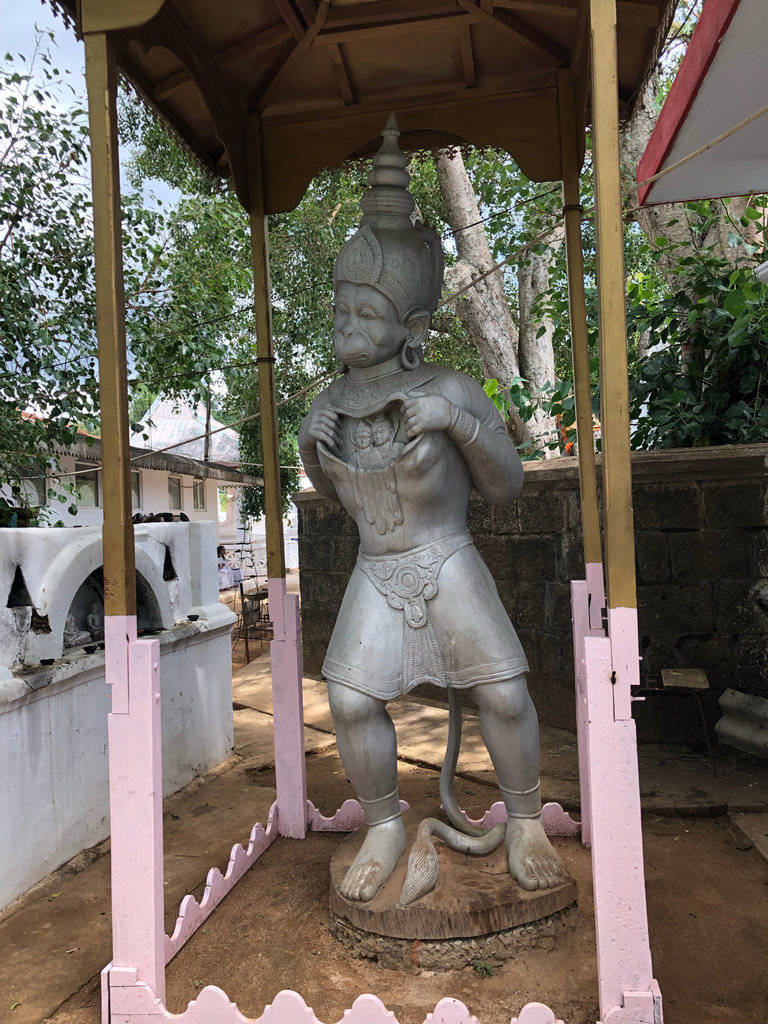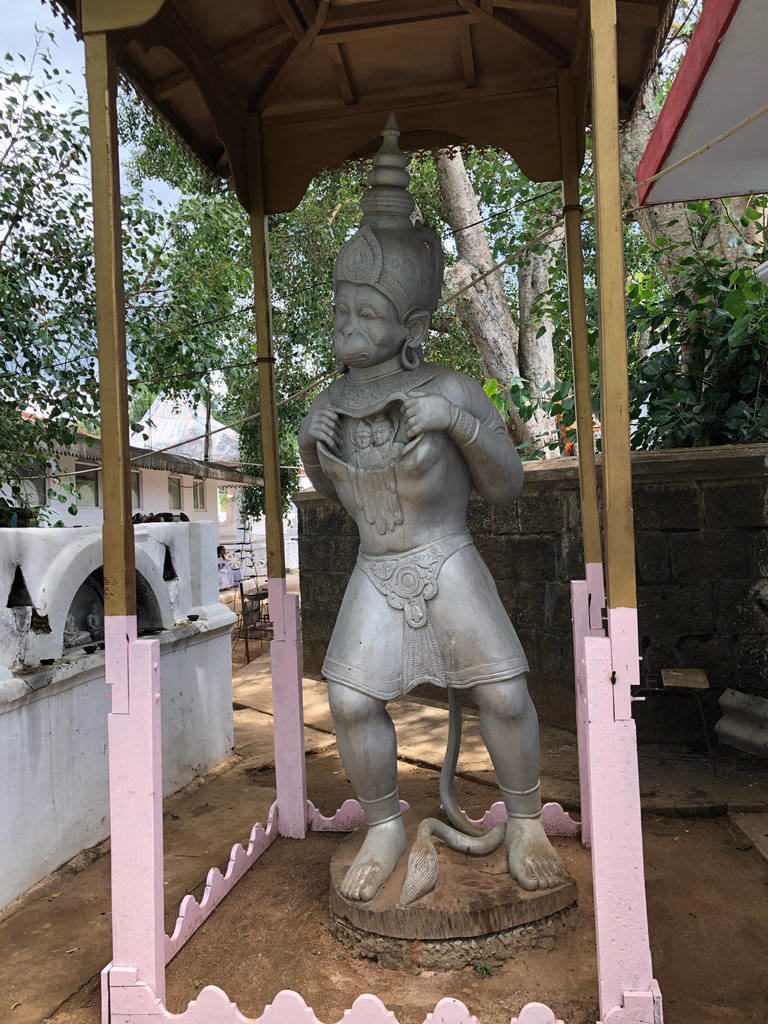 Darshan told us that Seetha's Agnipariksha or trial by fire took place on this site. A sombre silence filled the air until the rains slowly descended. We walked around for a while and met a few students who willingly posed for us.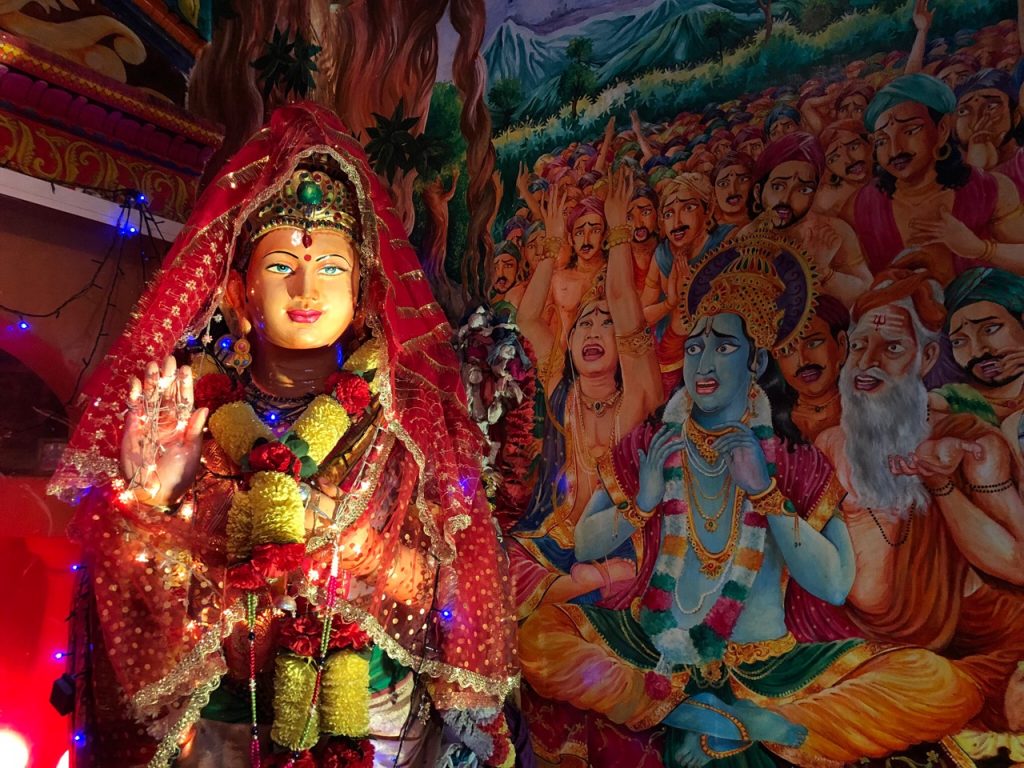 We had lunch at Ella, another pretty town, lost amidst nature where we lazed around, lost in the world of lakes, waterfalls, tea plantations sloping down mountains. We stopped at Ravana Falls but however the rainy weather did not allow us to venture further into the nearby Ravana caves, where he apparently meditated. Ella is a picture postcard come to life but our Srilanka Ramayana tour continued as we headed to another picturesque town.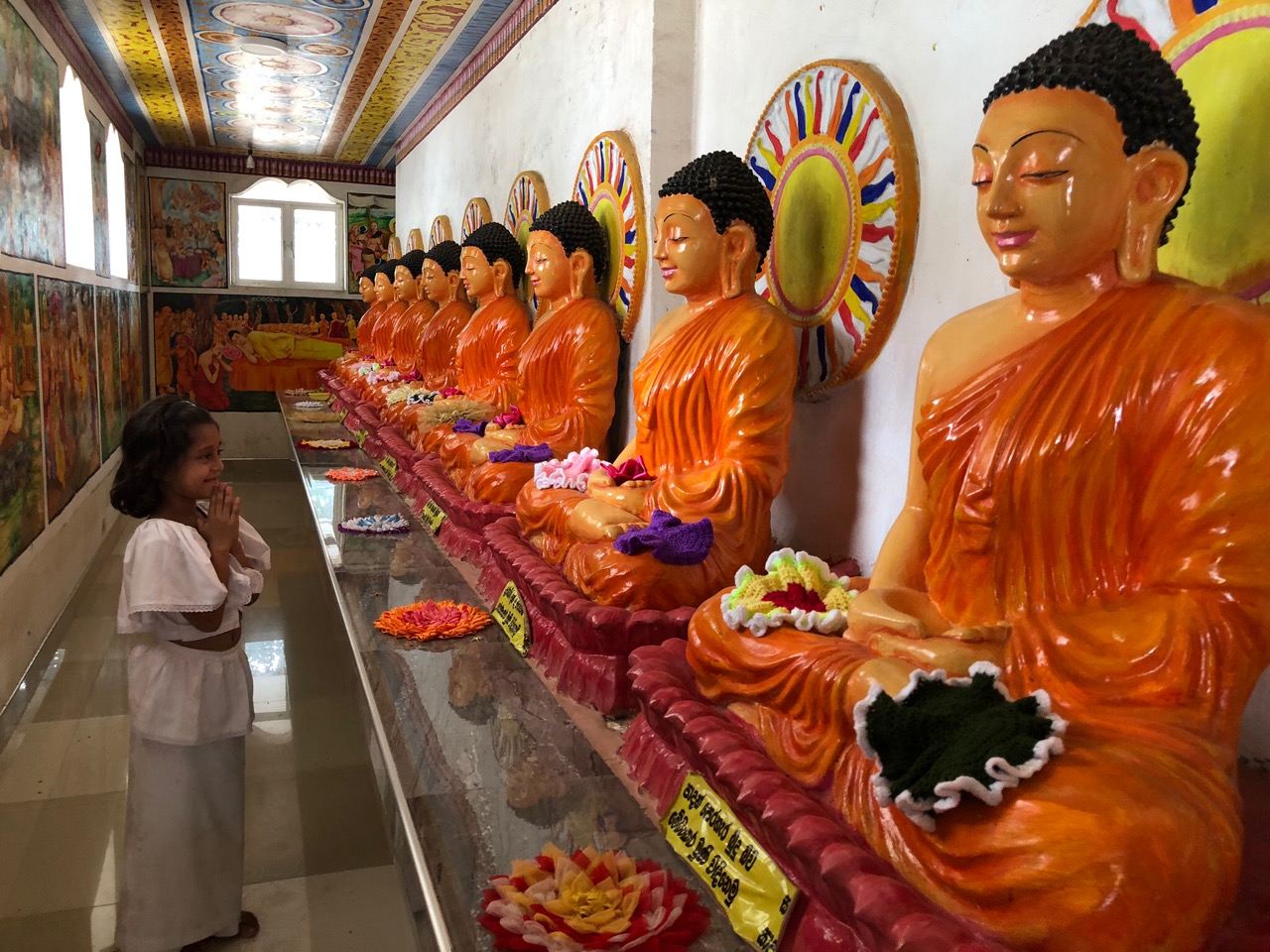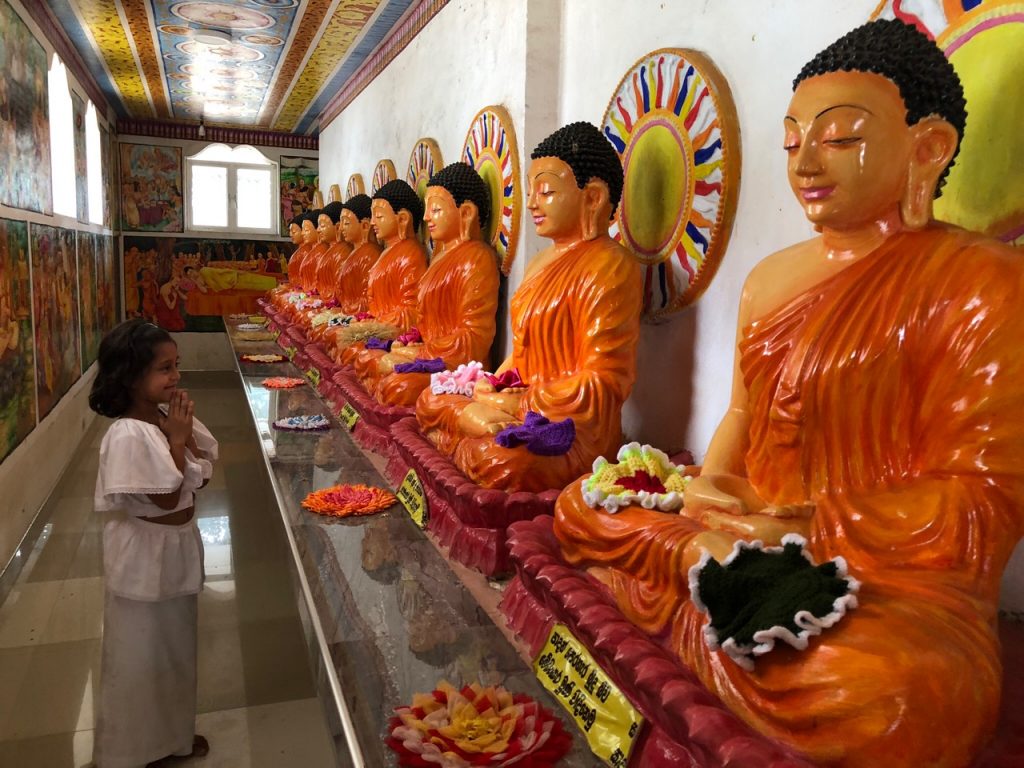 Day 4 – Nuwara Eliya to Tissamaharama
Destinations – Katagarama, Tissamaharama
Places to see –  Katagarama Temple, Tissa Lake
Accommodation – Eco Safari Hotel
A stunning sunset at the Tissa Lake greeted us as we reached the beautiful Eco Safari resort, set amidst the wildlife reserves near the Yala National Park. While we did not have any time for a wildlife safari, we stopped on the way at the ancient Katagarama temple, dedicated to the Tamil God Skanda – Muruga or Subramanya also called Katagarama Deviyo.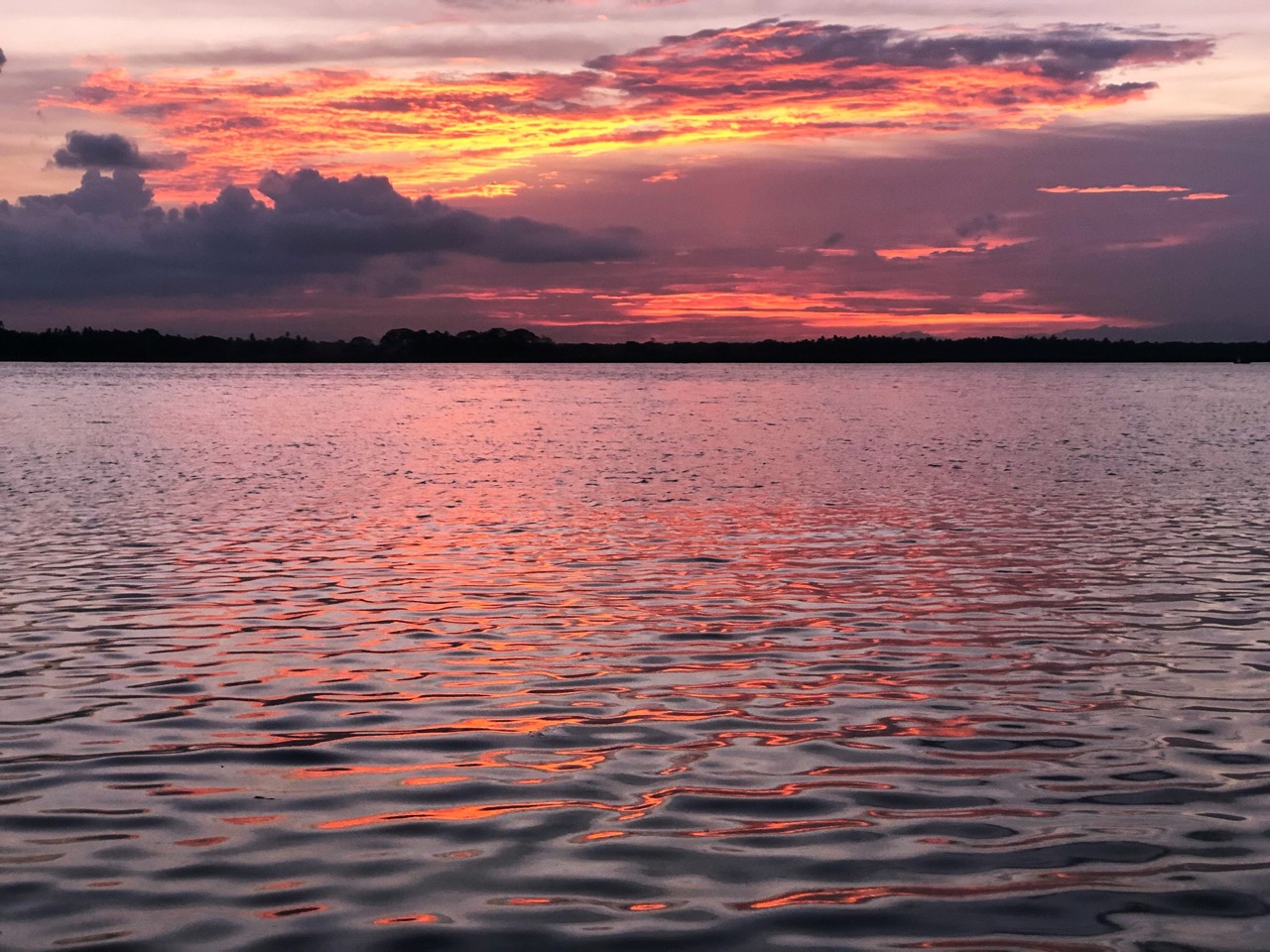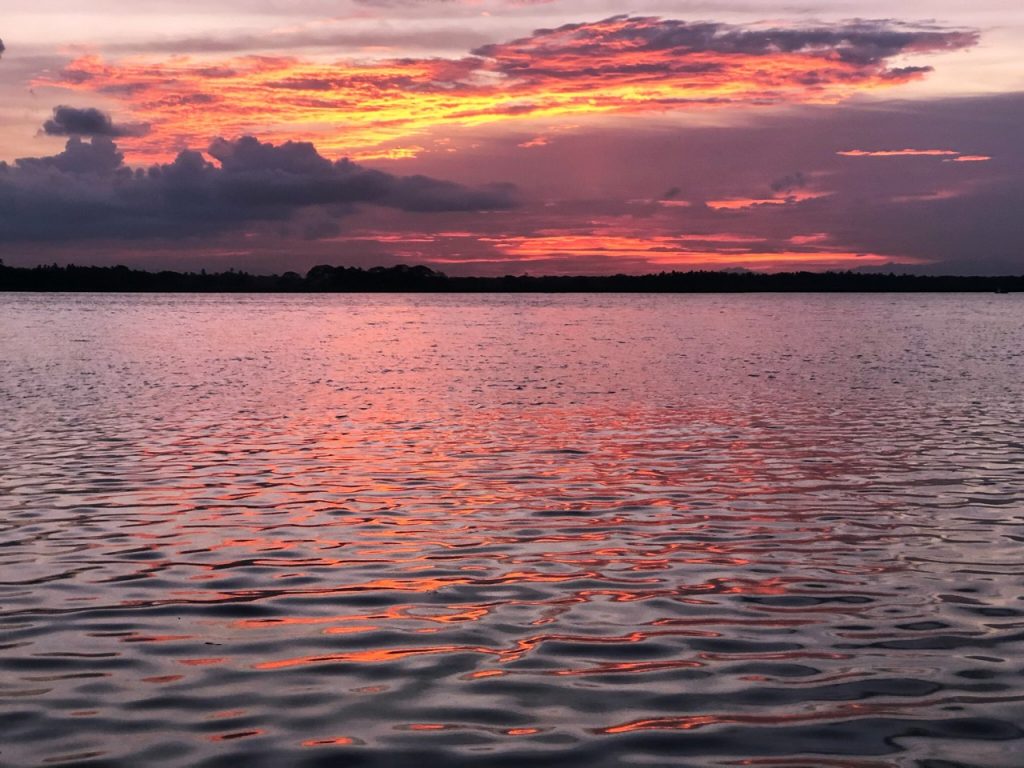 Legends say that Muruga came down to Srilanka and lived here as Katagarama and defeated all the evil forces here. Buddhists from this town also consider him as a guardian deity. There are many stupas in this town as well. A  local festival that was being celebrated and it was crowded but it gave us a spiritual high. Although the temple did not have a Ramayana story connected to it, it was one of the most important spiritual destinations for both Hindus and Buddhists.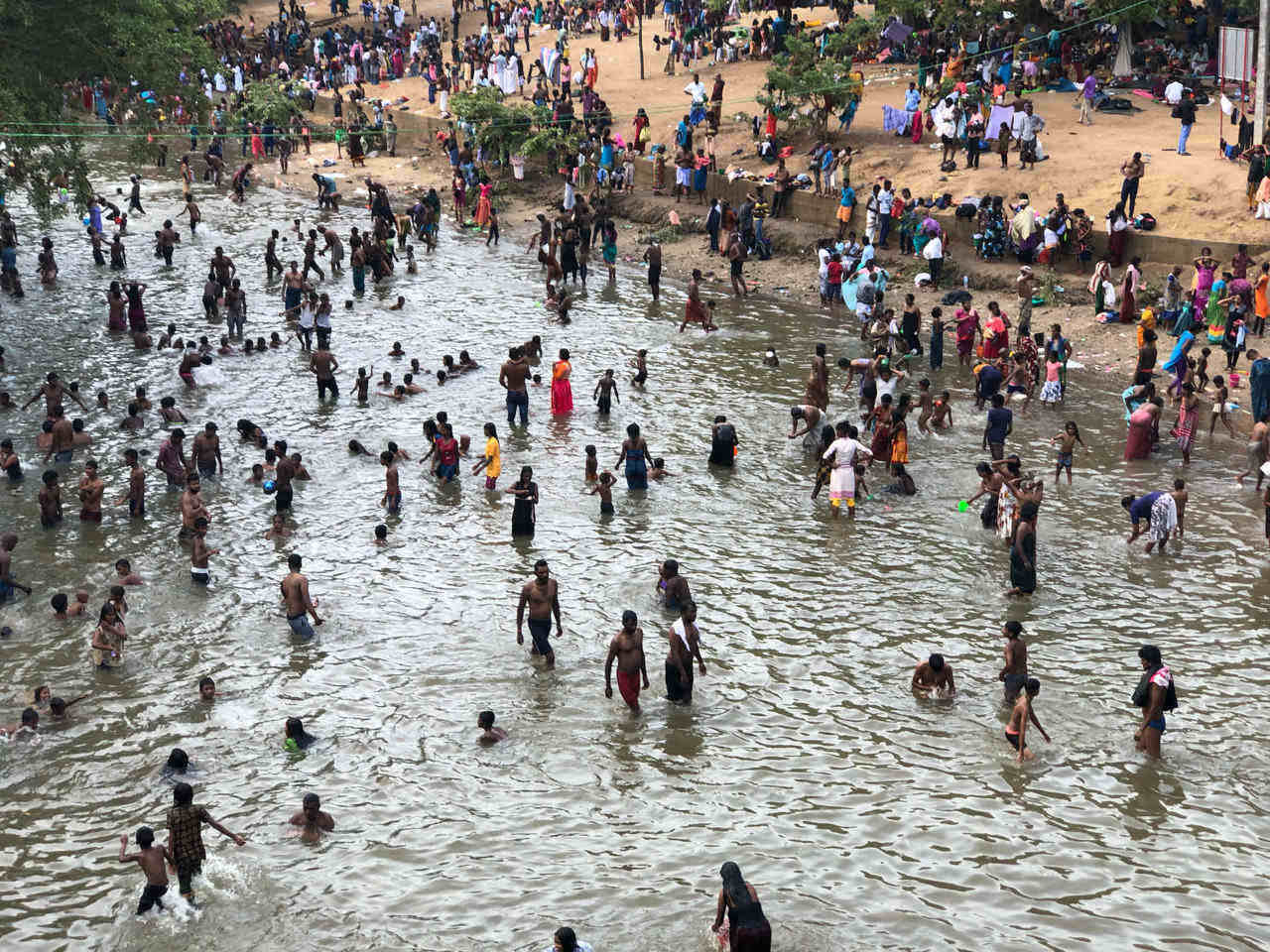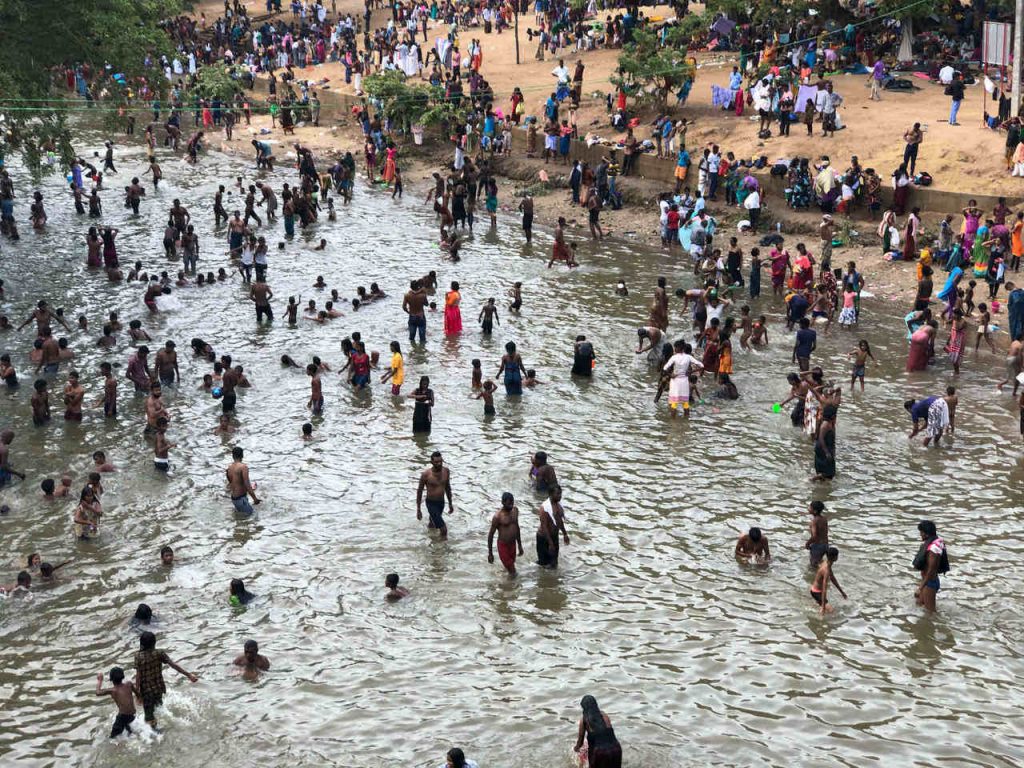 Day 5 – Tissamaharama to Colombo
Destinations – Bentota, Kandy, Galle, Ahungalle, Colombo
Places to see  – Panchamukha Anjaneya Temple, Kelaniya Temple or Vibeeshana Palace
Accommodation – Taj Samudra, Colombo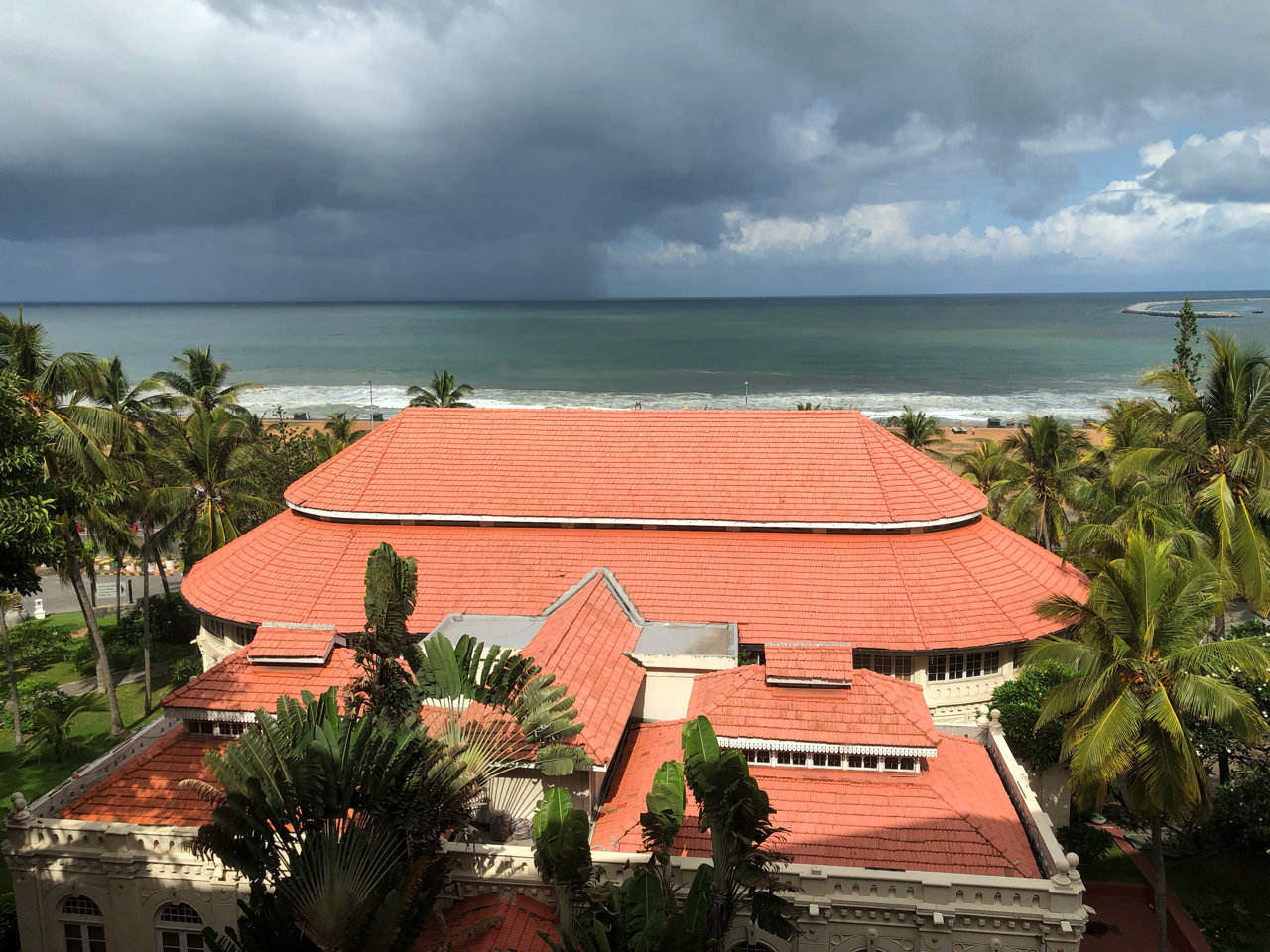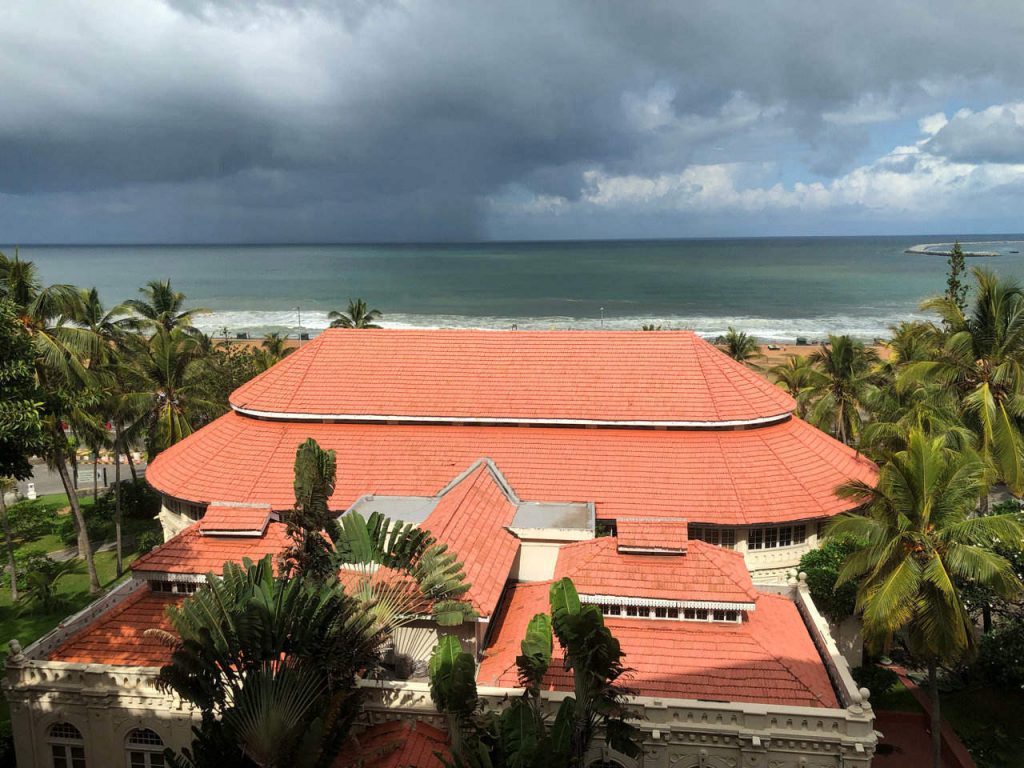 We were finally headed back towards Colombo on the Srilanka Ramayana tour but our journey  took us through Bentota, where we had a delicious lunch at Taj Bentota, one of the oldest and luxurious properties in Srilanka, located right along the coast. While the heart wanted to linger here, we continued on the Ramayana trail. We did not have time to visit Kandy but our next stop was at Galle. However we stopped near the Rumassala Mountain where the Panchamukha Anjaneya Temple stood. A towering Peace Pagoda stands on the hillock, built by the Japanese.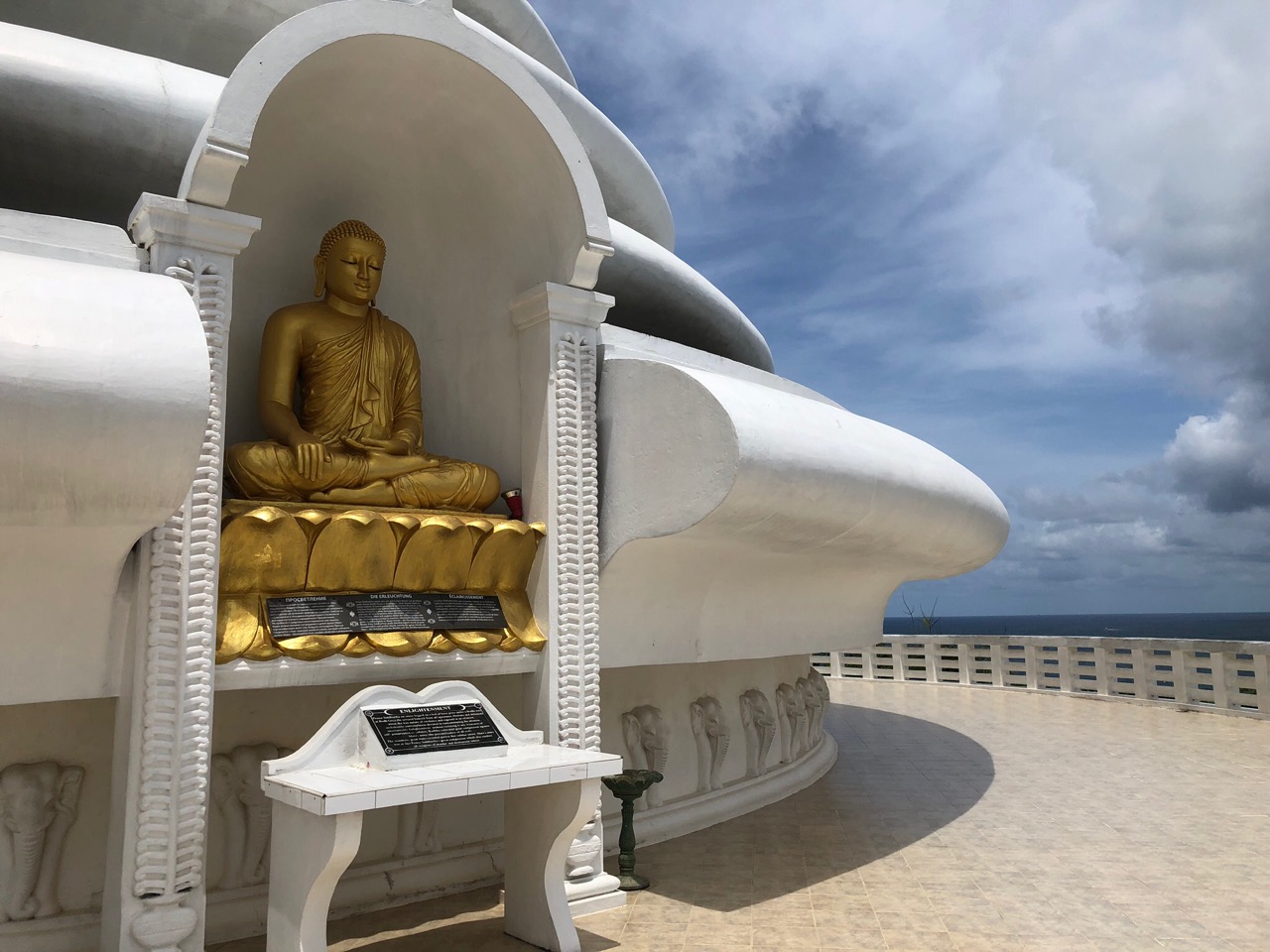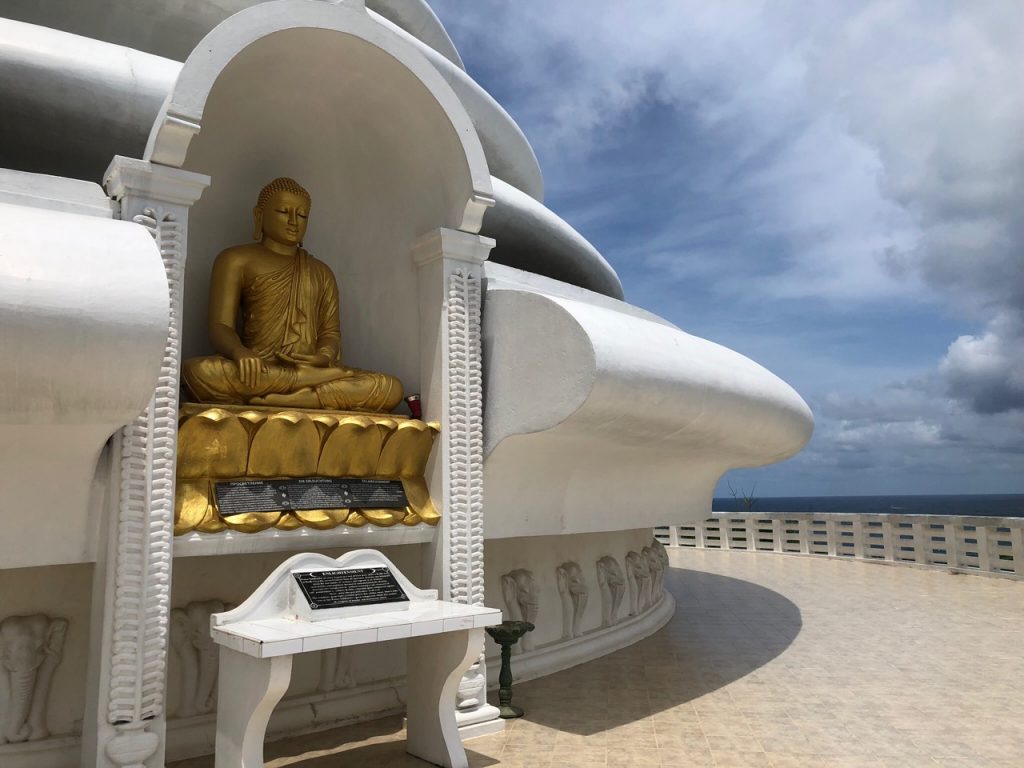 As I climbed the Buddhist stupa, I could see the Dutch fort across the ocean.  According to the Ramayana legend, the hillock was a part of the Dronagiri mountain which had the Sanjeevani herb, required to heal Lakshmana from a fatal injury during the war.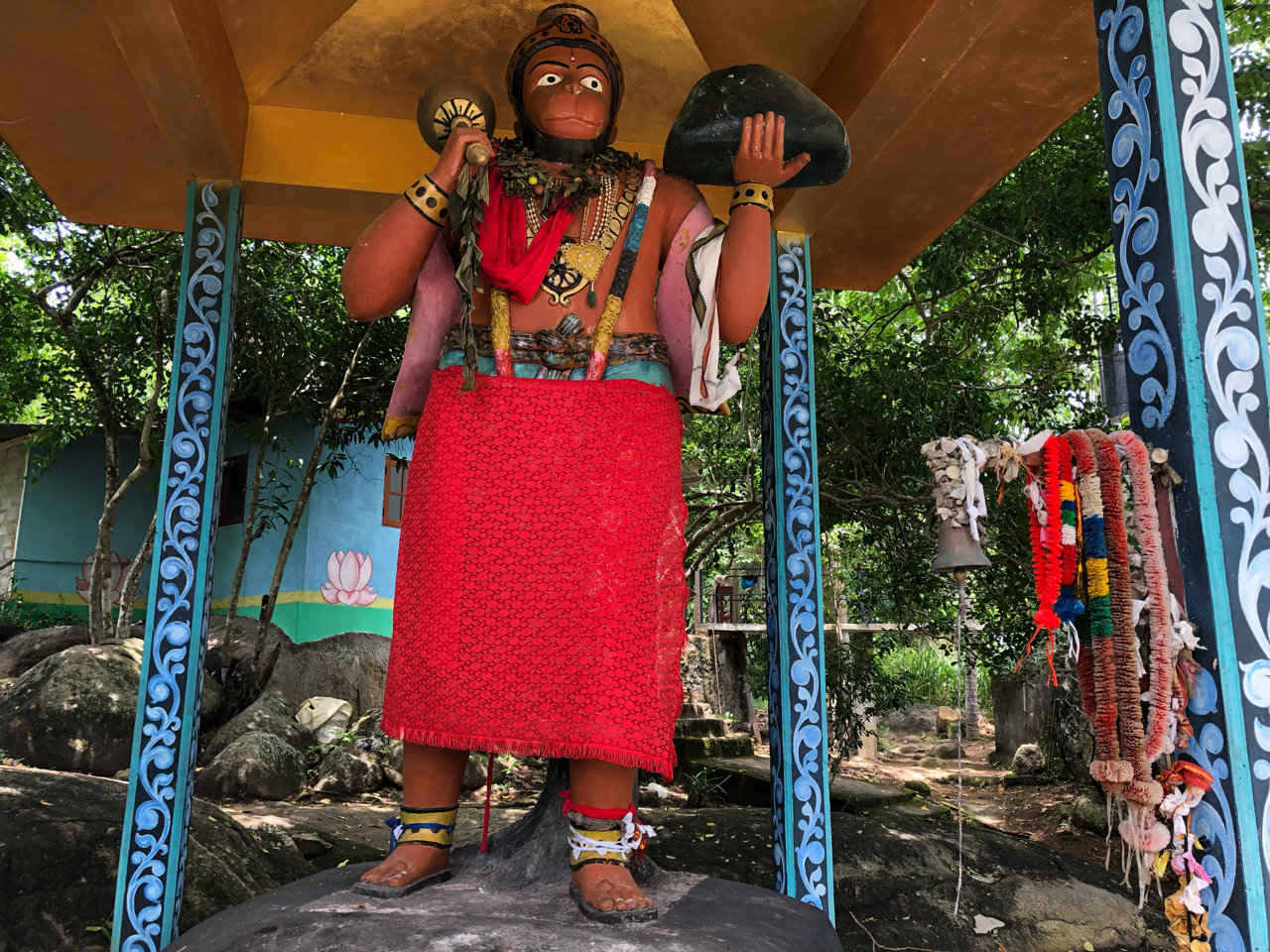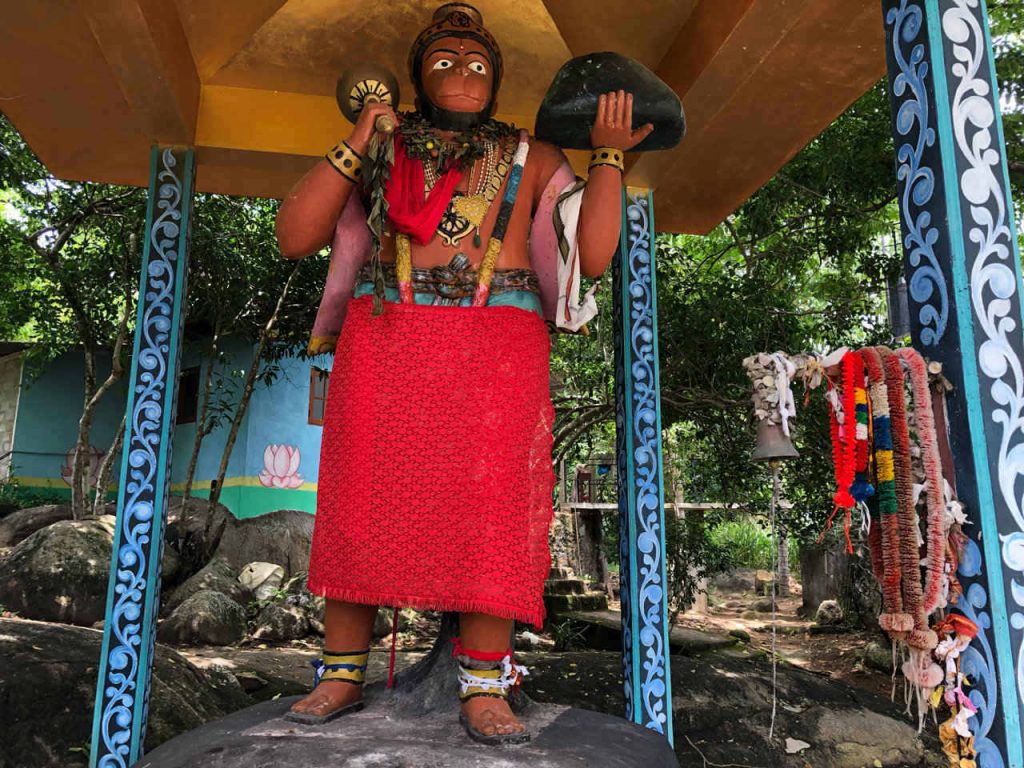 Hanuman had carried the entire mountain from the Himalayas and a part of it had apparently fallen here. The rains began as we drove towards Galle, the old colonial settlement which was the bastion of the Portuguese, the Dutch and the British.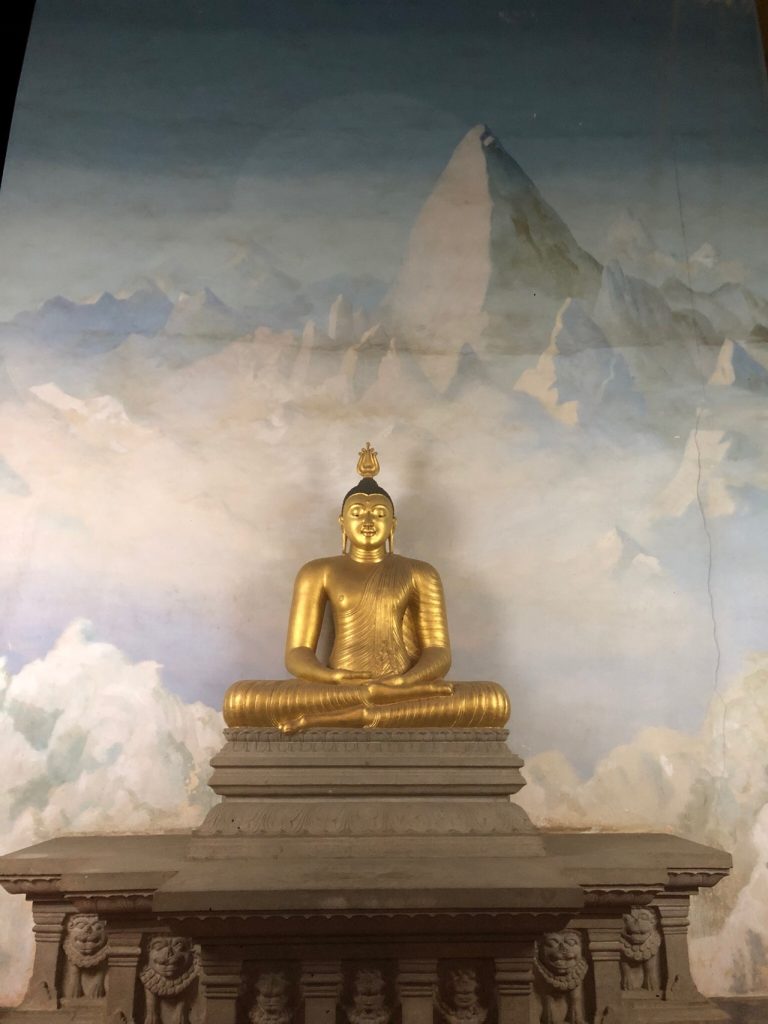 Our last stop on the Ramayana trail in Srilanka was at a magnificent Buddhist temple filled with large murals and sculptures, located near Colombo. Kelaniya was not just an ancient Buddhist site but it was also of spiritual significance to both Hindus and Buddhists.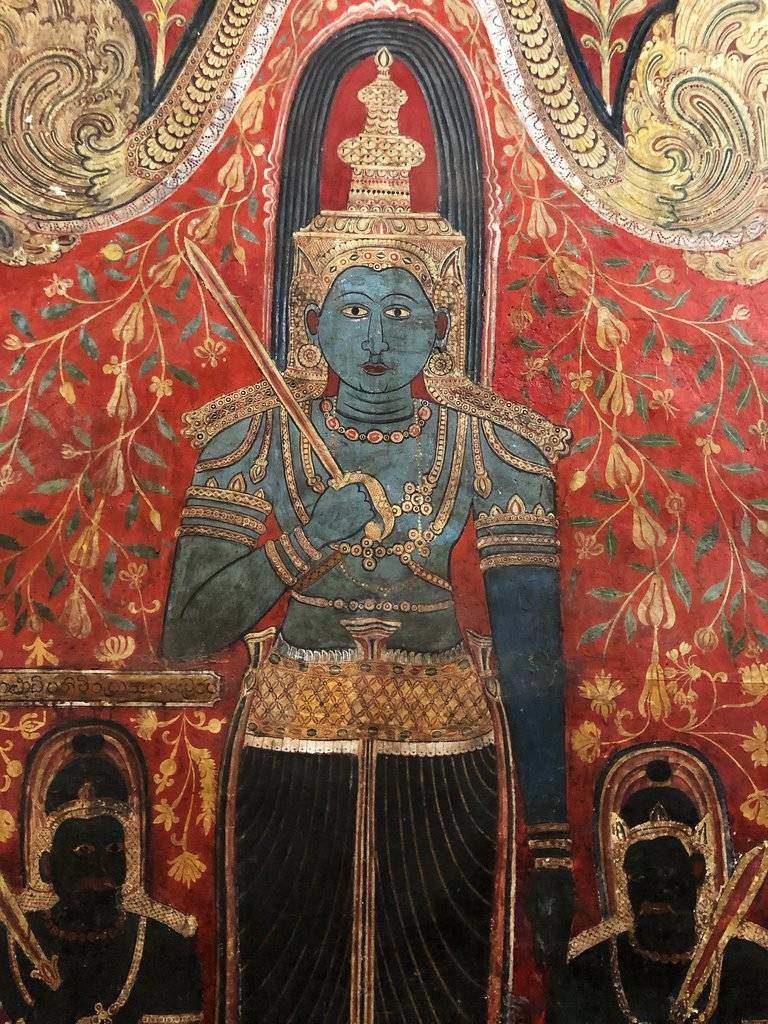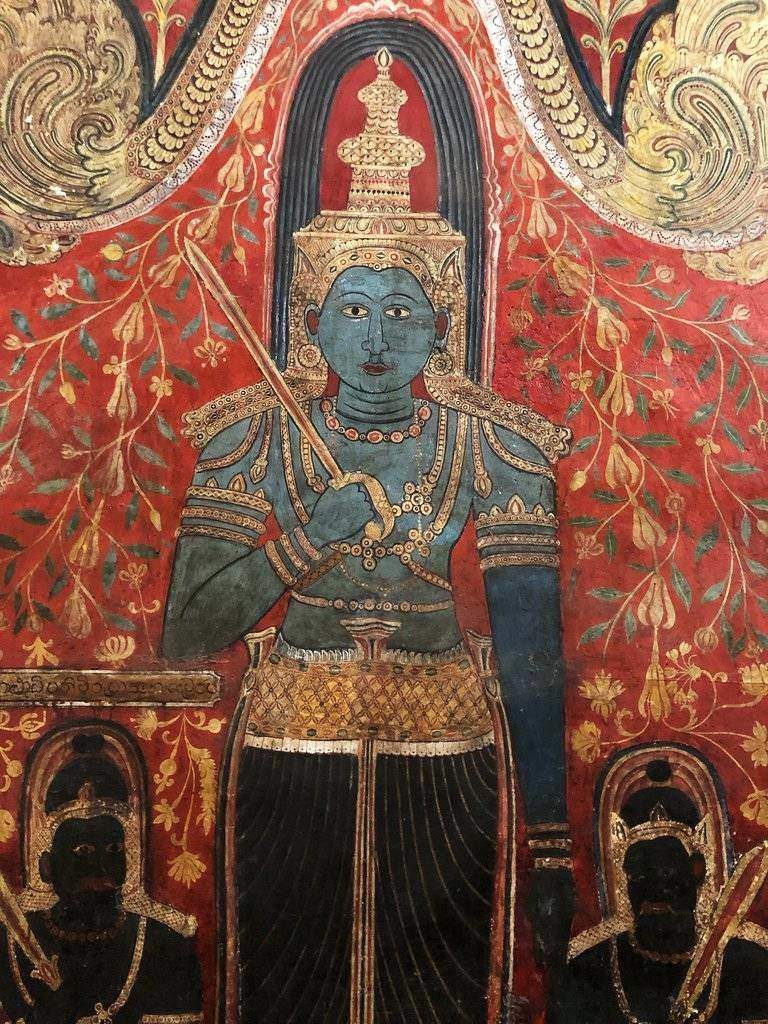 However the temple was once a palace and it  also marked the culmination of Rama's tryst with Lanka. It was believed to be a palace handed over to Vibeeshana, Ravana's brother after the war. The paintings here depicted stories from Buddha's life but it even had a portrait of Emperor Ashoka's son and daughter who were sent by the king to promote Buddhism in Srilanka.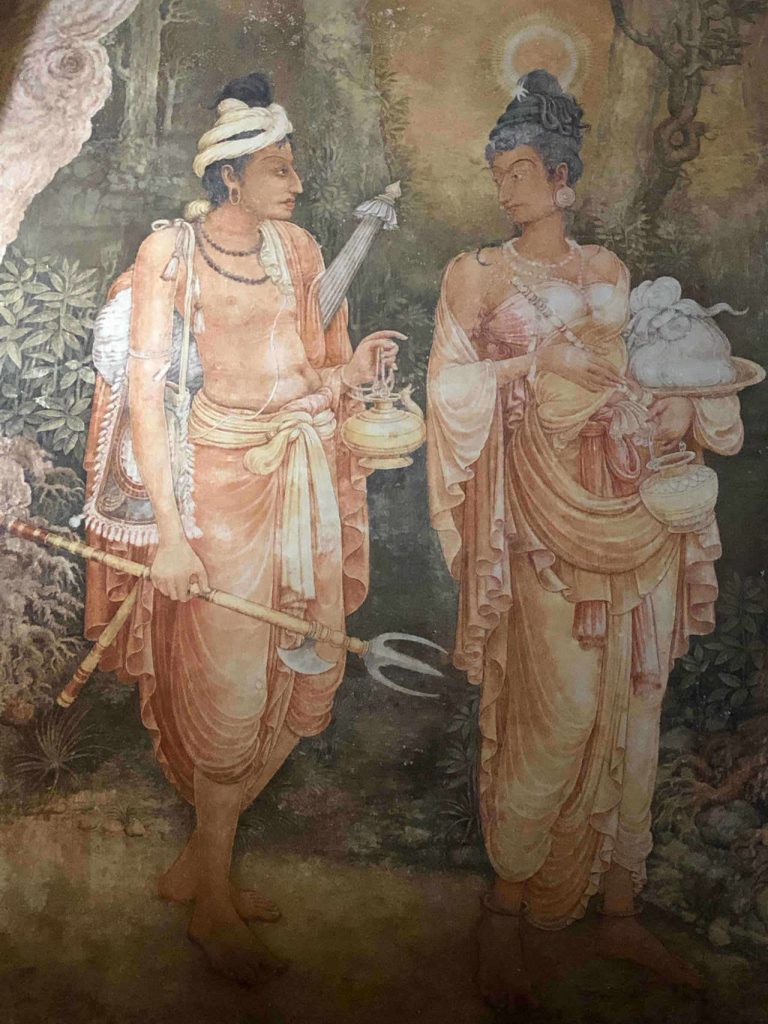 Rama literally handed over Lanka back to the just ruler, asking him to take over the reins. Paintings depict the coronation as well. Standing there and listening to the Buddhist chants, I felt a strong spiritual connection. Ramayana may be different things to different people – an epic, a fantasy tale, a legend, a divine text, an allegory, even a TV show. But to me, it will always be a part of my spiritual evolution as I draw my inspiration and strength from the lives of these deities.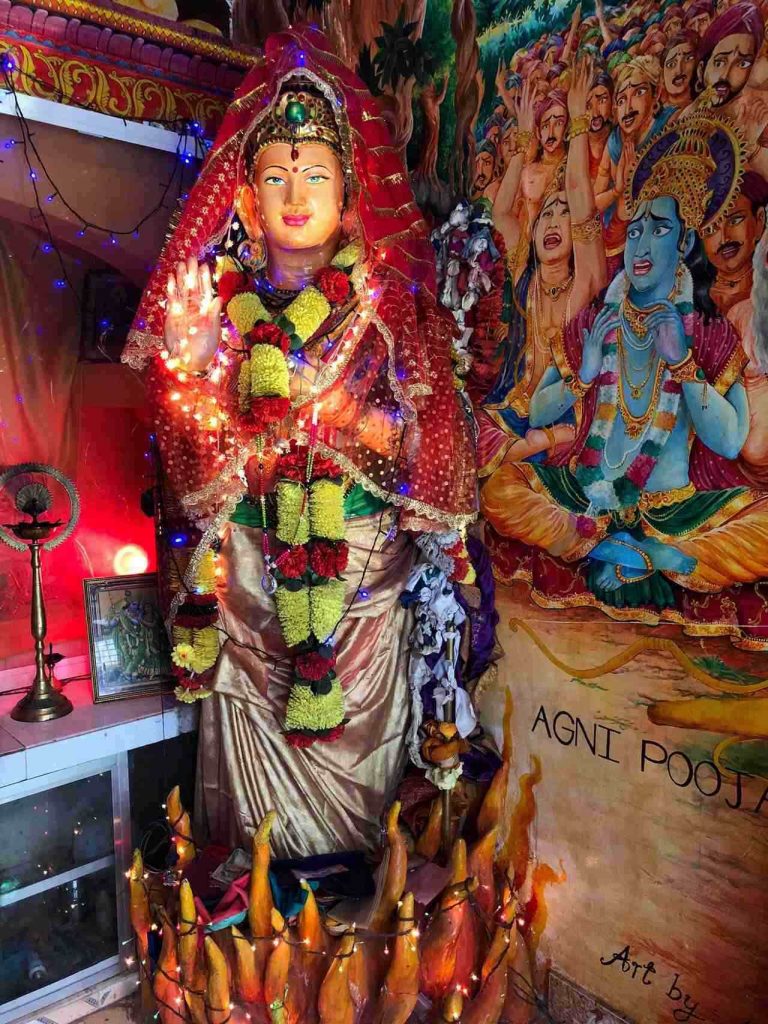 I was invited to Srilanka by Srilankan Airlines who, along with Aitken Spence Travels had organised this Ramayana trail in Srilanka for us.