Birding Diaries–Carambolim Lake, Goa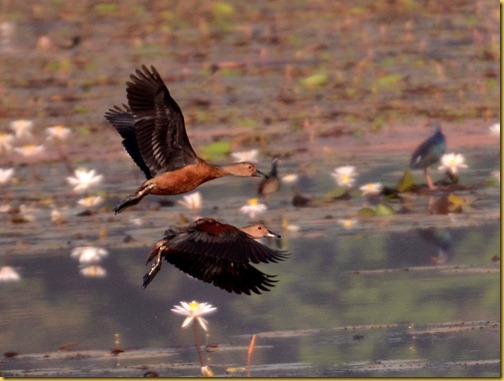 Lesser whistling ducks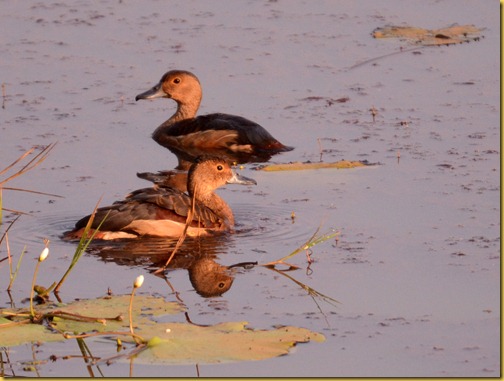 It's a very hot morning in Goa. They say spring is in the air, but I can feel the bright sun burning through the skin as early as 630 am. However, I am an early bird and that in Goa is rather unusual. As I head out, all I see in my fifteen minute journey are two pups cuddled up in the middle of the road. The vada pav stalls are not yet open and I do not see a single local tea shop on the road. Soon civilisation gives way to large tracts of fields and then the waters fill my eyes. The Mandovi gives me company as I watch a few waders on her banks while a couple of pond egrets fly rather low. Even the fishermen have given themselves a holiday and the roads are empty.
I am not headed to a beach but to a little lake lost amidst the lone tracks of a railway station in a little hamlet. Carambolim or Karamali is a pretty village tucked away in old Goa. Its claim to fame is a railway station, a 500 year old chapel and a Brahma temple located close by. But none of them lure me.
Carambolim is still snoozing when I drive past its nondescript streets. Taking in the silence and the pleasant morning breeze, we stop by for a few minutes to cross a railway track. A lone train chugs along, taking passengers to either their dream destinations or to a comfort zone called home. The train slows past me and I cross over to a single lane that takes me into a palette of colours. There are the verdant fields on one side, nodding in glee to the morning breeze and a vast man -made lake on the other bustling with active bird life.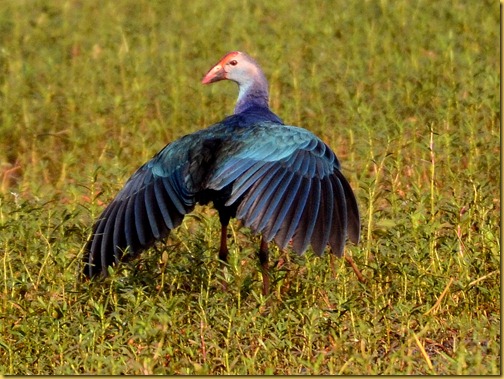 Standing under the shade of the tree, I see the train has paused in its journey, its blue compartments reflecting in the waters of the lake. Another train seems to approach from the other end and they pause for a moment as strangers glance at each other from either train before continuing with their journeys.
A flock of lesser whistling ducks announce their presence whistling out loudly as they frolic in the waters for a while, splashing before settling down. They are huge in numbers compared to the flock of garganeys that float quietly. I look at them through the binoculars as they curl up in the waters. The purple swamp hens strike several poses as they create a stark contrast in the marshland . An open stork bill stands quietly, getting a bit of tan, while the two jacanas – the bronze winged and the pheasant tailed are rather shy, the latter especially showing off its long curved tail before disappearing into the waters. A purple heron is in flight and lands near the flock of lesser whistling ducks. Coots and grebes lose themselves in the crowd.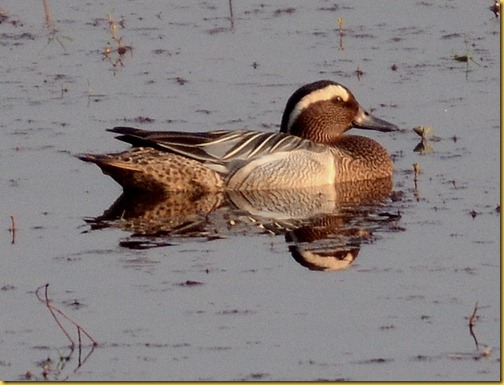 We head to the other bank of the lake and who should be waiting there, but a bright glossy ibis, preening itself in the sun. A darter darts past while a grey heron stands as a statue. Puddles of water stand out in the green marshland as heads of ducks pop out of them. They fly across the lake, crossing from one side to another, whistling along .
I stand there for hours, forgetting the heat and hunger, longing for more time in the company of birds. The silence stands out as the birds call out in glee. I wonder how this little idyllic world is lost on man. That's when I realize why Goa is not just a destination – it's a state of mind.