Bird watching in Mangalajodi, where poachers turned naturalists
The first travel story in 2017 is about bird watching in a little village in Odisha – Mangalajodi on the banks of Chilika Lake where poachers have turned conservationists.
I almost lost my way looking for a tiny little hamlet on the banks of the Chilika Lake in Odisha, Asia's largest brackish lagoon. But I wondered how the 100 species of birds who call Mangalajodi their winter home find their way to this ecological hot spot every year. Did they have a map in their tiny brains which helped them reach this village from various corners of the world ?
I am told that the birds come all the way from Russia and Mongolia. Migrating to the Chilika lake are several water birds who call the Caspian Sea their home. Some have come from the colder climes of Ladakh to make Mangalajodi their winter home. And they find this destination year after year. I lost my way and spent almost two hours to get here from Puri  but these birds do not seem to forget the route even if it takes them days to get here.
Bird watching in Mangalajodi
It was a hot and dry afternoon with a little in the nip in the air. There were hardly any tourists around, but for another bird photographer. I realized that the birds had probably discovered this village long before the tourists, which was probably why there were just three boats on the freshwater swamp. Looking around, I saw Open Billed Storks on the backwaters of Chilika lake.
Looking like specks in the horizon, there were thousands of open billed storks on the fields near the rivulets. And then I saw a swarm of Black Tailed Godwits and it seemed like a dark cloud moving towards me.
I got into a small sail boat with a naturalist and  we slowly started sailing, stopping near the reeds to spot some birds. In the silhouette, lit by the evening light were Black Winged Stilts, standing and staring as if they were ruminating about something.  They looked very pretty in the light with their pretty pink legs reflecting in the waters.
We sailed a bit closer and spotted yellow wattled lapwings emerging out from the reeds. In a few minutes, we were surrounded by Wetland Birds at Chilika Lake. There did not seem to mind our company as they occasionally stopped their activity just to glance at us .
The freshwater swamp slowly branched out into a network of canals and we picked one of them. And in a moment, we were surronded by a huge flock of black tailed godwits, foraging for food in the water. Some of them looked up to greet us while others buried their heads while their beaks were immersed in the waters.
Birdwatching may be fun but it is not all that relaxing and soothing an experience. It is rather demanding and almost every moment of your attention is engaged in observing a bird and its behaviour. My naturalist pointed to the right showing us a flock of Glossy Ibis and even before I could focus my binoculars on them, he silently pointed to our left where we saw the "Chilika Chicken" or the Purple Moorhens by the dozen.
All of a sudden we craned our necks to sight a few ducks. A Northern Shoveler was above our head, while the elusive Brahminy Shelduck  was right in front of us, rushing into the reeds. It was a constant battle between our reflexes and theirs and they seemed always quicker than us.
We continued cruising through the innumerable narrow channels – my boatman told me that there were at least 30 of them. Our agenda was to see huge flocks of Northern Pintail than had almost occupied an entire channel.
Our boat was right behind them and they did not mind us following them around; occasionally a few would fly away to give us way but they would soon join the flock. Some Whiskered Terns gave us company while the noisy Asian Pied Starling kept hopping about the reeds.
Different species of egrets ignored us as we sailed past, while the Bronze Winged Jacana looked really pretty in its colourful coat of feathers.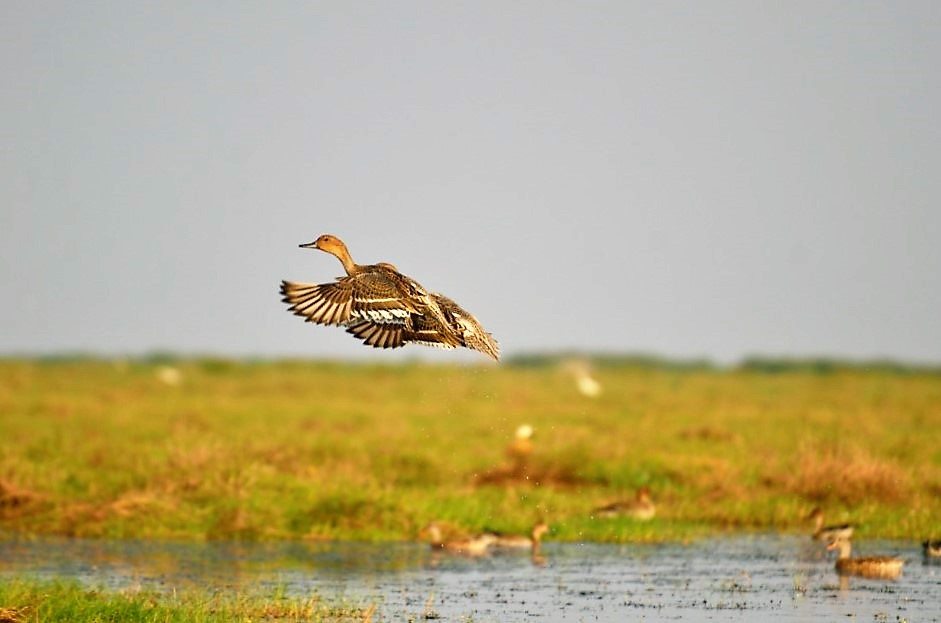 The story of Mangalajodi
However Mangalajodi has an another story to tell. It had not always been a safe haven for the migratory birds. Having flown massive distances, these birds were blissfully unaware of the dangers lurking around in the form of poachers. Until a few years ago, some of these birds were mercilessly killed virtually every year and sadly, poisoned in the death of the night.
It took a few wildlife enthusiasts and bird watchers led by Nandakishore Bhujabal who formed an organisation called Wild Orissa to create the change in the minds of the poachers. Some of them joined forces with the organisation and the predators eventually became protectors.
I heard that my boatman and  guide were once poachers as well but today, they were changed men. They proudly showed me around the habitat and were protecting the birds.  They are part of the organisation called the Sri Mahavir Pakshi Suraksha Samiti  and are supported by several wildlife, tourism, developmental and government groups to organise birding trips and to protect these birds and to promote eco tourism.
The wetlands at Mangalajodi are watched over by these very men who used to stealthily hover around here at one time to poach the birds. I spent an entire afternoon with these men , listening to their stories and was touched by the passion with which they spoke about their village and the birds.
The guides may not know all the names of the birds and they may struggle to get the English pronunciation right, but their heart is in the right place. Finally we waited to see the sun set . As the golden glow spread over the entire horizon in Mangalajodi and the boats were anchored, I left the little village feeling secure that the birds had indeed found a safe home in India.
Mangalajodi – How to reach
Mangalajodi is in the northern end of Chilika Lake and is in Khorda District . It is 67 kms from Bhubaneshwar and 72 kms from Puri by road.
Mangalajodi – Where to stay
There are eco tourism projects here and they have consciously tried to control poaching and protect the birds here. You can stay in any of the rustic comfortable cottages here. They will also arrange for your birdwatching experiences
Mangalajodi Ghost
There are stories about a tree in Mangalajodi that is believed to be haunted and a prophesy that it will kill 21 people. Although the tree had been felled by the time I visited, there were stories of how it still claimed lives and no one would dare go near the place where the tree once stood. As I heard the stories, I wondered if the birds knew 🙂
Mangalajodi is first on my list of offbeat places to visit in India. Watch this video to see which are the others.
This post appeared first here on www.lakshmisharath.com
More stories on Odisha
More stories on Birdwatching
Birdwatching in Goa on a cruise
Birdwatching in Little Rann of Kutch
Birdwatching at Galibore, my first bird watching experience