Erotic sculptures in Khajuraho and Konark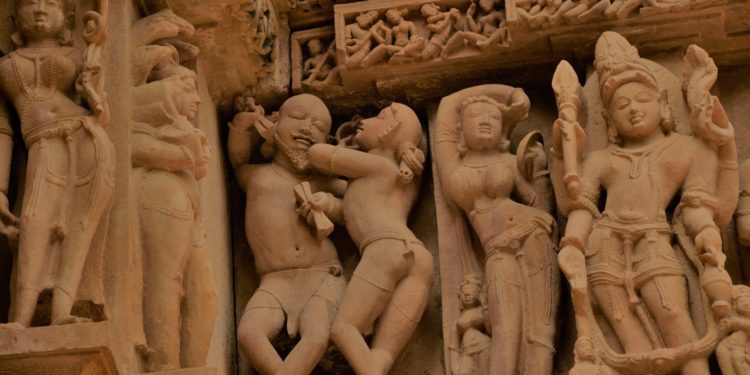 Indian art and architecture has always celebrated sensuality and eroticism. Although most temples in India have their share of erotic sculptures, they are at their passionate best in the temples in Khajuraho and Konark, both of them UNESCO World Heritage Sites in India
Lost in a world of caresses with passions running high are millions of exquisite sculptures carved on the walls of the temples here. They may be cast in stone but their emotions bring them alive.
Love alternates with lust as these amorous men and women are etched in a montage of erotic art.They seem unabashed as they make no attempt to cloak their feelings. Some are locked in a tight embrace, others gaze lovingly into each other's eyes, while the rest are enacting various scenes out of the Kamasutra. And even in those private moments made public, they seem to have eyes only for their beloved.
There are many reasons why temples depict erotic art . Most locals however say that the underlying thought is to leave your lust behind before entering the temple, which is probably why these sculptures do not show the Gods and goddesses in intimate moments. Neverthess these sculptures are odes to pristine forms of passion.
Have you been to these temples ? What do you think prompted the sculptors tto carve these erotic sculptures ? Do let me know your thoughts..