Flavours of a Mega Kitchen in India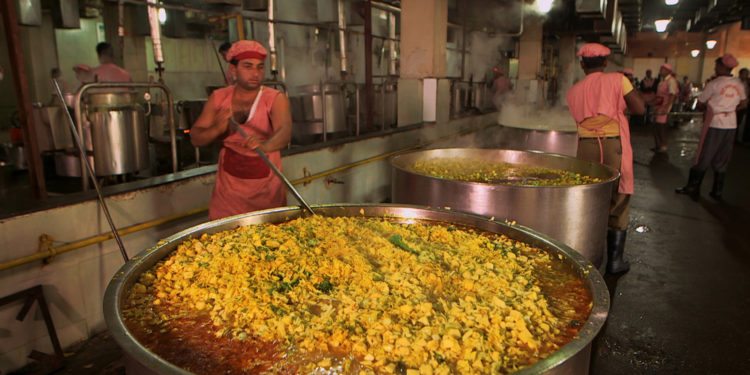 I was in Puri Jagannath Temple recently when I had a sneak preview into their massive kitchen that serves food to the deity which is then partaken by the devotees, for a small fee. The kitchen is huge and food is prepared in earthern pots , cooked in firewood and water is drawn from the two wells, Yamuna and Ganges that are in the temple premises. The Mahaprasad as it is called refers to the 56 food items that is served to the Gods and Goddesses six times in a day. Legend has it that Goddess Mahalakshmi personally supervises the kitchen and a shadow falls on the walls if the food is not good enough.
However here is a confession. As a child, I was never really fond of temple food. I would often gulp it down with a stern stare from the parents who tried coaxing me into the belief that this was "prasad" , a blessing from the deity and it had to be eaten. Years later, however, under the gentle persuasion of my husband and my in-laws who crave temple food, I started appreciating it. The taste was unique and authentic. We started travelling to temples where the meals were exceptionally good – like the Annapurneshwari temple in Hornadu, a small town nestled in the forests of the Western Ghats in Karnataka.
Temple towns like Sringeri, Udipi, Dharamasthala, Tirupathi, Puri, Shirdi, Amritsar,  have devotees lining up in thousands in the dining halls and I wonder how they manage to prepare authentic food everyday for the millions that gather . The ingredients that go into it are probably just devotion and faith.
But that is the secret behind these massive kitchens which am going to flavour tomorrow when I watch the show, Mega Kitchens of India , that is launching on June 22 on National Geographic Channel at 10 pm . 
The first show features the Shirdi Solar Kitchen which serves more than 40,000 meals in a single day besides 1,00,000 sweets .We also journey to the Dharmasthala Annadanam, where the oldest and largest family , the Heggades run a kitchen in India serving more than 30,000 people a day – a tradition that has continued for 21 generations.
But it is not all temples. There is the Akshay Patra, referring to the mythical utensil that is forever filled with food, a utensil that Krishna gives Draupadi in Mahabharata when she runs out of food to serve the sages. Just imagine, a mega kitchen at Hubli churns out 1,50,000 meals in just five hours everyday to feed rural students of over 1000 schools. 
Besides devotees and students, the largest ever kitchens of the country feed the travellers who chug day in and day out in trains and criss cross the country in flights. As a five year old in the Brindavan Express, travelling between Chennai and Bangalore, I used to eagerly look out for the many vendors who walk through the compartments and entice us with their delicacies. Bajjis and bondas, masala vadais and dosais, cultlets and samosas – these were eternal favourites. Even today, I buy a "Maddur" vada  out of sheer nostalgia, a snack that actually originated from the railway station of Maddur, a small town near Mysore. Indian Railways alone caters to over 6,00,000 passengers and is planning to set up base kitchens at 250 stations. Meanwhile, if you are a frequent flyer, you cannot  but notice the brand, TajSats that caters to 11,000 meals a day. 
Staggering right ? And yet, we never really wonder where all those meals come from. So, lets sit back and tighten the seat belts and travel to these small towns with large kitchens and even large hearted people and savour their food. Watch the show – Mega Kitchens of India  today at National Geographic Channel at 10 pm 
This post was written in collaboration with National Geographic India. Pics courtesy the channel.