Nubra Valley, Ladakh
"
Just 20 minutes , " warns Dorjee , my driver as we finally reach the summit at 18380 feet  . Stepping out into the cold, I realize that Khardungla pass looks like any other tourist destination . Patches of snow cover the dry mountains.  The shutterbugs are all around, capturing the moment for posterity. Looking down , I see the treacherous roads snaking their way up, bringing a group of adventure tourists on bikes and bicycles . But Dorjee's warning , I realize , is real. Although I have no trace of altitude sickness, my head is rather giddy with excitement. I look hurriedly for a dry toilet and then continue with my journey.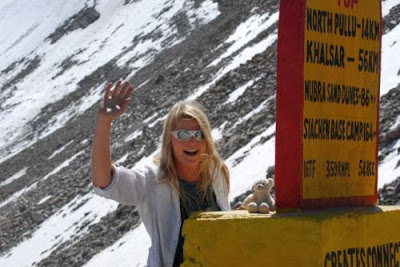 The starkness of the landscape becomes more pronounced as we drive down one of the ancient trading routes.
However as we plunge downhill, the landscape changes dramatically. Dorjee  says we are lucky. " The road was closed last week due to heavy snow." We look around and see the Karakoram range around us, the Siachen glacier in the distance and the river Shyok flowing beside us.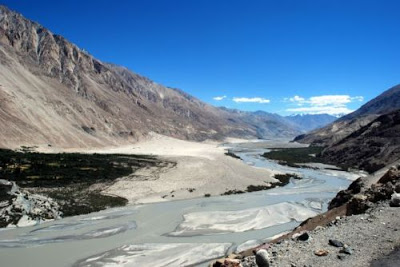 Some desert flowers bloom here and there , as  Dorjee calls it Ldumra or his valley of flowers . The Shyok joins the Nubra or the Siachen river and creates a lush valley here filled with apricot and apple orchards. The altitude drops suddenly and we are amidst sand dunes.  Bactrian camels  make a surreal appearance here against the setting sun , as we stop by to take in the moment.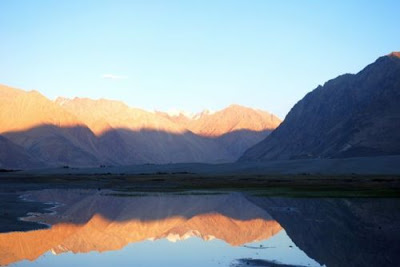 We head to Diskit ,  where a 14
th
century monastery awaits us. Dorjee gives us a brief introduction about the various orders practiced by the lamas here. Most monasteries he says  are either founded by the Drug-pa or the red hats or the Gelug-pa or the yellow hats . Diskit monastery was  founded by
Changzem Tserab Zangpo, a disciple of
Tsong Khapa
, founder of Gelug-pa order.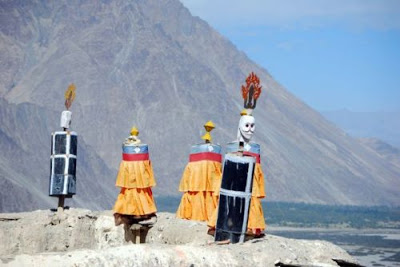 We climb up the stairs, a bit breathless and see a mighty Maitreya , some fierce guardian deities and a wonderful fresco of the Tashilhunpo Gompa of Tibet. A huge drum catches our attention. Dorjee explains that the monastery celebrates the  Festival of the Scapegoat or Desmochhey with a mask dance that depicts the victory of good over evil . He then goes on to narrate the story of a Mogul demon who haunts this Gompa even after he was killed. Locals believe that the Gonkhang or the temple of the guardians still houses his wrinkled head and arm .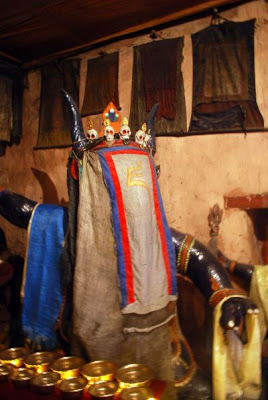 I shiver a bit, more out of the cold and head to Hundar, a charming hamlet by the river side with mani walls and chortens scattered all around.  The capital of the ancient Nubra kingdom, Hundar houses the Chamba Gompa and is probably one of the last few Indian villages before the Pakistan border. Small streams and waterfalls make it  the only oasis in this cold desert. I walk up to a prayer wheel , probably the last in the Indian border and wish for peace.
To read more of the story , click
here