Sipping a hot cup of ginger tea and lounging in an easy chair, I start penning my travel diary – " This is the best holiday I've ever had …"  The diary goes blank after that ,as a pleasant lethargy takes over my senses and lulls me into a deep sleep. I dream about a colonial bungalow with warm fireplaces , an endless fabric of coffee plantations, birds  singing melodies and refreshing rains that purges my mind. A gentle tap on my shoulder and I wake up from my reverie, only to realize that my dream is real.
I am in a colonial bungalow in a coffee estate near Belur,  watching the rains bathe the landscape . Outside the frogs and the crickets are at it, creating a fusion of sorts, which only gets interrupted  when the birds take over. I stir out into the garden and the rain seems just right – neither a drizzle nor a downpour. I let the drops trickle down my skin as I let go with gay abandon .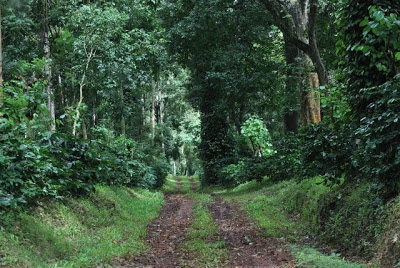 "Would you like to go to Belur or Halebeedu ? " asks Vipin, the polite manager of the estate.  " Neither, " I say ,as I soak in the lethargy. He looks at me, a bit surprised, aware of my keen interest in anything Hoysala. But I am content to spend my last day in the estate , just like the way I spent the rest. Besides a walk in the plantations and a little bit of bird and butterfly watching , the rest of the day is given to vegetating. I could have written an ode to indolence  instead of a travel diary.
I decide to explore some of the Hoysala temples near Hassan. I have heard of the twin Hoysala temples of Marale and Mosale and wonder about going there. But my travel companion, Aarti insists that we  go to Dwarasamudra or Halebeedu as it is called today.  We discuss old monuments  and my mind wanders  off to a map of the ancient Hoysala capital, that I had seen in a book. There were several temples marked on it and I told her that three of them still elude me, even after my many trips to the Hoysala capital. "Let's go look for them,"  persuades Aarti, drawing me out of my lethargy . And so we set out towards Halebeedu, on a rain swept Saturday afternoon, based on weatherman and driver, Chinna's prediction that it might not be raining there.
The rains tumble down as we continue on our journey,  past Belur and onwards to Halebeedu .In my bucket list are three  temples – Veerabhadra, Kumbaleshwara and Buccaneswara. I have no idea where to begin. I call up friend and Hoysala enthusiast Arun , who asks me to look for a lake, Bidarikere . The Veerabhadra temple he says  is located south east  to the lake . "Now where do we go and look for a compass  here ?" retorts Aarti. Chinna gives me a blank look.  I decide to go with my instinct and ask the locals.
Guides and vendors surround us the moment we land in Halebeedu. Chinna is right. It is not raining here. I start with my first clue and ask them the direction to Bidarikere. An old vendor strokes his beard and gives Chinna the route . We are told it is just a couple of minutes away on the outskirts of Halebeedu .
We reach the lake where we find a  group of cowherds , grazing their cattle and ask them the way to Veerabhadra temple. "There is only  a Yoga Narasimha temple, old one, but small, Hoysala, yes yes.." They show us the way. Standing at the edge of the road, in the midst of corn ,sunflower, potato and cabbage fields is a small  temple. For miles around, there is not a single soul. The fields just stretch out into to the horizons. This is India's countryside at its best.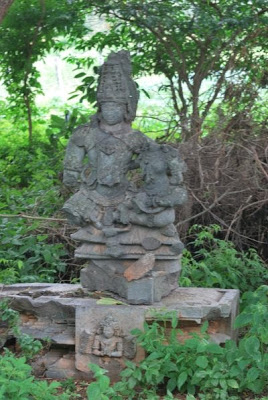 We disturb a brahminy starling as we walk  around the shrine. It is a well maintained  ekakuta which has just one tower .  An idol of Vishnu  with his consort is located outside , mounted on a garuda . This is serendipity, I thought.  We come looking for a Veerabhadra temple and we see a beautiful shrine, far away from the tourist circuit.
Chinna meanwhile is bitten by the discovery bug . There is another temple inside he says after some conversation with some locals in the nearby fields. We  drive into a mud road . We face a wall of a temple, but there is nothing " Hoysala " about its structure .  An  inscription leans against it, while another sculpture is on the ground. We see a group of people , sitting there drinking milk  from a big can, while some of them crowd around us . "Why do you want to know about this temple ? " they ask , amused. "It used to be a Hoysala , now it's a Basava temple , " But for all practical purposes, it also serves as a milk booth for the villagers.
We return to Halebeedu , still wondering about my bucketlist, when Chinna drives  past the Kedareshwara temple and  offers  a local a lift .  His face lights up when I mention a Veerabhadra temple " It is right at the entrance of Halebeedu on the way from Belur. Just enter an arch and go straight ."We follow his directions and  find  a Devi temple  . We speak to many locals.  "That's an old temple..Why do you want to go there ?" We cross the Devi temple and see another temple in ruins , bound by a fence. "That's a Hanuman temple. Go a little more further. "
It is twilight  and the lights come up in some isolated houses. We start walking . The temples still elude us. And then Chinna points to a  twin temple – one which looks  like it is freshly painted and another in Hoysala style, in complete ruins. " This is the Veerabhadra – the old and the new..you want to see three more temples – follow us. " We turn around and meet our guides – two kids, who are siblings . They take us through a detour  where we see an entire settlement within Halebeedu. Houses, temples, cows, dogs, bikes, cycles, shops are all scattered around in the narrow lanes.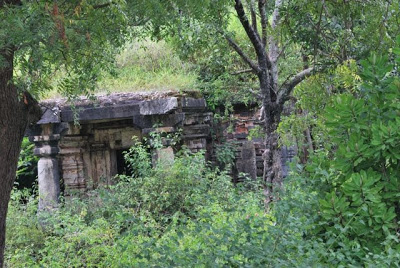 The siblings take us to the Kumbaleshwara temple right in the middle of the village. The sculptures are mismatched, but the Hoysala friezes are typical. The next stop is another Shiva temple  . Some women are sitting in front of a small shrine, while we walk into the adjoining old temple, only to stop dead in our tracks. Next to a Hoysala pillar, stands a cow , not happy with the intrusion. Another two are tied to the pillar .We shifted the diety," said one of the women." Now this is a cowshed..we needed a place for cows-after all, who will repair this temple." The roof has  indeed caved.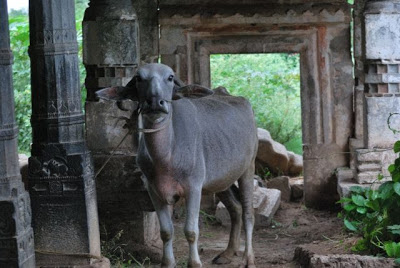 Our last stop for the evening  is the Ranganatha temple. " But where is the Buccaneswara temple ?" I ask the siblings. They look puzzled, but Aarti draws my attention to the small board in front of the Ranganatha temple. It said that it was an amalgamation of various sculptures found from different sites and it was earlier called the Buccaneshwara temple . Aarti and I walk into the temple and sit on the steps for a while as the siblings beam at us . We pass some moments in silence and then Aarti sums up the trip ," Nothing like exploring and discovering hidden places..it is the best holiday Ive ever had," I smile, a sense of déjà vu has just crept in. The siblinds wave back to us as we leave Halebeedu.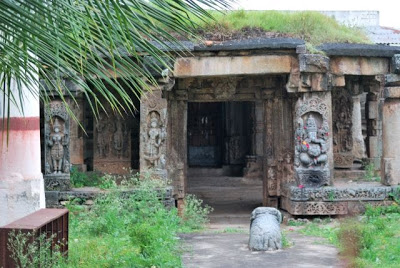 The story was published today in Deccan Herald, Spectrum .