An epicurean fantasy at Narendra Bhawan in Bikaner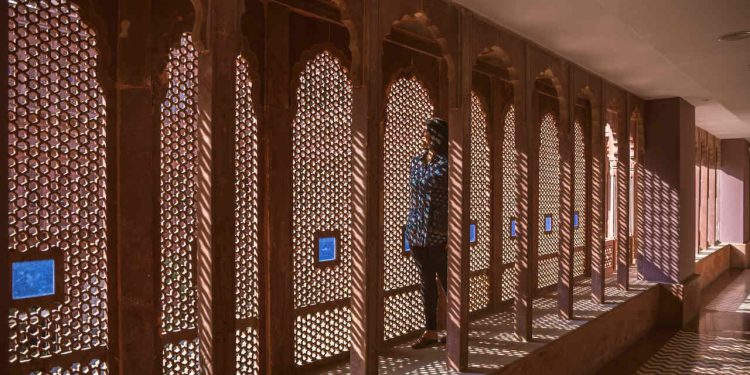 The sun streams in through the intricate latticework as I stand there, basking in the warmth, looking out into the vast open courtyard of the royal Narendra Bhawan Palace Bikaner. The Bikaner terrazo tiled floor is dappled with sunlight as I can see snippets of the palatial monument revealing  itself through the jaali, like pieces of a jig saw puzzle put together. In many ways, Narendra Bhawan Palace Bikaner is like that. Quaint and quirky it gives reign to your imagination. Unconventionally curated, every bit of the royal property is a reconstruction, putting together little eclectic bits and pieces of a king's life together.
Narendra Bhawan was the home of  Narendra Singhji, the last reigning Maharaja of Bikaner. A blend of the enchanting and the whimsical , it is an ode to everything that represents Bikaner. Every piece of decor here is a memorabilia from the life of the Maharaja, crafted out of memories and designed on the "wings of poesy" as Keats would say it.
My eyes take in the surroundings.  A vintage Chevy stands in the entrance. An array of photos of the royal dignitaries stand in front of me but am fascinated by the photos of Narendra Singhji's dogs – apparently he had over 100 of them. Just then Nahla, the retriever rushes over to greet us as we get a traditional welcome.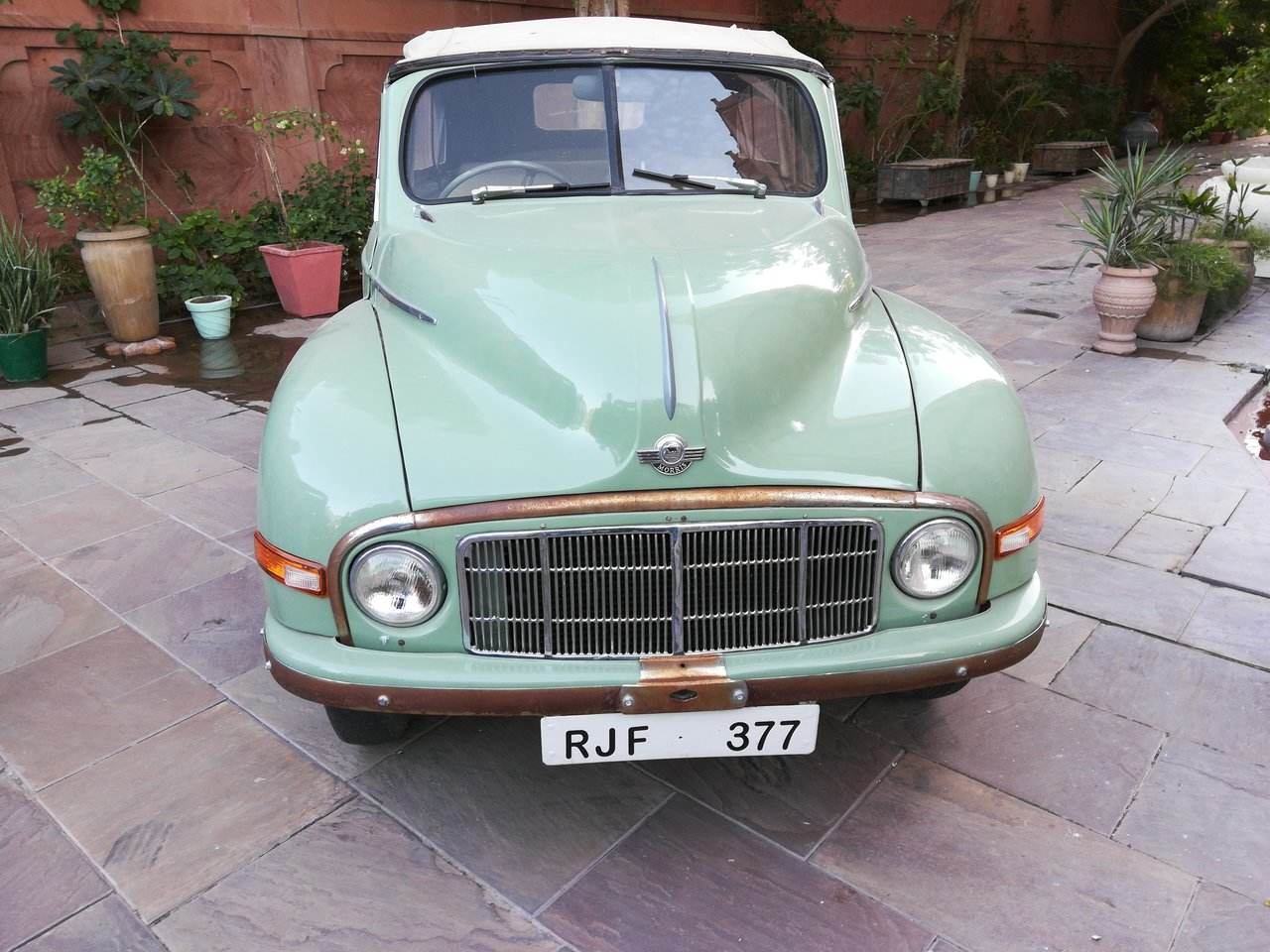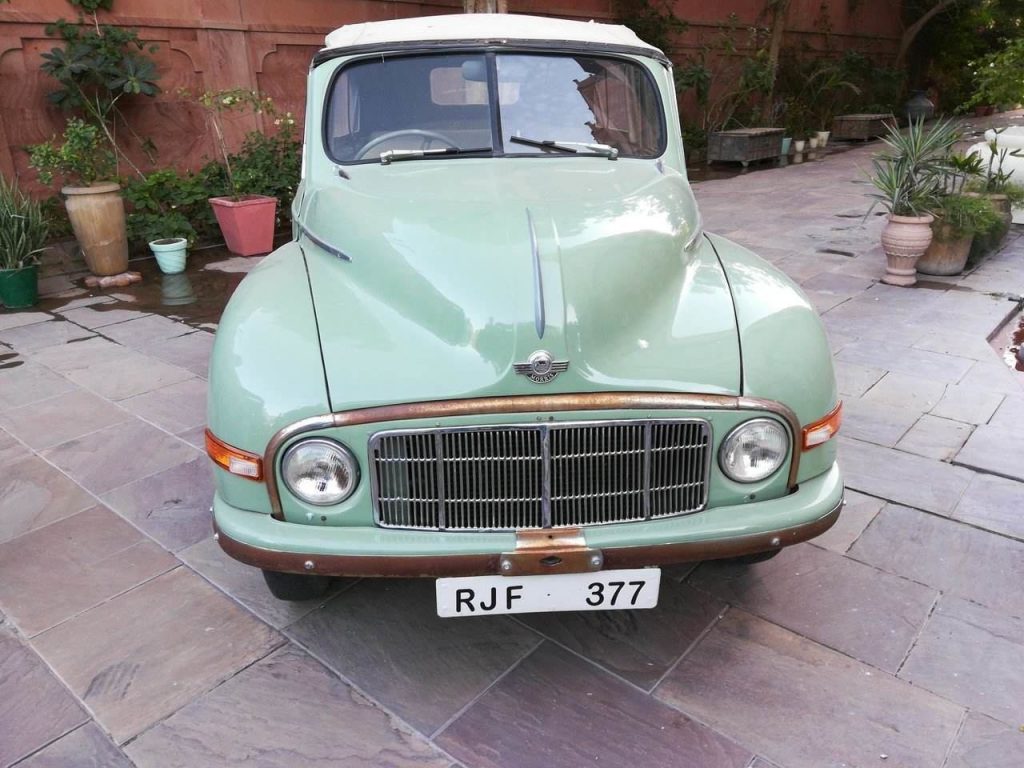 Every element of  design and architecture takes a leaf out of Narendra Singhji's life . There is no lobby – just a hall or a verandah that takes its inspiration from the Diwane Aam where he met the public  and the Diwani E khaas where he gave private audience. The eclectic array of Chinese porcelain and Portuguese tiles meet kitschy arts and local crafts as the palace is influenced by the Bombay Art Deco Movement. Sample this for a moment – this is where Mad Hatter Cafe meets Pearls and Chiffon, where Goshala blends with Diwali Chowk. Even the names have a bit of charm attached to them, taking their references from the Bohemian life and lifestyles of the kings and queens. If you are looking for hotels in Bikaner Rajasthan your search ends here.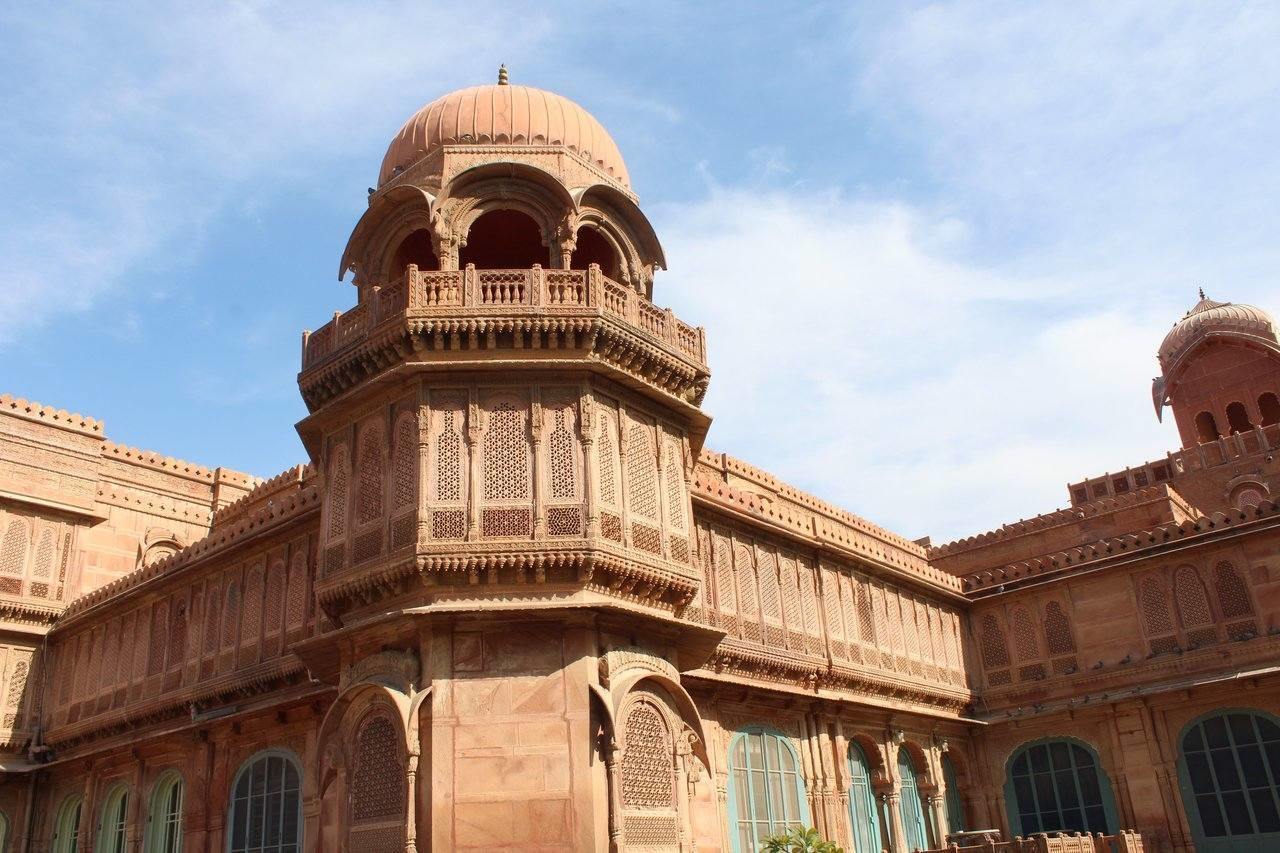 It is the red piano that fascinates me as the lyrics of Edith Piaf's Piaf's Non, Je Ne Regrette Rien is imprinted here. I wonder if it was Narendra Singhji's favourite song. The royal presence is everywhere but it is an imagined sense of history, a creative interpretation that takes your breath away. Even the rooms strongly evoke his personality, taking you down memory lane, revisiting his youth and his later years, where vibrance morphs into elegance.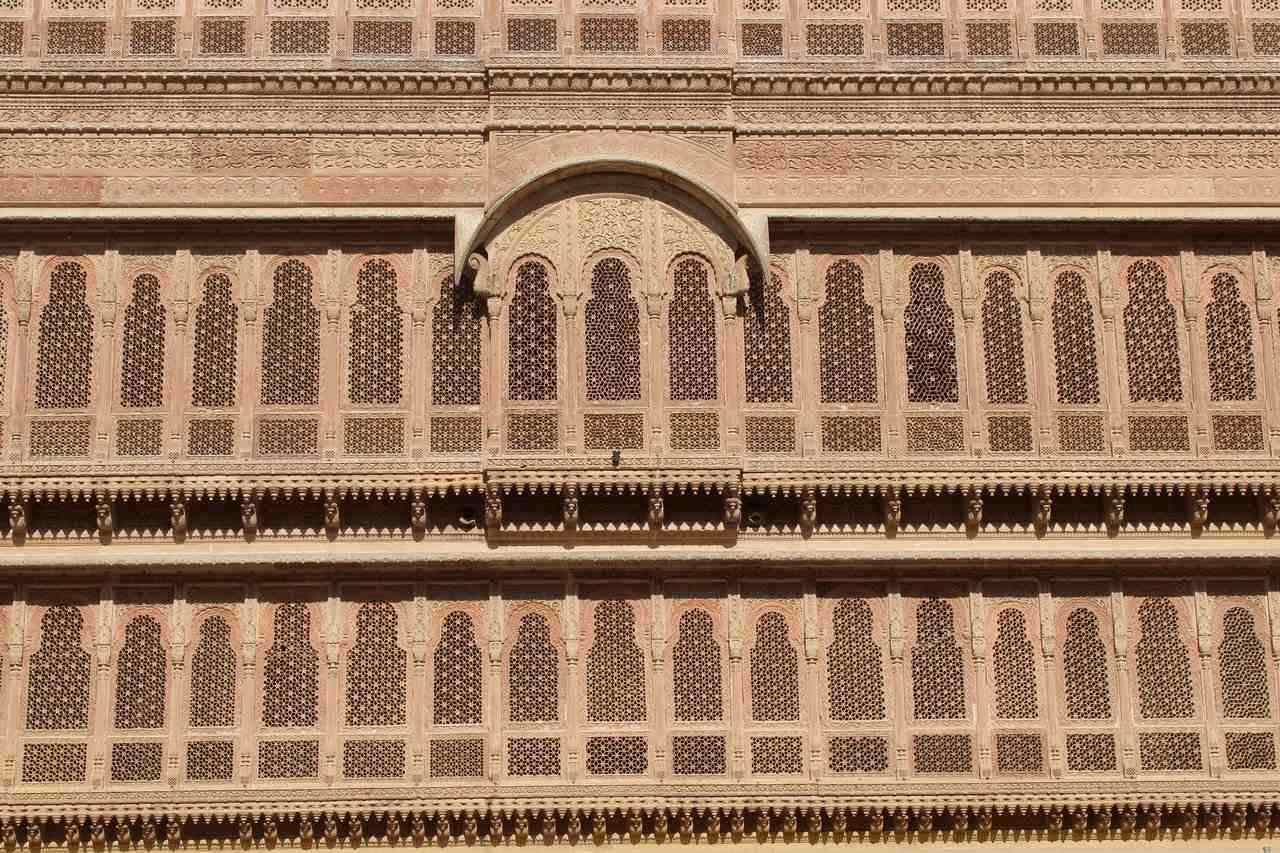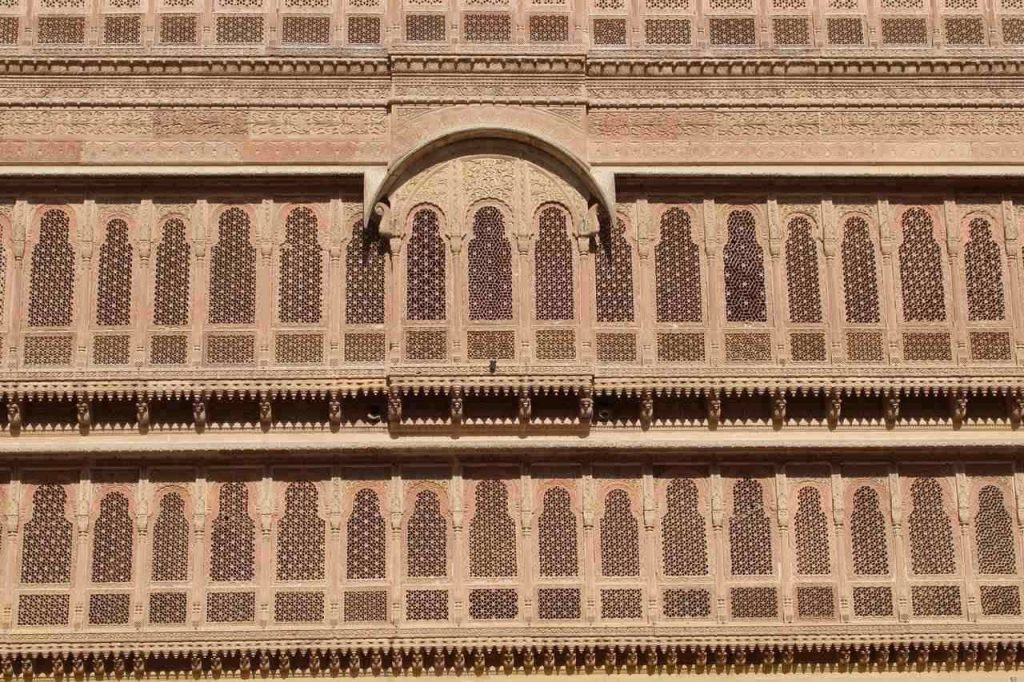 What I personally love about my stay in Narendra Bhawan Palace Bikaner , is the sheer overwhelming and pampered experience. I transform into a lotus eater, feasting on the pleasures of life, a complete hedonist, oblivious to the world . Seven course meals, four course breakfasts and a never ending supply of stories – every experience in Narendra Bhawan Palace Bikaner is an immersion into culture, food, lifestyle and local traditions. They call them local meditations. It is not just another lavish lunch loaded with calories, but epicurean fantasies crafted with a royal touch. Sample this . One of the Maharajas decided to throw a famous royal banquet to his guests about ninety years ago and the menu found its way to the Palace Museum. The chefs at Narendra Bhawan decide to create a replica of this grand seven course meal to suit the contemporary palate, inspired by the same.
I can never forget the sensual blindfold dinner. A thin velvety black mask is placed around our eyes as we are seated in a dark room. You are then aroused by the sensuous food as you let the rest of your senses touch and feel what is in front of you. A literary meal is only interrupted by readings from classics where the dishes are inspired by the books themselves.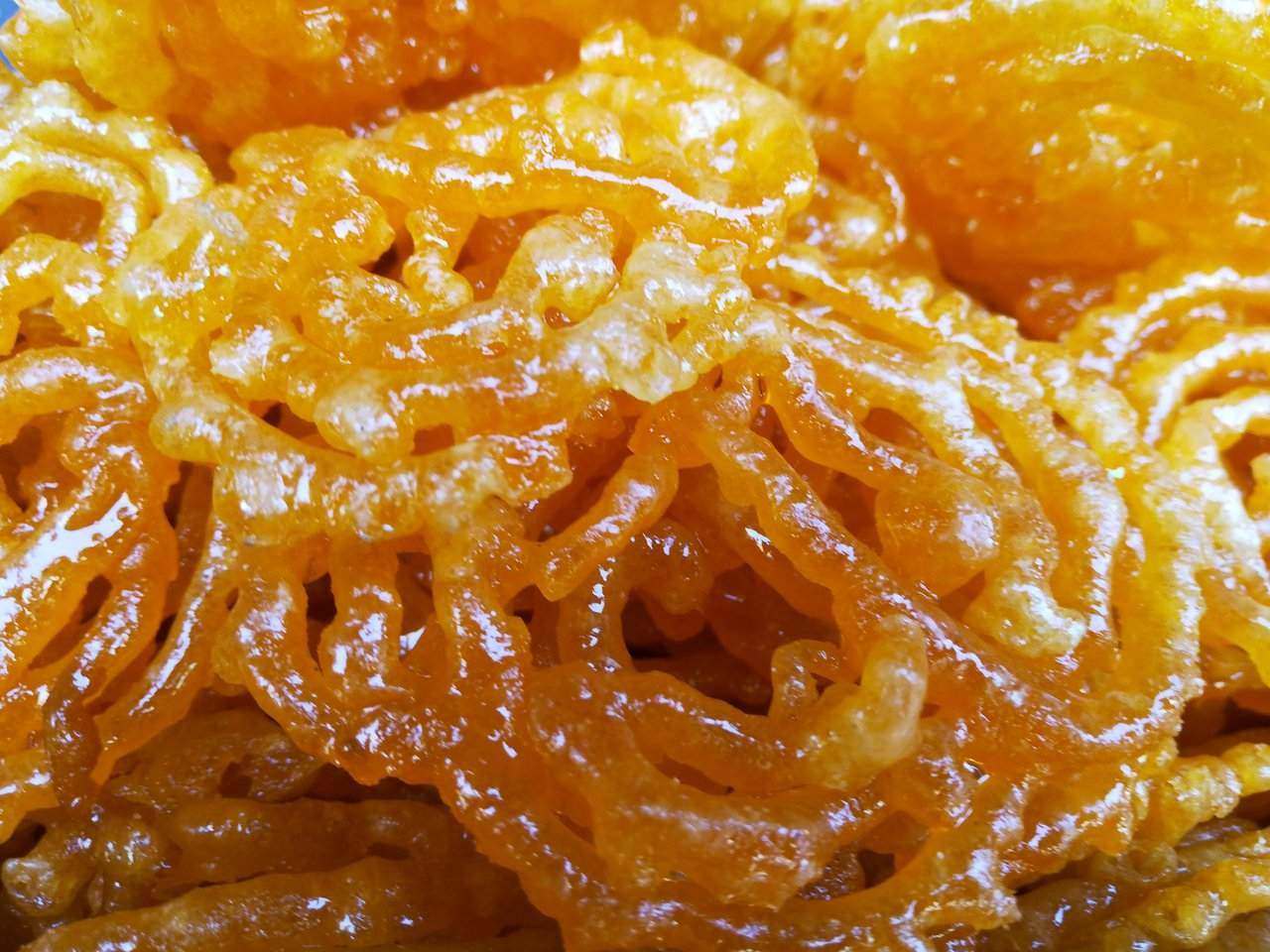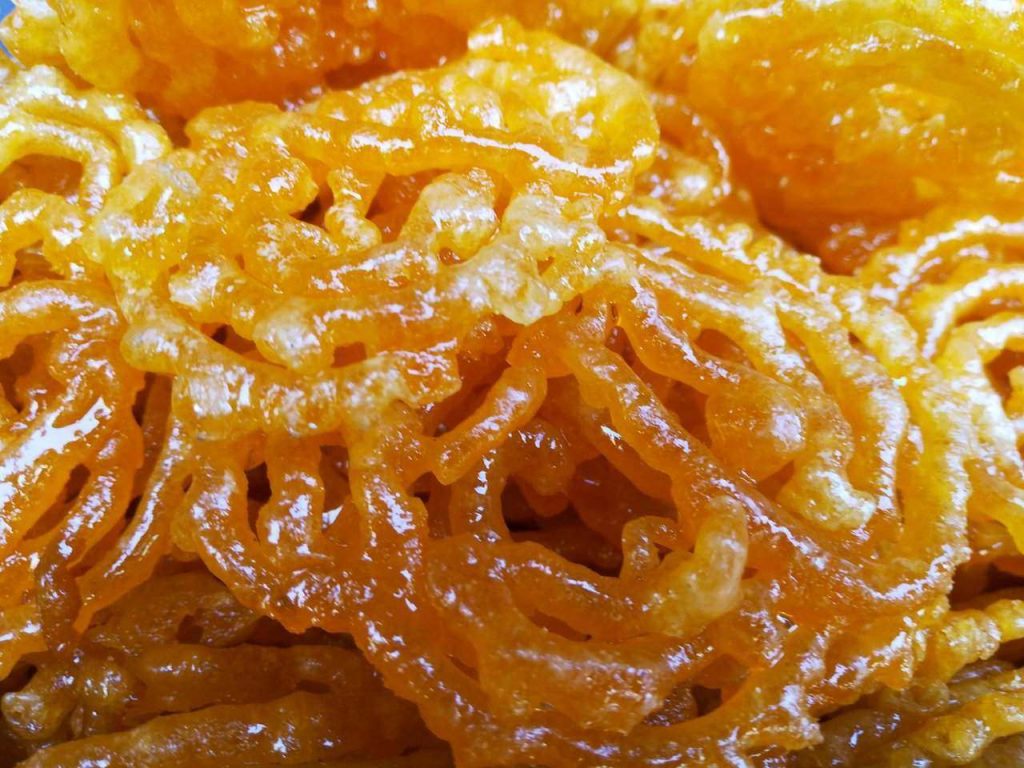 But it is not just the food. There are interactions with craftsmen and sundowners at deserts. It is the stories and tales from the royal past that stay with us, even as we lose ourselves in the distant past.An evening is spent in the colourful world of crafts as I get an introduction to "Usta Art"  from Usta Ajmal Hussain and his family. The word "Ustad" or maestro is derived from this word "Usta" which refers to the artists who create Naqqashi and Manoti art. A world of colours comes alive on plates, jars as this also involves a bit of gold embossing. I am told that this craft was used to decorate ceilings and walls and was influenced by Mughal designs.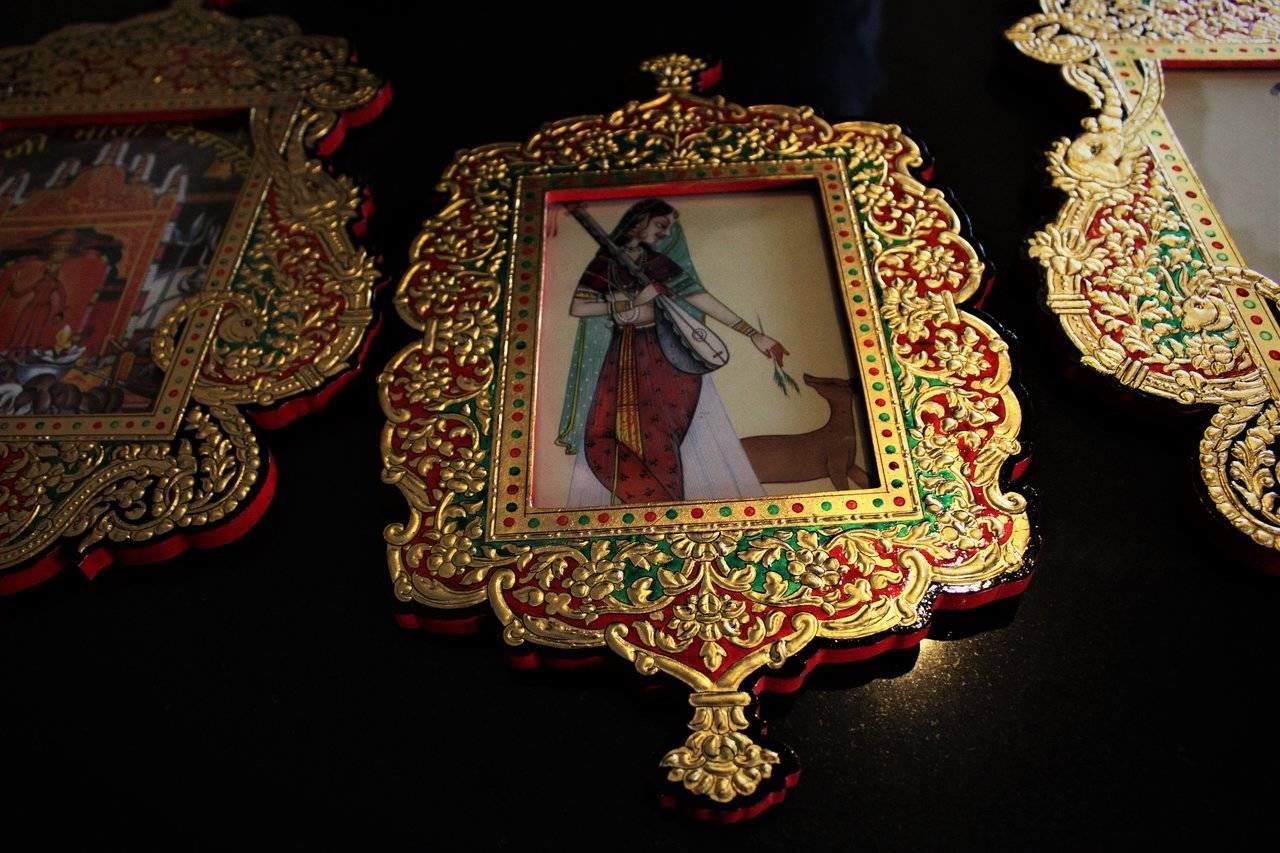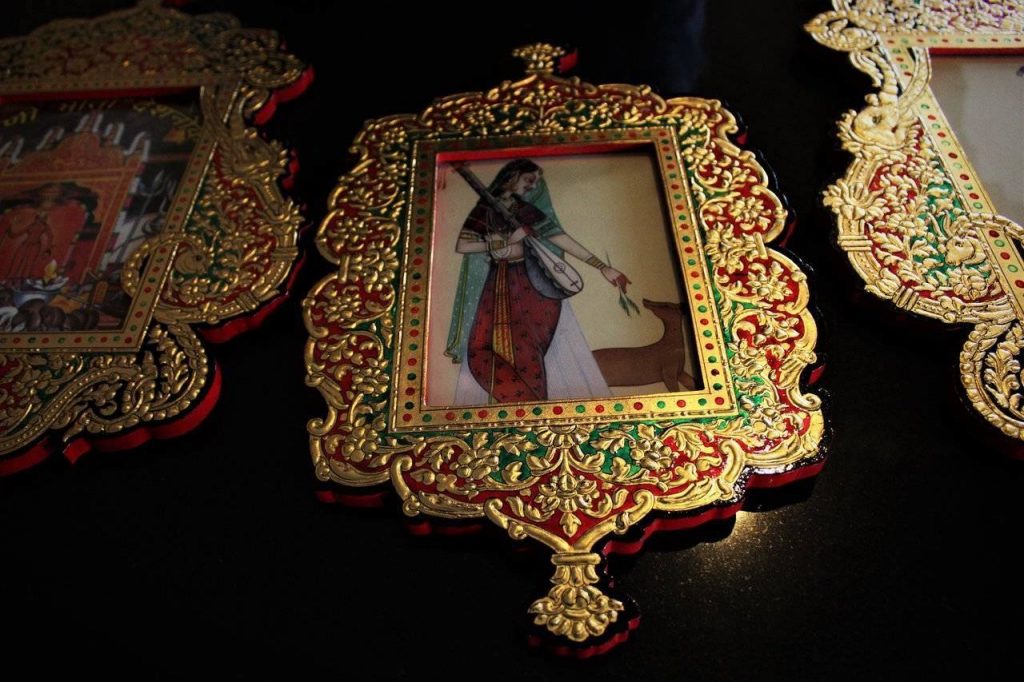 And there are immersions into history as well.  "Can you see this painting ? It showcases the three things that the Maharajas brought to Bikaner – electricity, railways and irrigation," says Ram , our tour guide from Narendra Bhavan as we are exploring the Merchant Trail.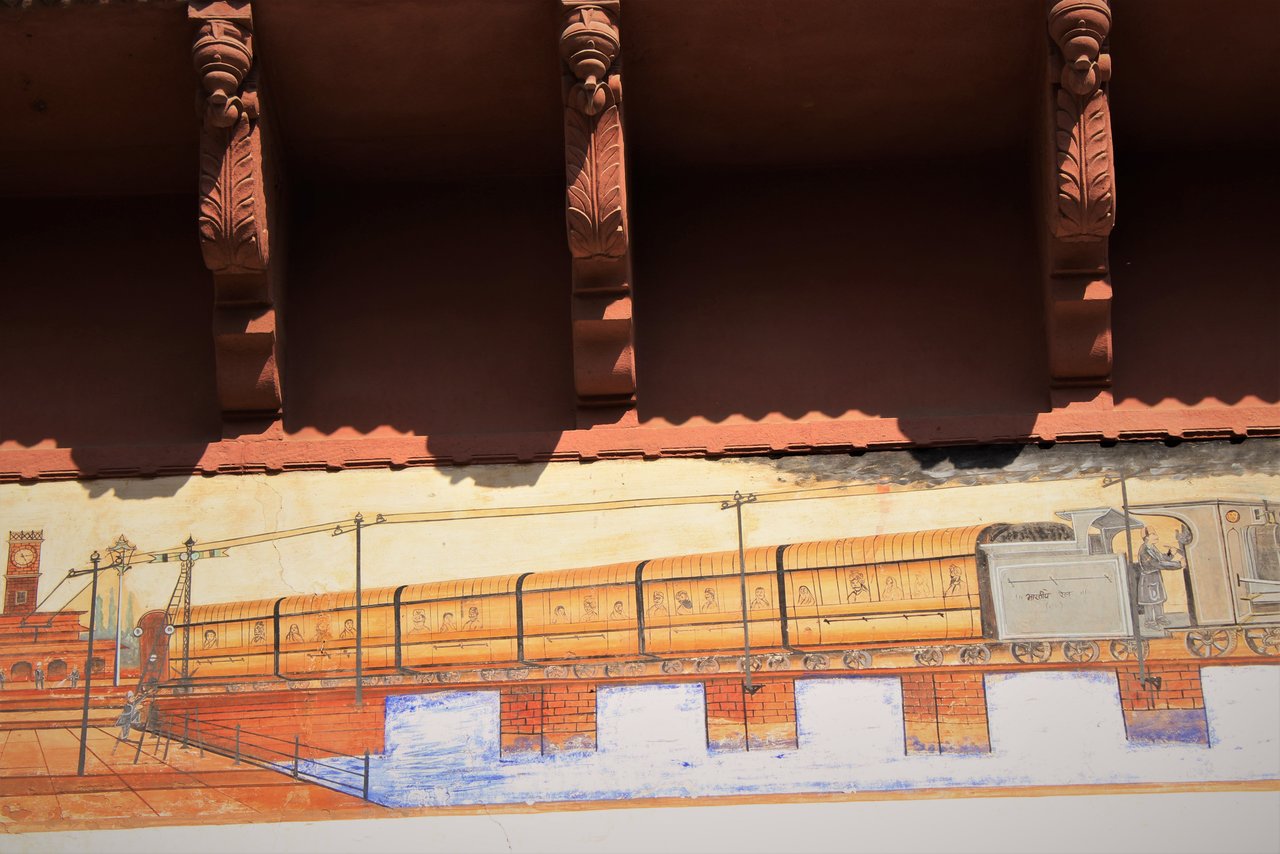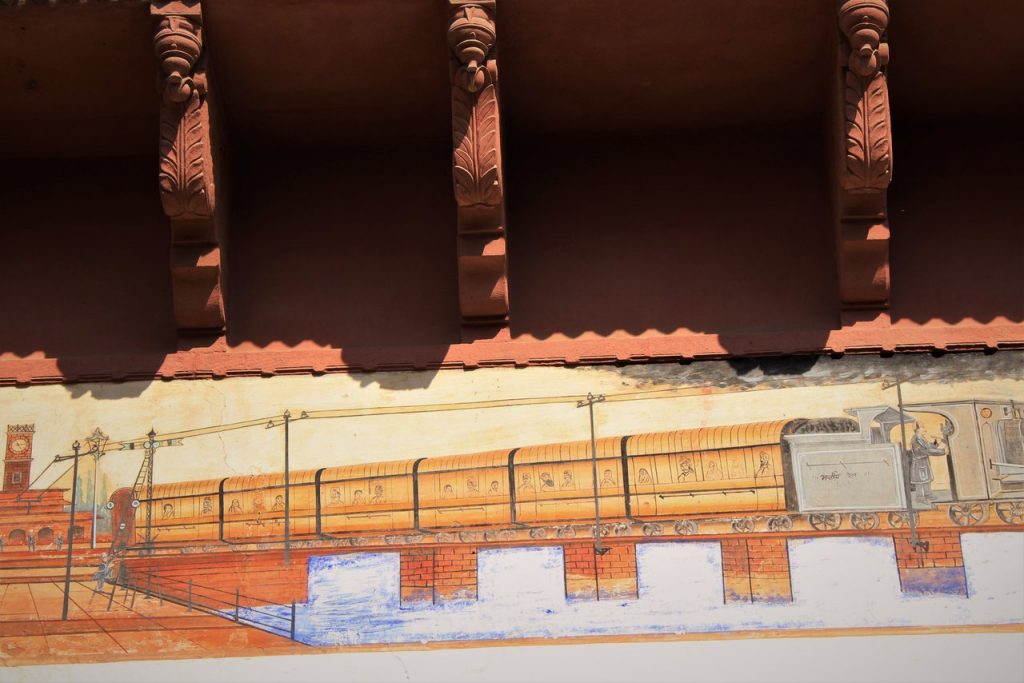 Adding colour to the dilapidated haveli is a thin banner of a painting that runs horizontal across the façade. I can see a montage of a train, a canal and a tower jostling for space in this iconic representation of Bikaner. "There is more to Bikaner than Bhujiya," smiles Ram as we walk around in the narrow lanes.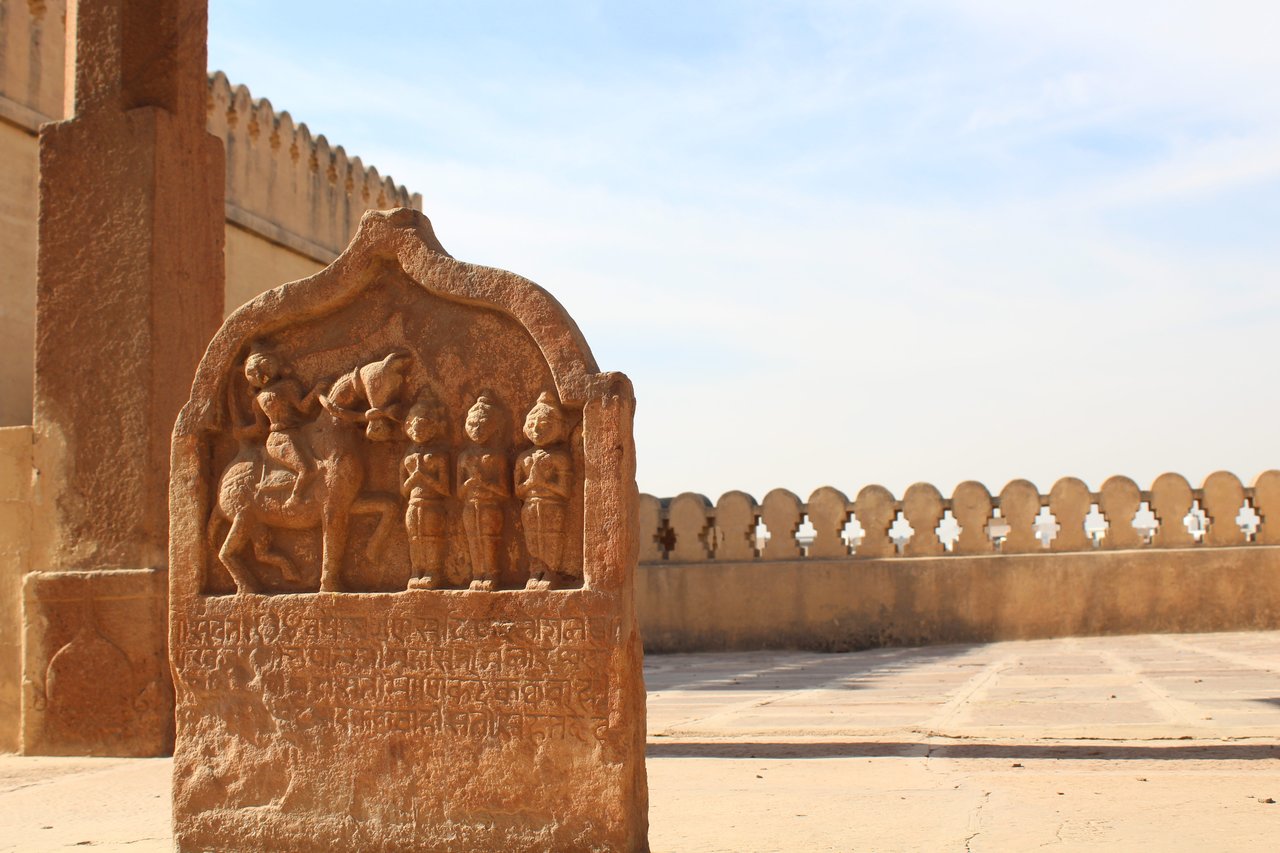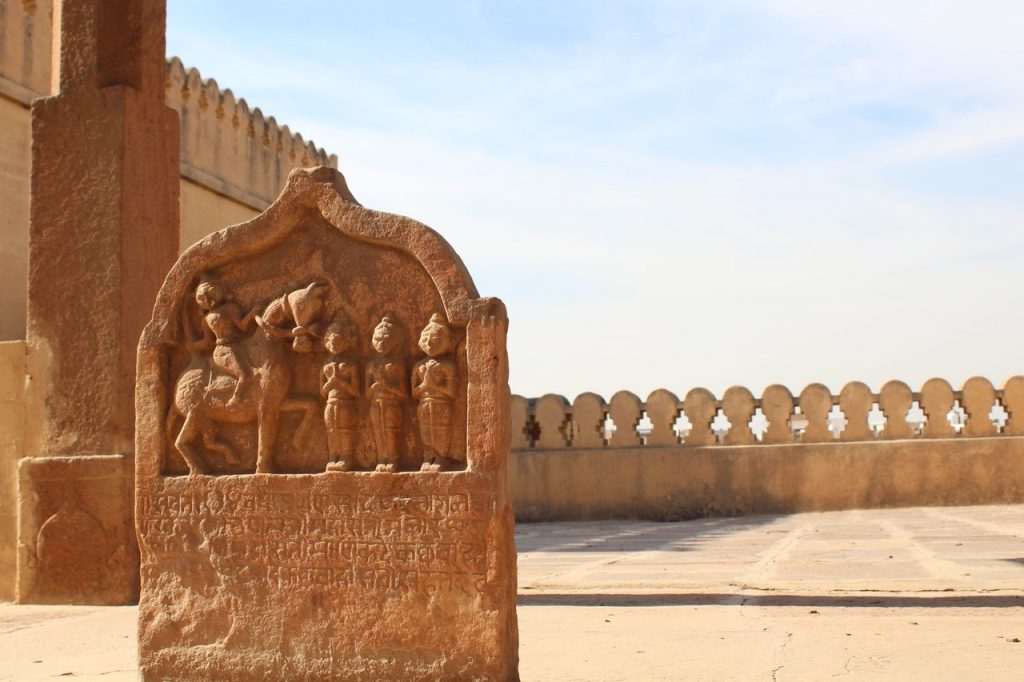 The erstwhile princely state was founded by Rao Bika, the oldest son of Maharaja Rao Jodha who was the founder of Jodhpur. Rao Bika wanted his own kingdom and he converted a wilderness called Jangladesh into Bikaner , which meant Bika's own place or settlement in the 15th century. And we visit this very place where it all began at Bikaji Ki Tekri. Basking in the afternoon sun and lost in silence are a couple of chattris or cenotaphs standing tall. One of them , donned in marble belongs to Rao Bika with inscriptions. In a tiny little room are imprints of footprints, that are tributes to the queens of Bikaner and there are references to the practise of sati. We potter around Bikaner and stumble upon temples, palaces , forts, markets and havelis. Here is a photo essay on some of the places to see in Bikaner.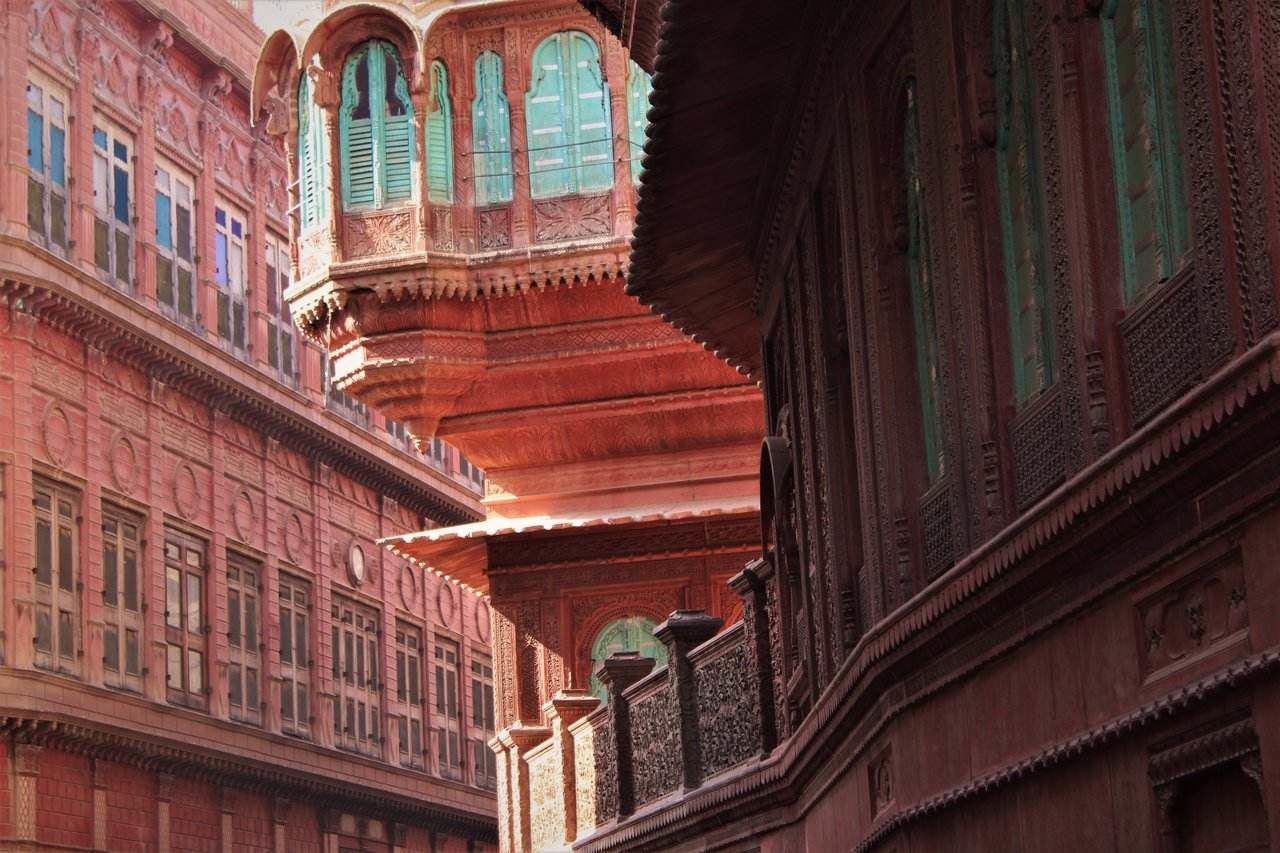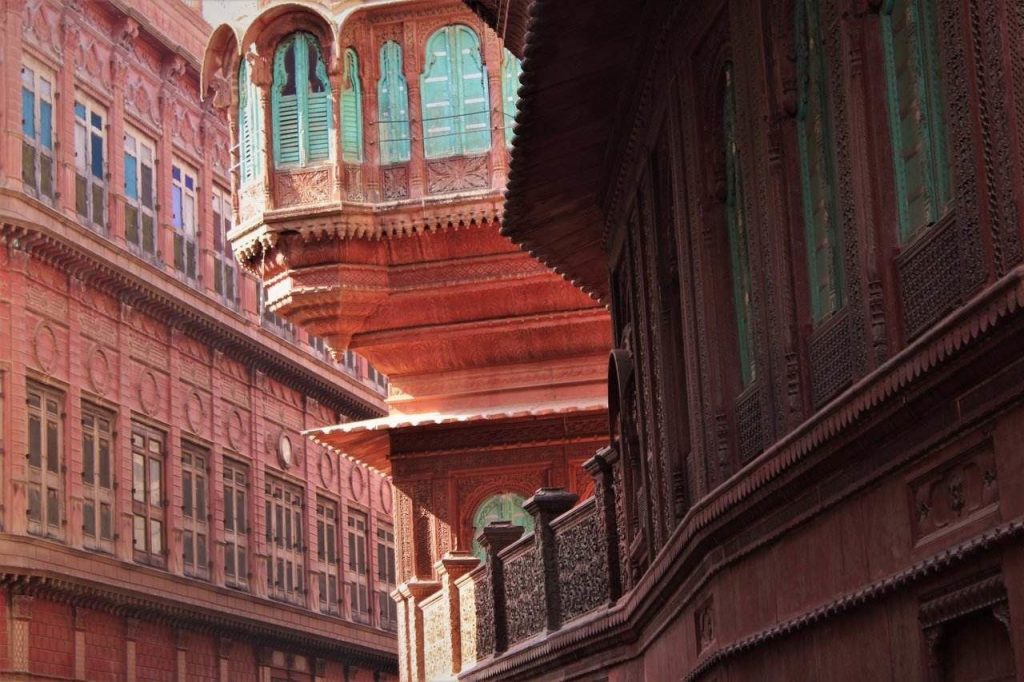 The old princely state suddenly comes alive as rows of palatial havelis breathe life to these dingy cul de sacs and alleys. There were over 1000 havelis at one time but barely a few hundreds survive today. The story goes that the kings invited the merchants to the town and even built their homes for them. Sometimes the transaction was just a token coin and a coconut. The Rampuria Havelis, belonging to the Rampuria families, one of the famous merchant houses of Bikaner stand out in the melee. Proud and majestic, they seem to touch the skies even as they present a picture of lost grandeur.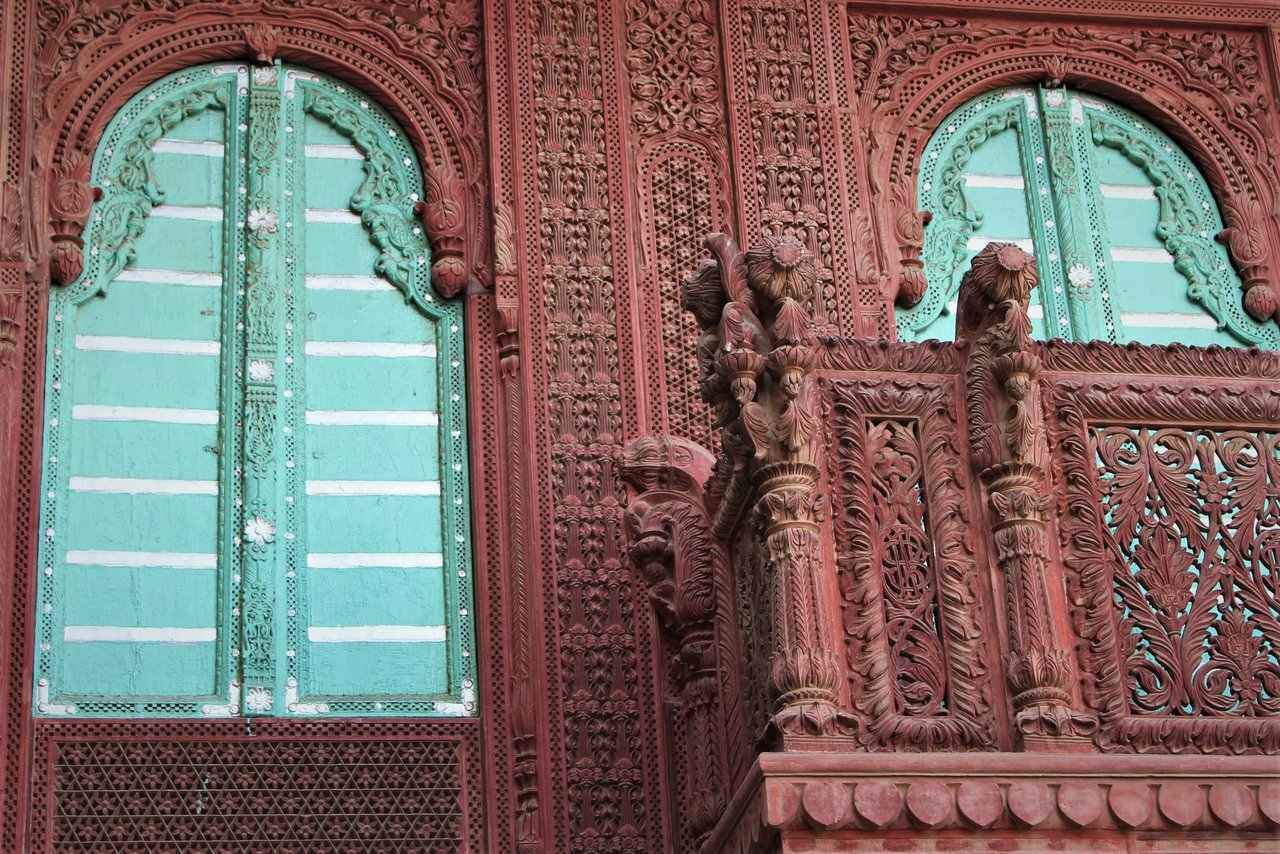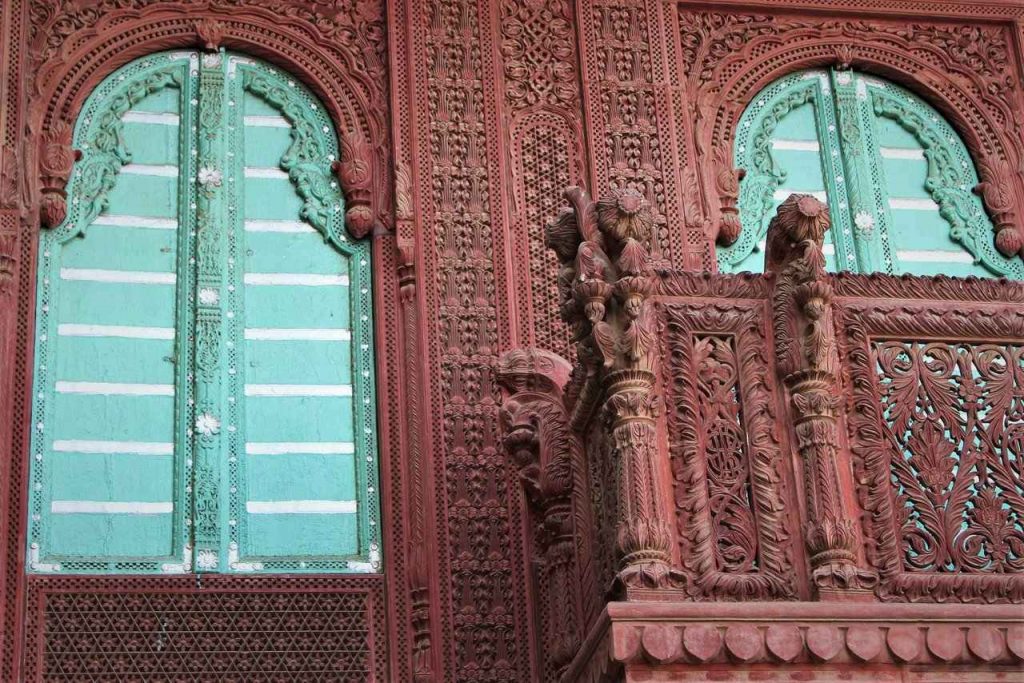 To me personally the experience at Narendra Bhawan is a tryst with the royalty in every sense of the word. The epicurean experiences only leaves me wanting more. Every moment is an ode to a fantasy. But the most surreal experience is a date with the stars on a lake bed, watching the shimmering moon caressing its surface while we glow in the warmth of a bonfire as new friendships are forged. As the moment sinks in, I realize that this is what it means when you say you live life king or queen size,
If you are looking for hotels in Bikaner Rajasthan, your search ends here.
This post was written in association with Narendra Bhawan Palace Bikaner who hosted me