How to plan your travel calendar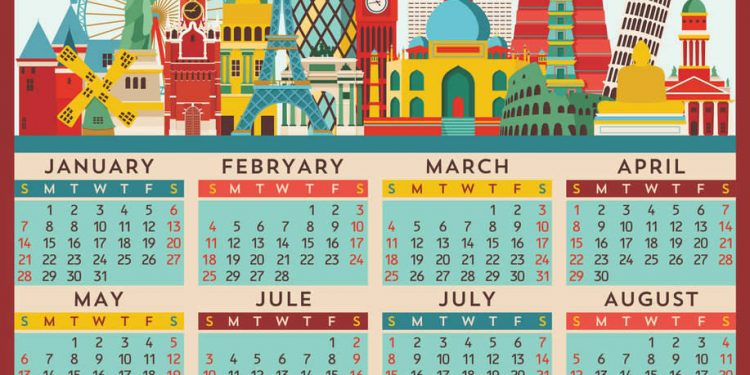 As a blogger, one of the first things that I always focus on is to create an editorial calendar. It helps me to plan my content and keeps me focussed. However there is another calendar which is more important than the editorial calendar and that is the travel calendar. The content for my editorial comes from these trips. The first thing that you need to do is to plan your travel for the entire year. Personally for me, it is one of the most challenging and exciting part of being a travel blogger. Although it seems like we are living constantly out of a suitcase, like a digital nomad, there is a lot of planning that goes beyond my travels. Here are some thoughts on how to plan your travel calendar.
Start with a travel budget
To me this is the most important part of planning. As a traveller I want to travel to every place in my wishlist but it is not always practical. And personally I do not feel like taking up every FAM trip that comes my way. As a friend of mine says, " You do not base your entire portfolio on freebies. " I would ideally start with a budget for travel and divide the same into domestic and international trips. The budget entirely depends on you and your earnings. I normally choose to invest at least 50 % of my earnings back into travels as blogging is a business and I treat my travel as an investment.
 Plan for off season travel
This is one of my most favourite travel hacks when it comes to planning your travel. Plan trips during off season or just before the tourist season. Whether you are visiting India or abroad, every destination has its peak season and off season. For me personally off season is a great time to travel. I will for instance not travel to Switzerland in May as it will look straight out of a Yash Chopra set 🙂 . When I was in Croatia, i was told that they were tired of too many tourists in August which was their peak season. Many destinations in India too are very inviting during off season, like Sikkim for instance.
The Bucket list Travel
There is forever a bucket list of destinations and experiences in my diary which is never ending. Every year, I choose at least one of them from this wishlist. You could of course choose as many as you want based on your budget or if you get opportunities to visit them through FAM trips, then you could of course tick them off your bucketlist.
 Travel in search of stories
I always travel for stories. Travel to me is not just about sights and sounds and travel blogging is not all about listicles. There was a time when I used to research almost every destination before a trip. Over the period of time it got lost amidst several trips which were either assignments or FAM trips. Although I am not complaining, I realized that I did not have the time to plan my own travels. So here I am consciously adding a few trips to my calendar which are purely to generate content.
Travel to attend festivals and events
While some experiences and destinations may be in your wishlist, there are some very specific events or festivals that am very keen to attend. For instance, the Dussehra in Mysore has been on my mind for several years. I would also like to attend some international events as well. Planning for these specific festivals is also another way of generating content and it forms an important part of my travel calendar.
 Travel for business
This is the first time I am actually planning travels to attend trade events in travel with a focus on networking. This is primarily planned as an investment and to learn more about the business of blogging. There are several events in India and abroad which are focussed on travel as well and if you think that these tourism based events can help you generate business then they must be on your calendar. Some of these events are even focussed on blogging and specifically on travel blogging and you can invest on these trips if you have the budgets.
 The FAM Trip travels
This is what everyone wants.  The ultimate desire in life is to get as many sponsored trips as possible so that you can constantly be on the road. It is a great feeling to be on a FAM , to be recognised as an influencer and a story teller and to be invited for the same. But FAMS are work trips and they are not literally free in a sense. However I am very choosy and I pick only few of these FAM trips. I would travel on a campaign or on an assignment than just another FAM trip, especially if the latter is not paying
Travel for Campaigns and Assignments
May this tribe increase. If there is one wishlist that I have for 2018, then it has to be this. I want to travel more on campaigns and assignments so that they can fund my travels. Fingers and toes crossed.
 Travel in your own backyard
These are my favourite travels. I like to roam around in my own backyard, either on a holiday or to scout for stories. When the budget dries up and you still have an insatiable urge to travel, then these journeys are ideal.  Almost all my trips last year were backyard travels
Travel to escape
This is finally what I have deliberately started doing . I travel to escape reality, to switch off from work and to get off the radar. When travel becomes work, you forget that you need holidays to switch off too. And with social media being too in your face, the need for a quiet holiday is even more these days. So I add at least a couple of general holidays to my travel calendar.
What does your travel calendar look like ? Have you planned your travel for the coming year ? Do share any tips and recommendations that you have for your trips.