Tawang, Arunachal Pradesh – Of glaciers,lakes,snow clad mountains and a valley of clouds
Driving to the remote part of Arunachal Pradesh in the north east corner of India was an exhilarating experience . Colours change with every curve in the mountains and so does the scenery. bright yellow mustard fields merge ith some brilliant orchids that suddenly morph into dense forests with rivers gliding past them to snow clad mountains and conifers kissed by snow flakes to frozen lakes to a valley of clouds that wrapped mountains…
CHENNAI TO DIRANG
Chennai:4 am . what a way to start a holiday . I would have ideally liked to start the day late and sleep it off, but airlines have a way of making you work hard even on a holiday.So here we are packed and ready , travelling from south of India to the north east corner . 4 cities,3airports and one long drive…thats what day one was all about
We flew from Chennai to Kolkatta ,waited at the airport to get our connecting flight to Gauwhati We crossed Bangladesh border and snow capped mountains, wrapped with clouds and reached Gauwhati , the capital of Assam. Our holiday had begun as we started our drive to Tezpur ,our transit point before driving 400 kms uphill to Tawang located at 10,000 feet .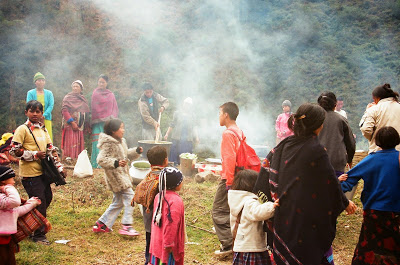 We had heard that there was a bit of unrest in Assam and Arunachal and there was heavy security . We crossed the Brahmaputra and were given instructions that we cannot take a photograph of this majestic river or the bridge . The sun had already set – it was just 5pm and we had reached our destination. The town was shut – we were told that there was a bandh .A dull beginning to a holiday .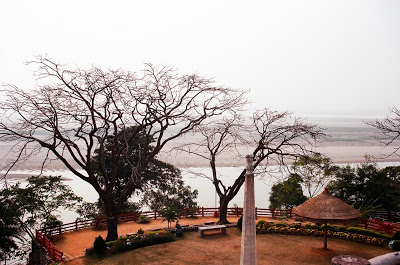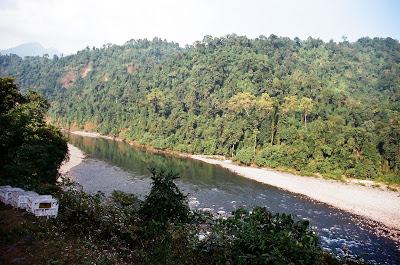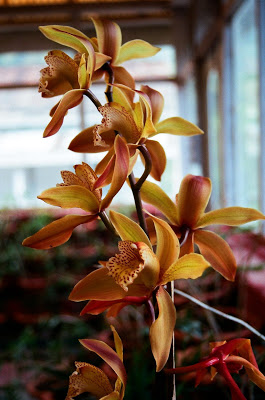 Jan 3 : Day two seemed more promising.We were to cross into Arunachal Pradesh from Assam .Our jouney was to take us from tezpur to Dirang, another transit point enroute to Tawang . Tezpur , as a town has a mythological connection with the Hindu epic mahabharataha . A beautiful garden overlooking the brahmaputra was once the prison of a princess, a few ruins scattered here and there and a serene temple located uphill were our sightseeing experiences . Nothing much to right home about, we continued and the scenery changed dramatically. Beautiful golden mustard fields, lush dense forests with rivers gushing past and beautiful orchids filled our landscape as we reached Dirang,a petite hill station. We stayed in a lovely resort,with some courteous boys , who did everything to make our trip great and comfortable. The cold had just set in…we had no idea that this was just the beginning …but I had begun to enjoy my holiday.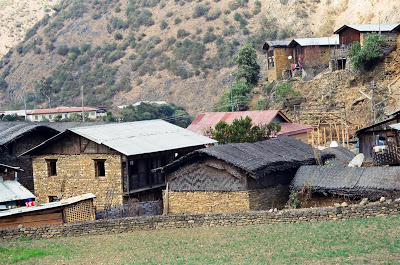 A VALLEY OF CLOUDS
If there is heaven on earth, this is it . A valley of clouds that hid everything from mountain peaks to grasslands , flowers and birds and touched our cheeks gently as we got down to capture it on our lens .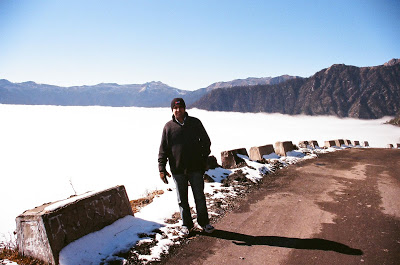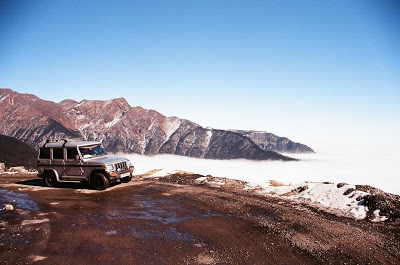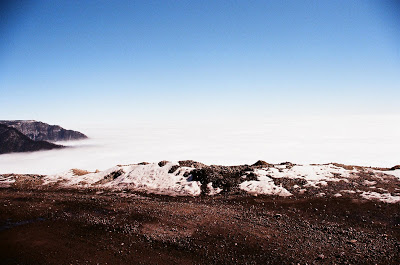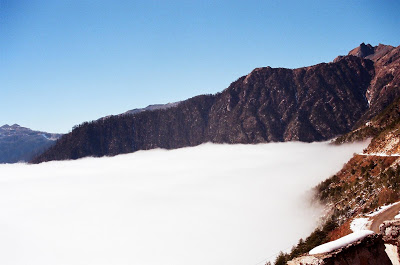 Jan 4 : We were driving from Dirang,a small hill station in Arunachal Pradesh towards Tawang set high in the Eastern Himalayas The mountains curved as River Kameng flowed along with us . It had just snowed. All of a sudden, it was white all around. Snow,ice and clouds – all around. A glacier , snow clad mountains wrapped in a valley of clouds was all we could see till we came to a gate guarded by dragons with bright coloured flags fluttering all around.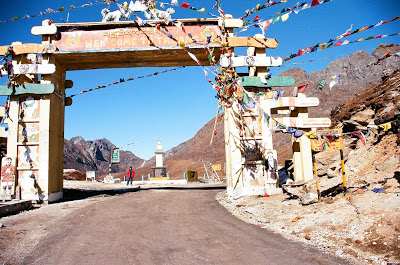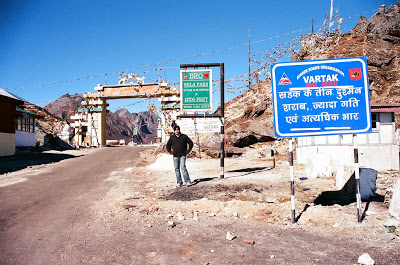 We were at Sella Pass , where history and romance meet at 13700 feet. At the height of Indo-China war in 1960s, Sella was a local maiden who had fallen in love with Jaswant Singh , an Indian soldier . She died a martyr and the pass was named after her and was marked as a boundary between India and China. Jaswant Garh,a memorial for the soldier is also close by.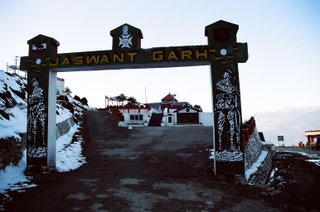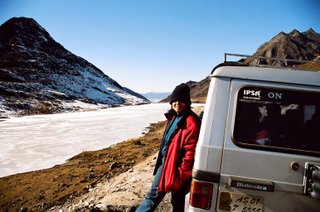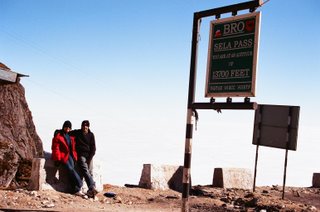 We had none for company except for a couple of dogs and a small tea shop that served us some hot tea and noodles . The cold breeze tickled the bones as we stopped and stared hard at the placid clouds , tugging at the mountains . A bright shaft of sunshine pierced through our skin as we let the heat in and rubbed our frozen fingers in glee . It was just us, the dogs and nature at its silent best .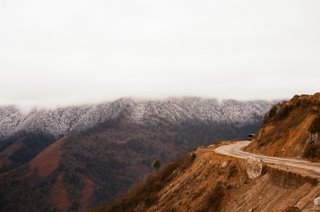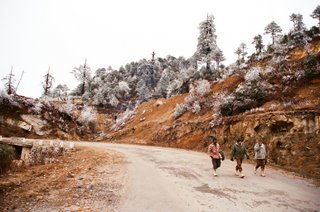 BEYOND TAWANG
JAN 5 : It is an understatement to say that Tawang was freezing cold. This is a town which sees the first rays of sun in India, but ironically the sun never shines . The temperature was many numbers below zero. We stuffed ourselves with as many layers of clothing as possible and decided tomove out of our room in Tawang Inn . Tawang is famous for its monasteries,gompas on one end, a war memorial on the other .Its a town ravaged by war and was once in possession of the Chinese. The home of the Mompas, Tawang is known for the lakes and waterfalls.And we set out looking for them.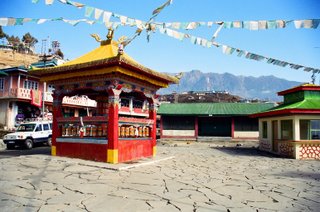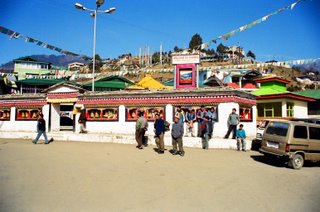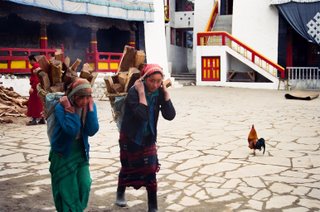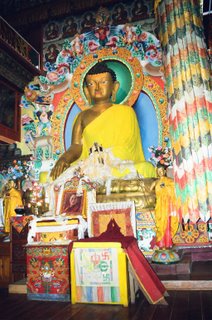 A thick layer of mist hung over the roads as we drove up hill . This is the road that takes us to Tibet and China, but as we did not have the requisite permits to get there .Our driver told us that there were more than 100 lakes up hill and if the army gives us permission, we would get there . A little cajoling with the army got us trudging uphill in our jeep .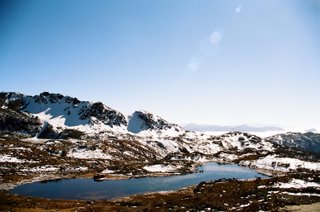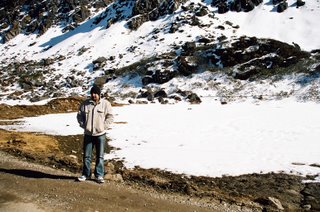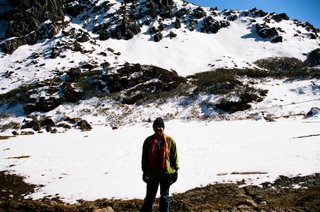 The mist descended even thicker and many times we stopped dead in our tracks wondering if there was a curve ahead or if we were at a cliff . Visibility was at zero.And suddenly the veil was lifted . And we saw the blue sky . And a sea of clouds . The sun shone brightly out of a clear and spotless sky . Small peaks jutted out of the clouds which had spread themselves . We stared right into the clouds and could not see anything below.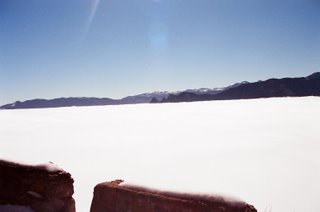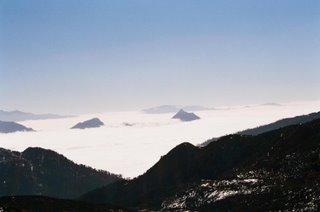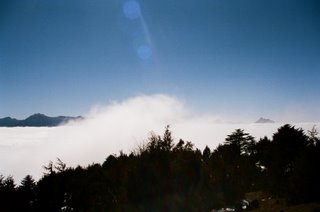 We kept climbing uphill till we came to the first lake – the Patang Teng Tso or the PT Tso lake It was just 20kms from tawang and it seemed like a long journey . There was not a soul around,not even the occassional yak or the mountain goat. Even the army was not there .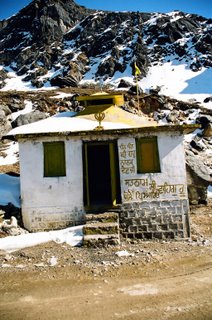 Snow was snow scattered all over , carpeting a mountain here and there , while the lake was frozen. There were several lakes , a mix of water and ice ;some with coloured flags fluttering high,some dotted with a small temple . The colours were stark,blue and white ,black and brown . I had not seen anything so majestic, ,peaceful and beautiful. I wanted to capture every image in to the lens , but a lot is still in my mind's eye .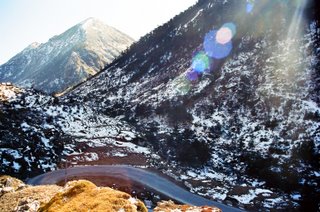 We saw several bunkers used by the Indian army way back in the 1960s . It is a scary thought that this peaceful place was once a battle field
Getting there Tawang is in Arunachal Pradesh and you need a permit to visit AP. You can get one at Gauhati which is my first port of halt…a long journey by road via Tezpur and a stop over at Bomdila or Dirang is a must .Ideally break the jouney into two days . And believe me, the drive is worth it !