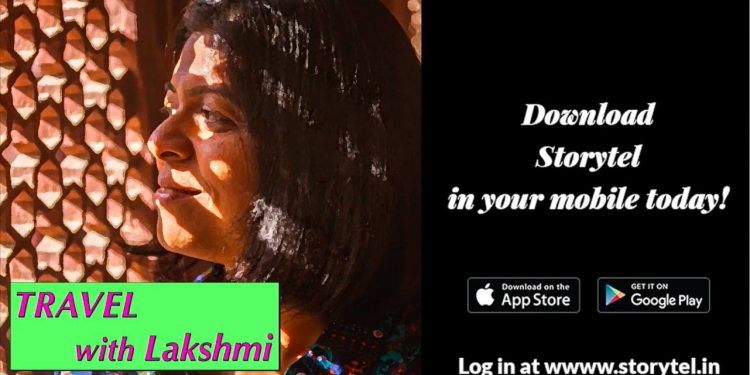 I was born in a haunted colony with a Portuguese connection in Chennai. "Well, it was not haunted when you were born", corrects my mother as we both walk around the deserted stretches of De Monte Colony. The colony is all of two streets and I can see only old crumbling ruins of bungalows surrounded by dense vegetation. As my mother goes on a nostalgic trail, let me introduce myself. I am Lakshmi Sharath, travel blogger and writer and you are listening to Travel With Lakshmi. In this episode we will journey together to Chennai as I will share with you some stories about my favourite city and we will visit some of the interesting landmarks of the city. And I shall let you in on some of my favourite hangouts and quirky and touristy things to do in the city.
You can quit the media industry but you can never let of the media professional in you. I spent one third of my twelve year media career in broadcast media, setting up FM radio stations across the country. I made the transition from content to a business head, learnt about the business of bidding, set up offices, recruited teams across nine markets, strategised the content and marketing plans and even tied up with celebrities as brand ambassadors. While my work as a top management personnel was entirely strategic and focussed on the business of the medium,  I barely got a chance to be on air even once. Twelve years after I quit my career in media, I found myself being featured as a travel blogger and writer by several FM radio stations in the country. That is when I dreamt of having my own travel show on air. And the dream has just come true with Storytel, a Swedish based podcast company that has just been launched in India. And the first audio story or podcast on Travel With Lakshmi has to be on my favourite city and home, Madras or Chennai as its called now. You can hear the promo of Travel With Lakshmi  here
However coming back to De Monte Colony, I often wondered why it wore a haunted look. The houses are crumbling with overgrown vegetation. It almost seems like a forest. There is something eerie about it. The trees cast long shadows, lending a dark and desolate feel to the area. It is located right in the heart of the city  in one of the most posh neighbourhoods and yet there has been no one living here for more than a decade. If you are a first time visitor to Chennai and you are into haunted trails, then you must visit De Monte Colony right at midnight. When I was living in Chennai, De Monte Colony was just a street away. My local auto rick shaw guy who used to park near my flat would refuse to drive down that stretch late at night or early mornings. He claims he has seen ghosts.  But the spooky stories are just dismissed as myths even though they were enough to inspire a Tamil movie.
So let me tell you the story behind the settlement. 200 years ago, this entire neighbourhood was owned by one man, a Portuguese businessman , named John De Monte who was actually a handkerchief merchant. Sadly locals believe that he  brought ill luck to the area. His wife was apparently mentally unstable and his son died early. Even after 200 years, the tragic tale seems to echo from every crumbling ruin . De Monte had donated the land to the church and he had willed that it could never be sold. There was a time when it was leased to a corporate but then it has been deserted for over a decade with legal issues plaguing it. I ask my mother if she has seen ghosts here but she shakes her head. She says that she is haunted only by my memories as I gave her sleepless nights as a baby , all those three months when  we were here.
There are more stories and experiences from Chennai on the podcast. The audio story also takes you to Mahabalipuram as we do a virtual tour of this ancient port. Tune into Travel With Lakshmi on Storytel. Download the app on your phone and you get a month free trial as well if you click here. I would appreciate it if you will listen to the podcast and give me your feedback .
Look forward to seeing you all there. Lets travel together.