Take a piece of Malaysia with you
Buy a wooden mask or a tribal blow pipe from Malaysia's skilled and talented artisans. 
I have a fetish for souvenirs and I collect almost everything from trinkets to masks to handicrafts from every country I travel to.  Amongst the melange of several souvenirs on my shelf is a tiny elephant with pink feet and ears resting under a coconut tree with its arms folded behind its head. Made of pewter, an alloy of tin, aluminium and copper, the piece was aptly titled Rest and Relaxation. It is my first pewter piece from Royal Selangor and although I bought several others, this one is a personal favourite.
Shopping in Malaysia is a delight, if you are like me interested in local handicrafts.  I have picked up wooden masks and carvings, shadow puppets, colourful kites, hand woven fans, batik sarongs among several other souvenirs. I have been told that the Handicraft Market in Kota Kinabalu or the Jonker Street Night Market in Malacca are some of the best places to shop, but you can visit many markets and shops in and around Kuala Lumpur, Penang and Kelantan, among other cities.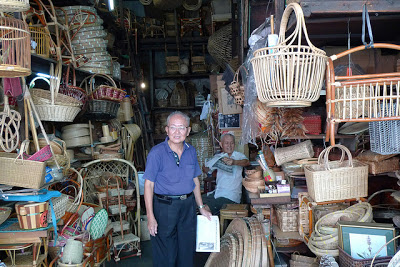 The joys of shopping in a market lies in the discovery of a unique product. Sometimes it can be a tribal blowpipe or an wooden ornate panel. It can be jewellery if you fancy pearls or just some interesting trinkets. Eventually it is all about carrying a bit of Malaysia with you as you return home. And the golden rule is that you can always bargain in any of these markets.
This is a post that was published recently in Travel Wire Asi. If you like this post and want more information on Malaysia, do visit Tourism Malaysia.