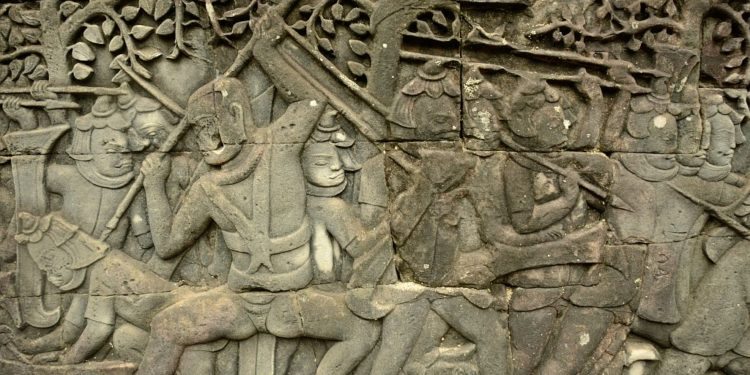 For a lot of tourists, a visit to Cambodia begins and ends with Angkor Wat. But barely a few kilometres from it is the 12th century capital town of the Khmers guarded by tall towers with massive faces. And Bayon temple, built around the 13th century by King Jayavarman V11 lies at the centre of the town .
A plethora of towers, almost 40 of them with carved faces gape at you as I realize that they are arranged in a staggering manner to form a stone mountain with smaller peaks.  But while the faces dominate the temple design, it is the outer bass reliefs on the walls of Bayon temple that catches my attention.
The outer bass reliefs in Bayon temple depict several themes – but one of them is recurring – the battles between Khmers and their traditional enemies the Chams.
You can see these battles fought on land as well as water ,especially the war ships are seen on the Ton Le Sap lake.
Another recurring theme in these outer bass reliefs in Bayon Temple is the social life of the Khmers – from market scenes to cooking, to women playing with children, one can see vignettes carved on these walls.