Ten things to do in Siem Reap Cambodia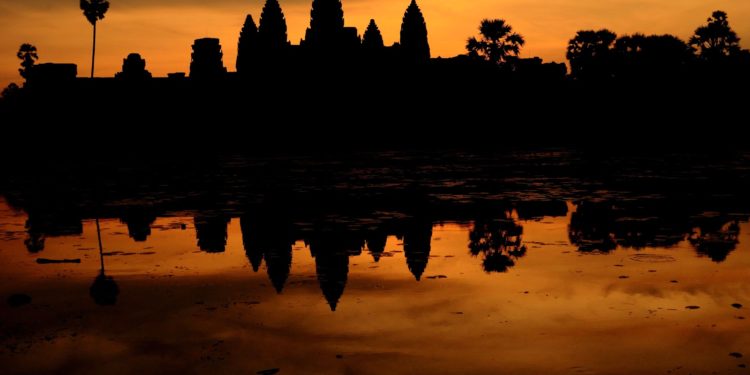 Ten Things to do in Siem Reap Cambodia
Whenever I think of Siem Reap and Cambodia, it is the image of a tuk tuk that comes to my mind. It is not the gorgeous sunrise in Angkor Wat or the myriad faces of Bayon or the ageless trees of Angkor Thom or the larger than life trees that tell a tale at Ta Prohm – it is the tuk tuk, that little vehicle that took me to every corner of Siem Reap. My driver Ramaon and his cronies took me everywhere – driving at pitch dark to Angkor Wat,  the old butterfly park near Bantay Srei, ancient Rufous temples and to also Ton Le Sap lake. We were the lone guys in the tuk tuk as we made our way back to the city late in the evening . Memories flood me as I write this post. If you are planning a trip, here are my favourite Siem Reap attractions and ten things to do in Siem Reap
Sunrise at Angkor Wat
It is not just another sunrise. Even though I am not a morning person and I am largely wary of tourist traps, I will definitely recommend this . It is pitch dark and the silhouette of the trees greet me as I wade my way through the millions of tourists to see the sunrise. Despite the many heads that stand in your way, the first glimpse of light is beautiful. If you are lucky, then the sky is pink or purple, golden or crimson, depending on the season. I will also recommend that you stay back after sunrise and explore the temple in the morning as the crowds are less and the light is great for photography. To me this is one of the best things to do in Siem Reap.
Sunset at Pre Rup
There are several places where you can see sunsets in Siem Reap but my favourite is a small little temple called Pre Rup. It is even called the sunset temple although it may not be in the list of popular Siem Reap attractions. Watch the Vimanas or the towers glow in the rays of the evening light. I even found a lake close which was drenched in the shades of the setting sun. Just take a few minutes off your itinerary and soak in the moment here. It is one of the most beautiful things to do in Siem Reap.
A day in Angkor Thom
If I had the ability to customise the itinerary then I will spend an entire day here. There are gates, temples, palaces, ruins, carvings that beckon you here. Bayon is one of the main temples. There is also Bapuon, the Elephant Terrace, the Leper King Terrace among several other monuments. However I am fascinated by the ancient trees that almost touch the sky and create a carpet of leaves beneath your feet and a canopy above my head. Personally, one of my favourites among the ten things to do in Siem Reap.
Be Lara Croft at Ta Prohm
Pose like Angelina Jolie at Ta Prohm and listen to the tale that the trees tell you as they hold the monument in a tight clasp. Ta Prohm is not just a temple. It leaves you with a sense of mystery, a timelessness as I feel like I can spend an eternity here. Another temple that I will recommend is Preah Khan, though not one of popular Siem Reap attractions which was largely not yet restored when I visited over five years ago. However I suggest that you make time for this temple as well , just to see the beauty of nature – one of my favourites among the top ten things to do in Siem Reap.
Rolous Group of Temples
These are some of the temples off the tourist circuit and are not really in the list of key Siem Reap attractions.  It is on the outskirts of Siem Reap, about 13 kms away and it was believed to be the site of Hariharalaya, the oldest capital of Khmer . While Bakong is one of the main temples, Preah Ko and Lolie are the other two. It is also on the way to Ton Le Sap lake and you can combine a trip to the lake
Floating villages on Top Le Sap lake
One of the things to do in Siem Reap is to take a break from temple hopping and go on a cruise on Top Le Sap to see the floating villages. There are four of them including a bird sanctuary and depending on the time you can pick one or more. There is Chong Kneas, the most touristy of them all, Prek Toal the bird sanctuary, Kampong Phluk and Kampong Kleang . You can either go there early in the morning or for sunset like I did.
Butterfly park at Banteay Srei
The prettiest temple that I have seen is Banteay Srei which is very quaint, petite and is away from the tourist circuit. It is also called the pink temple or the citadel of beauty or citadel of the women. It is about 30 kms away from Siem Reap and I would recommend at least half a day here. There is a pretty butterfly park here as well, where you can spot several species. If you have the time then you must include this in your list of ten things to do in Siem Reap
Kulen Mountain
A getaway from Siem Reap, Kulen Mountain is where the locals go as it is considered sacred . Phnom Kulen as it is referred to will be a day trip from Siem Reap as it is about 50 kms from the city. You can see a huge Buddha temple here besides several lingas carved in stone on the river bed. But the mountain itself is beautiful with streams and waterfalls and lush greenery carpeting its slopes as it is now a national park . Another of my favourites among top ten things to do in Siem Reap.
Cambodian Ramayana and dances
A trip to Siem Reap is not complete if you have not seen the graceful dances and shows. While Cambodians have their own version of Ramayana, you can also see some masked dances as well. Some restaurants in the evening give you an opportunity to watch a dance while you wolf down your dinner or you can head to some of the centres where these performances are held.
Markets at Siem Reap
One dollar madam, is a chorus that I heard as I walked around the Angkor complex. I dont think you will get anything for a dollar now, not even a bottle of water. However the markets are bustling in the night with curios and clothes. You can also get some massages or shop for souvenirs. If you are not interested in shopping, then it is still great for street photography. There is a weekly night market as well. US Dollars are accepted, so keep some change handy with you.
These are just some of the experiences that I recommend. However there are many more things to do in Siem Reap based on your time and interest. You can also take a hot air balloon ride, visit more far flung temples like Beng Melea, located inside forests, more ruins or visit a landmine museum and listen to some gory stories of the past. I have been to Siem Reap twice and the first time was over five years ago with the husband when we planned everything on the go. That is the advantage of a customised trip. Travel I believe is not always about sights and sounds, sometimes you want to linger in a forest or chat with a local or even sleep in a temple or like this kid do his homework in the temple complex.
And a customised itinerary allows you to do everything at your pace, based on your personal interests. If you are planning a visit to Cambodia, then do visit Gofro, where every minute detail of your itinerary can be changed to your convenience. So, if you want to take a nap in the morning at Angkor Wat after watching the sunrise then Gofro will ensure that it is added to your itinerary.
Fact File
Siem Reap Airport
The Siem Reap International Airport connects to all major cities in Asia and South East Asia. India does not have a direct flight as yet and I flew via Bangkok and crossed the border by land the second time . Taxis are available to take you to downtown or ask your hotel to arrange transfers. USD is the preferred currency
Siem Reap Hotels
I prefer staying in bed and breakfast properties although there are so many resorts and luxury properties. Siem Reap city centre is about 10 kms from Angkor complex and plan your accomodation in such a way that you are not too far.
Siem Reap Weather
Do note that Siem Reap has just two seasons – the wet and the dry and your itinerary can be altered based on the seasons. The temples look very beautiful just after the rains and the water at Ton Le Sap is also full. However it can rain anytime and hence carry wet gear with you. The dry season however can be very hot in the day and it is not possible to visit many temples – so it is advisable to plan your trip accordingly.
Angkor Pass
The Angkor Pass is available for either 24 hours, three days or seven days and they were priced at $20, $40 and $60. You need to apply for one at the entrance of the Angkor Archaeological Park and carry it with you wherever you go. If you are planning to go for sunrise, then collect it on the previous day. I suggest a three day pass. Most temples besides Angkor Wat is included in the pass but do check the time they open and close. Some temples and places like Kulen Mountain are not included and you need to pay a separate fee for the same.
More stories on Siem Reap and Cambodia
The outer bass reliefs of Bayon
Ta Prohm – Trees and trunks tell a tale