Colours of sunrise – Angkor Wat
I am not the sunrise variety and neither is the husband..but we were told that the sunrises at Angkor Wat should not be missed. I was told the colours of sunrise at Angkor Wat are quite stunning. So we woke up at 4 am and drove through the forests in the dark on our tuk tuk ..The winds were nippy and the setting surreal. It was an amazing experience driving through the woods, veiled in a dreamy mist. But then, came the mosquitoes followed by hordes and hordes of people ..I did not know which was annoying ; but then the sun kept its date with us and we forgot the rest. We were there twice – the first time around, it was so difficult to get close to the moat and hence we could just take only the towers against the dawn.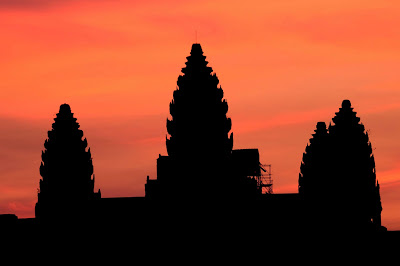 The second one was a spectacular sunrise, but I was not able to handle the crowds. There were tourists everywhere..standing atop monuments, probably even on trees. The husband however, took the camera and took this picture just for me..He hates crowds and is barely interested in photography, but then the pictures were rather good, I think..what do you guys say ?
Pic : Sharath Krishnamurthy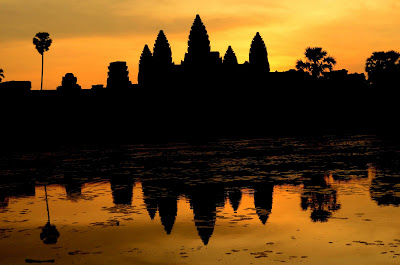 Pic : Sharath Krishnamurthy
We stayed on to explore the temple after sunrise. The colours of the sunrise at Angkor Wat still stayed in my mind and I wanted to linger.Ironically the crowds vanished as soon as the sunrise is over. We almost had the entire temple to ourselves. And the morning light is so soft and warm to take photographs as well. I would recommend an early visit to Angkor Wat. It is a sunrise that you will remember for ever. Just one request – Go on a weekday and do not go during Chinese New Year like I did. You will only see more people than the sun.