Ladakh – Day 2
I do not believe in the concept of must see places, for every place casts its magic on me – be it an unknown or an offbeat location , a known city or a tourist destination. But Ladakh was an exception.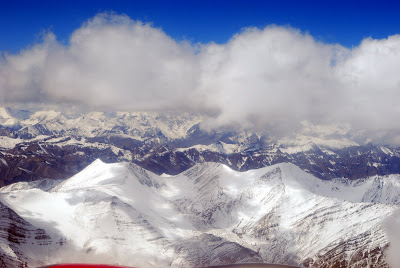 It was a dream destination , something that had always seemed unattainable . It did not matter to me that I had not yet seen the Taj Mahal, but it irked me that I had not visited Ladakh. It was a destination that had given me sleepless nights. But when I woke up on a sunny morning in the capital town of this land of high passes, after spending a dizzy first night , it seemed like a dream still.
It was extremely hot and all the giddiness had vanished. We feasted on some aalu paratha with some garden vegetables freshly plucked from the garden and started our monastery trail.
In ladakh as in any where else, the dilemma is always the same. So many places to see and yet so little time. Earlier, I wanted to see almost everything possible and my eyes used to greedily devour every possible sight . But now, I decided to pick and choose. Its not so much about the choice of these sights , but its more to do about how much you want to soak in them.
If you just need a picture against every Buddha statue that was built in Ladakh, then you could cover as many places as you want. Also there is something called stamina when it comes to Ladakh. Even if you are acclimatised to the heights, most monasteries are atop hills and you need climb several steps to get there . They are breathtaking alright, but chances are with less oxygen, you would feel breathless climbing them.
Nevertheless, we started our day rather early. We skipped Leh and decided to do the monastery circuit outside the town.We planned on four monasteries, which in retrospect was quite a bit for a day. However, as they were rather close, we managed to spend quite some time at each place, absorbing the sights and sounds. We went to Stakna, followed by Hemis and then Thiksey and Shey before returning to Leh with a quick trip to Sindhu darshan..more on each of them in a while.
For more beautiful skies around the world, click here