Monuments of Mount Road – Chennai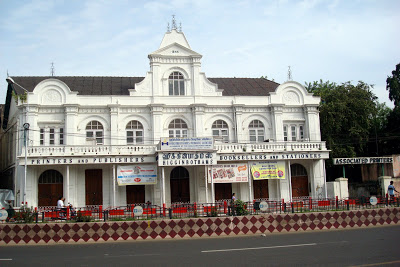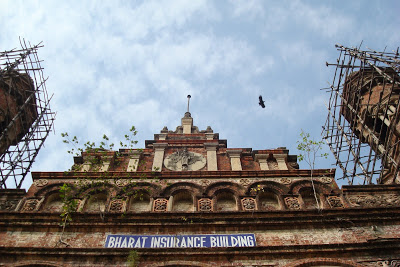 After a photowalk of Triplicane, it was time to walk down memory lane in Mount Road .A mixed crowd of enthusiasts joined together on a Sunday morning to walk down Mount Road and hear stories about erstwhile landmarks and monuments of the road. It was organised by Vincent D Souza , founder and editor of Mylapore and Adyar Times , who is also one of the key organisers of the Madras Day celebrations. What I really liked about Vincent and his team is that they are keen to reach out to the common man and the passion they have for the city. Most other groups tend to make an event like this a glamorous social affair catering to a few celebrities , media professionals and whos who of the city who form mutual admirers of each other..Well, I chose these walks and decided to enjoy an enjoy morning stroll of Madras.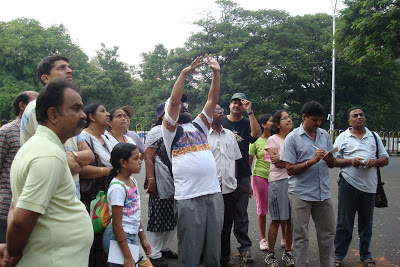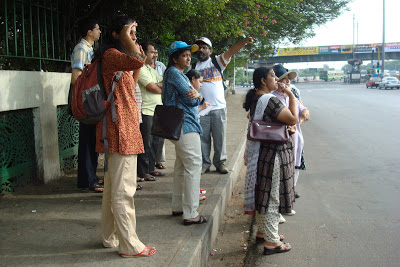 Mount Road or Anna Salai as it is called today is one of the key arteries of Madras, connecting virtually two ends of the city – Fort St George and St Thomas Mount. It was supposedly built in 1795 by the British for the army to move easily between these two points and old pictures show this stretch as a beautiful avenue lined with trees It starts off as on a little island near Fort St George on the Cooum creek and leads to the highway that takes one directly to the tip of India to Cape Camorin.The statue of Thomas Munro, one of the Governors of the Madras Presidency stands almost at the entrance of the club . During the British period, this was the entertainment hub . Clubs, churches, movie halls, restaurants, icecream parlours and shops were the key landmarks here.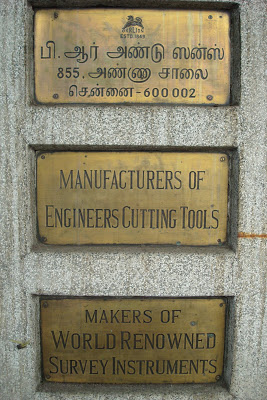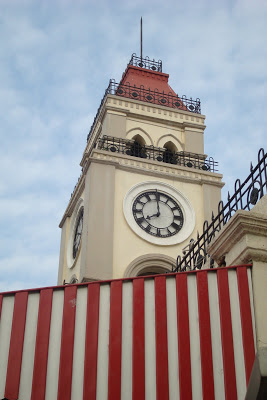 The Gymkhana Club and the Cosmopolitan club along with Madras Cricket Club (which is actually on Wallajah Road, a deviation from Mount Road) were the prestigious clubs here since colonial times. The Old Government Estate,near the Gymkhana Club, houses the mansion where the governors of Madras once lived. The banquet hall built in 1802 by the second Lord Clive, the eldest son of Robert Clive, is today called the Rajaji Hall after the first Indian governor-general, C Rajagopalachari . The broad staircases, the beautiful panelling and chandeliers lend this hall an old world charm. In fact an exhibition of rare coins and stamps by late collector Raja Seetharaman (who recently passed away) was held at this hall.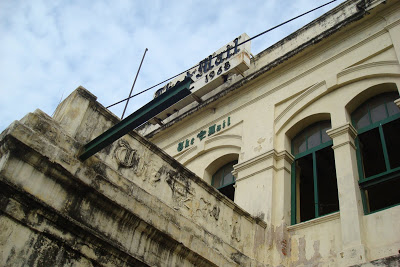 Our walk was for about 90 minutes starting from the Hindu office which was not the first English newspaper published in the city. Its predecessor is The Mail, who has shut publication, but the building still remains and some printing goes on. We walked on listening to stories around Chellarams and Higgingbothams ,how the theatres Elphinston and New Elphinston have morphed into new complexes ,our mouths watered as we got nostalgic about the flavours of Jaffar Ice cream parlour . Udupi cuisine got introduced to the city here by Woodlands and Buharis was the other foodie's landmark.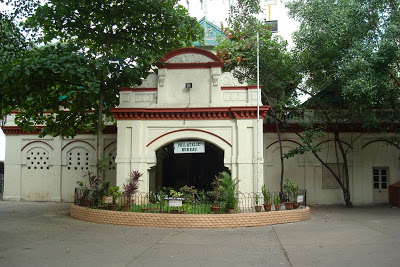 The Postal Department 's Phitalic Bureau was once a movie theatre, while Southern Railway is getting its act together to renovate their monument here. A small mosque lies sandwiched between two buildings and one can easily miss it . I had, until now.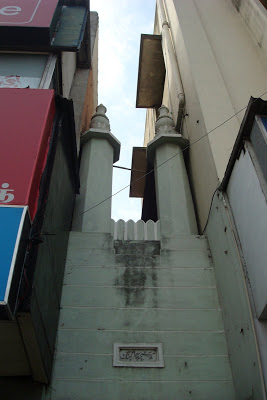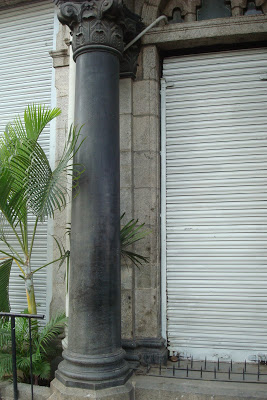 We heard about the Mount Road Round Tana where trams once used to ply, where there was apparently a underground war time chamber and where the first subway of Madras was built. We saw quaint buildings where Chinese dentists (did I hear right , Vincent ?) used to be adept at solving teething problems.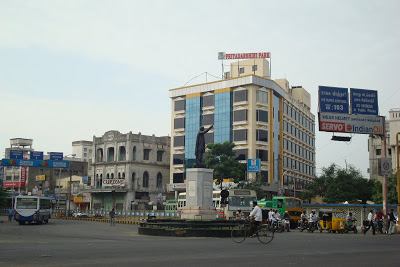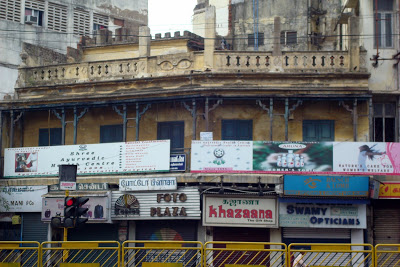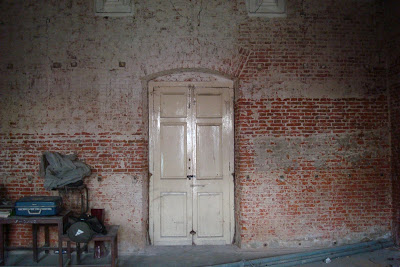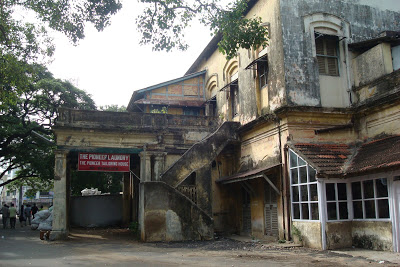 We also heard about a Greek who ran a restaurant here at Mount Road. We stopped by at India Silk house and Musee Musicals and stopped by at a dilapidated go-down wondering it could have been in the yesterdays. Another stop was to look at the beauty of the dilapidated building of Bharat Insurance which is still in litigation.Across the road, Poompuhar announced its crafts mela.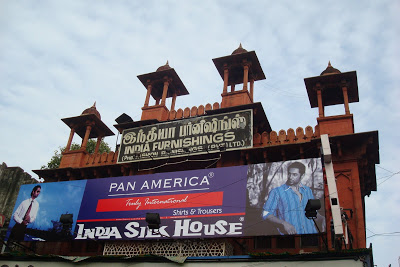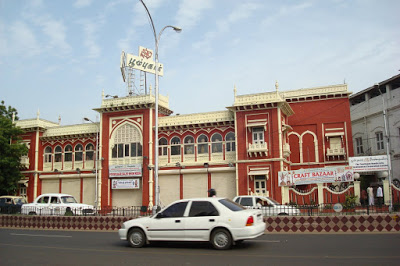 We climbed up the Agarchand Mansion and had an aerial view of the Mount Road overseeing Spensers .The Mansion in brick red is my most favourite building in Mount Road and everytime Im at the Spensers signal, I stop and take a look at this monument .This walk in many ways kindled my interest in Madras' heritage and I am keen in participating in this activity.I happenned to meet some very interesting people, including three wonderful women – Nandini, Geetha and Navneeth with whom I had breakfast soon after.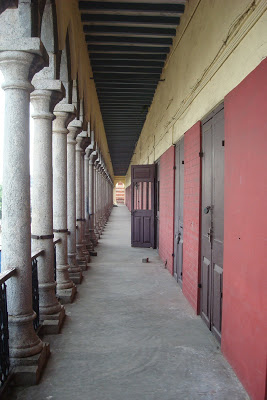 Mount Road branches out into famous localities and suburbs of Madras like Royapettah, Triplicane,Thousand Lights, T Nagar, Teynampet, Mylapore, Nandanam, Saidapet, Guindy and so on..Want to know more..well, you dont have to wait till Chennai Day 2009. Just enrol into chennaiwalks@gmail.com or check www.madrasday.in for more information.