Post from Guest Blogger – Was this an inspiration for Angkorvat ?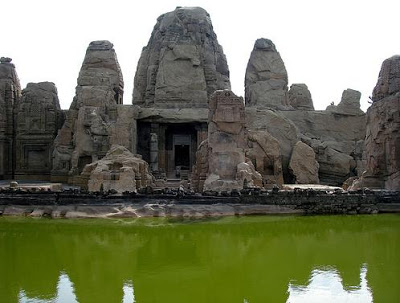 After completing 100 posts, I wanted a breath of fresh air in my blog. And I thought I should have a guest blogger, someone whom I recently met and who has been an inspiration for me when I go on my trails. I frequently chew his head for information and he patiently narrates snippets of South Indian history. I have learnt to appreciate Indian sculptures better and understand the nuances of Indian art as well. VJ is a shipping professional from Madras (Chennai) and I met him through another friend Siva. VJ is currently based in Singapore and has a keen interest in Indian sculptures . By his own admission, he learns something new every 6 months and its not just in arts . Sports – golf, cricket,soccer,hockey, shot put, shuttle..is his other interest. In arts, he has learnt calligraphy,Tanjore painting, glass painting,oil painting, sketching and cartooning,wood carving and pyrography.He has even designed furniture with old tea bushes. Do read his blog www.poetryinstone.in, which is a veritable treasure house of knowledge and here is a gem from there .Over to VJ..
At the outset my thanks to Lakshmi for asking me write this blog in her site as a guest. After dabbling in many subjects, I finally found my hearts fill in sculpture. The call of this dying art is unique -these images are dormant yet speak volumes, and like learning a new language once your learn their tongue, its sheer poetry in stone.
Since this site is about backpacking and travel, thought I would mix a bit of both in this post – so I introduce you to a little known monument – Masroor.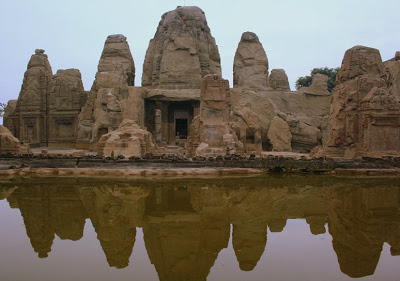 Call it serendipity, but i was looking for a good picture of the Mahabalipuram test panel when i came across a familiar face – a real stud who turned out to be my buddy from preschool. We chatted up and promptly in a couple weeks he sent me some pictures of his visit to Himachal Pradesh, to a hither too unheard of place (at least to me) called Masroor.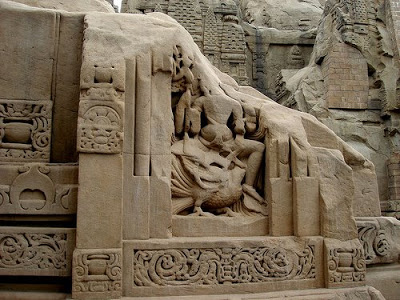 What I saw blew me away. The Masroor temple complex is in Himachal Pradesh ( near Kangra – 20kms and Dharamsala – 45 kms. At a distance the sandstone hill doesn't quite give up it secrets – a late 8th Century rock cut Shiva temple. Hailing from Chennai Rock cut shrines and caves are my particular favorites, not just for their artistic skill but also for their complexity ( need to carved in situ on live rock – top down) – they are many superb examples of this in South India and western India but had not expected something of this scale,size and most importantly the style.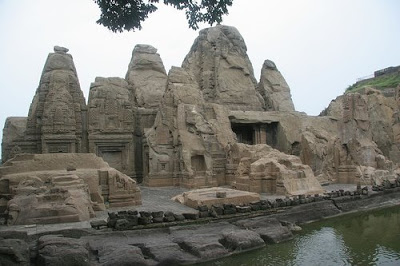 I am sure all of you have heardof Angkorwat – a 11th Century Cambodian temple complex. What interested me with Masroor is the uncanny resemblance /similarity between these two – complete with the tank in front – beautifully mirroring the structure on top.
http://news.nationalgeographic.com/news/2007/08/photogalleries/Angkor-pictures/
The relief carvings are amazingly detailed but have borne the brunt of nature, yet my imagination runs wild when I think of how these beauties would have looked when they were sculpted or does the aging adding to their beauty. Angkor got its fame from the overgrowth of vegetation and Angelina Jolie/ Lara Croft, maybe Masroor needs
Priyanka Chopra to do a similar one to gain recognition.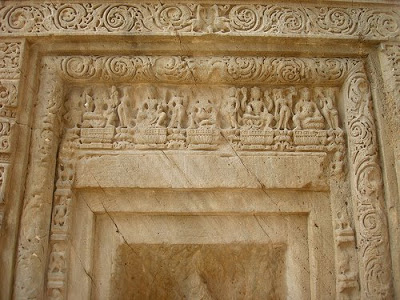 Could this have been the inspiration behind Angkor ?