From puppets to ghosts – Stories from the road in Rajasthan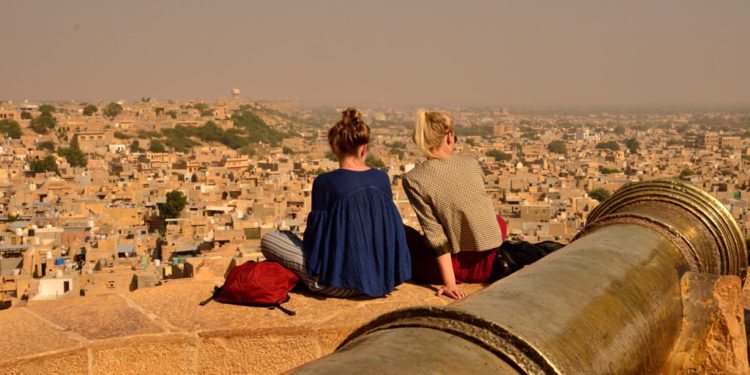 Sights, sounds and stories as we go on a road trip from Jaipur to Jaisalmer on the Nissan Terrano 
Mukesh sits quietly in his little colourful corner at the entrance of the Jaisalmer fort. In his hand is a little thread that holds a puppet. Clad in bright green dress, with big beautiful eyes, the puppet looks up at him, as he cradles her lovingly in his arms. In a few minutes he will be breathing life into her, making her laugh and cry.
Surrounding him are several couples, dressed in different vibrant colours and each one tells a story. "You look at them and you see puppets. For us, they are kings and queens," he says. Mukesh learnt the craft from his father but the charm lies in the stories.
"We used to go from one town to another, telling stories through these puppets in Rajasthan," he adds. His favourite is the story of Amar Singh Rathore whose defiance of the Mughals has been the topic of several ballads.  "He fought and killed all the soldiers in the Sultan's court, but he died because of a treachery by his own brother in law," says Mukesh, narrating the story through the puppets of Rajasthan
Creating a cultural album of stories with Nissan Terrano
Rajasthan is a treasure trove of stories of romance and valour. Conspiracies and murders fill folk tales. Stories of ghost towns and ghosts echo in the air. There are men in moustaches, women in old temples, elephants on the streets, singers in the desert, shepherds on the roads and each one of them is a colourful symbol of Rajasthan.
I am on a road trip from Jaipur to Jaisalmer with photographer, Auditya Venkatesh driving the sleek and elegant Nissan Terrano, listening to these stories and creating a cultural album of this vibrant state.
I love road trips. Every stop is a story in itself. The journey is the destination. It is all about conversations. It is a series of moments that weave themselves into a narrative, that is quintessentially Rajasthan.  We sometimes stop for tea, sometimes for kachoris. We pause to listen to tales and to speak to locals.
We meet old women in villages and younger women in fields. And we meet men in colourful turbans  who twirl their moustaches and stride around. We pause to photograph stepwells, forts and palaces on this road trip from Jaipur to Jaisalmer.
Every part of Rajasthan is majestic and magnificent. And taking us places is the stylish Nissan Terrano, that automatically 'Commands Respect,' making heads turn as we whiz past different terrains – through rugged forts, rustic villages and endless deserts.
Elephants look pale in comparison as they trudge along the roads while the Terrano stands next to them.
Not just elephants, even curious shepherds with their flocks peer at the SUV, as it towers over the other cars on the rustic roads.
Delhi to Jaipur via Neemrana – surprises in store
Our journey begins early in the morning as we hit the Delhi – Jaipur highway, where detours throw surprises. Sprawled on the road, with no one around is a stepwell in Neemrana that descends nine storeys below the ground. The Neemrana stepwell, built 300 years ago, was a caravan serai, a perfect stop for travelers like us. It was largely a haunt for traders during the spice route who would rest, drink water, give their domestic animals a break and probably even do a bit of barter with other traders on the road. Perhaps they would exchange stories too.
Thank god for Auditya & the extra large boot space of Nissan Terrano, this picture made to the blog!  
But what really fascinates me is the sheer presence of the stepwell in Neemrana. You drive down a dusty road, bereft of anything interesting and then, lo! it appears out of nowhere, as if it was waiting to be discovered. And that is why I find road trips fascinating for you can just find a piece of history lying on the road side.
Sitting in the spacious boot of the Terrano, listening to the calls of Alexandrine parakeets, I take a photograph of the Neemrana stepwell, when a pretty young girl walks into my frame unknowingly.
I meet Manju and her little brother who are on a simple family trip from a nearby village and she shyly tells me that she likes the stepwell in Neemrana as it feels like "a little secret" walking down the steps.
The Neemrana ruler built the fort and the stepwell as a famine relief for the people. Heading to the fort, which is now a hotel, the entire atmosphere is charged with colour and energy as a wedding is in progress.
Chai and conversations in Jaipur
We continue our road trip from Jaipur to Jaisalmer, soaking in the colours of Rajasthan. Pushing my comfortable seat back, and stretching my legs, I munch 'bhujias' and 'bhajjis' as Auditya is on the wheel cruising away.  The women clad in bright hues post against the Terrano as we stop for chai and conversations.
As we enter 'The Lalit Jaipur,' we meet Jagdish Singh who beams at us as he opens the door of the Terrano and graciously welcomes us. I look at him, fascinated by his thick moustache as he tells me that it is 15 feet long and he has not shaved it for years but spends hours grooming it every day.
We drive down capturing images of Jaipur by night and day. If 'Hawa Mahal' and 'Albert Hall' form picturesque backdrops for the Terrano at night, the dawn break at 'Jal Mahal' and the foggy view from 'Nahargarh Fort' at dawn are stunning.
At the 'Jal Mahal', the sky is orange and the people are offering prayers to the sun god.  I walk around, shivering in the cold as pigeons flutter around me, exercising their wings and greedily feeding on the nuts that people offer.
I indulge in my favourite hobby – people watching. There are stories that I hear and those I will never get to hear .Two women are lost in a deep conversation, with their backs to me. One of them points to a land far away, that she probably wants to explore. In the hazy warm light, they present a pretty picture.
Another woman looks at me amused when I ask her if I can take her photograph. She shares her tiny little cup of tea with me as she sells small packets of food for the fish. We do not introduce ourselves nor do we trade stories. But her smile is warm and the tea, special. I ask her why do people pray here." To the sun and the water – they give us life, " she says.
The priest at 'Charan Mandir', located on the way to 'Nahargarh Fort' tells me that the footprints of Krishna and his cows are preserved here. "I am a 'sewak', this is my home, I live here."
A small bed lies in the corner. I walk up the stairs that lead to the terrace and lose myself in the hazy view. "Bahut Shanti Milegi," comes Babaji's booming voice and he is right.
The Man in the Blue City and stories around Mehrangarh Fort
Munching kachoris and sipping more tea, the colours change from pink to blue as we drive from Jaipur to Jodhpur. The Blue City creates a perfect backdrop for the car as we pose against it.
Locals welcome us inside their homes, offering us tea.  "I am a blue man in this blue city , "grins a shopkeeper, posing in his blue sweater as we walk through the Jodhpur blue houses
We are just in time for sunset and the Terrano has found its majestic match in the formidable 'Mehrangarh Fort', my favourite among all the forts of Rajasthan.  There are several stories about the fort that history texts and guide books will tell you but this is the tale that fascinated me.
Sitting in the open, under the stars at the 'Chokleo Restaurant', the waiter who has served in the palace for over two decades tells me that it was called the 'Ruti Mahal', a refuge for the angry queens who were upset with the kings and came here to heal their hurt. "Sometimes the king will come here to console them and make up with them." he said. The romantic aura of the place is an experience by itself. Looking at the moon surrounded by her starry companions, listening to the lilting tune in the distance, I wonder if anyone can be angry here for long.
The winged beauties of Khichan
We continue our road trip from Jaipur to Jaisalmer but detours take us to another little village called Khichan which is not on the map of tourists but on the route of thousands of migratory demoiselle cranes who have made it their home for decades. Just like the cranes, our ride to village is smooth. We barely feel a bump, thanks to the impressive ground clearance of Nissan Terrano.
Nurturing, caring and feeding the cranes is 'Sevaram Parihar' in Rajasthan who was so fascinated by the "khurja" or these birds as a little boy that he took it upon himself to protect them. Standing on a terrace and watching thousands of wings flying above our heads as they land in an open area to feed on the grains, I am just overwhelmed.
Ghosts and ghost towns of Jaisalmer
And finally, we are at the golden city – Jaisalmer.
The desert has always fascinated me but Jaisalmer is unique, with a living fort that supports over 3000 people. Doors are open, women are enjoying a little conversation, restaurants beckon us offering 'Wi-Fi' and views, shopkeepers sell anything from colourful turbans to bedsheets that claim that you don't need Viagra.
Amidst all the life and energy, I have a conversation with a young shopkeeper who decides to enlighten me about ghosts. "Aadmi ke andhar aadmi hi ja sakta hai, "he proclaims, saying he was once possessed by a ghost and only a male can enter his body.  It was an old man he claims but he adds that he does not remember much as he had passed out and his body was rented . "It had to exorcised finally by a priest, "he says adding a little dramatically, "Bhagawan hai. "(There is a God.)
Ghost stories fill the air as we head to a ghost village in Rajasthan, a short drive from  'Sam Dunes' . We visit Kuldhara, an abandoned ghost village that is believed to be haunted even today. The story goes that the residents who were 'Paliwal Brahmins' had left the village over 300 years ago, overnight, when the local ruler had threatened to marry the village leader's daughter. Although they left with a heavy heart, locals believe that they come back every night to haunt it. "Chudail hai – raath mein hum nahin jaate, "they say, explaining that they don't go here in the night as you can see ghosts in the female form.
And the journey is the destination
But standing in the evening on the dunes and watching the sun bid farewell as the camels and locals look upon, I forget all about ghosts and lose myself in the pristine moment. I wish I can stay here overnight but then the road calls. If you want to experience Camping in Thar Desert in Rajasthan, then you must read this post.
The evening guys stroke the delicate curves of the Terrano and I look at it fondly as we have shared several moments during the road trip from Jaipur to Jaisalmer, over chai and conversations. The silhouette of the car glows in the fading light and a caravan of camels walk past it kicking up a dust storm.
The stars appear slowly and in the deadly silence of the night sky, the car lights up in the glow of the Milky Way. Shooting stars suddenly descend down to earth. And it is in that pristine moment that I realize that it indeed "Commands Respect" as a fascinating road trip from Jaipur to Jaisalmer finally ends.
Also watch – Nissan: Rajasthan in A Blur 
Video Link: https://www.youtube.com/watch?v=2v4BtPxeIlk
This post was written in partnership with Nissan Terrano as we went on a road trip from Jaipur to Jaisalmer.