Raghurajpur Crafts Village in Odisha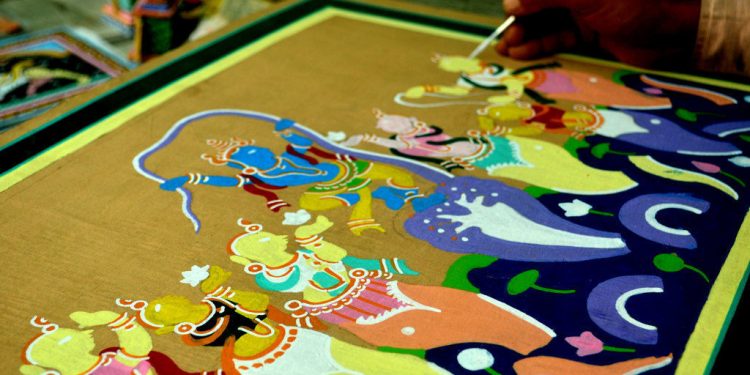 The entire atmosphere gets colourful as soon as I enter the Heritage Crafts Village of Raghurajpur in Odisha. A short drive of just 15 kms from Puri, I feel like I have stepped into a virtual art gallery. Every house is a museum and every person living here is an artist. While several pilgrims and tourists visit the Puri Jagannath temple , it is so quiet and the silence echoes in the air. I meet an old lady in a temple that stands in the middle of the street in Raghurajpur crafts village in Odisha
Identical row houses are stacked next to each other but am more fascinated by the walls that come alive with murals. There is a lot of tribal art fused with paintings of deities and demons. The folk motif runs as a constant thread in all the walls. But the inspiration comes from the triad deities of Puri – Lord Jagannath and Balabadra and Sulabadra. There are painted in different sizes and colours and they inspire every art and craft that is from Raghurajpur crafts village, particularly the patachitra, which is synonymous with the artists of Raghurajpur.
Raghurajpur  crafts village is home to over 100 homes and every artist or Chitrakar has been learning the art of creating patachitra since he was a child. Walking around I see a boy sitting its in front of his house bending over a sketch while his father watches over him.  I am suddenly thronged by several artists who invite me to their homes and I take turns visiting a few. Pata refers to cloth and chitra means painting is a common refrain that I hear.
Raghurajpur Patachitra as the craft has had its origins in the traditional murals of Odisha, that date back to the 4th century. The craft has been passed on from generation to generation and every family has its own signature style of designing a patachitra. The women are very talented as well . From creating tusser paintings to palm leaf engravings, they also create masks, papier mache toys and even toys made of cow dung.
Speaking to the artists in Raghurajpur crafts village I learn that the deities in Puri Jagannath temple go on a sabbatical every year for fifteen days. Apparently the statues are then replaced with a patachitra that portrays the three deities . Every home is converted into a colourful studio. Paintings of Krishna in different forms – with Gopikas, lifting the Govardhanagiri, with his consort Radha fill the rooms.
There are birds flying out of a canvas. Trees are welcoming the spring in glee. Flowers fill the landscape painted in the patachitra. Every mood and moment of the seasons are captured in the patachitra.
I get a short introduction to the making of a patachitra. A strip of cotton cloth becomes a canvas as it is soaked in water which is filled with tamarind seeds. The artist then adds a coat of chalk and gum and then pastes the same with another layer of cotton cloth. He then rubs the canvas with stones so that it has a glossy finish and has a smooth surface.
Some artists still use original mineral colours and vegetable dyes. But the highlight is the fine brush which is actually made of "mouse's hair." No pencil or charcoal is used. Eventually a lacquer coating is added to the painting to give it a finishing touch.
There are also dried palm leaves which are hardened and stitched together which form a strip of canvas for Dasavathaar or ten avataars of Vishnu and its called Tala Patachitra or paintings done on palm leaves.  They are cut into small circular sections, opening like windows to another work of art . Each window shows you a different avtaar of Vishnu. You almost feel like the paintings are telling you a story.
I potter around the Raghurajpur crafts village, visiting as many homes as possible, taking in the colours. Every artist swells with pride as he showcases his art. The women and children gather around and the families vie with each other to make me feel comfortable. As I leave a woman showcases her latest toy – a small figurine made of cow dung. As I leave I take one last look at the village and everywhere I see forms of the triad deities smiling at me. There are several arts and crafts towns and villages in India and Raghurajpur crafts village will always be special to me.