Sloth bears in Daroji
Every boulder in Hampi tells a story – the tale of the mighty Vijaynagar dynasty . Thronged by tourists who come here to see the crumbles of this once powerful empire, Hampi has this ageless spirit about it.  The river Tungabadra flows through this capital town separating Anegundi and Hampi and  has been a silent witness to the many battles fought and won in this rocky terrain. The ruins are littered with tourist boards screaming out the directions while the maps highlight the monuments and the erstwhile gates of this dynasty .But there is one gate that has been forgotten to be marked.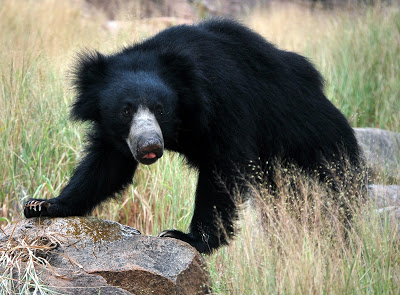 At about 20 kms from Hampi, is a hamlet called Daroji that was once believed to be the gateway to this empire. The locals here believe that Daroji was actually called Darwaze which meant gate and we were on our way to this nondescript hamlet. Our agenda , however was not to see more monuments, but to look out for sloth bears who have made the rocky caverns their homes.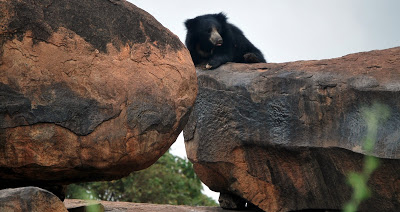 The scenery changes dramatically as we drive down towards Daroji . The browns turn green and the mountains open out to lush fields. Small canals of the Tungabhadra river give us company as they irrigate the fields . We pass glimpses of rustic life with shepherds and their herds, farmers getting ready for harvest and nomads wandering along with their belongings . We pause by and chat with a woman and her two daughters who are on their way to join  her husband..  
Their daughters smile shyly as they rescue a baby bird and play with it before moving on.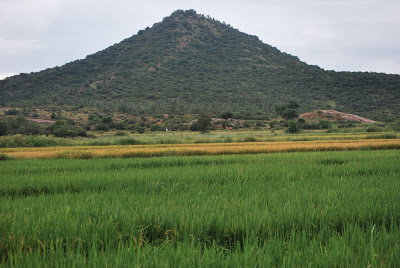 Hampi's tryst with history goes beyond the 14th century Vijaynagar empire as it dates back to the days of Ramayana.  Anegundi across the Tungabhadra river was believed to be the mythical Kishkinda, the monkey kingdom of Sugriva who was Rama's ally in the war against Ravana. It is said  that Rama's army crossed Hampi enroute to Srilanka. And if myths were to be believed,  there was one bear in the army called Jambhavan. Today, Daroji Wild life sanctuary that includes the Bukkasagara range of mountains near Hampi and Anegundi is home to 130 bears . You can also find leopards, foxes, jackals, hyenas ,pangolin along with several mammals and a variety of birds and reptiles.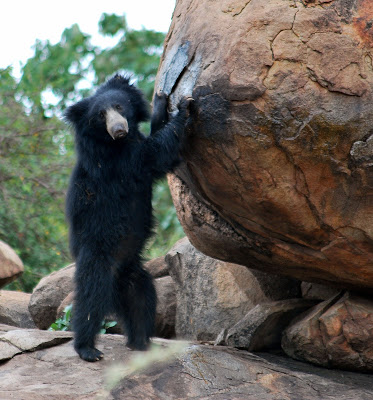 The roads give way to shrub jungles and massive boulders .A pair of painted spur fowls rush past us, while the grey francolins call out for attention. The shrubs and the rocks are a perfect habitat for these bears who feed on berries and wild fruits that grow in plenty here. There are termite mounds and there is no dearth for honey.
We are at a foothill of a small mound waiting for the bears . It is a dead end and a small detour takes you to the watch tower. The forest department arranges for sweetlicks for the bears in the noon and we patiently wait for them to emerge out of their caves. While tourists watch the spectacle from the watch tower, we had a special permission from the department and were hardly 20 feet from the bears.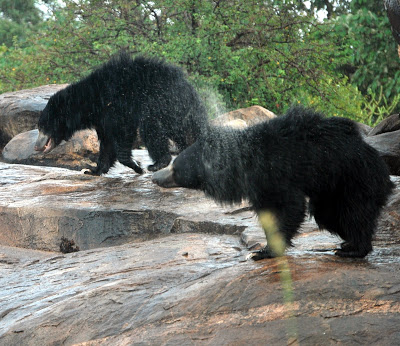 And slowly  the world of Baalu of Jungle Book comes alive in front of us. We watch a pair of bears peep from their cave and climb up the rocks. A couple of cubs follow.  For a long time it is just us and the bears. The residents of this jungle are busy enjoying their sweet licks as they lick one rock after another. They seem blissfully unaware of us clicking photographs. The silence is only  interrupted by the large grey babblers who gather around these sloth bears. A sudden growl and the bears scramble  behind the rocks. A large  bear walks up the mound from behind our car and starts licking the rock hardly a few feet away from us. He gives us a look and then continues his activity, while the other bears disappear.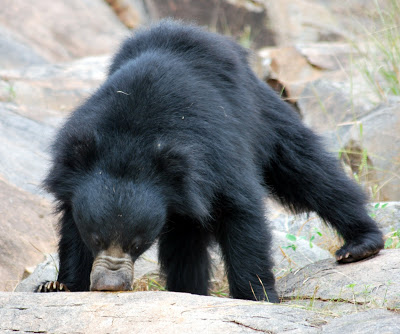 A sudden downpour and the bully who has the entire mound for himself  returns to his cave , and in a matter of seconds, the four bears appear again , shaking the rain drops from their furry coat. They continue to lick the rocks, standing on their feet, and resting on the rocks and then disappear in the rain having had their hearts content.
For  a moment, I was lost in their world watching them play hide and seek with each other. It seems like there was a territorial war out there. As I was watching, my guide explains that these bears are today threatened due to illegal mining and man animal conflict . As we speak, we can hear the distant echo of the dynamite from the hills almost a sign of man's greed out there.
We did not realize that we had spent close to four hours watching the bears in their own habitat. And as long as we let them be, it was a happy coexistence. However, the bears seem to know that we were encroaching in their world.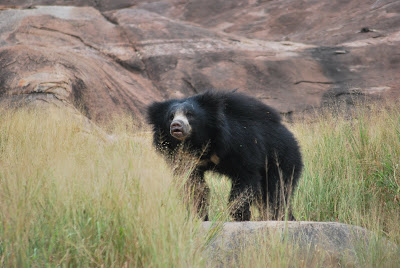 Daroji wildlife sanctuary is about 15 kms from Hampi and you would need about half a day out there. Hampi is an overnight journey from Bangalore and is about 364 kms from the capital city. Accomodation is available in Hampi and Anegundi. Carry binoculars if you are going to the watch tower. You could get forest department permission and they would arrange your trip to Daroji with a forest guide and your accommodation in the nature camp at Kamalapur will be taken care as well. 
The sloth bears normally called Karadi in many South Indian languages and Baalu in Hindi is straight out of Rudyard Kipling's Jungle Book. Found largely in Indian continent besides Srilanka and Bangladesh , they were originally called bear sloths because of their slow gait. They were also considered to be a species of sloths rather than bears as they also were called Five fingered sloth or ursine sloth at one time. It is said that the first sloth bear was shipped from India to Europe in 18
th
century and the naturalists there changed the name to sloth bears. These nocturnal mammals are arboreal as they are  known to climb trees and are omnivorous and consume insects, largely termites. Their habitat is largely dry shrubs with rocky caves and jungles, where fruits , berries and honey are available in plenty.
The mating season here in Daroji is largely around May –July and the cubs are born after a gestation period of 6-7 months. These cubs often born blind and their eyes open in about three weeks. It is interesting to see the bears mating as they are usually loud and attempt mock fights and hug each other. The best time to go to Daroji would be around January to see the cubs along with the parents running around amidst the rocks.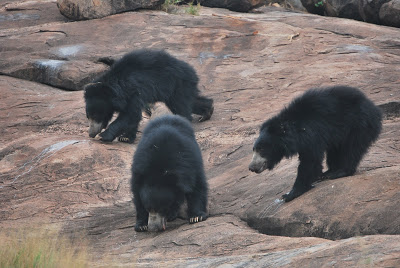 This story was published in the inflight magazine of the Paramount Airlines-Windows and Aisles  and later on a version of it in Spectrum, Deccan Herald