Novotel Vijayawada Varun – the first international five star hotel in Vijayawada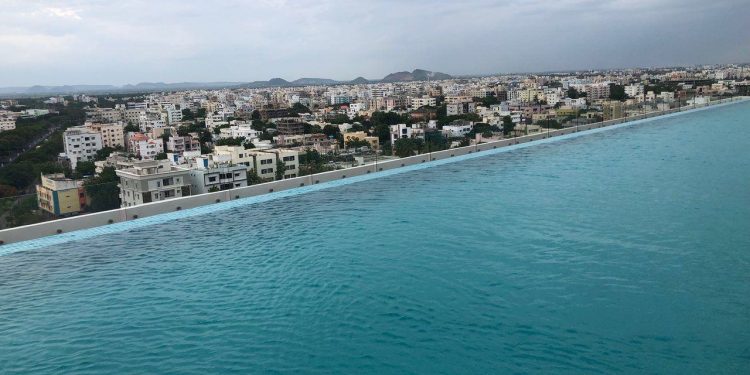 Standing on the rooftop of the magnificent Novotel Vijayawada Varun, I was lost in the turquoise waters of the vast infinity pool. Dark stormy clouds enveloped the sky. The lights of the city were just coming up. The contours of the hills could be seen. Surrounding me were a huddle of houses and a mishmash of buildings that had just mushroomed in a rather haphazard manner. Vijayawada seemed like an overgrown town, yet with a lovely charm of its own, rooted in its culture and earthiness. But the metamorphosis from a small town to an uber city starts probably with the very hotel which was hosting me.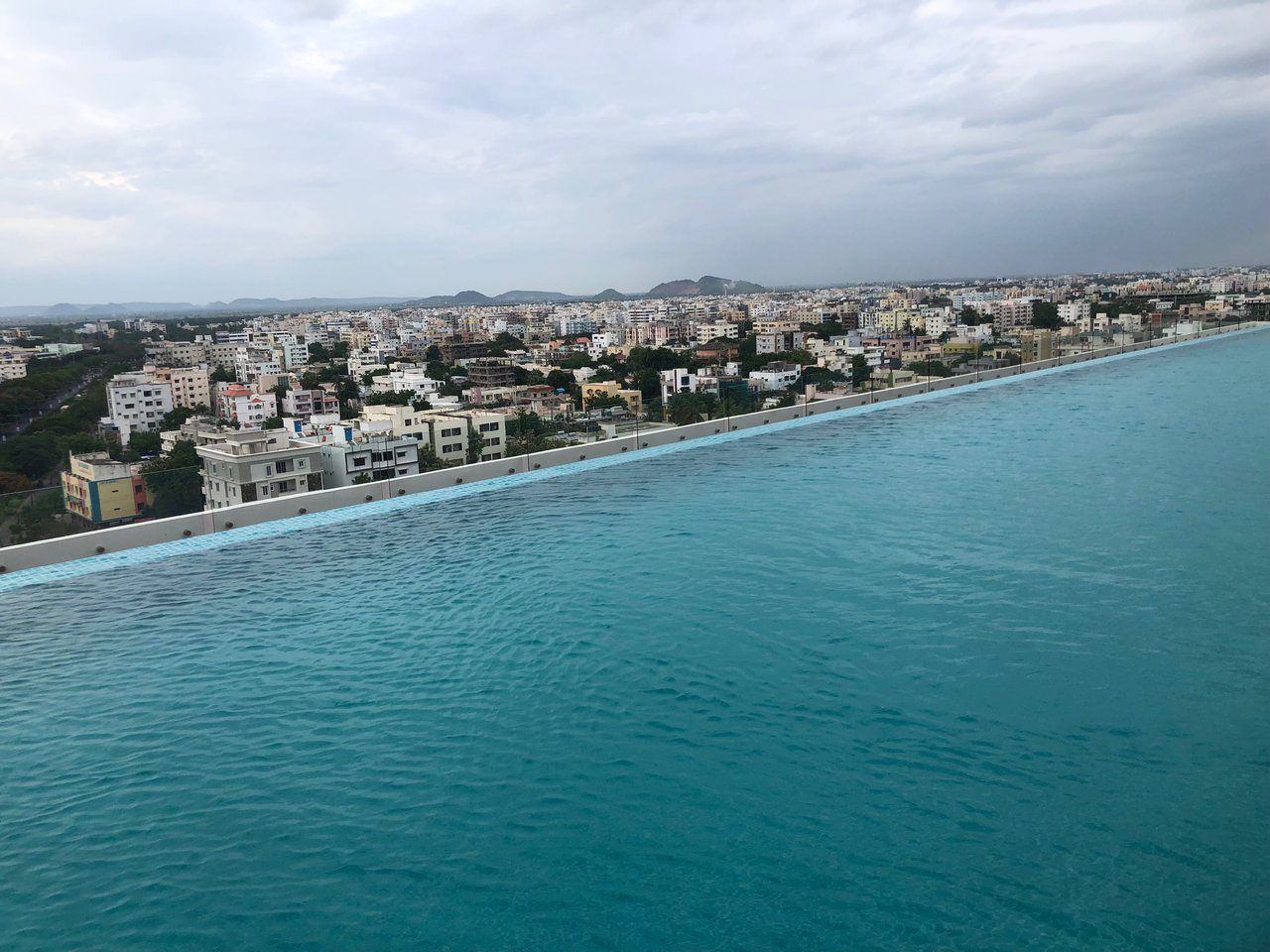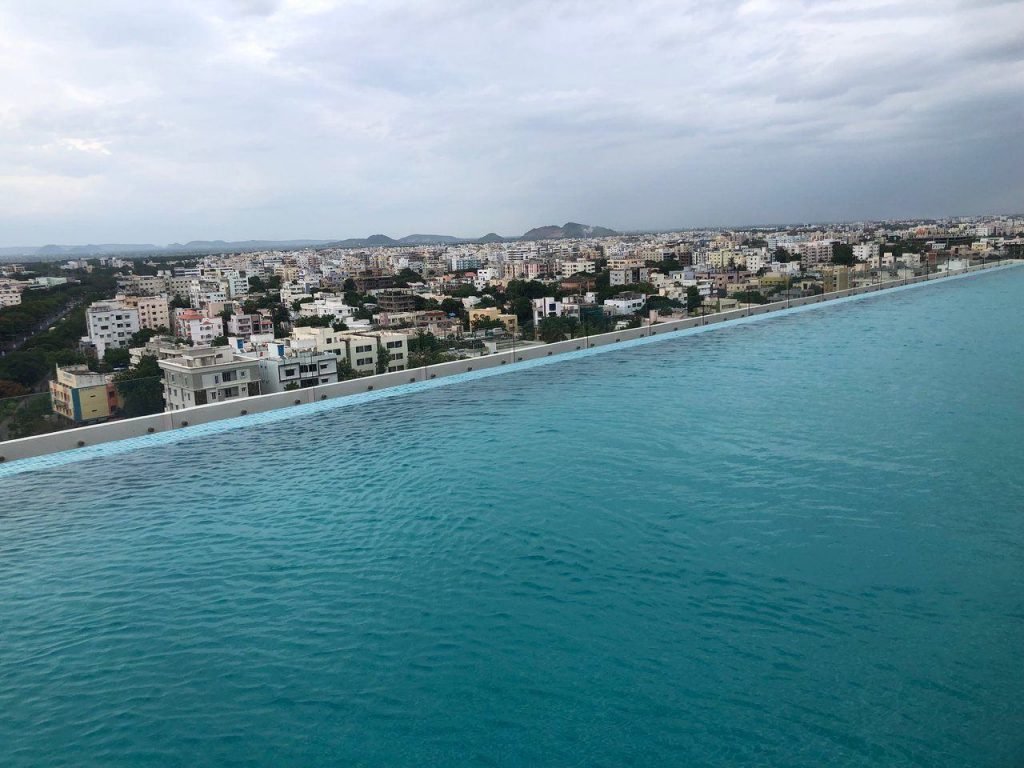 The nine-storey tall first international five-star hotel resplendent in all its glory is a very symbol of the evolution of Vijayawada. I was virtually taken in by the luxurious lobby and the stylish decor, besides the architecture and design. Novotel Vijayawada Varun is barely a year old and has recently been renovated.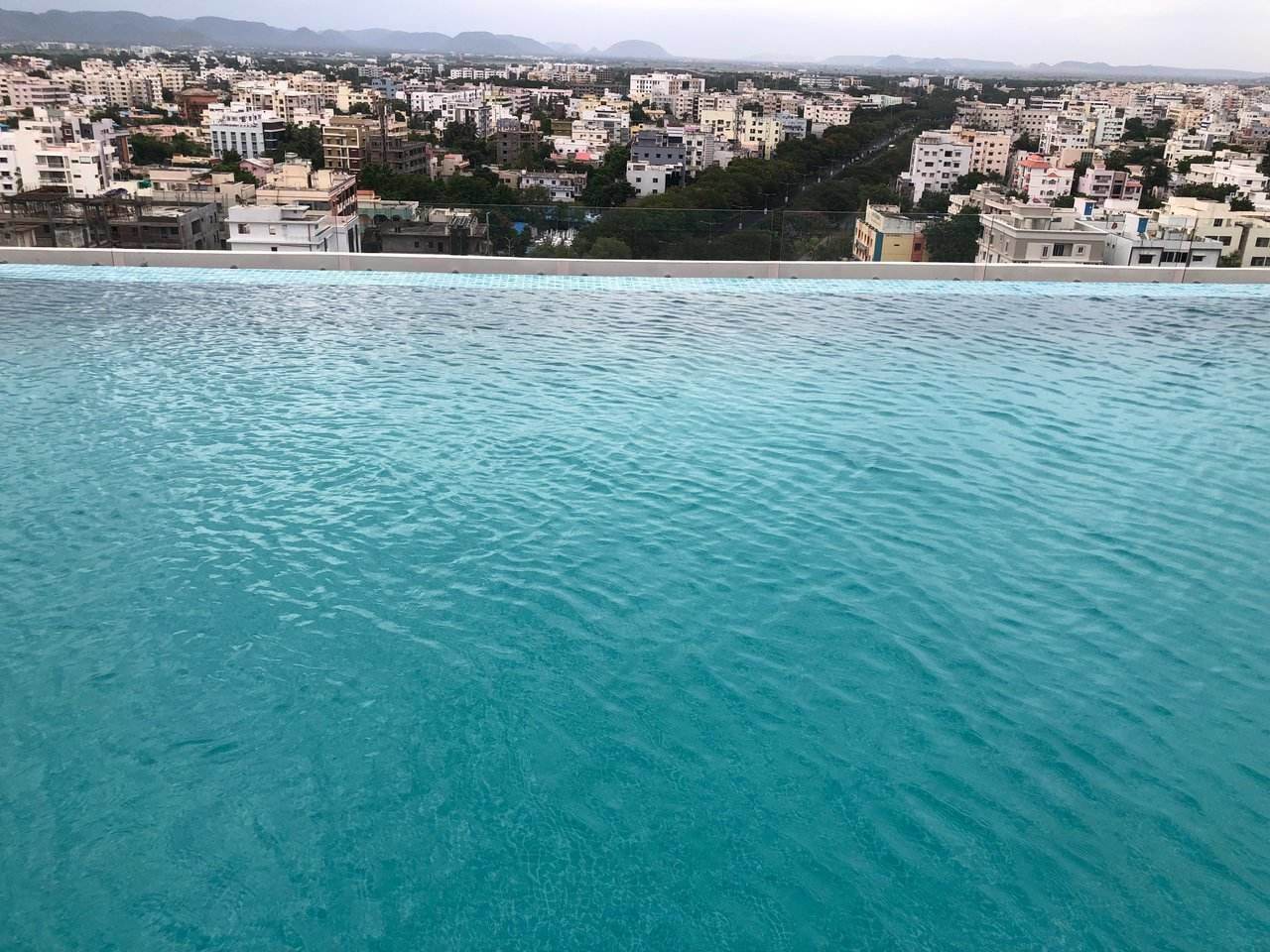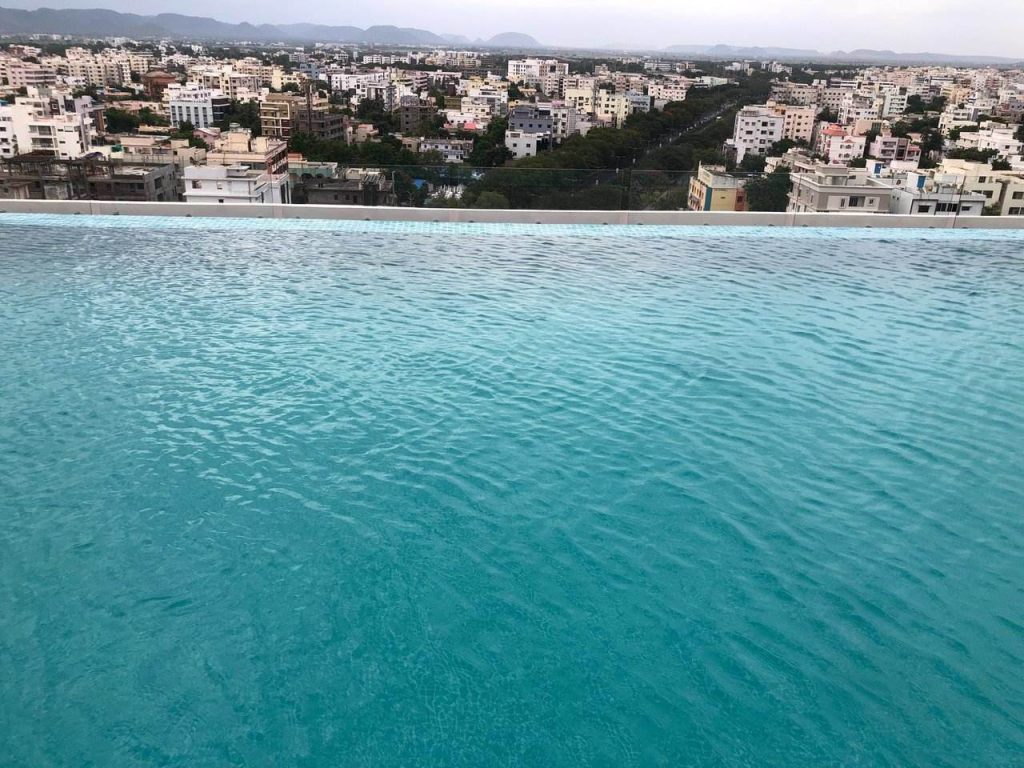 I had just flown in from Hyderabad where I had experienced the Novotel Hyderabad Convention Centre over a rainy weekend. I was expecting showers to be a wet blanket during my stay in Vijayawada, but the weather was rather pleasant. The clouds seem to intimidate us with a thunderstorm but it was just a threat. As we walked aimlessly on the rooftop, clicking photos, I was told that a rooftop restaurant serving fusion cuisine was all set to launch in a month. Adjacent to the infinity pool was the Dew spa and salon that was very inviting.  Looking down from the skylight, I could see the lobby glittering with lights.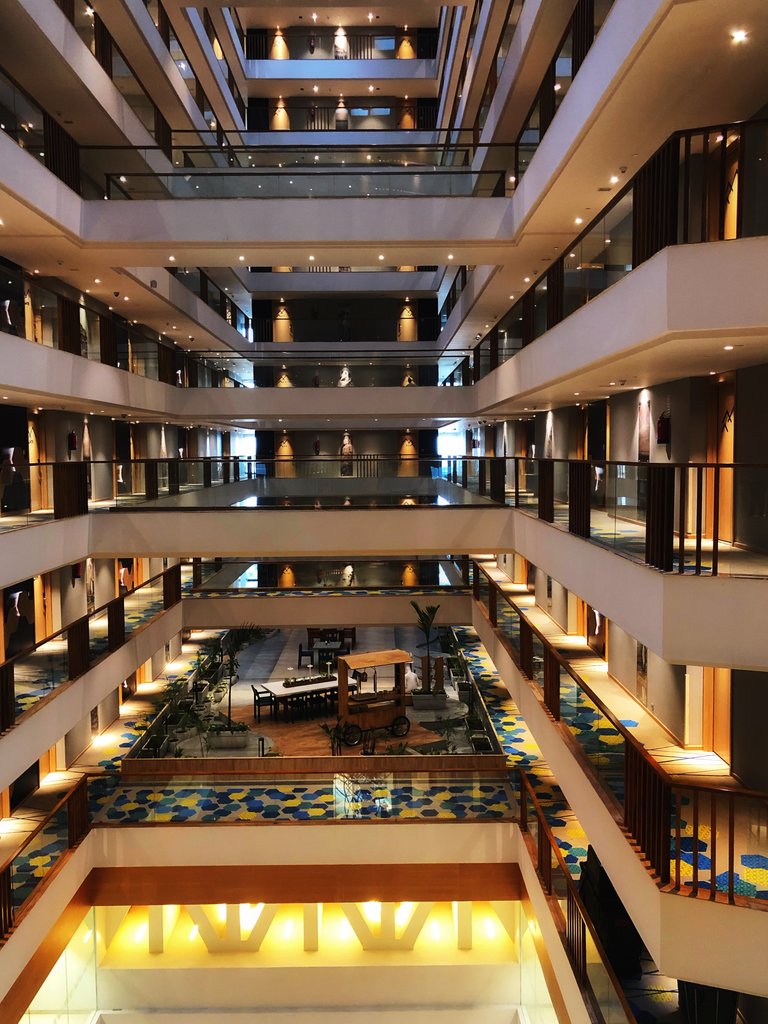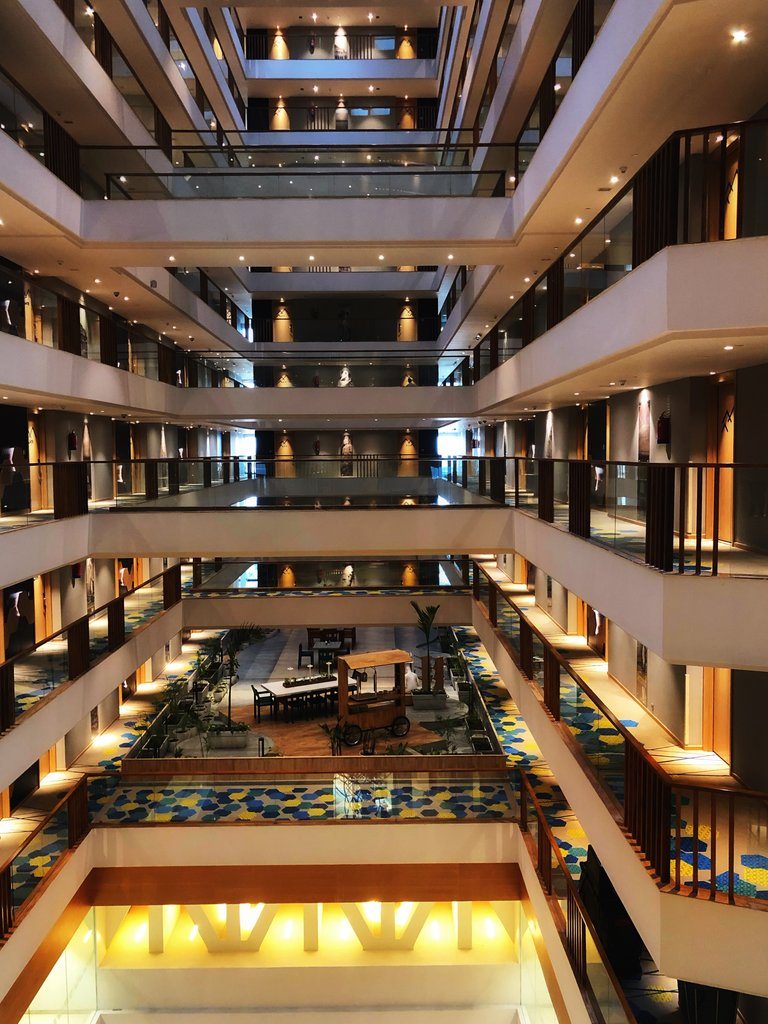 I had been to Vijaywada a decade ago when it was still a nonchalant town, known for its ancient temples and caves, bridges and dams, forts and markets. I had then been to the ancient Kanaka Durga temple and a little bird sanctuary on the way. Towns like Mangalagiri, Kondapalli, or Kuchipudi in the neighbourhood beckoned people interested in the performing arts and crafts and textiles and sarees. But it was the neighbouring Amaravathy, which has been chosen as the capital city of  Andhra Pradesh state that pushed Vijayawada into the limelight. Located barely 20 kms away from Vijaywada, Amaravathy is still in the process of development with infrastructure projects being underway and Vijayawada seems to be now the de facto nerve centre of the state.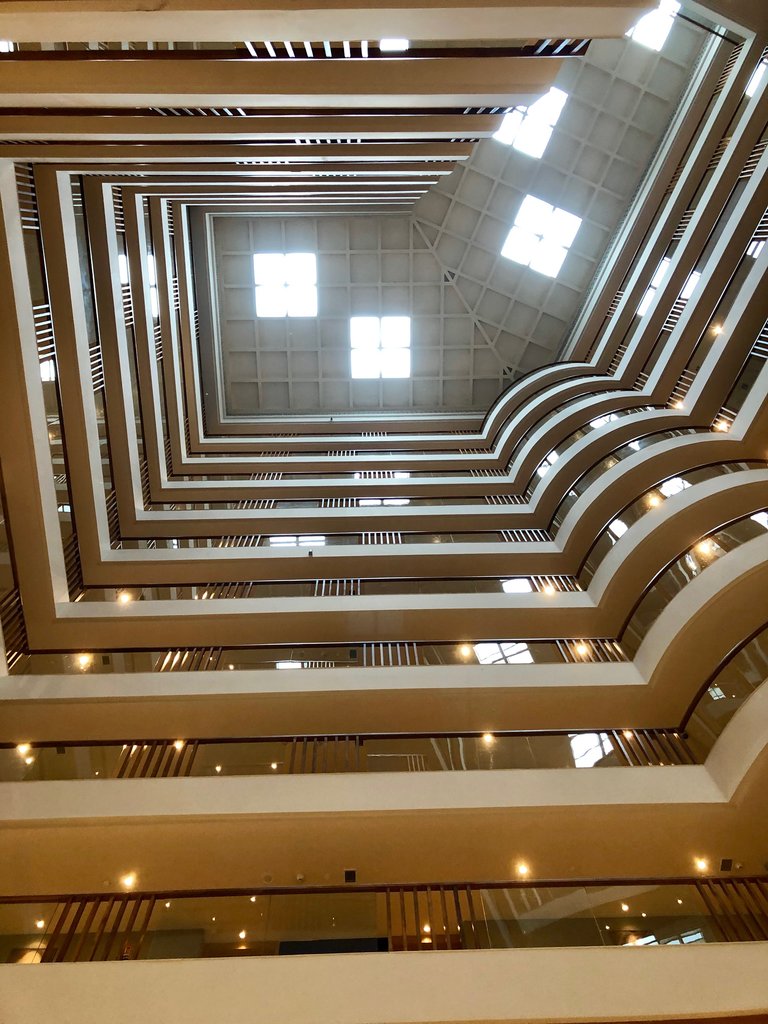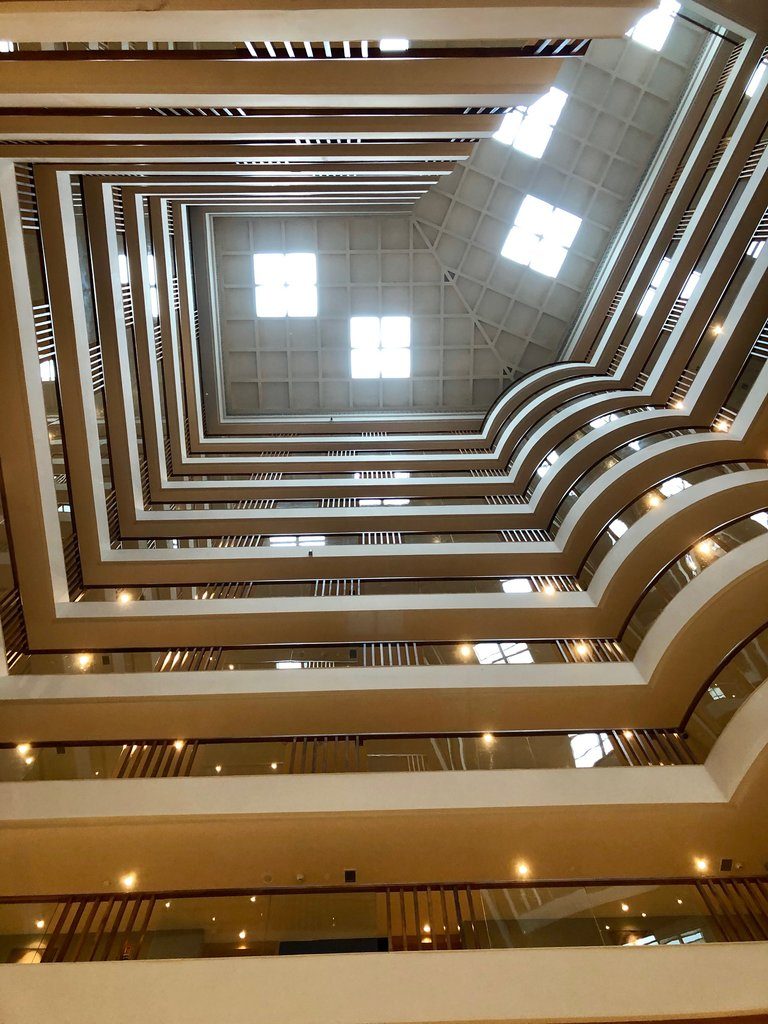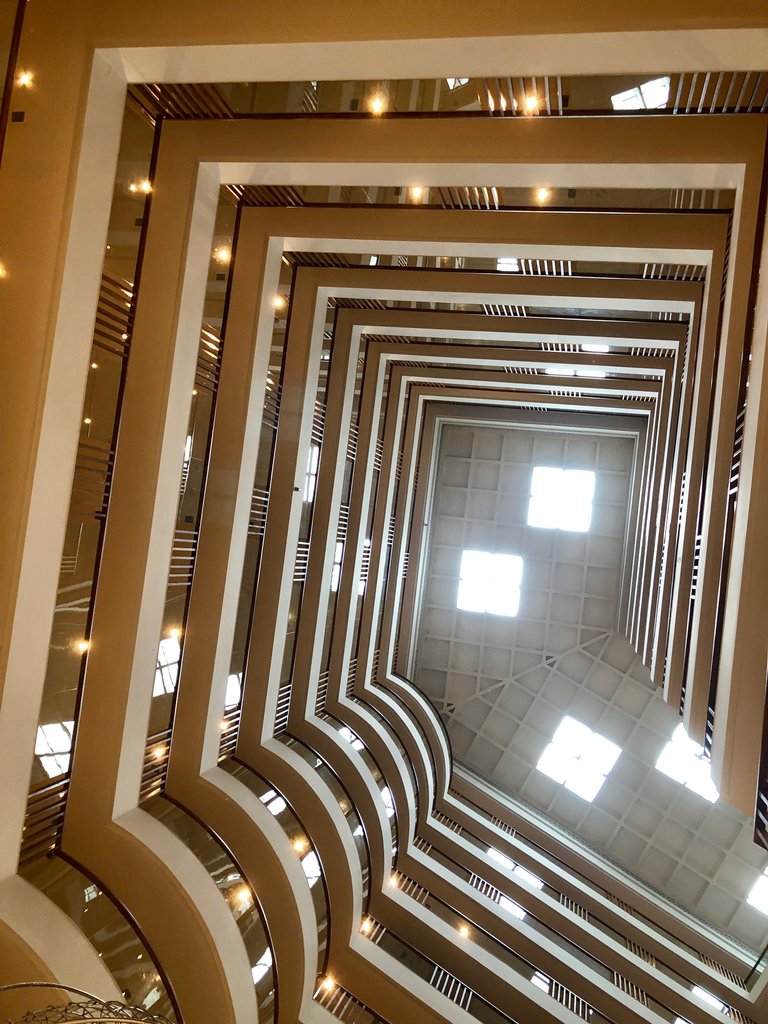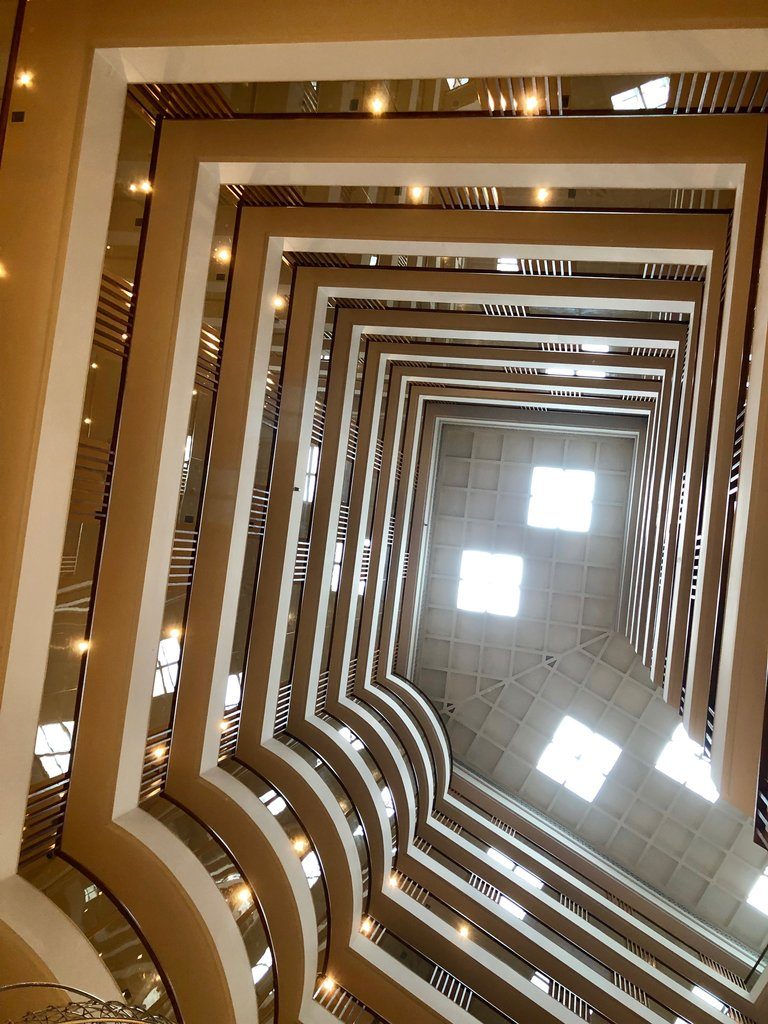 As we went on a tour of the hotel, I stopped to admire the architecture and design. There are 194 rooms divided into different categories like superior and executive,  besides 25 apartments, including studios and 12 suites. The apartments are ideal for leisure and business travellers and even families contemplating a longer stay in the city.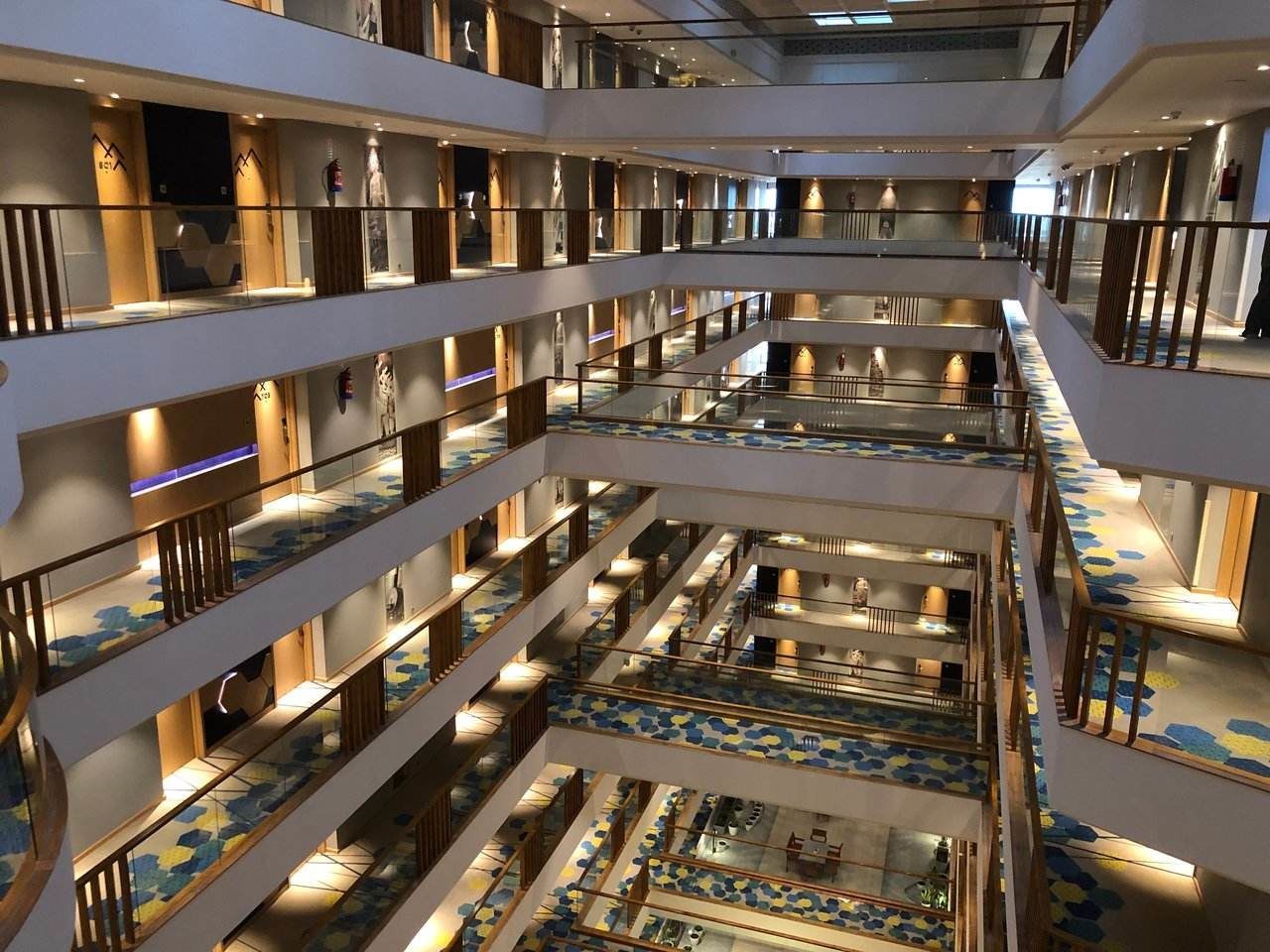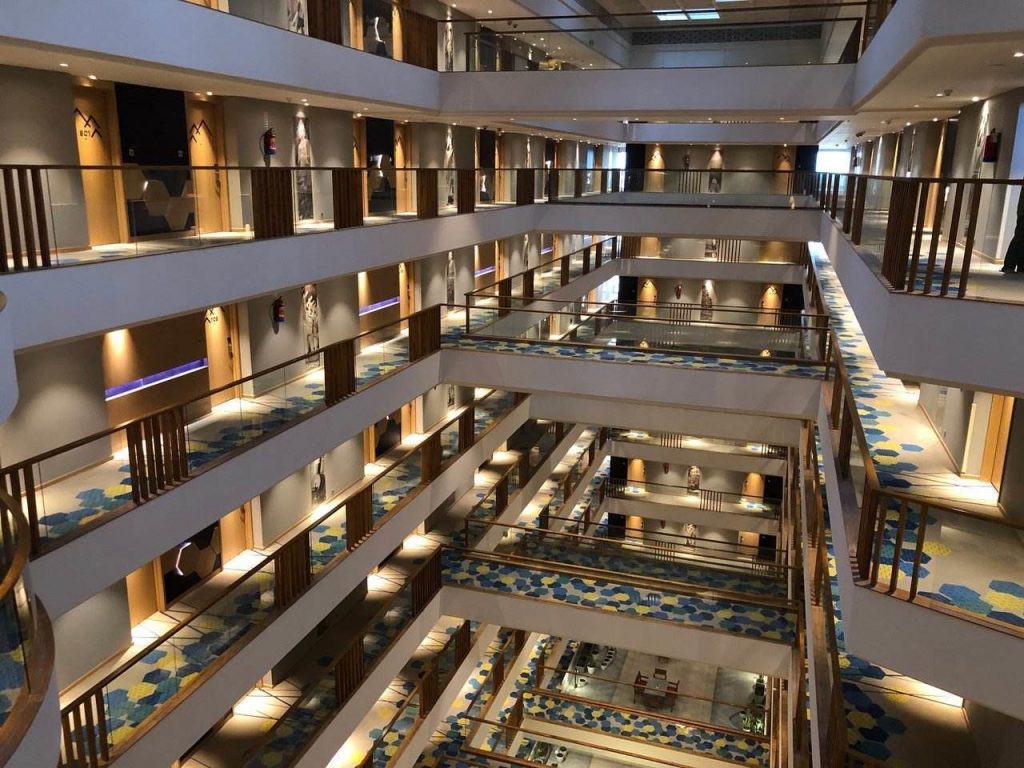 The hotel is also catering to international business travellers who are working on various projects around the city. There are also three meeting halls and a large banquet hall with a seating capacity of 800,  that are ideal for events – be it corporate, political meetings or even luxury weddings. The rooms are stylish, contemporary, upscale and extremely comfortable.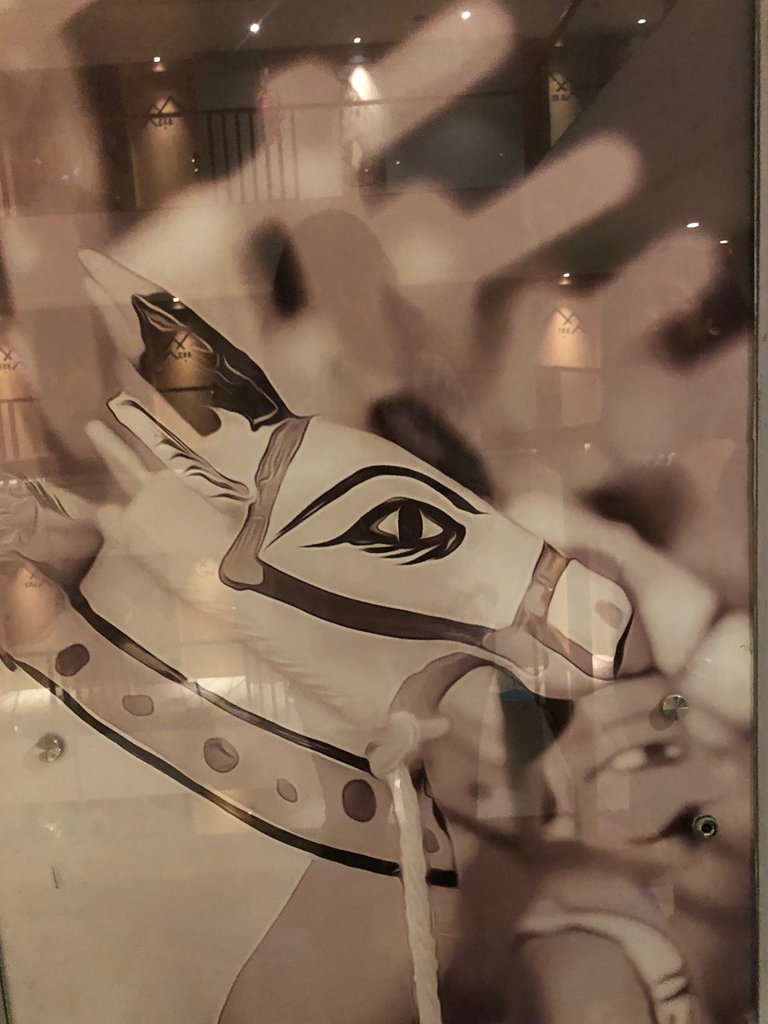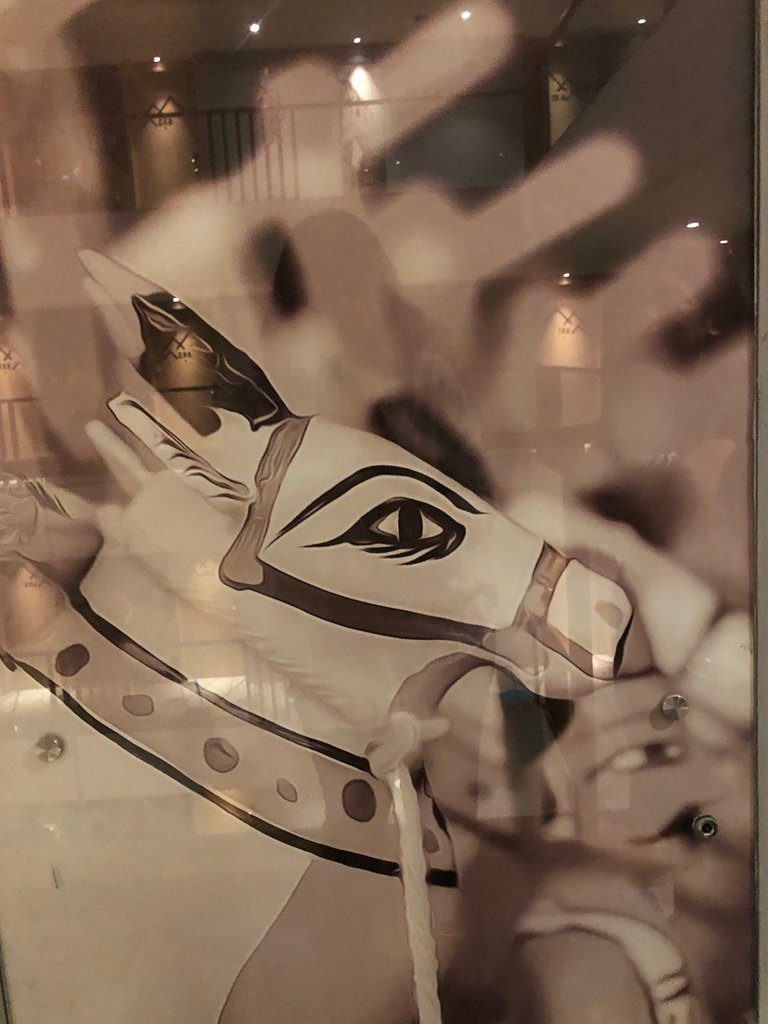 Back in my room, I was taken in by the tasteful decor and the elegance and the understated luxury. But it was the stylish contemporary lamp and the beautiful poster of the Prakasham Barrage that caught my attention. They even greeted us with Kondapalli toys, adding an endearing rustic touch to the experience. I was, however, curious to see what was in the dessert platter – a blend of the East and West flavours – with chilly macaroons, spiced with Guntur chills. It was a tinge of chilli in it but it was rather delicious.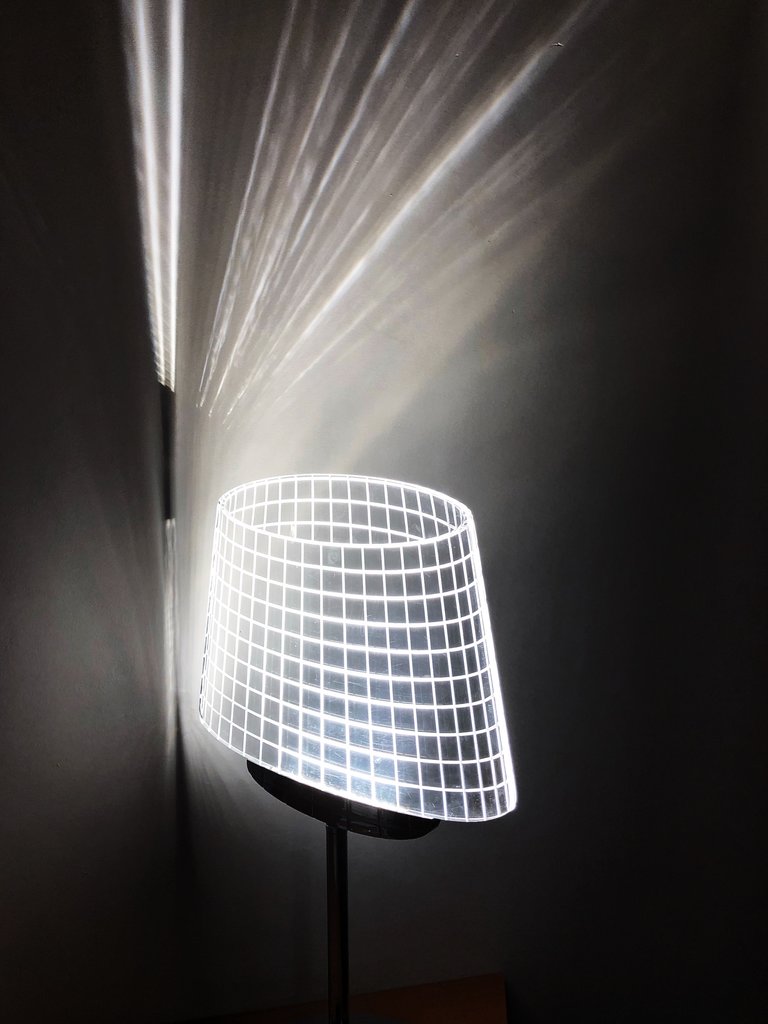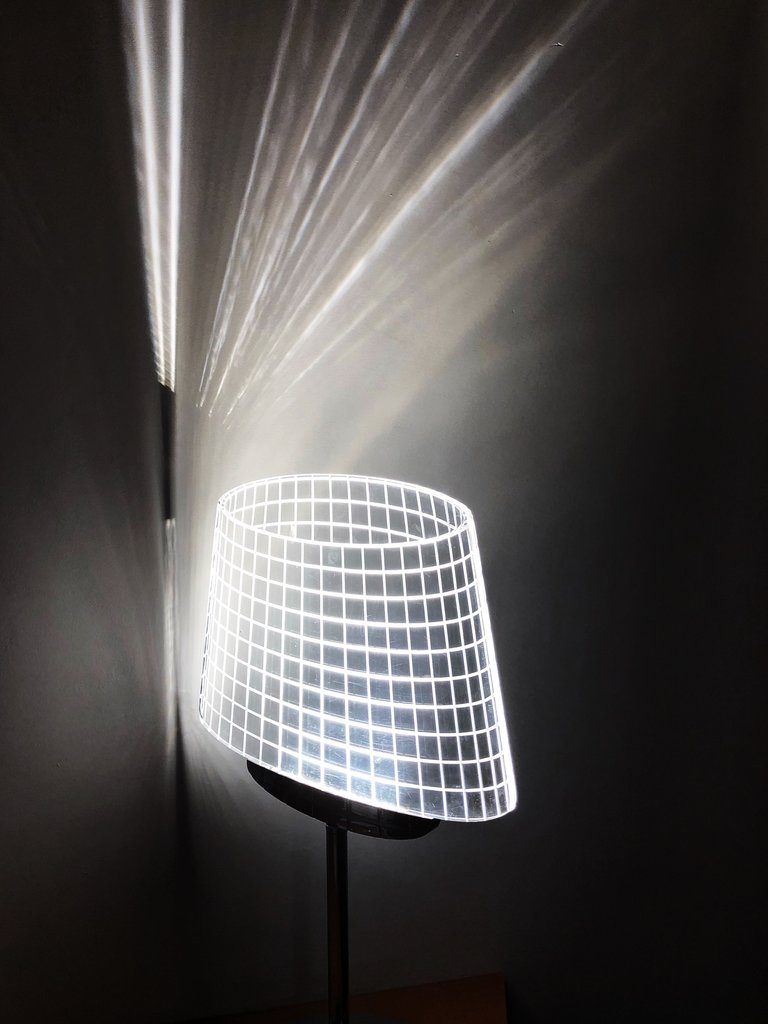 Food is more of an elaborate affair in Novotel Vijayawada Varun. We started with some exciting cocktails at The Gourmet Bar – spicy mojitos with chillis, also from Guntur and a simple mocktail with a lovely twist – the G.B Vasantha Neer Thandai whipped up with coconut milk and nuts. Lunch and dinner were elaborate, delicious, sumptuous, overwhelming and rich in flavours. There is the signature Food Exchange which has one of the most elaborate spreads that I have seen, with a blend of international and Indian cuisine, but what really excited me was the local cuisine.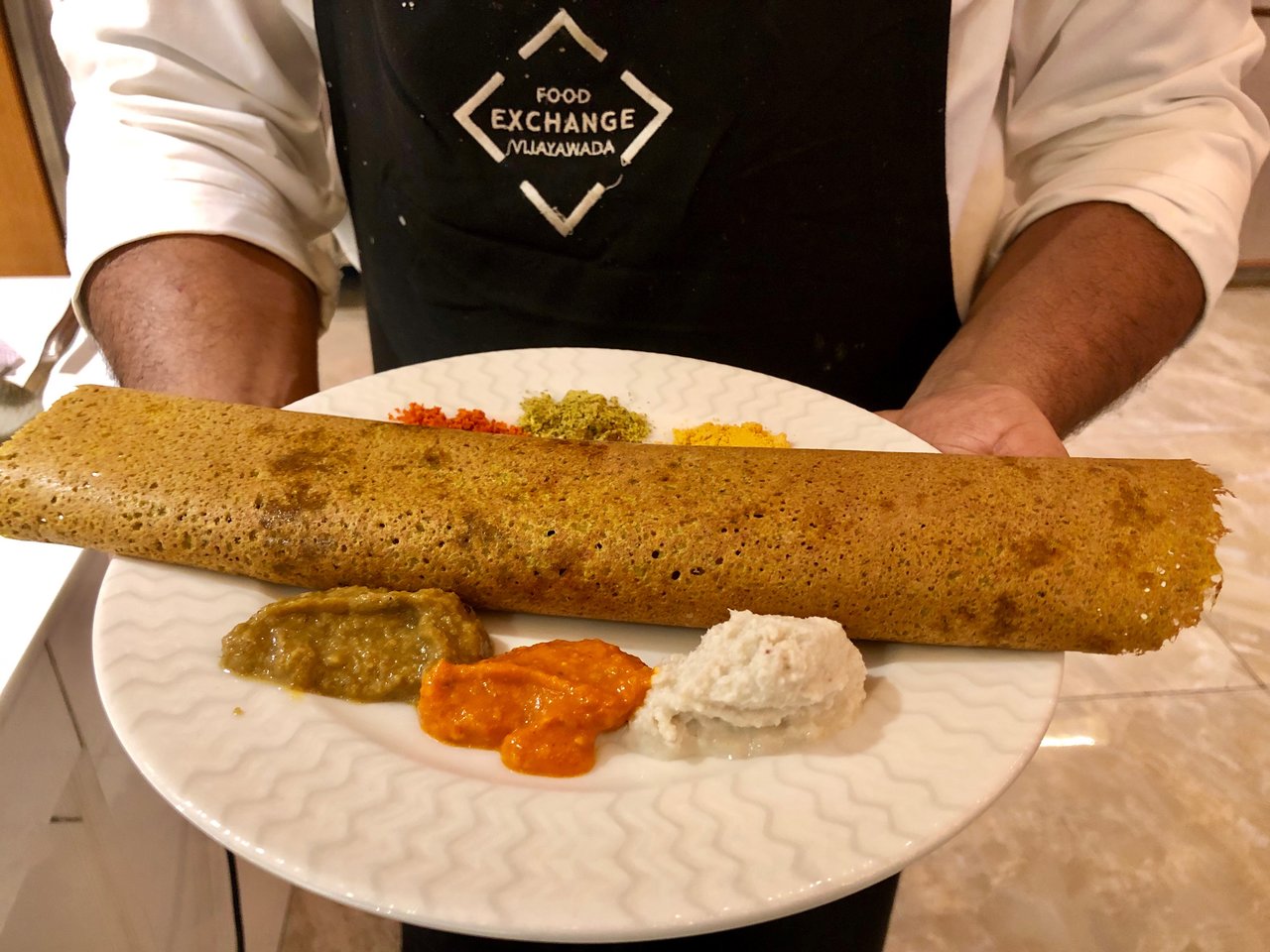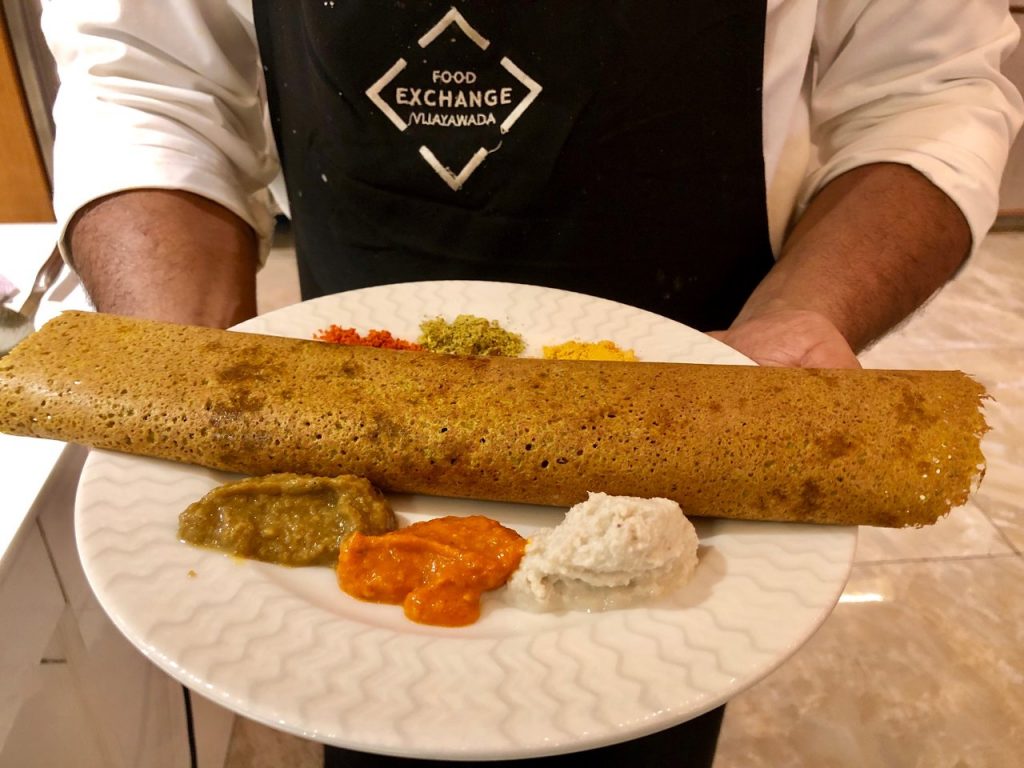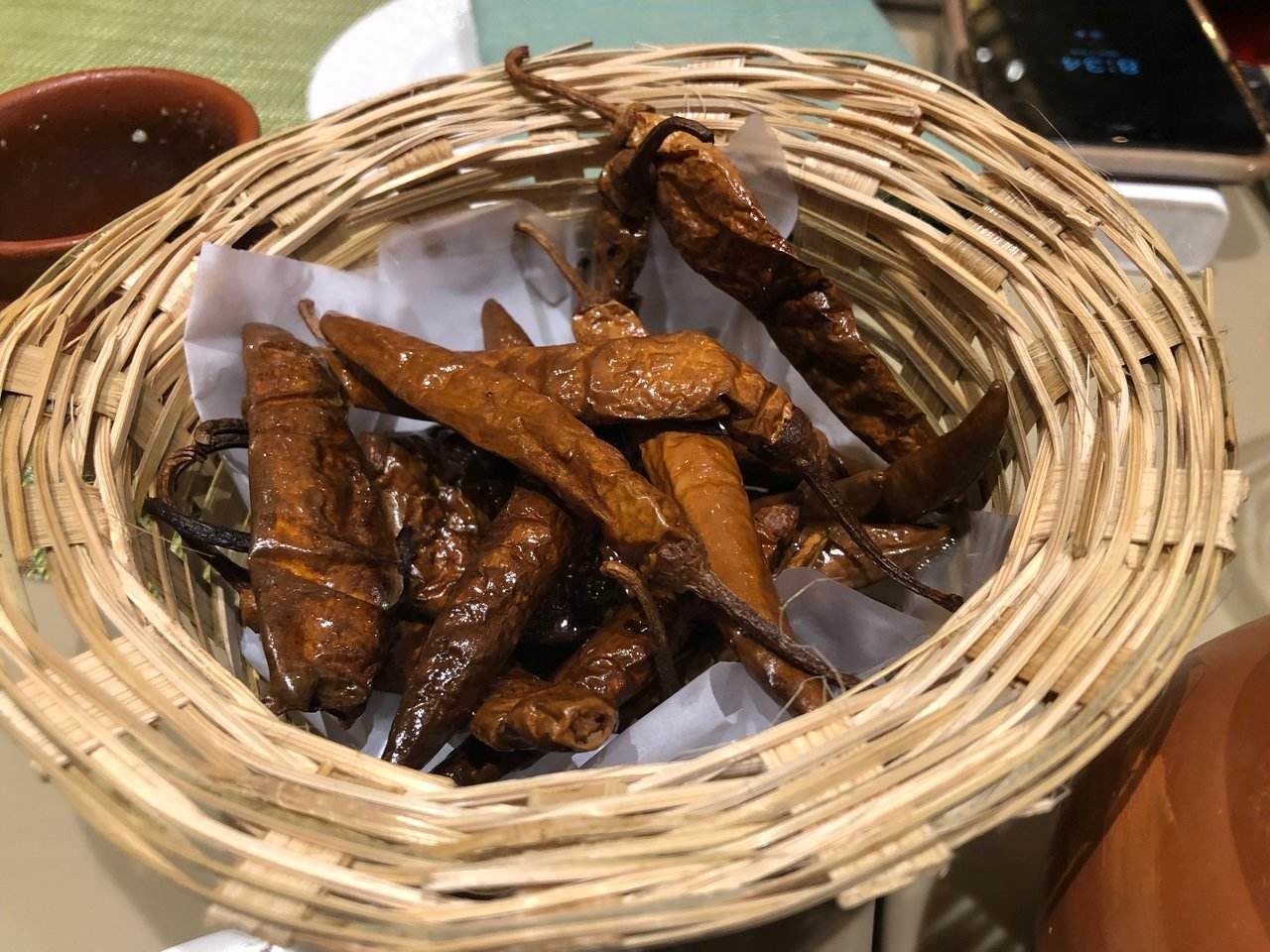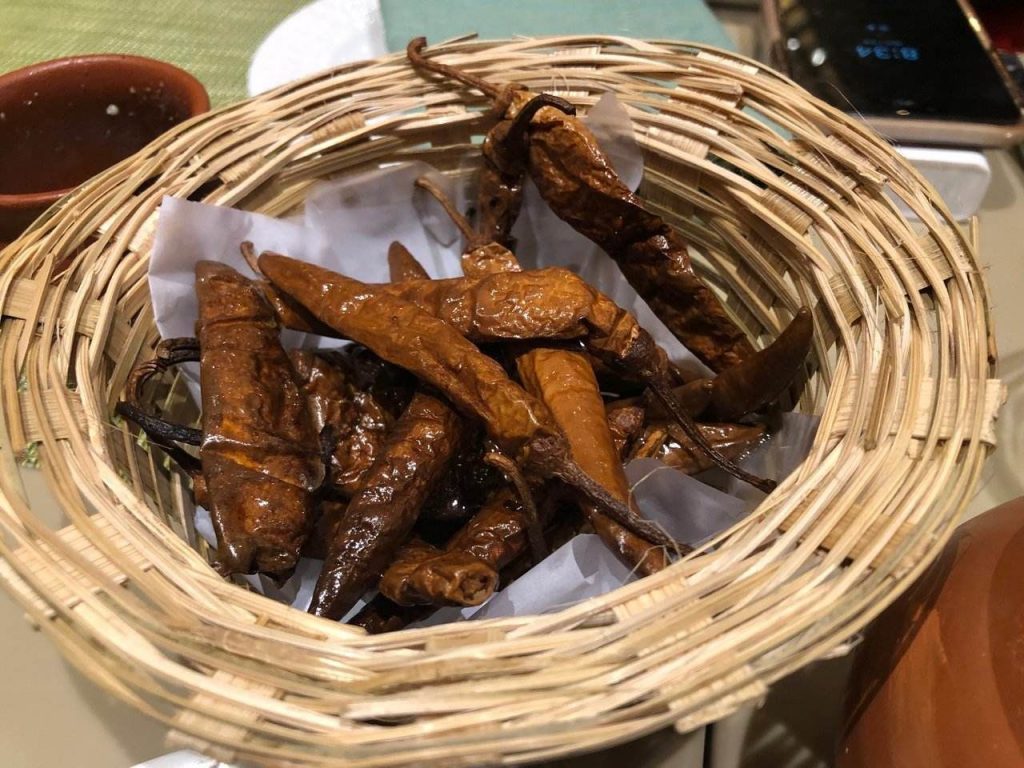 The variety of dosais and vadais with the spicy powders and chutneys was overwhelming and I was virtually eating pesarattu, the dosai made with green gram and spices every morning for breakfast. There are live counters here, serving you hot and fresh food as well. There are special menus for children and you also get halal food here, besides ala – carte dishes.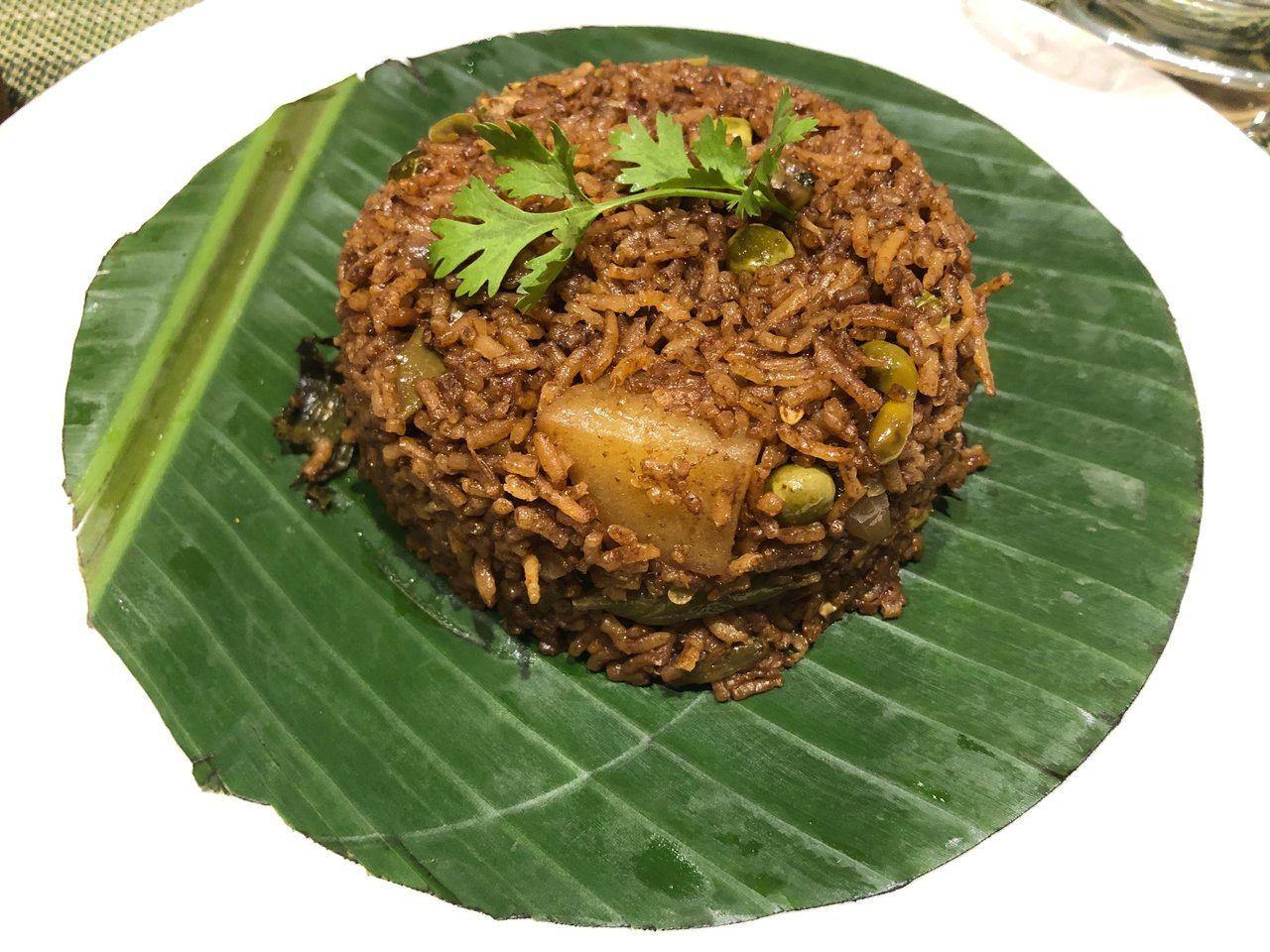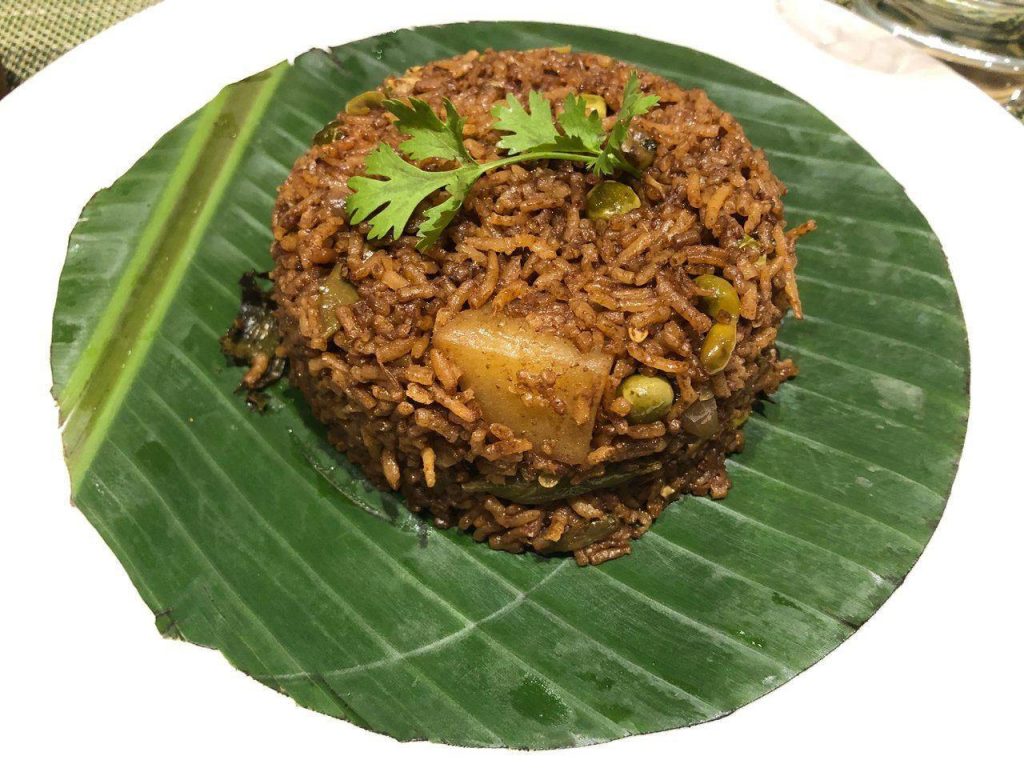 We had a very special food tasting session, where we sampled the new menu that would be served in their yet to be launched rooftop restaurant. We thought it would be a simple sampling session, but it turned out to be one of the most elaborate seven-course meals with an exquisite presentation made by Chef Vinay Kumar.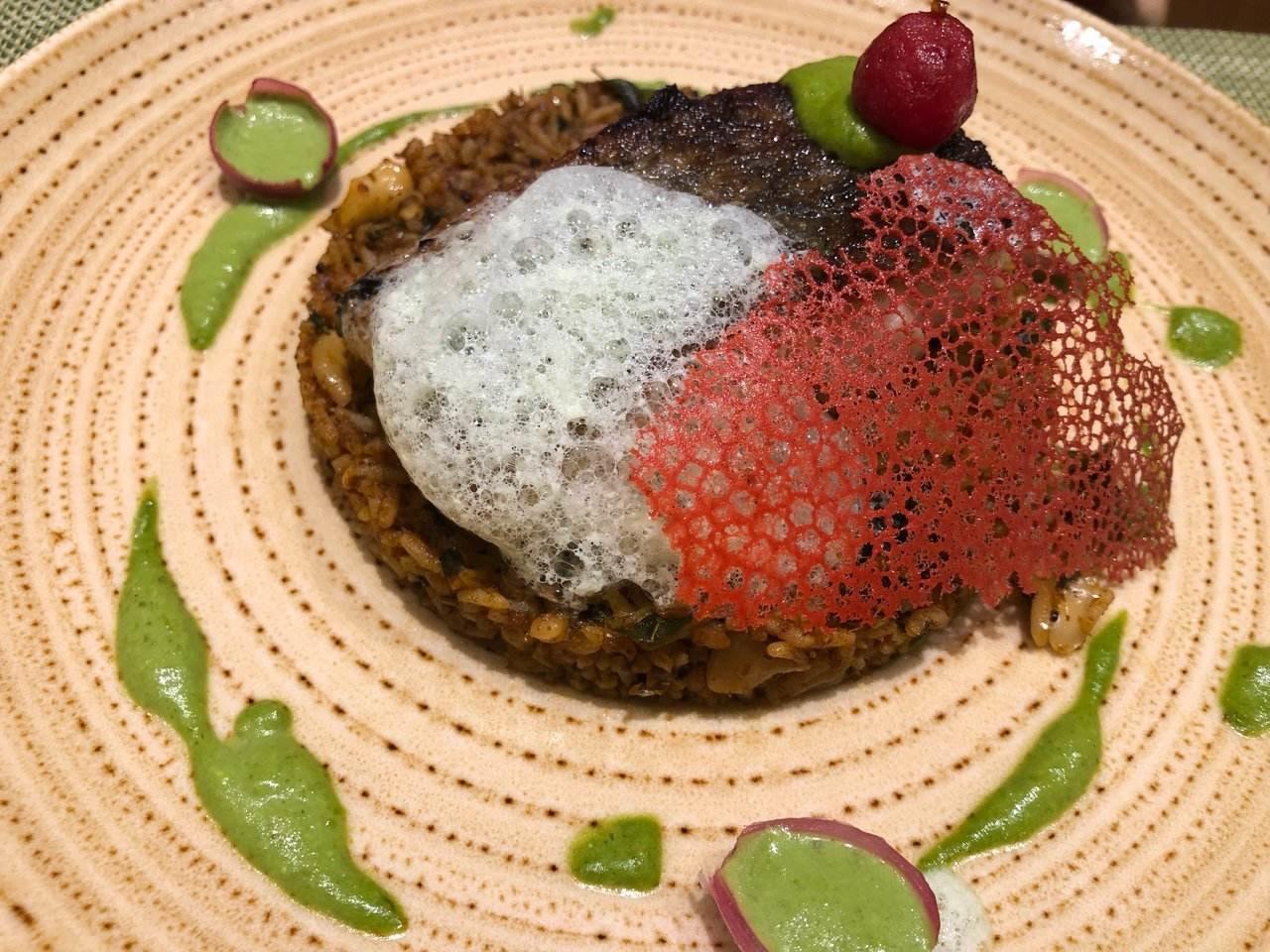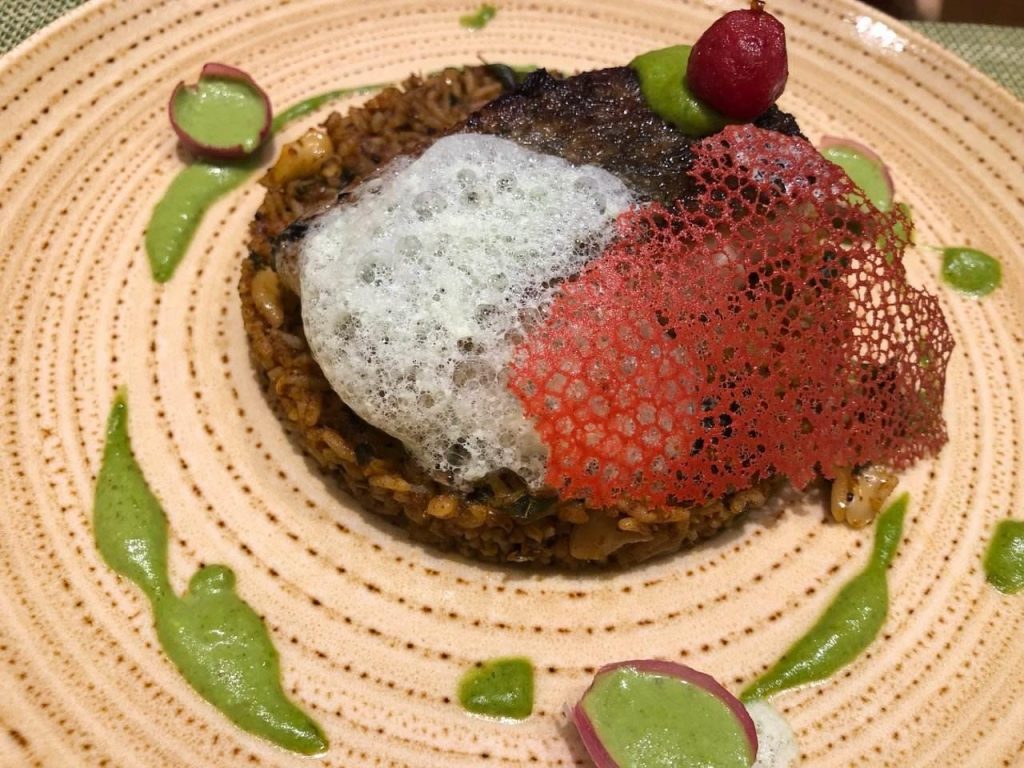 I must confess that I was rather fascinated by the presentation of the fusion food. Every dish was carefully researched and was a mix of traditional and local flavours blended with contemporary international cuisine.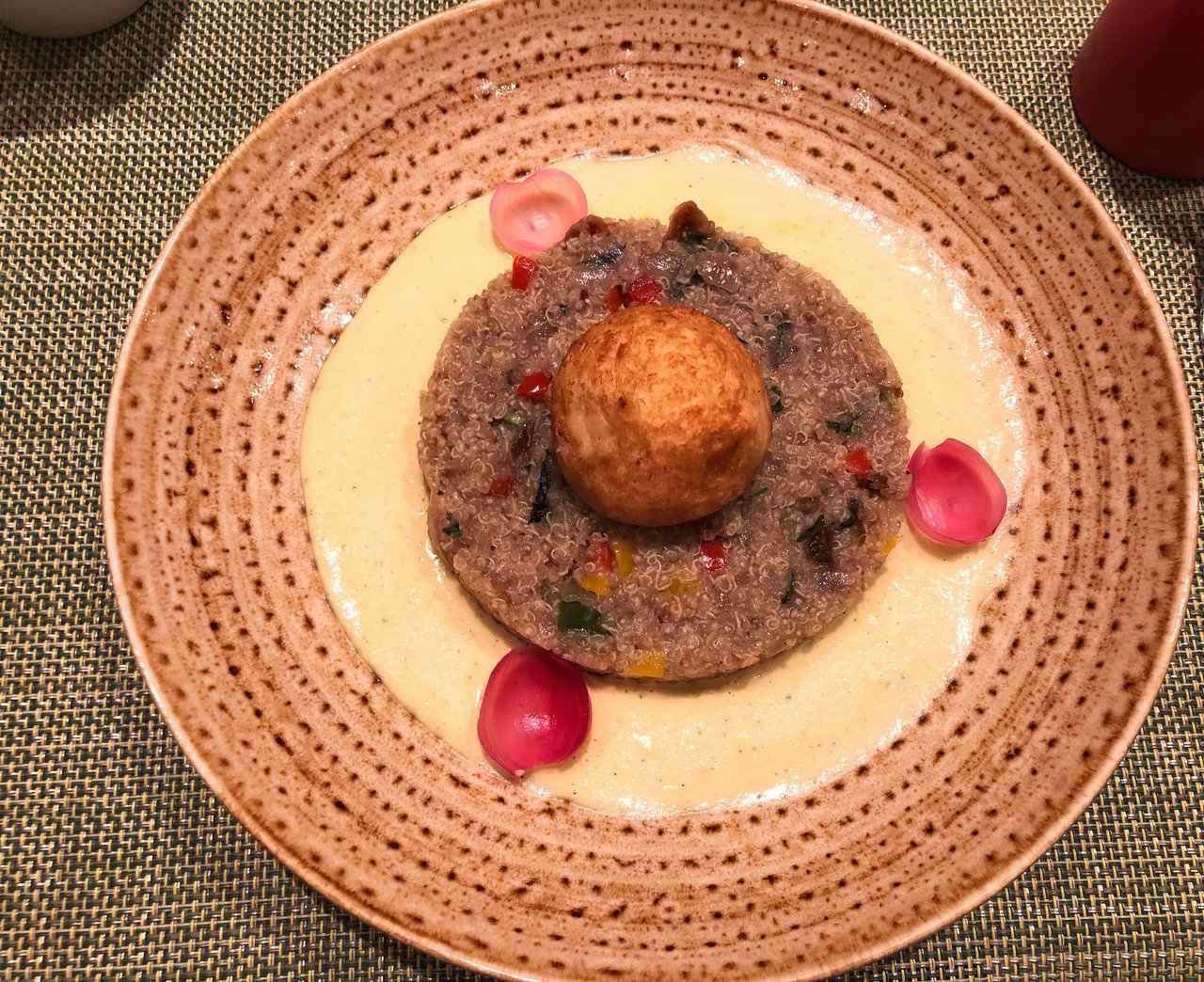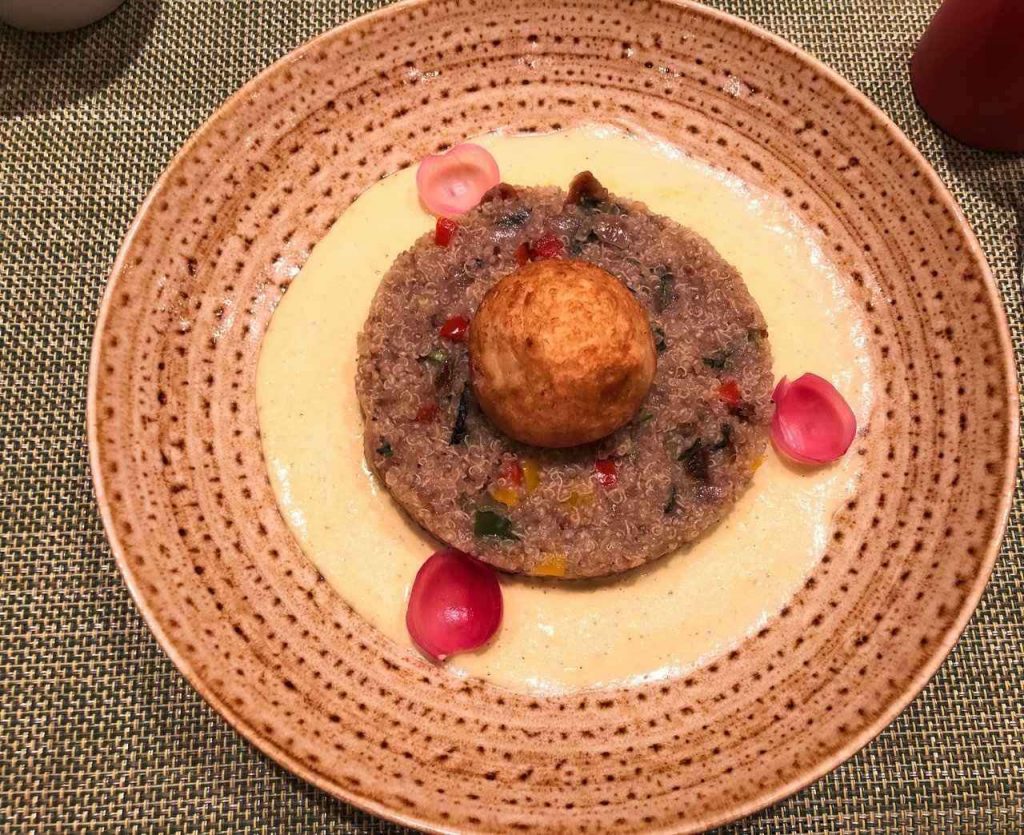 The menu started with soup and appetiser, followed by the main course and dessert. A mix of both vegetarian, meat and seafood dishes, every item on the menu was carefully curated to suit different palates. Besides being innovative, it was absolutely delicious. The soup was Mushroom Cappuchino, with a creamy foam that resembled that of a cappuccino. Appetisers included Cheddar and Mozarella Chilli Bhajji and Miriyala Baby Corn with Mustard Mayo. For the seafood lovers, there was Bezawada Crumb Fried Fish. The main course had Panner Kofta with Quinoa Pulao for vegetarians and Thai Red Curry with Chicken for the meat lovers. The dessert was the delicious Cheese cake with Gulhand stuffed Jamun.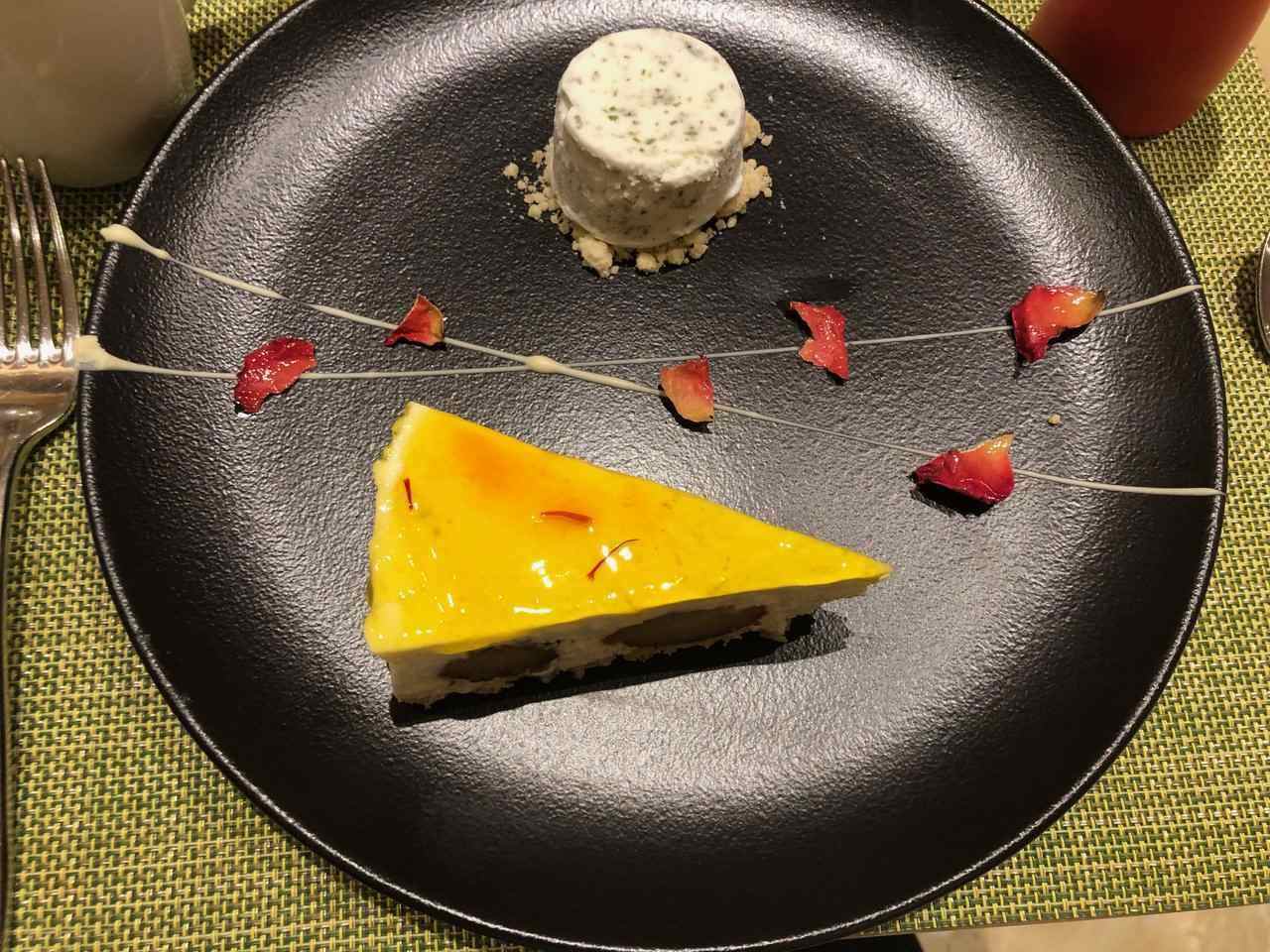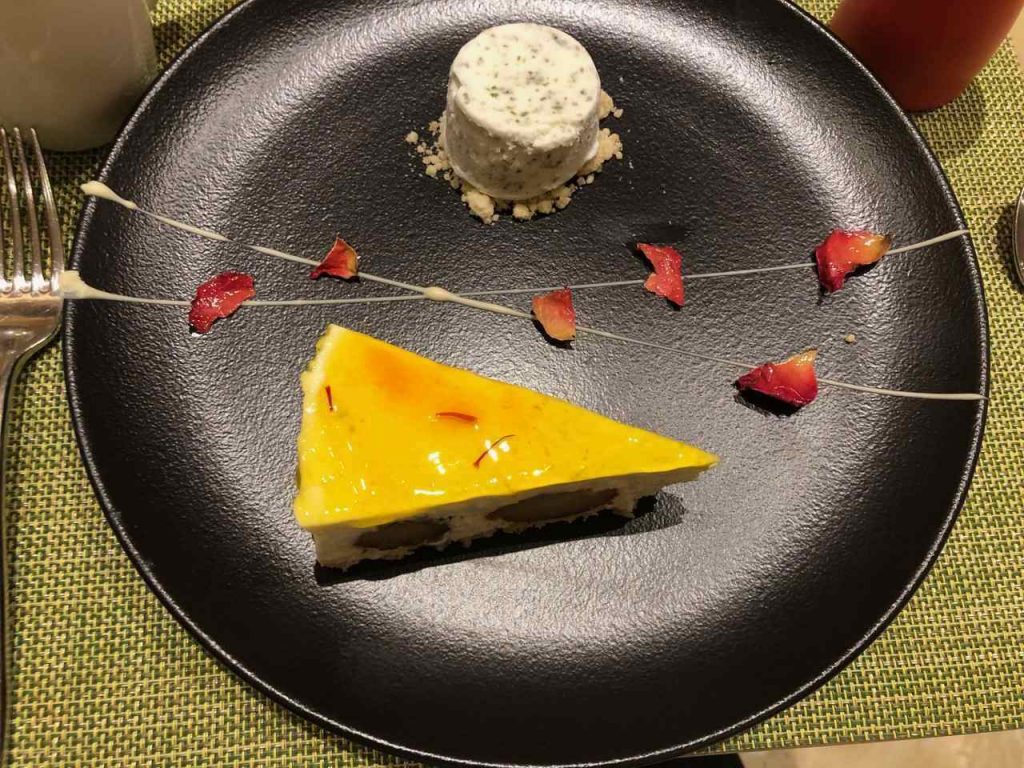 Wugan the speciality Chinese restuarant was no less special. A group of loud Chinese guests disrupted our dinner, but we were in awe of the performance of Chef Mir, who kept us enthralled with his juggling skills and fiery acts. The knives went flying as he whipped up some delicious dishes at the live Teppanyaki counter.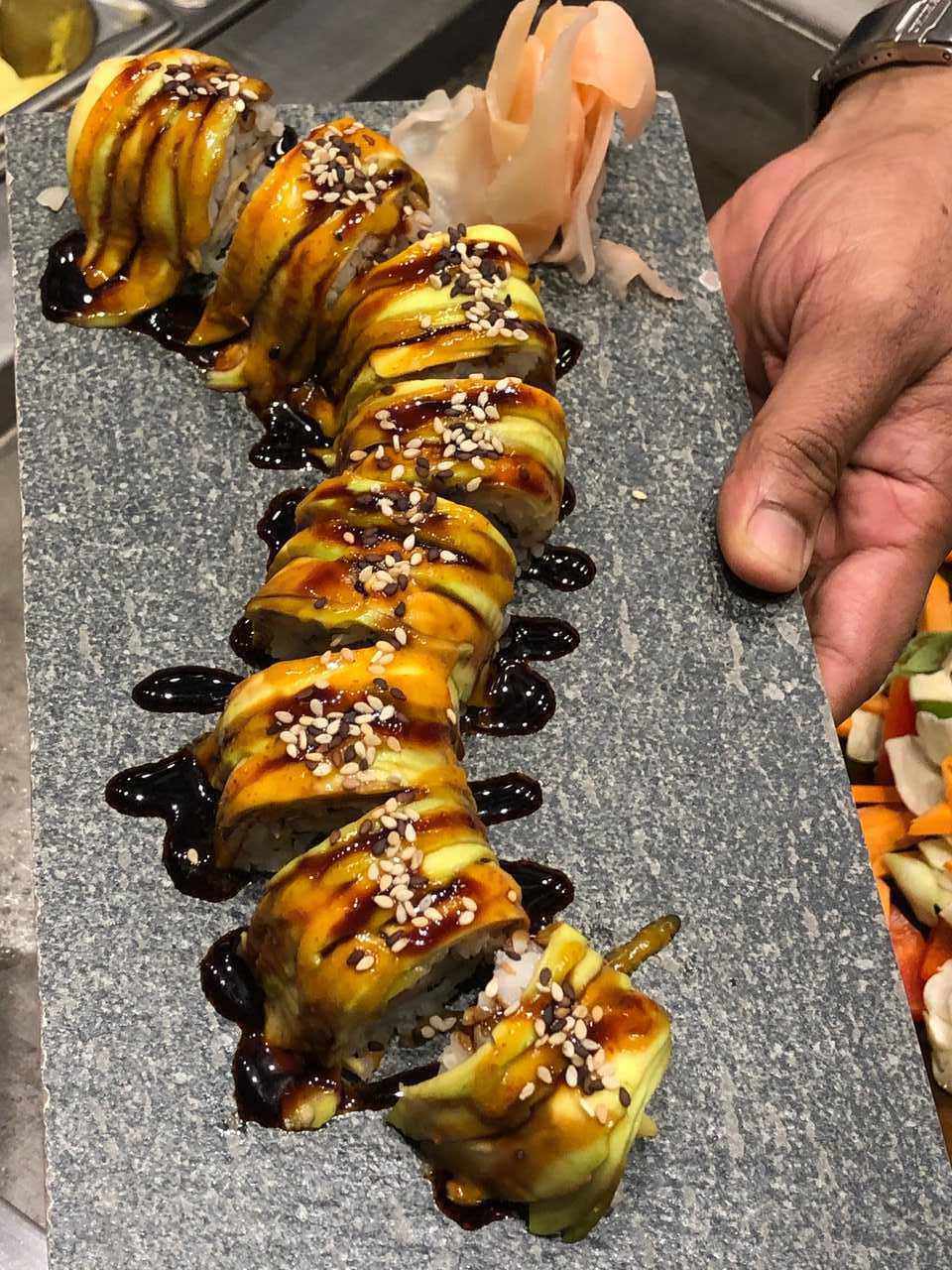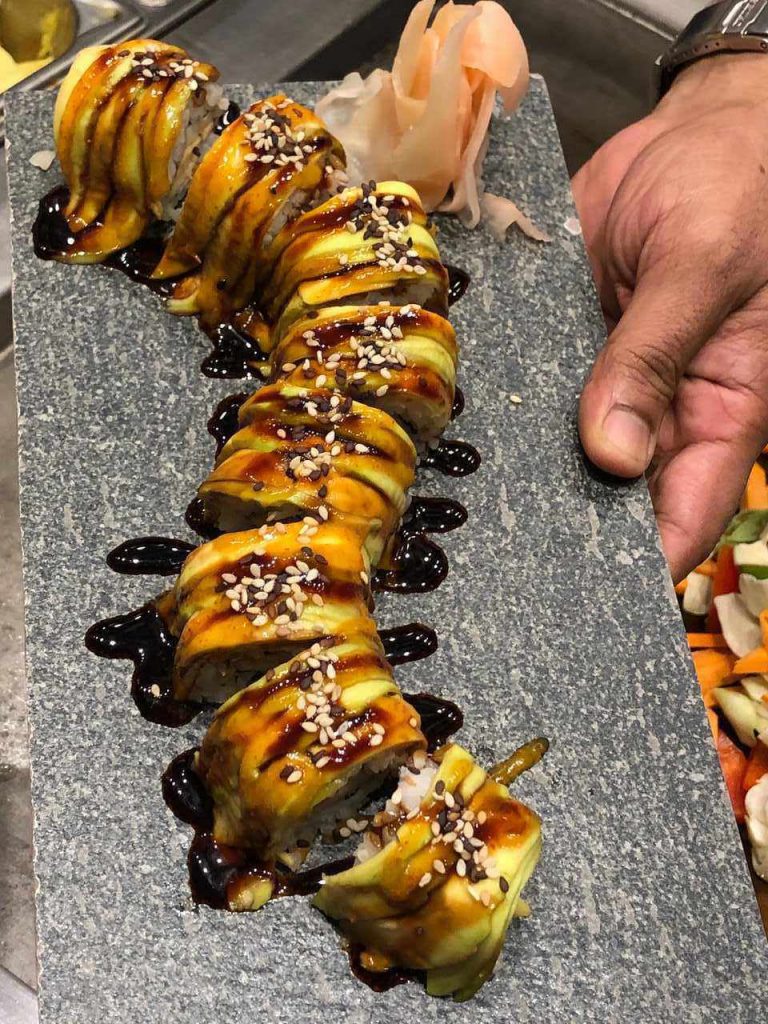 It was not the first time I was trying Teppanyaki cuisine at one of the Accor Hotels. I had tasted the same at the Bheemili Resort managed by Accor Hotels and Novotel Visakhapatnam Varun Beach, which are all part of the same family. And needless to say, they were all delicious.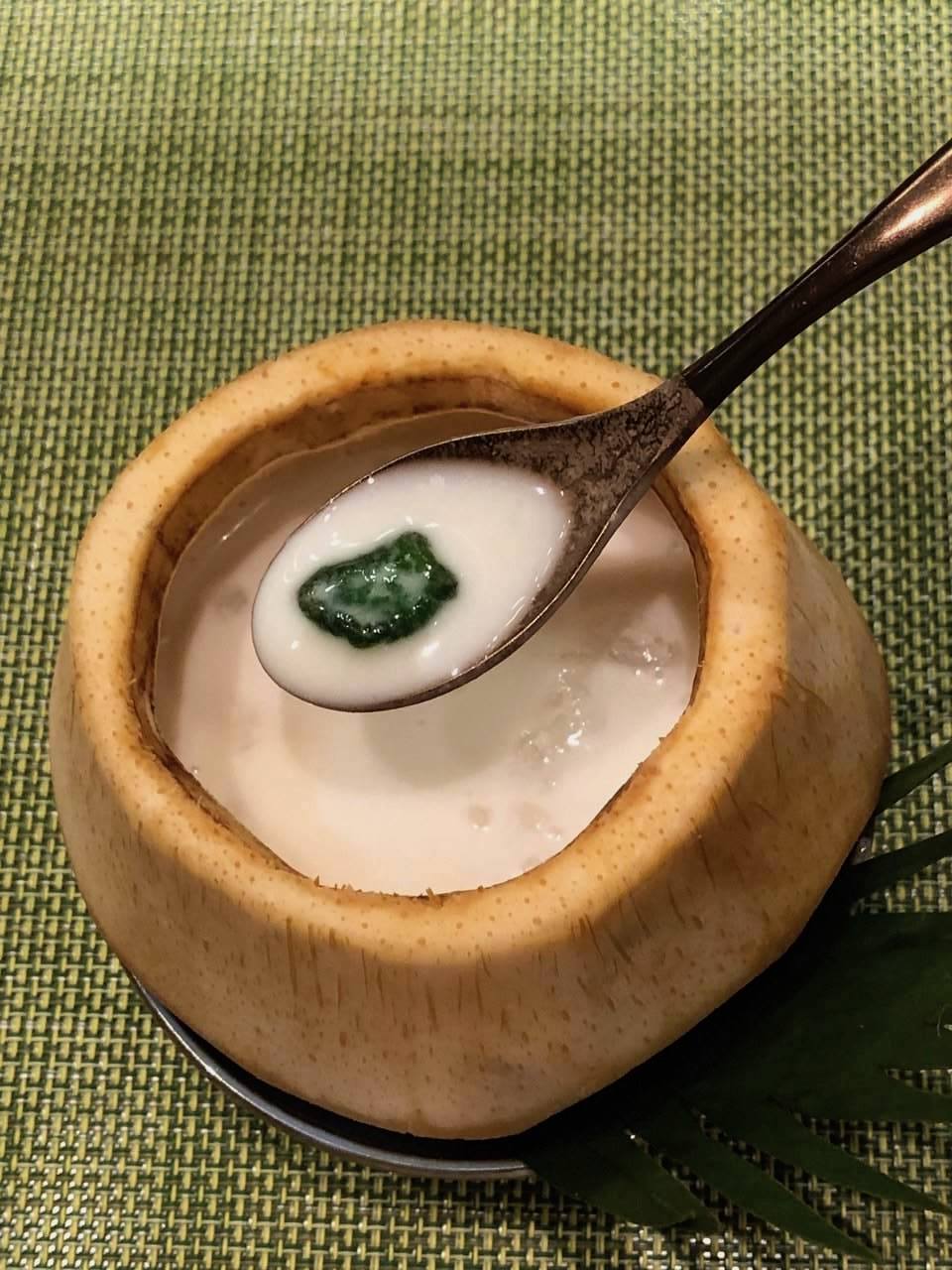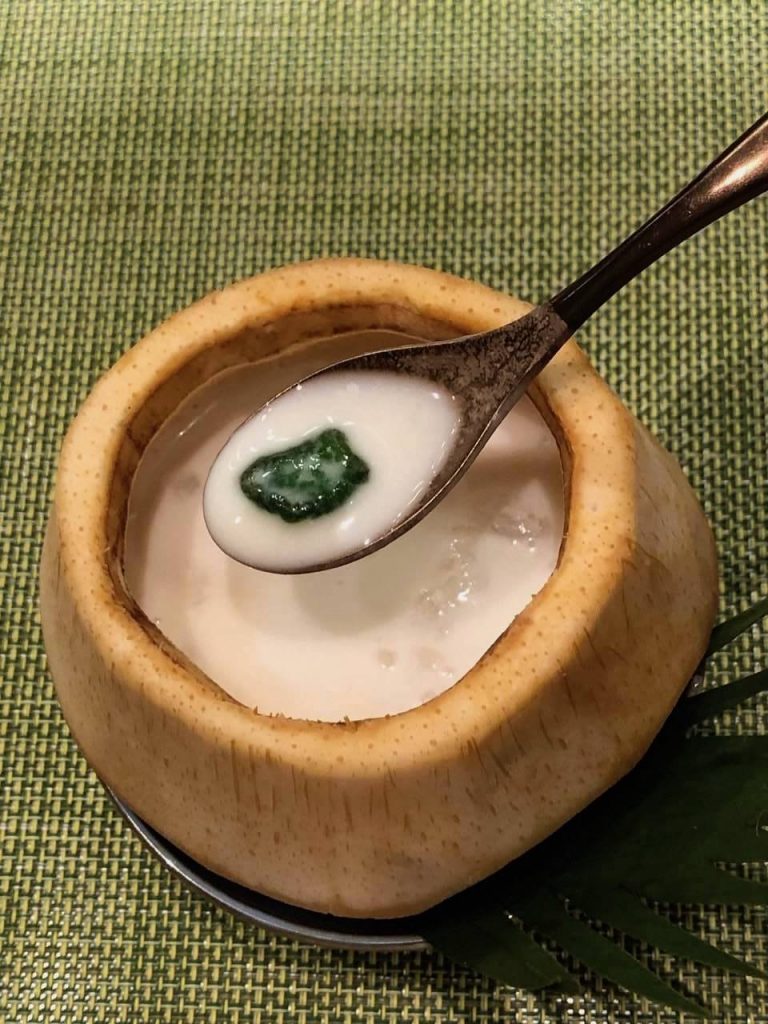 Finally, it was time to burn all the calories by either heading to a swim or a run on the 215 metre jogging track on the terrace. I chose to walk though, losing myself in the cool breeze, while waiting for my turn at the cosy Dew Spa where I was pampered for 90 minutes with a relaxing massage followed with steam and shower.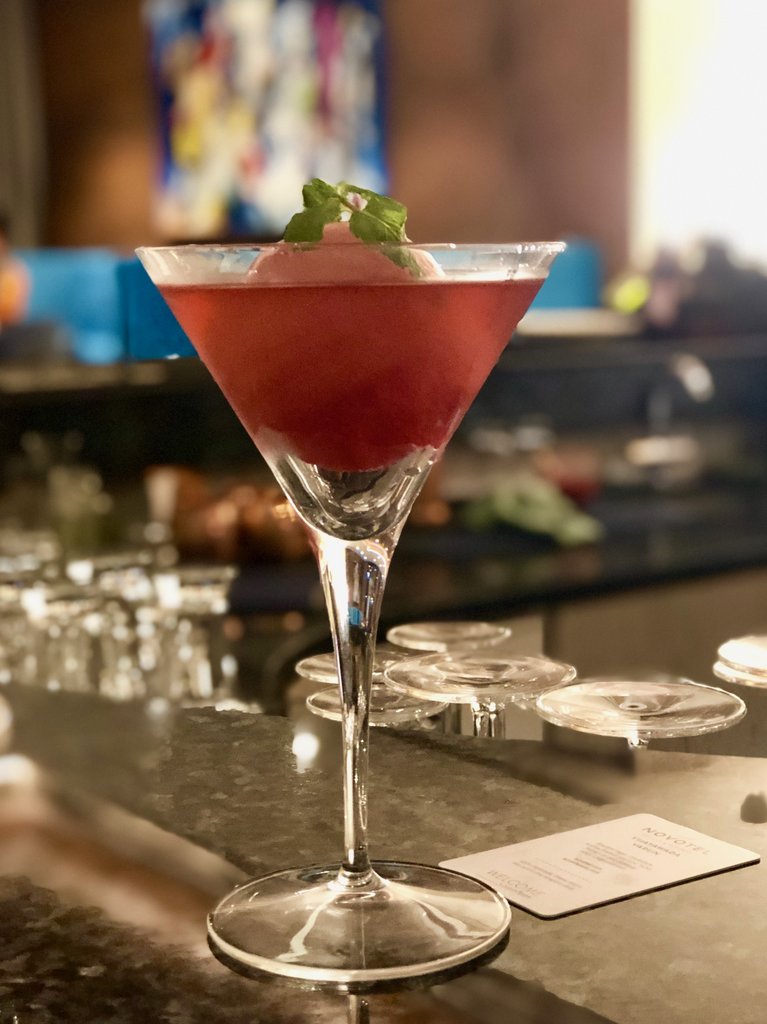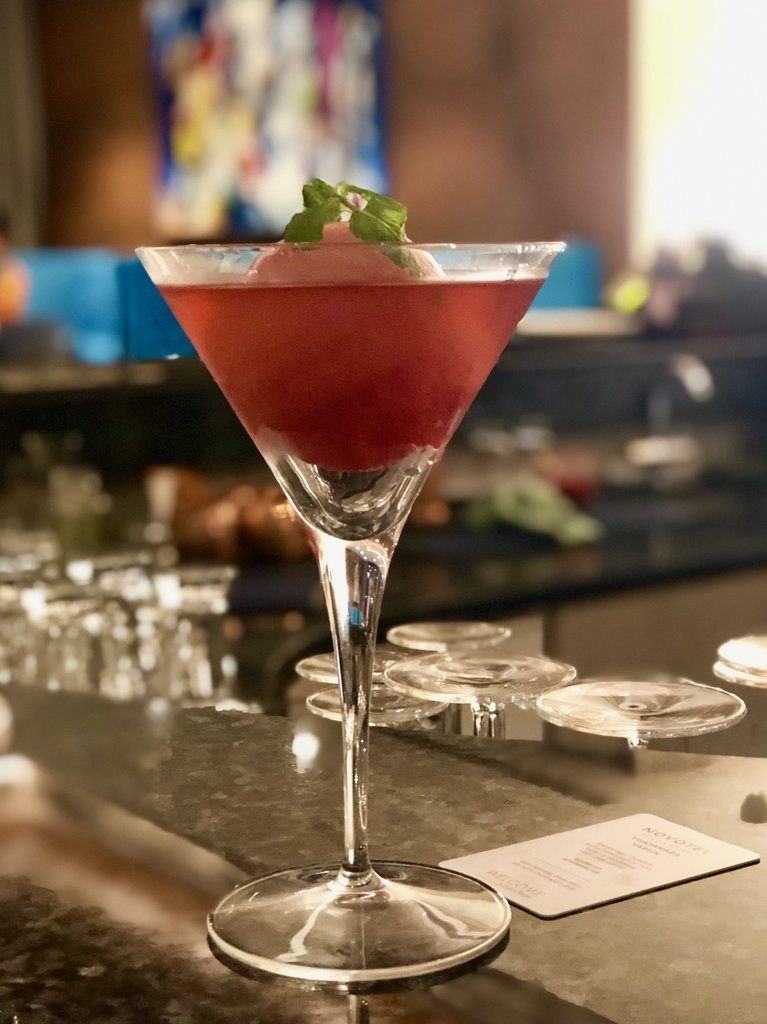 While Novotel Vijayawada Varun overwhelmed me with their hospitality, the town was equally fascinating. In a couple of days, we had a bit of a whirlwind tour exploring Undavalli caves, Kondapalli fort, Mangalgiri villages besides several ancient temples like Kanaka Durga temple and the Panakkam Narasimha temple. We even headed to the spicy Guntur market. We explored the new capital of Amaravathy and headed to the Peace Pagoda and the old Shiva temple. I realized that there were so many cultural and heritage destinations tucked away around this city. I would love to plan another trip and explore them. Meanwhile, stay tuned for more blog posts from Vijayawada with interesting legends and stories. And meanwhile, cheers with a lot of hot, spicy chilli flavoured cocktail for you !