Five tips to plan your travels for a long weekend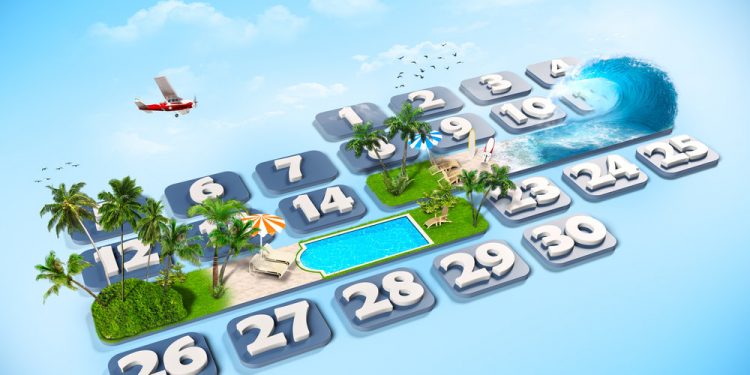 There is nothing more exciting than an extended long weekend as it means another vacation. When combined with festivals, the long weekend makes for a perfect opportunity to travel. Most of you plan weekend getaways during the long weekends and very often your holiday is spent on the road, stuck in traffic jams. The destinations get crowded, and you often wish that you had stayed at home and enjoyed the silence. However, if you plan your travels for a long weekend well in advance, you can find yourself in a beautiful destination, far from the chaotic crowd. Here are five tips that will help you plan your travels for a long weekend and have a great travel calendar. 
Start a year ahead
You may think it is a no brainer to plan well ahead, but believe me, you need to start as early as a year ahead to get the best deals. I have of late learnt the art of meticulous planning and it has helped me go places. The holiday list for the next year is usually available by Christmas or even earlier. If you can synch it with your vacation plans and school holidays, then you can actually plan well in advance. You can also extend your trip and take off to an exotic destination or make multiple short trips based on your budget. I usually do two long trips and numerous short trips in a year. Planning your travels also means planning your finances, and you need the right financial plan for the same. The financial constraints can be an obstacle if you do not have a special travel budget. Personally, for me, a long term savings plan from ICICI Prudential Life Insurance helps me with my annual travel kitty.
Look out for deals online
Most budget airlines have their version of online shopping festivals as they announce their deals for the next year. If you keep a look out for these annual sales and deals, you can find yourself getting a cheap flight ticket to an exotic destination of your choice. I got a ticket to Italy at around Rs 30000 and I have found deals to Australia and New Zealand at around Rs 27,000 for a round trip. I have even managed to get tickets within India for less than Rs 4000 for a round trip. We did book in fact a trip to Perth six months in advance through one of these online flight sales. You can virtually book months in advance for these long weekends and save yourself a lot of money. In case you are unable to travel, some airlines will allow you to reschedule for an extra fee. But let us be optimistic for now.
Set an alert on apps and websites
There are some apps and websites that will allow you to set an alert to find cheap flights for specific destinations with respect to your dates of travel. If you have your holiday calendar in your hands, simply choose a handful of destinations you would like to visit and set an alert. The moment you get an intimation of a cheap ticket to any of these places, book it without blinking an eyelid. We did the same for Italy last year. We were actually planning for Iceland, but Italy was on my list as well. So when we saw the cheap deal for Milan, we decided to go to Italy and then drive around Croatia and Slovenia. Sometimes the deals determine your destination.
Plan multiple short trips
If your budget or time does not allow you to go for one big holiday of your choice, then you can choose to take multiple short trips. You can go by road to a weekend getaway, relax in a wildlife lodge, visit heritage and temple towns or head to the beach or mountains. We planned a road trip along coastal Karnataka and then went on a food trip, trying out the coastal cuisine. We have even explored temples of Bhubaneswar and visited Kutch during these long weekends. For years I have been planning to explore the states of North East India as I have not been there in a decade. While I am unable to plan a long trip, I have decided that I would rather do shorter but multiple trips. In the same way when I am unable to invest large amounts, I invest small amounts into lifelong insurance plans from ICICI Prudential Life to create a cushion that I can fall back on to fund my travels.
Plan based on seasons
With your list of long weekends in advance, you can plan based on seasons as well. You can plan to head to the forests for tiger tourism in summer or go bird watching in winter. You can trek in the monsoon, relax in a luxury villa in the mountains or even try camping based on the weather. If you are planning an international trip, then you could plan based on the appropriate season. We went to Cambodia just after the wet season and it was wonderful to see the lush forests around Angkor Wat. We are planning for a similar experience with Laos and Vietnam. We did a road trip in Croatia just on the cusp of spring and summer to avoid the peak tourist season. We went to Hong Kong around the end of the Lantern Festival and to Japan at the beginning of the Cherry Blossom Festival in March. Scheduling such experiences requires a bit of research and planning, but it makes for great holidays.
While travel planning can be overwhelming at times, it also becomes intimidating as you need to invest your money well in advance. I prefer ICICI Prudential Life's insurance plans because they give me tax benefits, life cover for my family and various options to invest. While my money grows over a period of time, I can also switch funds based on my willingness to take risks. All this helps me as a traveler to plan my long term goals and also travel during the long extended weekends during the festive season. I do not have to think twice about investing in my travels, when I find a great deal, even if it is for the next year.
This post is written in collaboration with ICICI Prudential Life