Camping under the stars at Pangong Tso Ladakh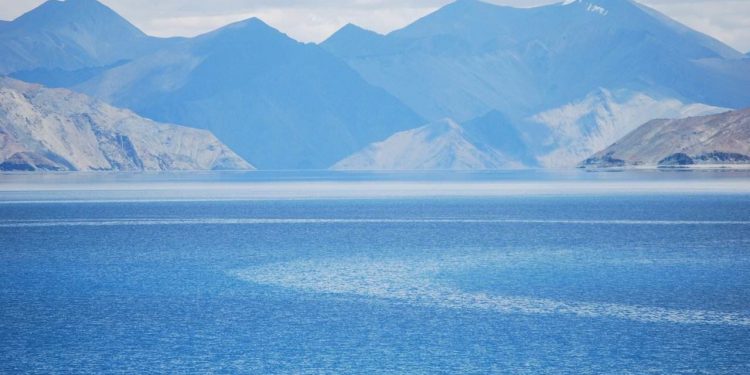 "Do you want to camp under the stars tomorrow ?" asked Dorjee, my driver as we drove back to Leh from visiting some of the Buddhist monasteries in Ladakh. We were planning to head to Pangong Tso, one of the beautiful high altitude lakes of Ladakh  and I thought Dorjee was referring to one of the many camps at Pangong Lake. One of the adventurous things to do in Ladakh is to camp by the lake and I could see several tourists heading to them. I asked Dorjee if  we were heading to one of the tented camps and he said, "No, we will pitch our own tent. "
Eight years ago, the husband and I went on a long trip to the land of the high passes – it was my first trip to the mountain kingdom while the husband had been to Leh before. But neither of us had camped anywhere, let alone in the Himalayas.
But Dorjee's offer was tempting. We had been in Ladakh for about five days and there were so many things to do in Ladakh that we had to take it slow.
We had been to Khardungla and Nubra Valley besides the monasteries – Thiksey, Shey, Alchi, Hemis and Stakna. We had planned to go to the lakes of Ladakh – Pangong Tso, Tso Moriri and Tso Kar as well. Dorjee's idea was to carry tents and sleeping bags with us and pitch them outside Pangong Tso and stay there for an entire night.  He promised us that it would be better than any of the camps at Pangong Lake. We could not say no.
The lakes of Ladakh have always been a fascination for many. There are groups that will swear by Pangong Tso, while others are fans of Tso Moriri. There are also prettier lakes like Tso Kar and Tso Kyagar as well. But Pangong Tso for me will always be special. Imagine waking up to views like this below.
We started our day very early. Fortunately, the sun was out and the entire landscape looked breathtakingly beautiful. Low hanging clouds kissed the top of the mountains while streams reflected the colours. The landscape kept changing in front of our eyes as we drove from Leh.
Along with Dorjee, we had another passenger, who was our cook who had made some delicious momos for us. The men pulled out a couple of chairs from thin air and we were having our breakfast in the middle of nowhere, with a little murmuring stream for company.
Travel I believe is a collection of moments like this. We were walking around aimlessly, drinking copious amounts of mint tea as the men sang Ladakhi folk songs and amused us with local gossip. The marmots came looking for company. And suddenly Dorjee whispered, " Cha Tung Tung Karbo. "
We watched a couple of black necked cranes, the national birds of Kashmir. The birder in me came alive. Peering through my zoom lens, these birds were large , painted in shades of white and  grey bird with a black head, red crown patch , black upper neck and legs and a white patch near the eye. These birds migrate from Tibet to Ladakh to breed and in Buddhist iconography, cranes symbolise marital longevity. "There is even a song around them, "says Dorjee, breaking into a tune.
We continued our journey as grasslands turned into snow clad mountains. We were at Changla, one of the highest mountain passes at 5360 metres or 17590 feet. We chatted with the soldiers over tea and continued our journey, until we saw a patch of blue peeping out from the mountains.
This was my first glimpse of Pangong Tso, a lake that flows between India and Tibet and almost 60 % of it apparently lies in China. It looked straight out of painting. It had taken me about six hours from Leh to get here but we were driving slowly, taking in every view we could.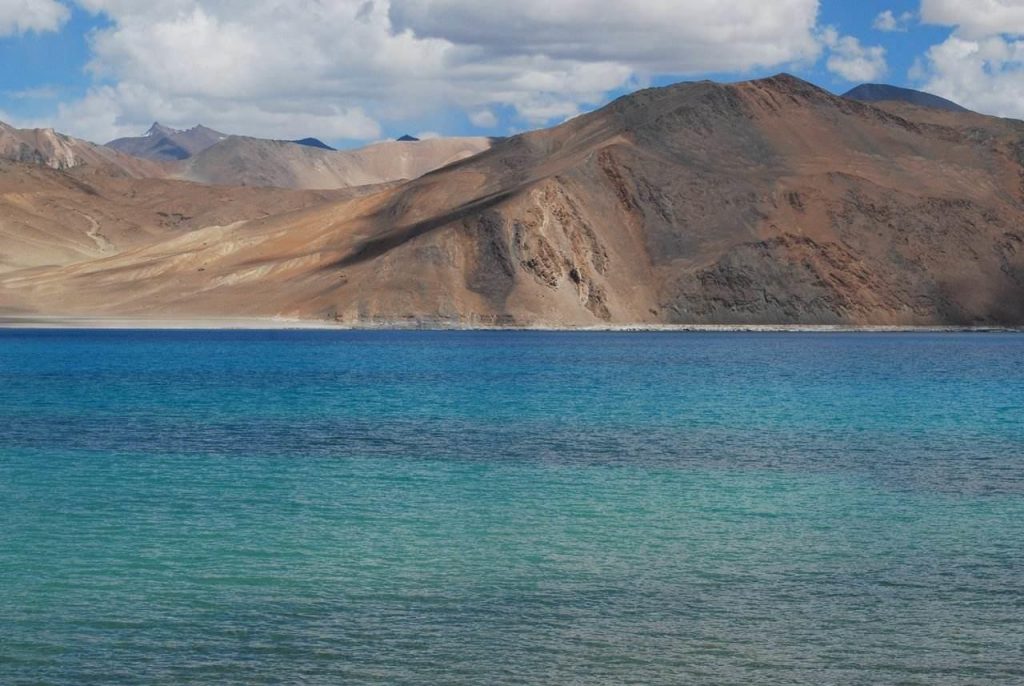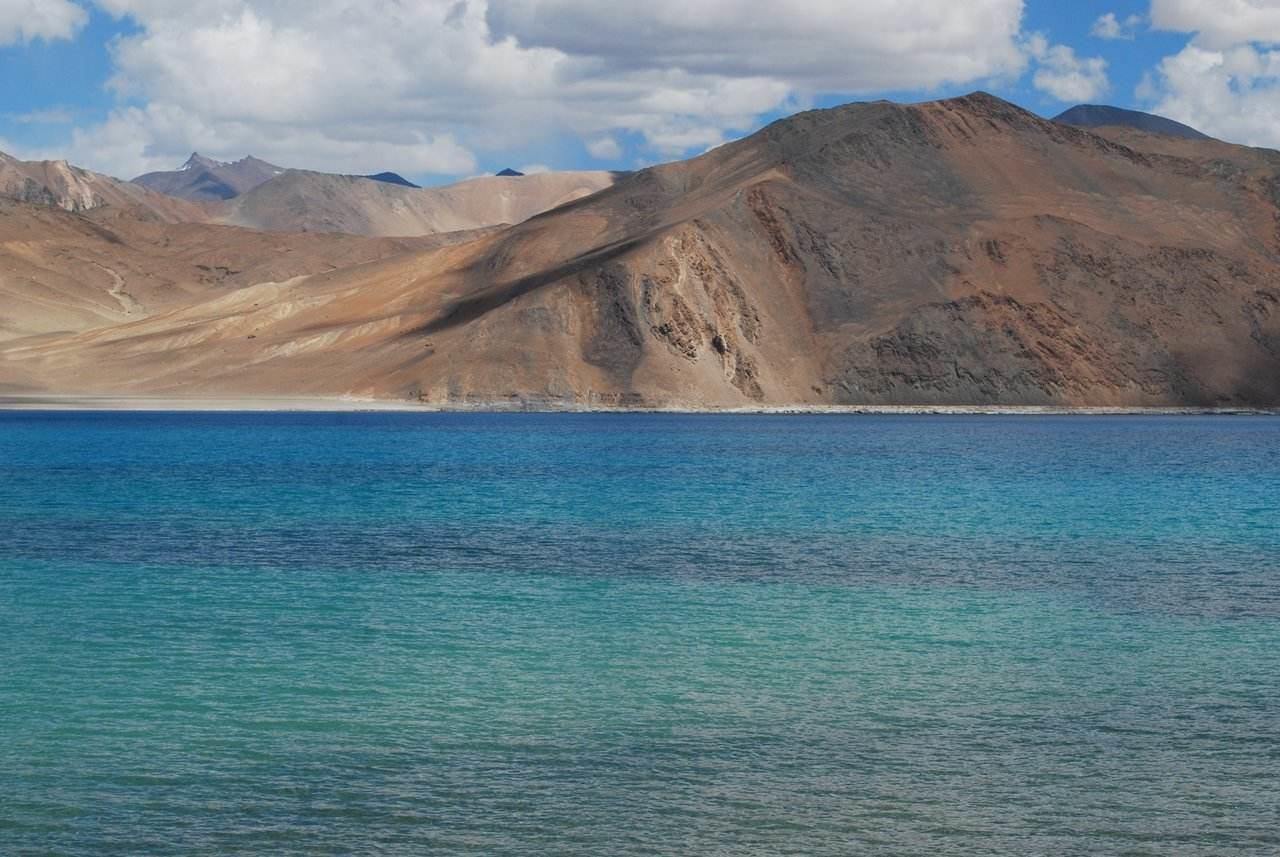 All I could see was just mountains and a vast expanse of  blue that kept changing by the moment. We looked like tiny specks of sand amidst nature. There were no other tourists around but for another couple. When we visited eight years ago, Pangong Tso was not yet a tourist destination.
The movie Three Idiots was not yet shot here ( in my opinion, it was the most idiotic idea to shoot a movie in such a fragile destination) and most travellers visited Pangong on a day trip. They would start early around 4 am and head back to Leh by evening .
It would mean being on road for twelve hours virtually and it just did not make sense to me. However, one did not find too many accommodation options then. Homestays were limited and one had to go to the neighbouring village at Spangmik to find them.
There were hardly any camps at Pangong lake as well.  I am told that the scenario had changed today although I am glad that I managed to get a feel of this pristine lake before tourism added to its woes.
We walked around for a while aimlessly. The lake kept changing colours and the many shades of blue became visible. I was worried that I would have altitude sickness but having acclimatized at Leh helped.
The boys found a camping site which was owned by a few locals who were working in the fields close by. We paid them the rent for a night and within minutes, my camp was ready. Four tents to be precise – one for us to sleep, one for the men to cook and sleep, another for us to eat and the last was a pretty tented dry toilet. Our thumb rule was to be environmentally sustainable..no plastic bags and we would leave nothing behind as well.
But the memories lingered even after eight years. We met so many people – from army officials to former international diplomats. We were constantly eating – from noodles to momos to popcorn to chips. We even had some simple meals prepared for us. The sun came down as we snuggled into our sleeping bags. We saw the night sky from our tents. The stars looked down at us. It was cold, freezing as well but stunningly beautiful. I wish they were shooting stars but then in retrospect, I did not need them as there was nothing else I could have asked further.
Morning slowly dawned with the mist and clouds fading into each other. We walked around exercising our limbs and taking in the beauty of Pangong Tso. I took it slow as we were at 14270 feet or 4250 metres. The silence echoed through the lakes. The sun was playing hide and seek in the morning but the colours were too vivid. We sipped tea taking in the view below.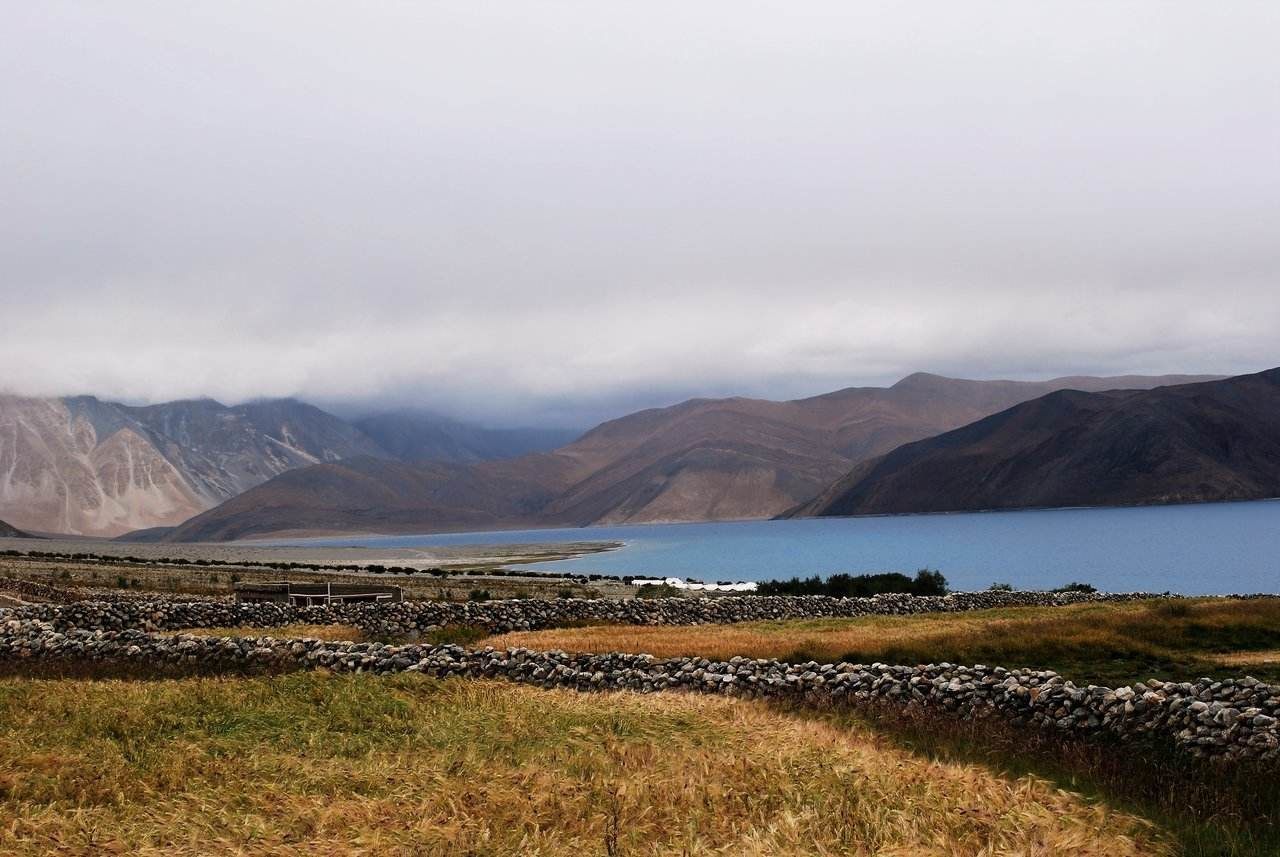 We just walked around hand in hand, saying nothing to each other and soaking in some of the most divine moments.
If there is one experience from all my trips that stands out as the best moment of my life, it is camping under the stars at Pangong Tso in Ladakh and watching the sunset at Pangong Tso. I strongly recommend this as one of the many things to do in Ladakh.
If you want to visit more lakes of Ladakh, then head to Tso Moriri and Tso Kar as well, but that is a different story.